Drugstore Divas was hosted for this 24 Hours In Fayetteville, NC post.
Pete and I work the local farmers' market every Saturday, which makes it hard for us to really go out of town. We can't leave after work on Friday and stay until Sunday. Instead, we have to head out after the market on Saturday.
It's a little sad to have short vacations, but I'd rather have short vacations than no vacations.
Recently, we left the farmers' market and took the two hour trip to Fayetteville, NC. It meant we missed the farmers' market in Fayetteville, which I hear is great.
We did spent a solid 24 hours on our mini-vacation, though. We needed more time there because there are a ton of things to do in Fayetteville, NC. But, you gotta be a little picky if you're only in town for a day.
24 Hours In Fayetteville, North Carolina
We started our day at 4 pm because that's when we were able to get there.
Evening
4 pm:
Check in to the TownePlace Suites Marriott (1464 Skiba Road). Yes, we have a soft spot for this hotel since it's the same chain we blocked for our wedding guests. And the room in Fayetteville looks identical to the one in Wilmington. Nostalgia always win. As does complementary coffee. Almost as soon as you walk in to the hotel, you're greeted by coffee, tea, sugar, and creamers. Exactly what you need after a long drive.
You'll also probably need a shower (well, if you're like us and wake up at 5:45 am on Saturday anyway). The trouble with that is many of Fayetteville's attractions close at 5 pm. So your options are relax in the hotel for a minute or rush out to try and squeeze an attraction in. Completely opposite choices. We picked to sit, sip our coffee, watch some TV, and shower.
Dinner:
We live in North Craftolina (a term I actually first heard when we were in Fayetteville), which is filled with local breweries making craft beer. We try to go to as many as we can. If you support local brew houses too, you'll want to go The Mash House (4150 Sycamore Dairy Rd). We highly recommend the potato skins (with pulled pork!) and the root beer (as that was recommended to us).
Ingredients are local and everything is made fresh, so if you have an allergy or request, the chefs may be able to accommodate you. I went with the Fried Green Tomato BLT (which tastes as tart as you would expect), and Pete had a burger. Keep in mind, if you ask for medium rare, the chef's interpretation of that is pretty raw.
6 pm:
Fayetteville has a really great downtown area. There are a few fun streets to walk around. There's a ton of window shopping you can do, but the best windows are at the Fayetteville Area Local History And Transportation Museum (325 Franklin Street). This, like many of the attractions, closes at 5pm, but the windows are always open. In them, you can see old gas pumps, signs, and more. There are actually a ton of windows filled with antiques, plus a railroad track that's outside, so even if you can't make it inside the museum, you'll get a good feel for it.
If you're here during the baseball season, grab tickets for the Fayetteville Woodpeckers, an Astros affiliate. The Woodpeckers play downtown at Segra Stadium (460 Hay Street).
Here during hockey season? Check out the Fayetteville Marksmen, an SPHL-affiliated hockey team. The Marksmen play at the Crown Complex (1960 Coliseum Dr.), which you'll have to drive to.
8 pm:
Stop into Blue Moon Cafe (310 Hay Street). It's a really cute, quaint cafe with an always changing beer list. The cafe has a nice outdoor seating area, so you can enjoy the beautiful weather with your beverage. But you can't beat the location. It's in the heart of the downtown area, and it's just beautiful to sit on the tree-lined streets and check out the passers-by.
There are a few other local restaurants and breweries downtown on Hay Street, so you can make a full night of it.
And then head back to the grocery store … because you might still be hungry. Or maybe that was just Pete. He only ate part of his burger at dinner. So he picked up a box of macaroni and cheese at the grocery store, then used the cookware and stovetop in the hotel room (which is standard!) and made a tasty beef mac and cheese.
After your late night snack, rest up because tomorrow morning holds an adventure.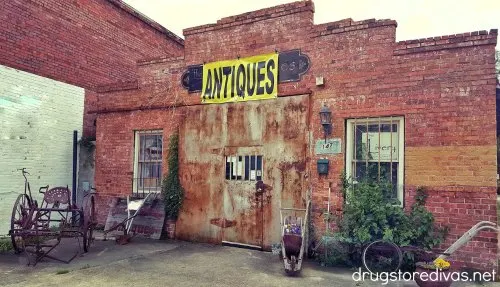 Morning
Breakfast:
What's great about the TownePlace Suites hotel is that breakfast comes with your stay. That's a great way to save a little money. You can make waffles, have biscuits and gravy (or, if you're me, an English muffin with gravy), oatmeal, cereal, and, of course, coffee and tea. Fill up because you won't be eating for a while.
10 am:
Zipquest (533 Carvers Falls Road). Oh my gosh, Zipquest. This was by far one of the best but one of the scariest experiences I've had in my adult life. It's a two-hour zip lining tour with eight zip lines, three suspension bridges, and a few spiral staircases, most over a hidden waterfall. I don't know why, but I really thought we would just be doing the bridges and staircases. I didn't think we would be zip lining. Yes, I know. It's in the name. Pete reminded me of this, but it still just didn't cross my mind.
When we got to the first zip line, I was so scared. "I can't do this," I whispered to Pete and I tried to find an escape. I didn't find one, so I held my breath, tried not to look scared out of my mind, and made sure to not scream. Even thinking about it now, my heart is racing just as it was.
But, it was so beautiful to traverse the trees that way. The view is indescribable. And the quiet, the peace with nature, it's second to none. It's just beautiful — especially after you get over being scared. I would do this every single time we go to Fayetteville … if it didn't take over two hours. Yes, it's a long trip through the trees. You definitely get your money's worth, but it does take up a lot of time, especially if you're only in town for 24 hours. If you have time, go. This is always ranked as one of the best things to do in Fayetteville, and I can see why.
And it's a lot less scary than I expected. You go in a group, which includes two guides. One guide is always ahead of the group and one is always behind. So one guide always sets you up on the zipline and tells you when to go, and the other helps you at the end and takes you off the line. You never do that yourself. That was something that worried me because god forbid I didn't snap my carabiner right. I was glad to know I wasn't doing it myself. All I had to worry about was enjoying the view.
And speaking of the view, if you scroll through the Instagram image below (there are five, so keep clicking right), the last one is a video of Pete on the zipline, so definitely check that out!!
1 pm:
Head to the Cape Fear Botanical Gardens (536 N. Eastern Boulevard). They're so beautiful. When we were there, we saw a bride and her bridesmaids taking photos, plus a separate couple taking engagement photos. It really was a beautiful backdrop for that. And it was just a great place to spend an afternoon. You can look at flowers, check out the herb garden, and tour an old farmhouse and general store that are on the grounds as well. There is a gift shop where you can buy souvenirs and drinks, but the general store in the gardens itself is just filled with old timey stuff like an antique cash register and, my favorite, a mustache drinking mug (which I just want to buy even though I'm mustache free, obviously).
3 pm:
Finally, check out the Airborne and Special Operations Museum Foundation (100 Bragg Blvd). It's one of the best things to do in Fayetteville. Fayetteville is both a historical town (the first in the US named for American Revolutionary fighter Marquis de Lafayette) and a military town (it borders Fort Bragg, the largest military installation in the world). To be in a town where so many have served and so many are serving, it's so respectful of visitors to head to the free museum and understand, if only a little, the efforts and sacrifices of some of the men and women who call and have called the Fayetteville area home.
If you're hungry on the way out, make a stop at Napkins (5435 Corporation Dr, Hope Mills). It's on the Dirtbag Ales Brewery grounds and has quickly become our favorite place to grab a bite when we're in Cumberland County.
Things To Do In Fayetteville, NC
If you're going for more than 24 hours, you're going to need to find other stuff to do in Fayetteville, NC than what's listed above.
So we put together these really handy quick hitting lists so that you can find things to do in Fayetteville quickly.
Breweries In Fayetteville, NC
There are actually five breweries in Fayetteville, NC. They are, in alphabetical order:
Coffee In Fayetteville, NC
We dream of these coffee shops when we're not in Fayetteville.
Free Museums In Fayetteville, NC
Being America's hometown means there's a lot of free museums in Fayetteville, NC.
Restaurants in Fayetteville, NC
We've eaten at a lot of restaurants in Fayetteville, NC. Some of our favorites (not already mentioned):
Sports In Fayetteville, NC
Fayetteville, NC is home to a pair of sports teams that are worth checking out.
Events In Fayetteville, NC
Plan your trip around one of these great events in Fayetteville, NC:
*If you're planning a trip to Fayetteville, NC, be sure to click each location's name to be brought to their website. You can find operating hours and more that way.