If you love all things comic, science fiction, and anime, Fayetteville Comic Con is for you. There are panels with special guests, vendors, and more. This spring's con is happening April 22 and 23, 2023. Get all the details below.
And, if you are planning to attend, our other Fayetteville posts can help you plan your whole trip.
A few years ago, I didn't own a sewing machine. So I painstakingly sewed our Fayetteville Comic Con costumes by hand.
Because there was no way we were showing up in plain t-shirts.
So for weeks, I hand-stitched a Pikachu hoodie for me and a Bulbasaur hoodie for Pete. I'm glad I did because cosplay is huge at Fayetteville Comic Con. People show up in things they bought, things they made, things they made that look like they bought … like my favorite Ludo and one of the Fireys from Labyrinth.
I wanted the hoodies because Veronica Taylor, the voice of Ash Ketchum from Pokémon, was one of the celebrity guests at the convention.
The next year, we went in t-shirts. Not plain ones, of course. I wore a Super Mario Bros. one because video games are a big part of Fayetteville Comic Con, and Pete wore a Rick & Morty one because Troy Little, who drew Rick & Morty vs. Dungeons and Dragons, was there.
We're not going this year, so we don't have any outfits to plan, but if you're going, you should start brainstorming now because Fayetteville Comic Con Spring 2023 is later this month.
And then again in the fall. Because yes, this con happens twice: once in April and once in October of each year. But, let's focus on the spring convention for now.
Planning a trip to the area for the convention? Get help planning the rest of your trip with our Things To Do In Fayetteville, NC post.
Fayetteville Comic Con Spring 2023 Details & Full Schedule
Affiliate links are included in this post and Drugstore Divas may make a small commission if you use them.
The 2018 Fayetteville Comic Con was our first ever Comic Con. We had no idea what to expect. So I definitely want this post to help you to understand what you're stepping into before you get there.
Fayetteville Comic Con: Frequently Asked Questions
When is Fayetteville Comic Con?
Fayetteville Comic Con is Saturday, April 22 and Sunday, April 23, 2023.

Saturday is 11 am to 6 pm, with a special tribute to Power Rangers actor Jason David Frank at 6 pm (additional tickets are required for that).

Sunday is 10:30 am to 5:30 pm.

In addition to the actual convention, there's a Comic Con-Cert on Friday, April 21. Additional tickets are required for that event as well.
Where in Fayetteville Comic Con?
Fayetteville Comic Con is held at the Crown Expo Center (1960 Coliseum Dr) in Fayetteville, NC.
Where do you get Fayetteville Comic Con tickets?
You can purchase single day and weekend passes online via Ticketmaster. You can purchase a VIP ticket through the con's website.

Ticket prices for the spring convention are $25, plus fees, for a one-day pass for adults and $20, plus fees, for teens. Children (who were previously free) now require a $6 ticket.
Who are the Fayetteville Comic Con 2023 guests?
This fall, comic book artists like Jason Keith (who draws for Marvel), wrestling talent Monique Dupree, voice actors like Ted Lewis (Yu-Gi-Oh!), will be in attendance. So … guests … but not the kind of guests you get at something like San Diego Comic Con or New York Comic Con.
Are there meet and greets at Fayetteville Comic Con?
Yes. For a price.

So I bring this up, actually, because it's pretty common knowledge to someone who knows about cons, but it was news to me and Pete at our first Fayetteville Comic Con because we were noobs.

So … each artist, guest, and vendor will have a table or section set up around the venue. For vendors and many artists, you can just approach the tables and chat.

That's how we met Tugg the Super Hero dog, who was offering free photos at his booth with anyone who wanted one.

It was actually the only photo I got with any of the guests. Because, as I mentioned before, you can meet the guests … for a price.

As you walk along the booths, you see a price chart at many of the guests' tables. There's a price for an autograph, a doodle, photo ops, whatever else the guest is offering. And yes, that's in addition to the ticket price you pay to enter the con.

For veteran Comic Con goers, this is obvious, but we didn't know it. So, as much as I was hoping to snap a photo with Eddie Munster, the sticker shock of $50 deterred me.

Let me be very honest here: When you factor in ticket prices, an extra ticket for the con-cert, an extra ticket for the Jason David Frank tribute, and then additional costs for autographs and photos, Fayetteville Comic Con starts getting very expensive, especially when you're not getting the A-list celebrities larger cons get. That's why we stopped going.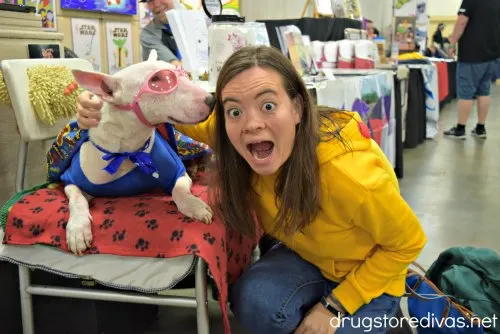 Is a comic convention just about comic books?
No. Absolutely not.
Stop_Button Bar + Arcade is usually there supplying a ton of free games to play. In the past, the bar brought Arcade1Up games, like Rampage, and I spent months debating about buying one for our house.
There are vendors selling great geek culture merch, like Nintendo games, Funko Pops, and LEGO mini figures There will also be Pokémon tournaments, movie screenings, panels, and more.
More In Fayetteville This Weekend:
Fayetteville Comic Con is always the same weekend as the Fayetteville Dogwood Festival. The Dogwood Festival goes later than the con does, so you can do both on the same day.
Full list of NC Comic Conventions:
If you're looking for more North Carolina Comic Conventions, head over to this link for the most up to date list. As comic cons happen, they'll be removed from that list. And as they're scheduled, they'll be added to that list.
Where To Stay For Fayetteville Comic Con:
If you're planning a trip to Fayetteville Comic Con and are planning on going both days, you'll need somewhere to sleep on Saturday night.
There are a ton of hotels in the area, so you have a lot of options. Check out a few of them and search for availability below:
Restaurants near Fayetteville Comic Con:
If you're staying in Fayetteville overnight so you can attend both days of Fayetteville Comic Con, these restaurants are great options for your meals:
And, if you'd rather just eat at the venue, check out our What To Eat At The Crown Complex post.
Also, don't forget about Restaurant.com. You can purchase a discounted certificates for restaurants in Fayetteville and the area.
Have you been to Fayetteville Comic Con or any other North Carolina Comic Con before? What did you enjoy most?