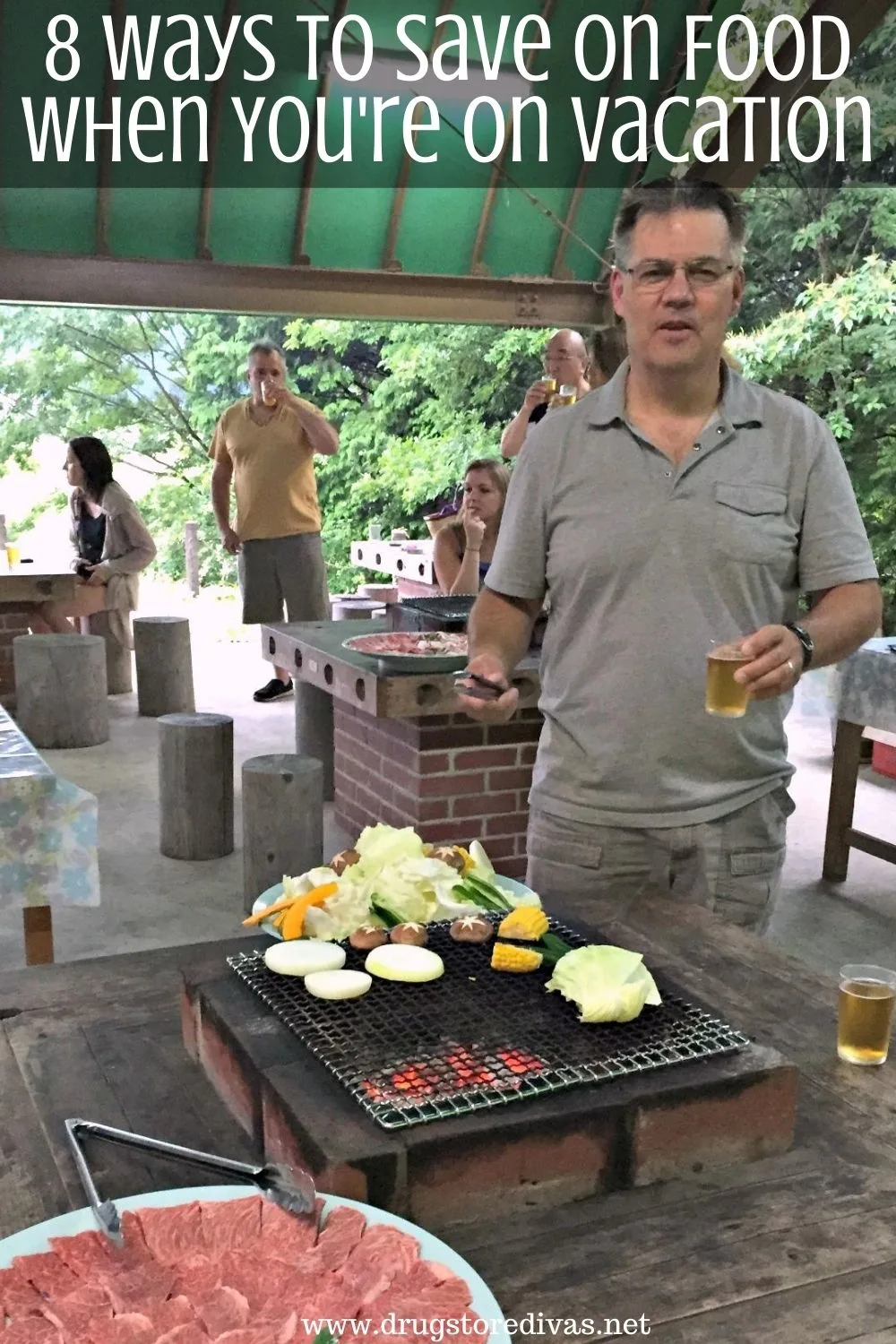 Vacations can get really expensive. You pay a bunch for airfare or gas to drive to your destination, and then more for a hotel. And at this point in time, things are getting even more expensive. So the last thing you really want to do when you're on vacation is open your wallet more than you have to. You still have to eat, though. But it's okay. There are tons of ways to save on food when you're on vacation.
This is not to say that you can't go out to eat when you're on vacation. Part of the fun of vacation, for me, is getting to eat at restaurants and food trucks that I can't eat at when I'm at home.
But if we can save on breakfast, we can spend more on a fancy dinner.
8 Ways To Save On Food When You're On Vacation
1. Pack a cooler.
When I was growing up, we used to go camping every summer. All the adults would pack coolers with meats to grill, drinks, stuff for breakfast, etc. It was so much easier than spending part of vacation finding a supermarket and going grocery shopping. Plus, you could buy what you need on sale at your local supermarkets instead of paying full price when you get on vacation.
Because you know grocery stores at tourist spots know they don't have to have sales. I don't blame them, but I also don't want to shop at them.
If you're staying in a hotel, not a campground, you can still pack a cooler. Bring sandwiches so that you don't have to buy lunch when you're on your trip. Pack bottled water too because that's easier and cheaper than having to buy it at the hotel's vending machine.
2. Cook in the hotel.
Certain hotels have a full kitchen. Yes, full. There were pots and pans, a strainer, utensils, a stove top, and a dishwasher. If you find a hotel like that, you can bring your own ingredients and cook your meals at the hotel. That way, you're only spending money on ingredients when you're in the hotel.
Even better, if you followed our first tip and packed a cooler with food, you don't even have to grocery shop on your trip.
You can do this if you book an Airbnb too. What's great about some Airbnb rentals is the renters will actually leave ingredients for you, like spices. hat may or may not cost extra to use, so be sure to check that before you open any.
3. Bring your own beer.
Pack a cooler with beer. That way, you don't have to buy those at a store, where they're probably more expensive. And then you can stock the hotel's fridge with your own beer instead of drinking from the mini fridge or the hotel's bar.
If you're not a beer drinker, you can pack a cooler with the drinks that you drink instead. Pack bottles of liquor, soda, or cold coffee.
Of course, you can stop at bars and breweries on your trip, but when you're relaxing at night watching TV, having your own beverages at the hotel is a lot cheaper than grabbing them at the gas station in the way back to the room.
4. Have breakfast at the hotel.
I'm a big fan of booking a hotel with a complementary breakfast. That way, you can have a meal without paying anything extra for it. When you're booking, look for this under the hotel's amenities. Some will offer a hot breakfast, some a continental, and some won't offer one at all.
If you head to the hotel's restaurant late enough, you may also be able to turn breakfast into brunch. Couple that with an early dinner and you can completely skip lunch, saving you even more.
Alternatively, if you have the hotel's breakfast, then bring your own sandwiches for lunch, the only meal you're paying for is dinner. And if you're only paying for one meal a day, you really can splurge.
Or maybe that's just me.
5. Purchase discount restaurant certificates.
If you're in an area you don't know, get restaurant recommendations from the front desk or a local friend. Then, head over to restaurant.com and see if there are any discount certificates for the recommendations. If there are, you can purchase a discount certificate while you're on vacation, right from your phone. Then, use the hotel's business center (or ask the front desk, if there's no business center) to print it for you.
Even if there's no discount certificates for the restaurant you want to eat at, you might just be able to use restaurant.com to find additional recommendations.
To save a little as well, check out the restaurants' websites to look for any specials that are day, date, or time specific. Then, plan your dinner there for that day or time.
6. Eat lunch out instead of dinner.
Dinner is generally more expensive than lunch. So if you can't find a discount certificate or dining deal for the restaurant you want to eat at, consider eating lunch there instead of dinner. That way, you'll be able to experience the restaurant for a fraction of the price.
If you're like me, you might end up not being able to finish your meal anyway. So bring it back to your hotel room, put it in the fridge, and have it for dinner. Now you have two meals for less than the cost of what dinner would have been.
7. Pack Snacks
On our last trip to Japan, Pete and I decided we would just eat and drink everything we wanted and not worry about the cost. I ate my favorite Japanese food (gyoza) seven of the 15 days we were there, and honestly, it still wasn't enough. Pete ate squid on a stick, drank highballs, and surprised me with my favorite Japanese snack — UCC Coffee and Koalas No March.
But, just to be fiscally responsible, I still packed snacks. I knew that we would be sightseeing quite a bit and we might not be able to stop at a convenience store to grab a bite to eat. So I packed two snacks per day for us. I made sure to pack snacks that traveled well and ones that wouldn't melt in the Japanese heat. So granola bars, nuts, and crackers were on the top of the list. I carried them in my purse and was happy to have them when we were hungry.
When we go on weekend road trips, I love packing large bags of chips or popcorn that we can snack on when we're sitting in the hotel room. Honestly, any excuse to have snacks is good with me.
8. Use the hotel's barbecue.
During our wedding, we blocked off rooms at a hotel that had a barbecue grill as part of the hotel's outdoor area. Those are available on a first come, first serve basis. But luckily, we were there first on the Thursday before our wedding.
So, as guests were arriving for our wedding, they would join us outside for hamburgers, hot dogs, and drinks. My dad manned the grill, and it was a great way to say hi to people and hang out. Plus, it saved people from having to go out to dinner after traveling all day — and saved them money too.
If you see a hotel with this amenity, it's not a guarantee that you'll be able to use it, but honestly, I've never seen anyone but us grilling at hotels. We've stayed at a few with grills and have always been the only guests to use it.
Do you have any other tips to save money on food while traveling? Be sure to let us know in the comments.