Wilmington, NC built Live Oak Bank Pavilion, a large amphitheater, a few years ago and huge bands play there. If you're coming to the area to see a show there, find out everything you need to know here.
For more help planning your trip, check out all of our Wilmington, NC posts.
One of the things I really miss about living in New York is being so close to New York City and seeing all my favorite bands. They all stop in New York.
When we moved to Wilmington, the options for bands were limited and the options for large bands were nearly non-existent. So we'd have to drive hours for our favorite bands to stop.
A couple years back, the city of Wilmington built Live Oak Bank Pavilion at Riverfront Park. It's a multiuse, public park, which is greenspace during the day and a concert venue on some nights. Widespread Panic opened the venue and large bands have played it ever since.
The venue is definitely a great addition to the city, although, honestly, it's not our favorite venue. Tickets are more expensive than I think they should be for this venue — mostly because of the whole multiuse park thing.
See, it's not a park with a stage. It's a stage in a park. The park portion takes priority. So there's removable seating, the lawn isn't inclined enough to really be able to see the stage, and there are a bunch of wires down the walkways that we saw so many people trip over last time we were there.
The venue also doesn't have screens set up (like most large venues do). I was told this is due to the fact that it's a park, so they can't be up permanently. So, if you're sitting on the lawn, you don't have a great view.
When we saw Tenacious D last year, our first concert at the venue, we had lawn tickets. Jack Black and Kyle were doing so much banter on stage and we couldn't see or hear any of it. So that was a bummer. But last month, when we had actual seats for Coheed & Cambria, we could see the stage and it was a lot more enjoyable.
​Live Oak Bank Pavilion isn't the only outdoor amphitheater in downtown Wilmington. There's also Greenfield Lake Amphitheater. If you found this post but were trying to find that venue, worry not. We have a post on Greenfield Lake Amphitheater as well.
Live Oak Bank Pavilion: Everything you need to know about seeing a concert there
​Affiliate links are included in this post and Drugstore Divas may make a small commission if you use them.
What is Live Oak Bank Pavilion?
The Live Oak Bank Pavilion (10 Cowan Street) is Wilmington, NC's largest open air amphitheater, located at Riverfront Park. It's a multi-use space that's a public park when concerts are not happening.
What is the capacity of Live Oak Bank Pavilion?
Live Oak Bank Pavilion can hold 7,200 concert goers (2,400 seated and 4,800 on the lawn).
When is Live Oak Bank Pavilion's season?
It's a year-round venue, technically, however, due to the fact that it actually does get cold in North Carolina in the winter, you'll mostly see shows scheduled during the warmer months.
What is the noise ordinance at Live Oak Bank Pavilion?
Concerts must end by 11 pm except for extreme circumstances (like if weather delays the start of the concert).
Who can see a concert at Live Oak Bank Pavilion?
It is an all-ages venue, however, certain shows may have additional age restrictions.
Is it kid friendly?
Yes. There's a lot of grass there for the kids to play before the show starts, however, it gets very crowded very quickly.
Does Live Oak Bank Pavilion have seats?
Yes. About a third of the seats are assigned seats (which are basically collapsible folding chairs). The rest of the seats are on the lawn. Those are general admission and on a first come, first serve basis.
Is there a charge for parking at Live Oak Bank Pavilion?
There's actually no public parking at the venue itself. There is VIP parking and an ADA drop off area. There is free street parking around the venue, paid city lots, and paid private lots as well.
Are you allowed to tailgate at Live Oak Bank Pavilion?
Since there aren't any parking lots at the venue itself, you really can't tailgate at the venue. There are free lots around the venue where we have noticed tailgating, though.
Is there a will call?
There's a box office at the venue for ticket sales, but honestly, we've never used it so I'm not 100% sure if there's a will call list there or not, especially because, at this time, it's mobile ticketing only.

You will not get hard tickets in the mail or tickets that can be printed. All tickets must be shown via the Live Nation app or your phone's mobile wallet.
Can you leave and come back in?
No. There is no reentry, so once you're out, you're out.
Can you bring food/alcohol inside the venue?
You are allowed to bring in one unopened bottle of water, up to one gallon, per person. Refillable water bottles are also permitted, but they must be empty when you enter and then filled using one of the hydration stations inside the venue.

Other than that, you're not allowed to bring food or drink inside, but you are able to purchase both inside Live Oak Bank Pavilion.
What food is available for purchase inside Live Oak Bank Pavilion?
There are a bunch of concessions inside the venue. Those are run by the venue.
There are also food trucks available at each show. The food trucks vary and are listed on the venue's social media stories on the day of the event.

Keep in mind that you aren't allowed to bring coolers inside the venue, in case you were hoping to stock up on food at the beginning of the concert and then snack on it during the show.
Is beer available for purchase?
As long as you are 21 and over, it is. You can purchase beer, wine, cider, and mixed drinks at concessions tents near the entrances of the venue or at the tents setup strategically throughout the lawn sections.
What are the bathrooms like?
The bathrooms are one of our big gripes about the venue. There's definitely not enough. There are some on the far side of the venue, across from the main entrance. There are a long row of port-a-potties along the backside of the venue that's kind of a hike to get to.

Last time we were at the venue, I heard someone complain, "There are more places to buy beer than to go to the bathroom." And that's true.
Can you hear the concerts from outside?
You absolutely can. Many people set up on the boardwalk outside the venue and listen to the bands.

To be perfectly honest with you, lawn seats don't have the best view and there aren't any screens at the venue that project the concert, so your view from the boardwalk is pretty similar to what you'd get if you purchased lawn tickets.
How is the stage?
It's fine if you purchase actual seats. If you have lawn tickets, the stage isn't great.

See, the venue isn't really graded, so it's not on an incline. Remember, this venue is a park during the day. So, the lawn seats are all (not exactly, but close enough) at the same level. So it's really hard to see the stage. And then, because there aren't any screens, you don't really get a good view of what's happening on stage either.
Is there a covering over the seats?
No. Every seat at Live Oak Bank Pavilion is outside and not under an overhang. So if there is rain or too much sun, you don't have any protection.
Are there any indoor seats?
None of the tickets available to the general public are indoors.
What is the bag rule at Live Oak Bank Pavilion?
Clear plastic, vinyl, or PVC tote bags (no larger than 12" x 6" x 12") and/or small clutch bags (6" x 9″) are allowed into the venue. All bags will be checked prior to entry.

The larger bags must be clear in order the reduce the contact between the staff and a patron's belongings.
Can you bring chairs into Live Oak Bank Pavilion?
You can bring low profile lawn chairs (no higher than 9 inches off the ground, so, something like a Tommy Bahama beach chair, not a captain's chair) and blankets into Live Oak Bank Pavilion.
Can you bring a camera into Live Oak Bank Pavilion?
Personal use camera are allowed. This includes camera phones, disposable cameras, and small digital cameras.

Any professional or professional-like cameras (so any DSLR camera with a detachable lens) are not permitted.
To the best of my knowledge all this information about Live Oak Bank Pavilion is accurate. I did look up and verify all of the facts and answers, and based the rest off my experience of a decade of shows there.

However, I don't work for Live Nation and I don't have any association with the venue. So policies can change at any time, and I will not be told, so this is as accurate as it's able to be unofficially.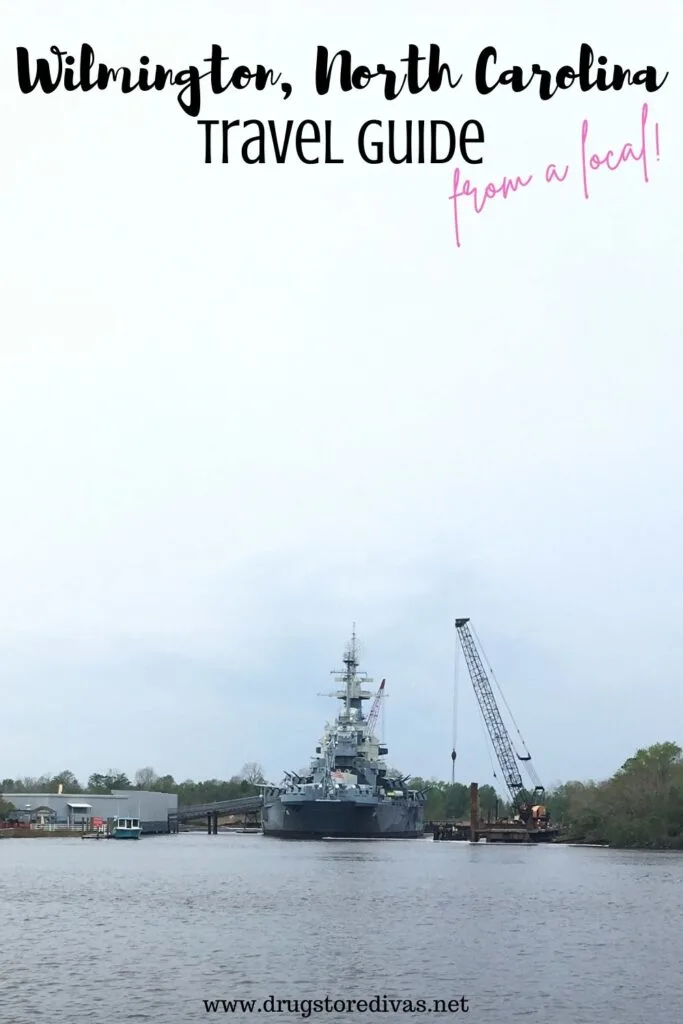 More Things To Do In Wilmington, NC
If you're planning on coming to Wilmington to catch a show, there's a lot more to do in the area. Be sure to check out our Wilmington, North Carolina Travel Guide to help you plan your trip. And, if you're only in town for the day of the show, our 24 Hours In Wilmington, NC post will help you maximize your time.
Have you been to Live Oak Bank Pavilion in Wilmington, NC? Let us know about your experience in the comments.