Summers are for backyard barbecues and grilling burgers. If you're looking for some more ideas for your summer menu, this list of Really Good Burger Recipes are sure to help.
For more ideas of what to make, check out all of our recipes.
Burgers are a summertime staple. But most people will just open a package of frozen burgers, toss them on a grill, and put them in a bun when they're done. If they're really stepping it up, they'll add a slice of cheese.
And that's fine. Not every meal has to be fancy.
But, if you do want to serve the best burgers to your family (or to your guests, if you're having a barbecue), we have a ton of really delicious burgers that you can whip up.
There's a variety of burger recipes on this list: ground beef burgers, a sausage burger, a turkey burger, and a vegan burger. So, no matter who you're cooking for, you'll find the perfect burger to make.
Some of these burgers are made with store-bought ground meat. But, others are made by grinding your own meat at home. But, others are made by grinding meat at home. If you've always wanted to try that, our How To Grind Your Own Burger Meat post teaches you how to do that.
10+ Really Good Burger Recipes
As we add more burger recipes to the blog, we'll be sure to update this list. So save it (pin it, bookmark it, etc.) however you save posts so that you can come back from time to time and find our new burger ideas.
Grilled Taco Burgers
Taco flavors don't have to stay between shells. If you agree with that, you'll absolutely love these Grilled Taco Burgers.
The burgers are seasoned with taco seasoning, cooked, then topped with traditional taco toppings: sour cream, salsa, and cheddar cheese. It's a really flavorful burger that the whole family will enjoy.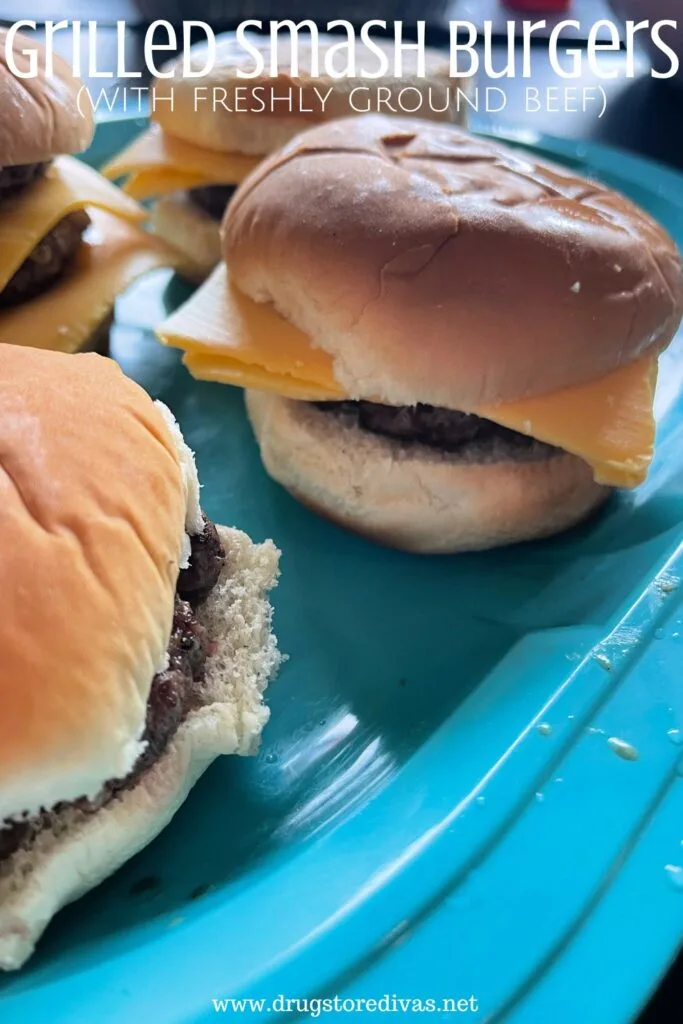 Grilled Smash Burgers (with freshly ground beef)
Smash burgers are becoming such a classic burger. You rough form the meat into a ball, put it on the grill, and smash. Smash burgers are always cooked to order without any input from the eater (because they're all cooked to the same done-ness).
They're super easy to make at home too. You can use fresh ground chuck (like we do) or you can just purchase ground beef from the grocery store if you don't have a meat grinder. Both methods make a great burger.
Cheeseburger Sliders With Hawaiian Rolls
If you're looking for the best hamburger recipe for a crowd, these Cheeseburger Sliders With Hawaiian Rolls are it.
This is basically making one really large burger, then cutting it into 12 (cutting on the indents of the Hawaiian Rolls). It's an easy way to feed a lot of people at once without doing a lot of work.
Mozzarella Cheese Stuffed Hamburgers
Stuffed burgers are such a great thing to make for dinner, if you have a little time.
​Shredded mozzarella cheese is stuffed between two thin hamburger patties, then grilled to perfection. As soon as you bite the burger, all the delicious melty cheese oozes out. It's a really good recipe and such a fun twist on a classic cheeseburger.
Grilled Ground Sausage Burgers
Ground beef isn't the only meat you can use to make a burger patty. If you think it is, these Grilled Ground Sausage Burgers would disagree. In fact, these are actually our most popular burger recipe on the blog.
You can serve them however you want. Instead of plain burger buns, we always serve sausage burgers on pretzel buns topped with caramelized onions.
Bacon-Infused Beef Burgers With Fresh Ground Beef
Bacon makes everything better, and that includes burgers. Chunks of bacon are freshly ground with piece of chuck to make these hamburger patties. Grill them and top them with your favorite toppings.
When you're making these, keep in mind that you need to fully cook these burgers because you can't eat undercooked bacon. Ground beef can be rare, but you're looking for an internal temperature of around 150 F for bacon.
These are, for sure, the best homemade burgers we've ever made (and by we, I mean Pete. He always does all the work for these when we have them).
Whiskey Tango Foxtrot (WTF!) Burger
A while ago, we were sent a box with all the ingredients to make this Whiskey Tango Foxtrot (WTF!) Burger. We invited my parents over and ate these burgers for days.
The subscription box company went out of business a while ago, so we recreated this recipe with instructions so you can make it at home. This recipe is over the top, but it actually uses simple ingredients that are readily accessible, so it's not impossible for you to make.
​Just, maybe, make it at home, on a weekend, for just your family. You don't want to create these for a crowd at your next summer cookout. Or maybe you do. You do you.
Chickpea And Spinach Vegan Burger
If you're looking for a meatless burger, this Chickpea And Spinach Vegan Burger is for you.
Chickpeas and spinach mix together to form really thick patties that you can cook either on the stovetop or on the grill. It's really up to you. They hold up a lot better than other bean burgers do. So if you're looking for veggie burgers for dinner, go with these.
Grilled Turkey Burgers With Onions
Ground turkey burgers get a bad rap because they're not a juicy burger. They're a little dry, a little lean, and, well, they can be a little lame.
Not these.
There's a little magic that comes from the onion on top of these turkey burgers that keeps them from being a dry burger. Also, pro tip: stir some Worcestershire sauce into the meat mixture when you're seasoning it. That will give the patties a little extra flavor, so they'll taste a little more like ground beef (in case you need a little help converting some eaters to turkey).
Bacon And Bleu Stuffed Burger
Any time I see a bacon and bleu cheese burger on a menu, I'm inclined to order it. It's such a good combination.
But, you don't have to go out to eat one of these. Make our Bacon And Bleu Stuffed Burger at home. Bleu cheese and bacon are stuffed between two patties in a burger press, then grilled. We grill these with a cast iron skillet just for some extra pizzazz, but you can use a grill pan or an outdoor grill.
Guacamole Turkey Burgers with Pepper Jack Cheese
If you want a little kick in your dinner, these Guacamole Turkey Burgers with Pepper Jack Cheese are for you.
The turkey burger patty is made from ground turkey and is so juicy after you cook it. It's topped with pepper jack cheese and a quick homemade guacamole for so much flavor.
Jalapeño Cheddar Sliders
Sliders are such cute burgers. And if you want a fun slider recipe, these Jalapeño Cheddar Sliders are great. These are actually chicken burgers (made from ground chicken). It's a nice change from all the beef burgers we have on this list.
There's enough jalapeño in this recipe to give the burgers a punch, but not enough to stop you from enjoying them.
What To Serve With Burgers:
If you've made the best burger recipe that you've ever made in your life, you want to make sure that your sides are great too. We're big fans of grilling your sides when you're grilling your main dish, mostly because that makes life easier. You don't have to run back and forth between the oven and grill.
So, with that in mind, we suggest you making our Grilled Caesar Salad to go with your burgers. And, of course, you need fries, so try our Grilled French Fries recipe. If you don't want to grill those, we have an Air Fryer French Fry recipe that's really good too.
Which of these really good hamburger recipes are you going to make first? Be sure to let us know in the comments.