These Easy Easter Crafts, like wreaths and egg carton Easter chicks, are made from basic craft supplies and items you already have at home.
For more Easter ideas, check out all of our Easter posts.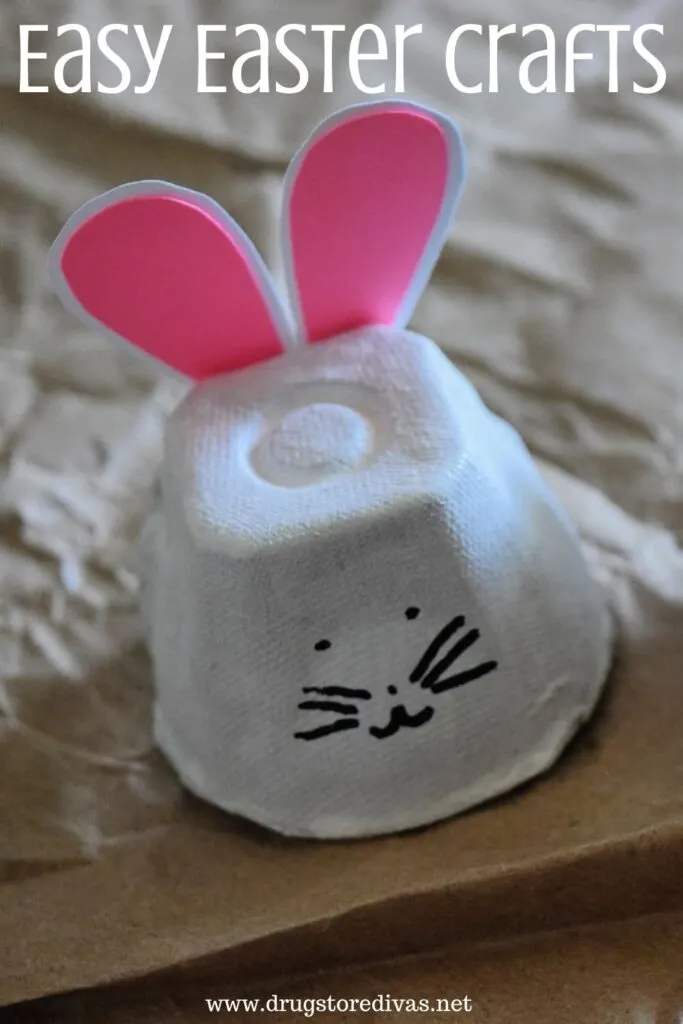 Easter is right around the corner, which means now is a good time to start making fun Easter Crafts. But, at this point in the Easter season, you don't really have time to run out to the craft store for pom poms and googly eyes. Life would be easier if you could just make crafts using basic crafts supplies.
Lucky you because that's the majority of this list. They're all cute Easter crafts made from upcycled materials and simple supplies, like paint, that you already have at home.
Easy Easter Crafts
Affiliate links are included in this post and Drugstore Divas may make a small commission if you use them.
Paper Bag Bunny Craft
If you're putting together Easter gifts for friends or family members who you don't have baskets for, go ahead and make this Paper Bag Bunny to stick their treats in instead.
This easy craft comes together really quickly using simple supplies that you probably already have at home.
DIY Easter Tea Light Candle Holders
Used yogurt containers are upcycled to become these super sleek Easter Tea Light Candle Holders.
There's a good chance that you have everything you need for this craft in your home already. The only thing you may not have is the bunny-shaped stickers, but you probably have everything else.
This is a fun craft … for adults. You use spray paint in it, so we don't recommend you making these with younger kids.
DIY Egg Carton Easter Bunny
Save your cardboard egg cartons and turn it into this really cute Egg Carton Easter Bunny.
Besides an old egg carton, all you need is paint, a marker, glue, and card stock … all things you probably have at home.
The best part about these is you don't actually glue them closed, so they're able to be opened easily. And you don't paint the inside, so they're still food safe. So you can stuff them with jelly beans or other Easter treats and use them in that way in addition to just as décor.
DIY Card Stock Easter Bunny Treat Bags
If you're having multiple unexpected guests for Easter, you don't want to buy everyone an Easter basket. They'll just end up being an unnecessary expenses.
Instead, take some paper lunch bags that you already have at home and decorate them with card stock to make an Easter Bunny.
Use the bow on the bunny to personalize them and fill those, instead of baskets, for your Easter guests.
DIY Cereal Box Easter Basket
Turn an empty cereal box and some acrylic paint into this DIY Cereal Box Easter Basket.
This simple craft is the perfect way to make Easter baskets for extra guests without adding the extra expense to your budget. And, if your guests end up throwing these away, you won't feel bad because these baskets are really just upcycled trash anyway.
This version is a pretty shallow basket, but you can vary this Easter craft a little to make deeper baskets if you have more to fill them with.
DIY Paper Easter Egg Wreath
Turn an old gift bag and some card stock into this really cute DIY Paper Easter Egg Wreath.
If you don't have a gift bag to cut egg shape pieces from, you could have your kids doodle on a piece of paper, then cut that out and use their designs to make this Easter egg wreath. It's a really fun way to get young kids involved.
I made this easy paper Easter wreath a few years ago and it actually is still holding up well after a few years. You could go ahead and laminate it if you wanted, but I didn't worry about that and it's still fine.
DIY Washi Tape Easter Eggs
Dress up your plastic Easter eggs with washi tape to make these Washi Tape Easter Eggs.
What's great about washi tape is how forgiving it is. You can place it on a surface and easily remove it and move it somewhere else. It's not like regular tape that gets stuck in place. So you can make and change your design with ease. Then, if you change your mind, you can remove it completely without leaving any sticky residue behind on your plastic eggs.
If you don't have plastic eggs, you can use real, blown-out eggs or a hard-boiled egg in this craft instead.
DIY Bunny Chocolate Bar Craft
This Bunny Chocolate Bar Craft is an easy way to dress up candy bars for gifting.
This craft uses mini chocolate bars, but you can use the same method for full-size candy bars or for boxed candy.
These are a great way to give out Easter treats to your friends, neighbors, and coworkers without needing a basket and Easter grass. And all you need to make these chocolate Easter bunnies is some paper, glue, and markers, which you probably already have at home.
DIY Toilet Paper Roll Bunnies
These Toilet Paper Roll Bunnies are (you guessed it) made from upcycled toilet paper rolls.
What's fun about these is you can paint them any colors that you want. You can even mix and match the bunny ears too. These toilet paper roll bunnies are really cute Easter decorations if you sit them on on a mantle or windowsill.
If you don't feel like using toilet paper rolls to make these, you can make them with craft rolls instead.
DIY Egg Carton Chicken
Turn a cardboard egg carton into this cute Egg Carton Chicken.
Just like the egg carton bunny from earlier in this list, you don't seal it shut. So in addition to it being a decoration, you could use it to hide jellybeans or other candies.
As long as you don't paint the inside, these egg carton chicks are still food safe so you can hide unwrapped candy instead. If you do paint the inside, it's better to fill this with wrapped candy.
DIY Rustic Scrap Wood Bunny
Take a piece of scrap wood and some paint (which you probably already have at home) to make this DIY Rustic Scrap Wood Bunny.
You can make these as unique as you want by making different faces and different expressions on the bunnies.
These are perfect for Easter, because of the Easter bunny, but you can really leave these out year round if you wanted since it doesn't say "Easter" on it. So you know it was made as an Easter bunny craft, but you can display it all spring and no one will know.
DIY Rustic Scrap Wood Chicken
If you liked the scrap wood project above, but you don't feel like making bunny rabbits, you can make chickens instead since chickens are an Easter animal as well.
What's great about chickens is they're still in season after Easter is over, so you can leave them up year round if you want.
You can personalize this Easter craft with different colors and different expressions for each chicken.
You can personalize this Easter craft with different paint colors and different expressions for each chicken.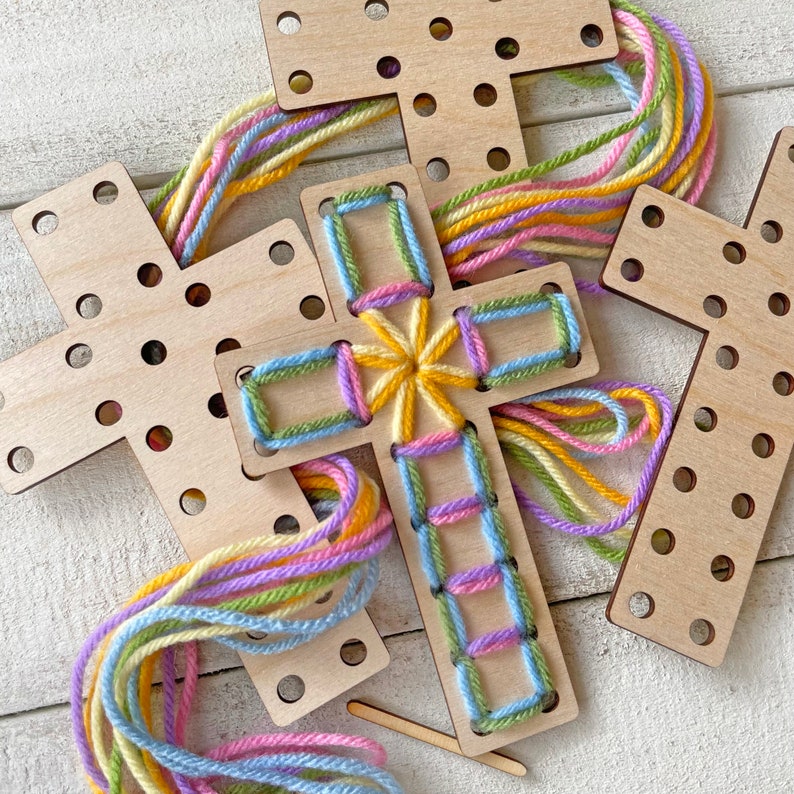 Purchase Easter Craft Kits Online:
If you feel like making Easter crafts, but you don't want to look around your house for all the supplies, you can just purchase an Easter craft kit online. You can find religious Easter crafts, like the Easter crosses above, or secular crafts, if that's what you'd rather, at the following stores online:
Don't forget to be mindful of a store's minimum cart total to qualify for free shipping. Also, consider instore or curbside pickup to avoid shipping charges.
Make Easter Eggs Treats:
If you're having so much fun making these Easter crafts, you might want to make some food crafts as well. We have two edible Easter egg crafts that you'd love: our DIY Smash Eggs (plus a tutorial for the wooden hammer) and our Homemade Peanut Butter Easter Eggs.
Which of these Simple Easter Craft Ideas is your favorite? Be sure to let us know in the comments.