This 25 Christmas Things To Do In Wilmington, NC post is updated for 2022!
If you're planning a trip to the area, check out all of our Wilmington, NC posts.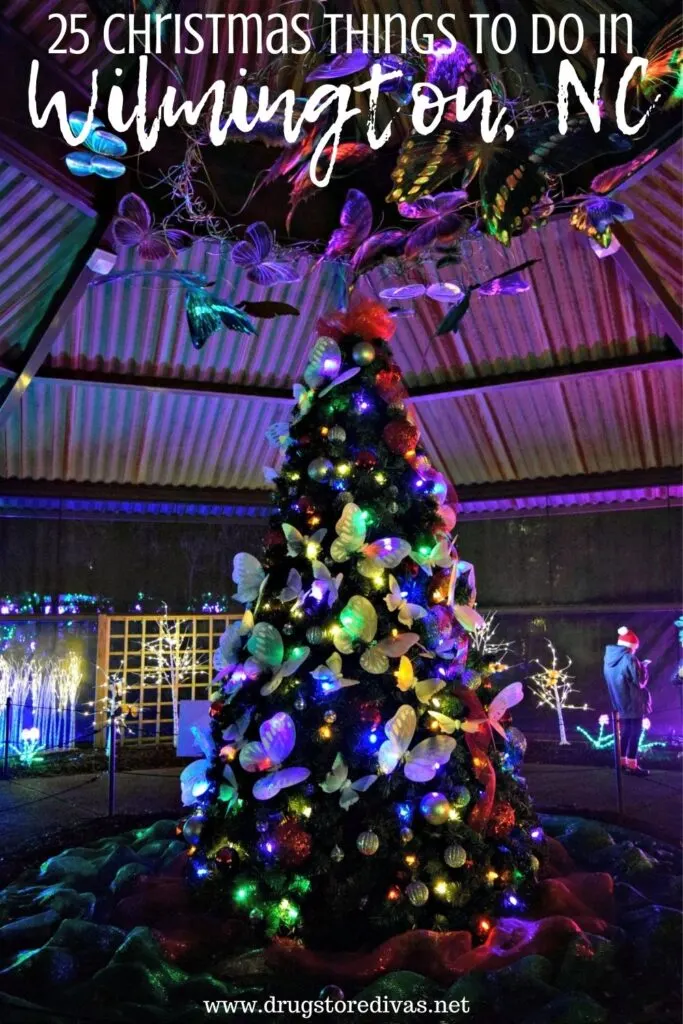 It's Christmas in Wilmington, NC and there are a ton of ways to celebrate. In fact, we put together this great list of 25 Christmas Things To Do In Wilmington, NC.
I tried to add some ongoing seasonal activities to the list so that even if you're not in town for one of the specific Christmas events in Wilmington, NC, you'll still be able to enjoy some Christmas things when you're in town.
Planning a trip to the Port City? Get help with our 24 Hours In Wilmington, NC post.
25 Things To Do In Wilmington, NC At Christmastime
Affiliate links are included in this post and Drugstore Divas may make a small commission if you use them.
The majority of this list Wilmington, NC Christmas activities. A couple of them are in Carolina Beach, which non-locals pretty much think is an extension of Wilmington anyway.
And a couple are in Brunswick County, NC because we actually live in Bruns Co and we are closer to downtown Wilmington than Carolina Beach is.
Watch a Christmas show at Thalian Hall
We love Thalian Hall (310 Chestnut St). A couple years ago, we saw an amazing production of Green Day's American Idiot. There are a ton of theatrical performances there, and during December, there are a lot of Christmas themed performances planned.
Thalian Hall's Christmas schedule is as follows:
Ballet for Young Audiences: The Nutcracker: December 2 at 4 pm and 7 pm and December 3 at 10 am
Jacob Marley's Christmas Carol (live theater): December 8 to 18 (7:30 pm every day, but December 18, which is a 3pm performance.
A Christmas Story (live theater): December 9 to 11, then December 16 to 18
Celtic Angels Christmas: December 21 at 4 pm and 7:30 pm
It's A Wonderful Life (12th Annual Special Screening): December 22 at 4 pm and 7 pm
Tickets must be purchased ahead of time and you can get them here.
Tour the Nights of Lights at The Bellamy Mansion Museum
Usually, The Bellamy Mansion Museum (503 Market St) hosts a free to the public event called Nights of Lights where you can tour the historic home when it's decorated in traditional Christmas décor.
This year, the event is December 20 to 22 from 5 pm to 8 pm. Advanced tickets are not required, but it's a first come, first serve event and it does get crowded.
The mansion will be decorated for Christmas and you can see the decorations when you take a tour during the museum's regular tour hours: Monday through Sunday from 10 am to 4 pm (tickets are required for that).
View the decorations at the Wilmington Railroad Museum
The Wilmington Railroad Museum (505 Nutt St.) has a light show, Polar Express events, and Santa to celebrate the season.
The Holiday Train and Light Spectacular, with over 25,000 lights, is $5 a person and is November 25 and 26, December 9 and 10, 16 and 17 and 23. Santa will be in attendance. There's also an After Christmas Show (without Santa) on December 30. Each show is from 6:30 pm to 8 pm.
There's also the Polar Express Readings on November 26 and 27, December 10 and 11 and 17 and 18. Tickets are $5 and readings are at 4:30 pm and 5:30 pm.
There will also be decorations outside (which you can see for free as you walk by) and the model layouts inside the museum will be a winter wonderland.
The museum is open Monday through Saturday from 10 am to 4 pm. Admission is $10 for adults, $9 for seniors and military personnel, $6 for kids ages 2 to 12, and kids under 2 are free.
For more, read our full Wilmington Railroad Museum review.
Grab a pint of Tiny Tim's Christmas Ale at Front Street Brewery
Front Street Brewery (9 N Front St) is Wilmington's oldest brewery. There are a ton of flagship beers at the brewery, but of course, there are seasonal ones as well.
And come December, Tiny Tim's Christmas Ale is always on tap. It was actually realeased on November 17 this year. You'll be able to order it as a glass on draft or you can fill a growler with it to take home.
Shop at a Holiday Market
Cool Wilmington is hosting the Really Cool Stuff Holiday Market downtown on November 26 from 11 am to 4 pm. Food and craft vendors will be set up on Dock Street between Front and 2nd street (this is where the Riverfront Farmers' Market is typically held).
Mayfaire Towne Center (6835 Conservation Way) is hosting the Holiday Market Extravaganza on Saturday, December 12 from 10 am to 7 pm showcasing local vendors, giveaways, and more.
There's also the Carolina Beach Holiday Market on December 3.
Visit Santa
Santa makes some of traditional stops in the Port City. The big man will be at Mayfaire Town Center (L135 – 865 Inspiration Dr) from December 1 until December 24.
He'll be there Monday through Saturday from 11 am to 7 pm and Sunday from noon to 6 pm. On Christmas Eve, Santa will be around from 10 am to 1 pm then 2 pm to 4 pm. He does take breaks daily to "feed the reindeer."
Santa will also be at the Independence Mall (3500 Oleander Dr.) from November 25 through December 24. Specific times are available to book online.
That's for kids. If you want your pet to take a photo with Santa, you can do that on the following days: November 28 from 4 pm to 7 pm and December 5 from 4 pm to 7 pm. Reservations are highly suggested.
For other stops, check out our Where To See Santa In Wilmington post.
Visit A Light in the Darkest of Nights & An 18th Century Christmas
The are two events at Brunswick Town/Fort Anderson State Historic Site (8884 St Phillips Rd SE, Winnabow) that you don't want to miss.
On Friday, December 9, from 4 pm to 7 pm, there's the A Light in the Darkest of Nights event. Everyone is invited to St. Philips Church at Brunswick to view its holiday decorations, complete with candlelight and greenery. The event is free.
Later that weekend, on Sunday, December 12, is the 18th Century Christmas event from 1 pm to 5 pm.
Costumed interpreters will give guided tours of the church and attendees will enjoy 18th century inspired refreshments, participate in traditional games, make 18th century themed crafts, and more. There will be an authentic period candlelit service at 5 pm. This event is $5.
Marvel at the Island of Lights Festival
One of my favorite annual traditions is to head to the Island of Lights Festival at the lake at Carolina Beach (intersection of Atlanta Ave and Lake Park Blvd).
There annual parade will take place on Friday, December 2 at 7:30 pm. Santa arrives at the end of the parade.
The lights around the park will be lit from then until the end of the year.
See the lights at Enchanted Airlie
Each year, Airlie Gardens (300 Airlie Road) hosts Enchanted Airlie. The entire botanical garden is filled with lights.
Admission is $30 per carload, and tickets must be reserved ahead of time.
We went the last two years and it was amazing. Check out our full Enchanted Airlie review.
Ride with Santa on his horsedrawn carriage
Santa and his "reindeer" do the horsedrawn carriage tours in Wilmington in December.
The tour starts at Market and Water Streets in downtown Wilmington. There are blankets to keep you warm while you ride around downtown, hear about the city's history, and check out Christmas lights in Wilmington, NC's downtown area.
Tours will take place December 16 and 17, then 23 and 24 from 6 pm to 10 pm. Tickets are $14 for adults and $6 per child (and children get free candy canes!).
Recreate Hallmark's "USS Christmas"
Two years ago, a new Hallmark movie, USS Christmas, was filmed in Wilmington. The majority of the plot takes place at the USS North Carolina in Wilmington.
You can visit the USS North Carolina (1 Battleship Road) and recreate scenes from the movie, tour the battleship, and learn its history.
Even better, if you're a Battleship member, you can join Battleship HO HO HO on November 25 from 10 am to 3 pm. You can type a Christmas wish list on a vintage typewriter, call Santa from the Battleship's radio room, and more.
Watch The Nutcracker
You have two options to see The Nutcracker at The Wilson Center this year.
You can see City Ballet's The Nutcracker on December 3 and 4 (you can livestream the December 3 performance for $25) or you can see The Great Wilmington Nutcracker (the 21st annual show) on December 17 and 18.
Tickets can be purchased here.
Join the Jingle Bell Run
This is not for me. I don't run. At all.
But if you run, you can sign up for the Jingle Bell Run on December 3. The timed, in-person race starts at the Wrightsville Beach Museum of History (303 West Salisbury St.).
You are encouraged to dress in holiday apparel, since it is a holiday-themed run, but even that won't get me running.
Check out the Cape Fear Festival of Trees
This year, the Cape Fear Festival of Trees will be held at the North Carolina Aquarium at Fort Fisher (900 Loggerhead Rd, Kure Beach) from November 18 to January 2.
The festival, which benefits the Lower Cape Fear LifeCare's Cape Fear Festival of Trees, features a ton of trees decorated and donated by local businesses.
Visitors can purchase wreathes and ornaments, plus vote on their favorite tree.
The festival will be held daily from 9 am to 5 pm. It's closed on Christmas Day and New Year's Day.
Admission to the aquarium is required, but there's no additional fee to see the trees. Tickets must be purchased in advance.
Leave a letter for Santa at the Cotton Exchange
Santa usually makes a stop at The Cotton Exchange (321 N Front St), but if you miss the big man, kids are able to leave him a letter in the mailbox located within The Cotton Exchange.
Donate to a family in need
The church we attend, the Basilica Shrine of St. Mary in Downtown Wilmington, usually has an angel tree up each year and parishioners are able to purchase gifts for families in need.
Even if you're not a parishioner, you can still head inside the church, take a leaf off the tree, and sponsor a family in need.
Look at the lights in Leland
Leland is the town over from Wilmington, but often gets overshadowed by its larger neighbor. But, not to be outdone, Leland has its own light display.
Leland in Lights will be up at Founders Park (113 Town Hall Drive) beginning with the Grand Illumination on December 3. There's a Candy Cane Forest, a waterfall of lights, forest critters, and of course, Santa.
Admission is free. The displays are up all day long, but they're only lit at night.
Check out our full Leland In Lights review for more.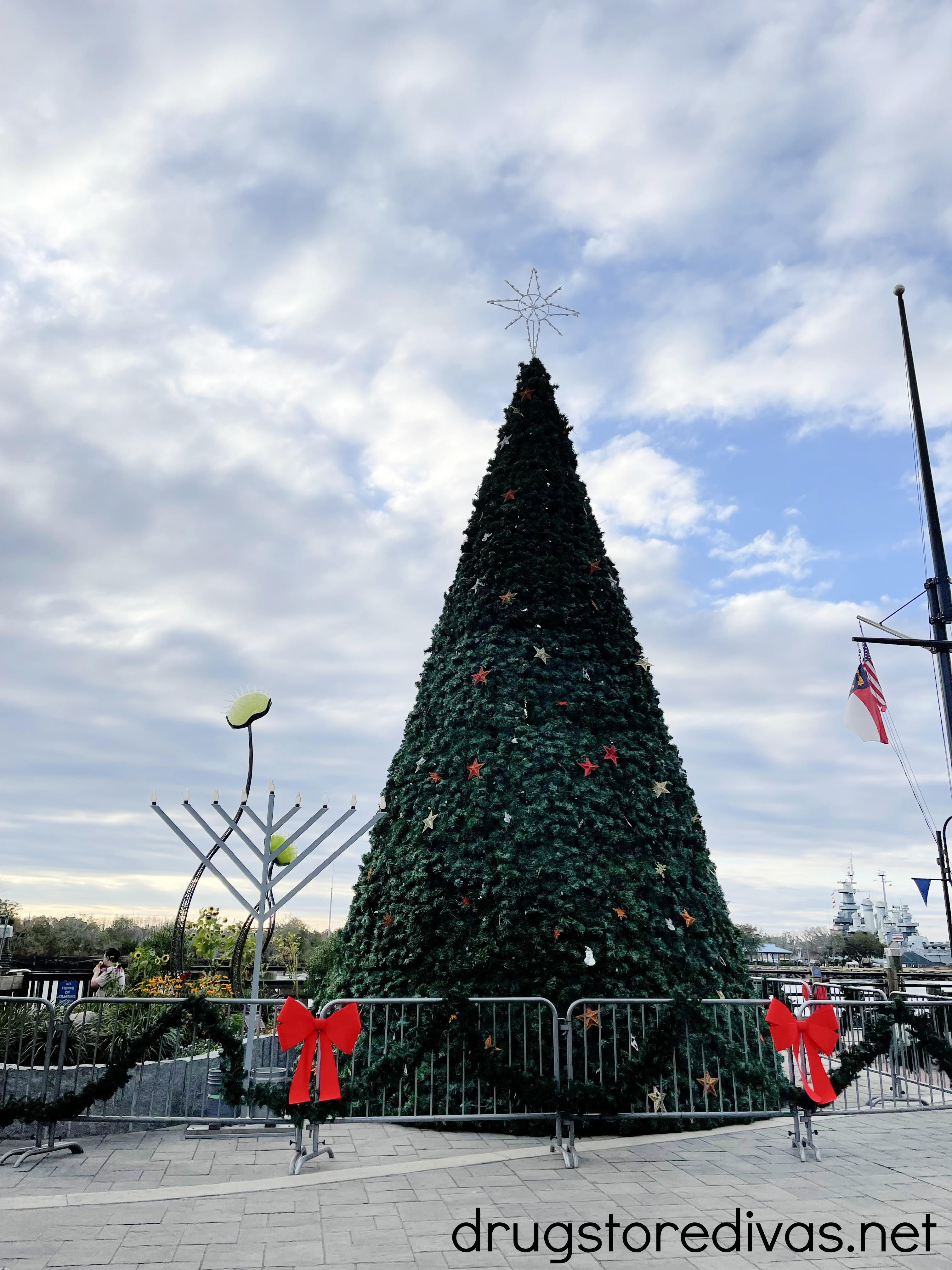 Visit the downtown Christmas tree
The Christmas tree in downtown Wilmington (at the end of Market Street) is being lit during the tree lighting event on November 25 at 6:30 pm.
There will be live entertainment, free hot cocoa, a visit from Santa, and more beginning at 5 pm.
Shop at the German Christmas Market
We went to a German Christmas Market at Dirtbag Ales in Fayetteville, NC and it was so much fun. So I have high hopes for the German Christmas Market at St. Mark's Lutheran Church (612 South College Road) on November 19.
There will be German food (like bratwurst and German potato salad) and beverages (like beer and gluhwein), German music, and more. Plus, you can do a lot of shopping because there will be vendors and crafts.
Drink the Holiday Blend at Port City Java
No trip to Wilmington is complete without a stop at Port City Java. It's the area's most popular coffee chain (totally beating out Starbucks).
In December, Port City Java brews a Holiday Blend, so you can ask your barista for it by name — or order a bag of it online.
See Christmas lights at Poplar Grove
Poplar Grove (10200 US Highway 17 North) is hosting the All is Bright festival where you can see the manor house decorated and see the grounds decorated.
There will be food trucks, drinks for sale, Santa, a letter writing station for the USO, and more.
Tickets are $10 for adults (16+) and $5 for kids. You can purchase a family package (2 adults and 2 kids) for $25.
Dates for All is Bright are November 25 and 26, then December 1 to 3, 8 to 10, 15 to 17, 21 to 23, and 28 to 30.
Watch the North Carolina Holiday Flotilla
The annual North Carolina Holiday Flotilla is happening on November 26. It begins with a Day in the Park at the Wrightsville Beach Town Complex from 10 am to 4 pm, with a car show and more.
At 6 pm, the boat parade starts and fireworks end the night.
You can see a recap of the 2021 North Carolina Holiday Flotilla here.
Check out the lights at Jeff Gordon Chevrolet
If you don't live in Wilmington, you probably don't expect one of the best light displays in the area to be at a car dealership. But if you live in Wilmington, you know Jeff Gordon Chevrolet (228 College Rd) does a great job.
All of its lots are decorated with an uncountable number of lights (well, last count I heard was 450,000 lights). And you can drive by them, or pull into the lot and walk through them, and enjoy them.
But wait. There's more.
The lights are actually set to music. They're synced with the holiday music on 99.3 FM, so you can set your radio, drive in, and enjoy the festivities.
If you can't make it there, you can check out the Jeff Gordon Chevrolet's Holiday Music Light Show on YouTube.
Paint a ceramic light up mantle tree at Wine & Design
Wine & Design is a lot of fun. You get to sip some wine (or your beverage of choice) and paint. Usually, you're painting canvas and a pre-selected image.
During this holiday season, though, you can paint a ceramic light up tree. You know, those classic green trees that hold mini lights that everyone's grandma had for some reason. Yup. You can paint one of those. Which is amazing.
If the nostalgia part of your brain unlocked and you want one now, but you can't make it to paint night, you can actually purchase a ceramic light up mantle tree online.
Skate at the ice rink at Live Oak Bank Pavilion
There's a very good chance you've been to Live Oak Bank Pavilion (10 Cowan Street) to see a concert. But, what you probably haven't ever done there is gone ice skating. Because it's a park, not a skating rink.
But, from December 1 to 9, a synthetic ice rink is being set up there.
Tickets are $5 per person for a 1-hour session (which includes 15 minutes for signing waivers and 45 minutes for actual skating). Tickets must be reserved in advanced on the city's website.
Check out the tree lighting at Live Oak Bank Pavilion
Even better, Live Oak Bank Pavilion is having a tree lighting and more on December 3, beginning at 5:30 pm.
The Cape Fear Chorale will perform to kick off the night. The tree lighting will be at exactly 6 pm, followed by Santa arriving at 6:05 pm. You can visit with the big man (for free!) until 7:15 pm.
Then, at 7:30 pm, The Grinch will be shown — for free. Bring blankets and chairs and keep in mind that the movie is outdoors, so you want to dress warmly.
There will also be face painting, food for purchase, and more. And, if you bring a toy to donate to Toys For Tots, you'll receive a t-shirt from a local business (while supplies last).
Quick note: This event replaces the event that has previously been held annually at Greenfield Lake. So don't look for anything at Greenfield Lake this year (or honestly, probably moving forward).
Where can you see Santa in Wilmington, NC?
If you're trying to figure out where Santa is, we have you covered with this list of where to see Santa in Wilmington, NC.
Looking for other things to do in Wilmington NC in December?
Wilmington has a lot of things to do whenever you come to visit, including a lot of free things to do and things to do when it rains. You can check out this Wilmington events calendar to find things to do in Wilmington, NC this weekend.
And, if you're looking for places to eat and drink in Wilmington and the surrounding area while you're enjoying the Christmas festivities, we have a few posts to help you out: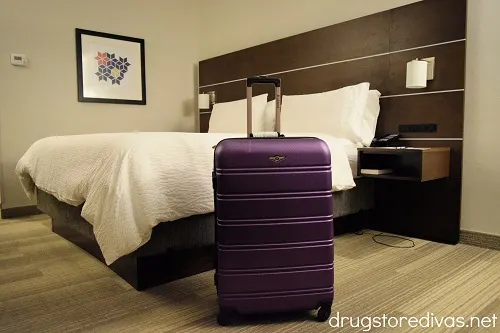 Where to stay in Wilmington, NC:
If you're coming to Wilmington for a winter weekend or for Christmas break and you need somewhere to stay, check out these options:
Hotels in downtown Wilmington:
Hotels in Wilmington, NC:
Looking for more Christmas things to do in the south?
Christmas things to do in Fayetteville, NC
If you're in the area, check out our list of 25 Christmas Things To Do In Fayetteville, NC.
You'll be able to find carriage rides, Christmas beers at local breweries, a German Christmas Festival, and more.
Christmas things to do in Myrtle Beach, SC
Myrtle Beach is filled with Christmas things to do, like visits with Santa, drive in movies at Ripley's Aquarium, tree lightings, and more.
Check out all the Christmas things to do in Myrtle Beach, SC.
Christmas Things To Do In Charleston, SC
Charleston is known for its charm, and that charm is dialed up a notch during the Christmas season. Homes are decorated, trees are lit, and markets switch to holiday gifts. There are tons of holiday things to do in the area.
Check them out in our Christmas things to do in Charleston, SC post.
Nights of a Thousand Candles at Brookgreen Gardens (Murrells Inlet, SC)
Nights of a Thousand Candles at Brookgreen Gardens is an annual must see. There are over 2,500 candles, countless lights, holiday carolers, and more at the botanical garden.
Learn more in our Nights of a Thousand Candles review.
Which of these 25 Christmas things to do in Wilmington, NC are you looking most forward to?