From hand warmers to hair ties to funny towels, this list has 10+ Perfect Stocking Stuffers For Women. Buy one or all of them this holiday.
For more shopping help, check out all of our gift guides.
I love stocking stuffers. I pick them up year round and then put together stockings for my parents and Pete. If you haven't picked anything up yet, though, you still have time. Not that much time, but still. A little time.
To help make your life easier, I put together this list of the top 10+ stocking stuffers for women.
The keys of a good stocking stuffer are this: They must actually fit in a stocking and they can't be more expensive than any of the actual gifts that you're giving to your recipient.
This Stocking Stuffers For Women list is just one of the gift guides we have on Drugstore Divas in hopes of making your shopping life so much easier.
Be sure to check out Drugstore Divas' Holiday Gift Guide for all of our shopping guides.
Top 10+ Stocking Stuffers For Women
Affiliate links are included in this post and Drugstore Divas may make a small commission if you use them.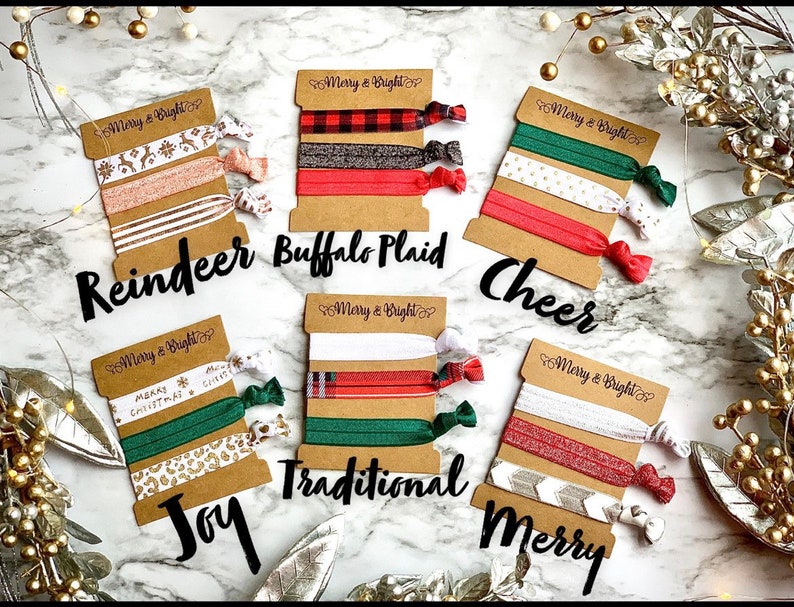 Christmas Elastic Hair Ties
I'm a huge fan of elastic hair ties. They won't pull your hair and scalp like regular elastics do, and they look a lot cuter.
These Christmas Elastic Hair Ties come in three packs and each pack is festive for Christmas, but not over the top where your recipient can't wear them year round.
Wearable Nail Polish Bottle Holder
I love every item on this list, but this Wearable Nail Polish Bottle Holder might be my favorite. I'm actually buying it for me and my mom for our stockings this year. Shh, don't tell her.
The durable, silicone nail polish bottle holder holds your nail polish while you're painting your nails. It fits on any of your nails, so you can switch it from hand to hand if need be.
It comes in 17 different colors, so you can purchase one for every woman you know and get them something similar but still different.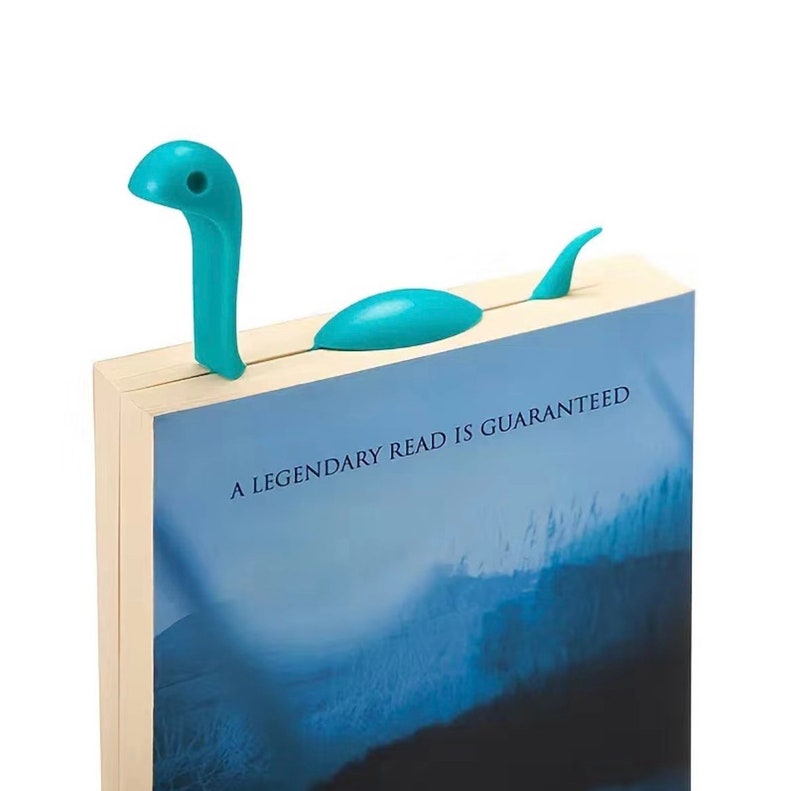 Loch Ness Bookmark
If you need a gift for a reader, this Loch Ness Bookmark is perfect. There's more of the monster beneath the book, that slides between the pages, and just pieces of Nessie pop up above the book. So funny.
It comes in either blue, pink, or green. Personally, I prefer the blue, but you have to pick whatever's best for your friend.
Cable Knit Ponytail Beanie Hat
If you remember, I made a crocheted headband a couple years ago. I made it that way so I could wear my ponytail still, but it doesn't cover the top of my head. So I still get cold.
Enter the Cable Knit Ponytail Beanie Hat.
It's a full hat and has a hole for your ponytail or messy bun. You can get it in a over 100 colors. Seriously. I stopped counting at 100. So you can get one to match whatever color jacket your recipient has.
Not a Day Over Fabulous Wine Glass
When people ask me how old I am now, I'm gonna tell them not a day over fabulous. That's amazing.
Want to copy me? Use this Not a Day Over Fabulous Wine Glass. It's perfect for any woman who is … well, probably over 29.
You can get it in glitter pearl white, mint, purple, or (my personal favorite) rose gold.
Scratch Art Box of Rainbow Mini Notes
Don't mind that this Scratch Art Box of Rainbow Mini Notes is made by Melissa & Doug. I know Melissa & Doug is usually a brand for kids.
But what woman wouldn't love these scratch art box of mini notes?
When I was little, I used to make these with my mom with crayons, so this is so much nostalgia in a gift. It's the perfect stocking stuffer.
People I Want To Meet: Dogs Dish Towel
We had a magnet once that said, "Hell is other people." It makes me laugh to think about.
But really, some people just don't want to deal with other people. It's part of being an adult, I think.
So this People I Want To Meet: Dogs Dish Towel is actually really perfect for a ton of people on your shopping list.
Lip Balm Holder Keychains
I've been seeing Lip Balm Holder Keychains all over Facebook lately. They're cute, but kind of pricey.
So I'm in love with the fact that you can grab a six-pack of them on Amazon for just barely over the price of one if you don't go through an MLM. Plus, that means you can cross six women off your list at once.
I would definitely suggest buying some lip balm and sticking them in the lip balm holder keychains so your recipients actually know what these are when they open them.
Stuff Every Woman Should Know Book
When I moved to Pennsylvania, it was my first apartment and my first time living alone. I had to learn a lot of things on my own.
I remember someone gave me a book with some tips, and it was actually helpful. Every so often I would look at the book to learn things like what browning meat actually means.
So this Stuff Every Woman Should Know book is a great gift idea, especially for a younger woman.
This book has generic lessons that men and women should know, like how to change a tire, but it is geared towards women and has things like when you should get a mammogram.
If You Can Read This Bring Me Tacos Socks
Let your woman relax and prop up her feet with these If You Can Read This Bring Me Tacos socks on.
Then, if you see them, make tacos. Bring her tacos. Feed her tacos.
Not much beats tacos.
If you disagree, though, check out the socks anyway. There are a few others, like sushi, pizza, and bacon.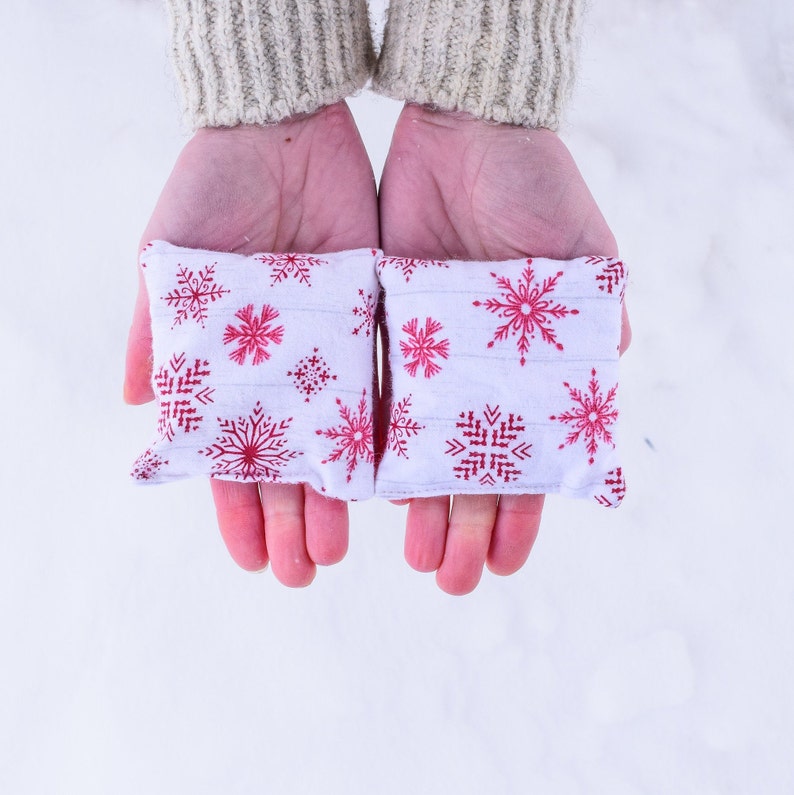 Reusable Hand Warmers
If the woman you're shopping for is anything like me, she's always cold. Help her out with a set of Reusable Hand Warmers.
These ones are filled with rice. You can microwave them to warm them, then do it again when they get cold. They're sustainable and reusable, rather than the disposable hand warmers people usually use. So they're great for the earth and great for a gift, making them the perfect stocking stuffer.
Novelty Memo Pads Bundle
You know that meme of the cartoon dog sitting in the house fire saying, "This is fine"? That has been all of us the last few days.
The world is on fire and everything is fine.
So, honestly, we all could use these Novelty Memo Pads Bundle. There are four that say: I have no idea what I'm doing, Everything is fine, This is my life now, and I'm not even trying anymore.
Sums up life perfectly.
Chippendales Drink Markers
If you have a party, there's a good chance people's drinks will look similar and may get confused. You need to mark them somehow. What better way to do that than with these Chippendales Drink Markers.
Each set comes with four dancing muscle men in various poses. They're more of a gag gift than a stocking stuffer, really, because they're so funny. But either way, they're great.
What the F*@# Should I Make for Dinner? Book
This list wraps up with one that's not for the faint of heart.
The What the F*@# Should I Make for Dinner? book is filled with 50 dinner recipes.
The recipes have names like "meaty ass grilled steak," so keep that in mind before you buy this. Personally, I'm pretty reserved and I actually think this is really funny.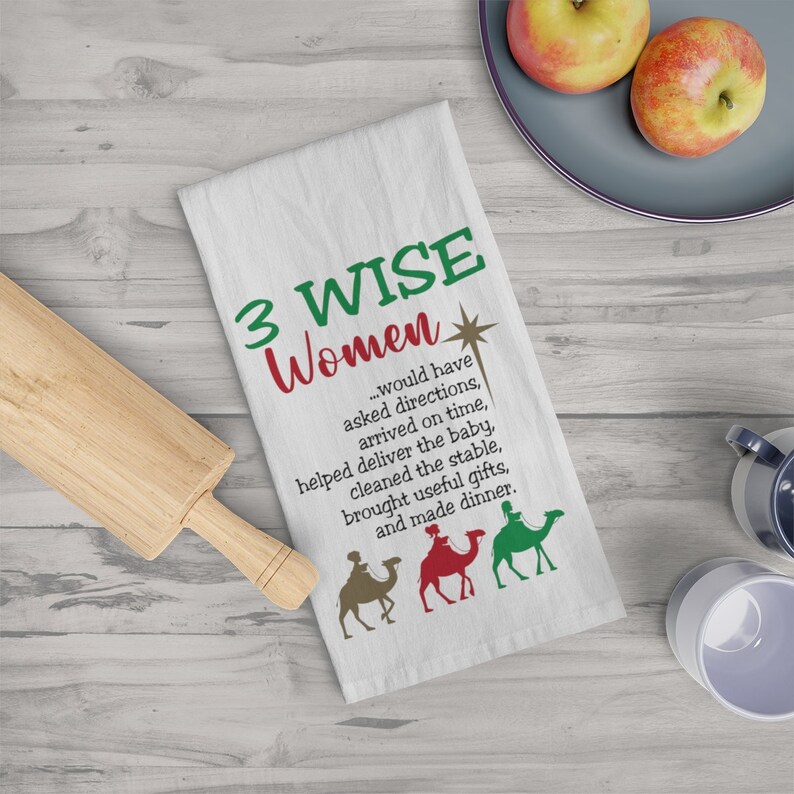 Order Women's Stocking Stuffers Online:
These are our top 10+ stocking ideas for women, but they're not the only ones out there. There are some great ones online, like the funny Three Wise Women Christmas towel above.
So, if you like the ones above, but you're looking for something different or some more stocking stuffers for her, the stores below have some good ones:
Be aware of a store's minimum purchase for free shipping. Also, consider curbside or instore pickup to avoid shipping charges.
More Gifts For Women:
If you need more help shopping for women, you're in luck. We have a few other female-centric gift guides that will help you find the perfect gift.
More Stocking Stuffers:
If you're not looking for stocking stuffers for women, we have a few other lists that may help you: Stocking Stuffers For Kids, Stocking Stuffers For Girls, Clothing Items For Your Husband's Stocking, and 10+ Fun Stocking Stuffers For Men.
Which of these stocking stuffers for women is your favorite? Be sure to let us know in the comments.