The Town of Leland in North Carolina has a gorgeous FREE lights display with over 100,000 lights, animatronic holiday scenes, and more. Leland In Lights 2022 will begin on December 3, 2022.
For help planning a trip to the area, check out our other Wilmington area posts.
We live in a small town. Well, it's not that small anymore. It's actually the fastest growing town in North Carolina and the population has doubled since we moved here.
But it still has that small town feel, with festivals and movies in the park and free concerts by local bands.
Those three things all happen in Founders Park (113 Town Hall Dr), which is where Leland In Lights takes place.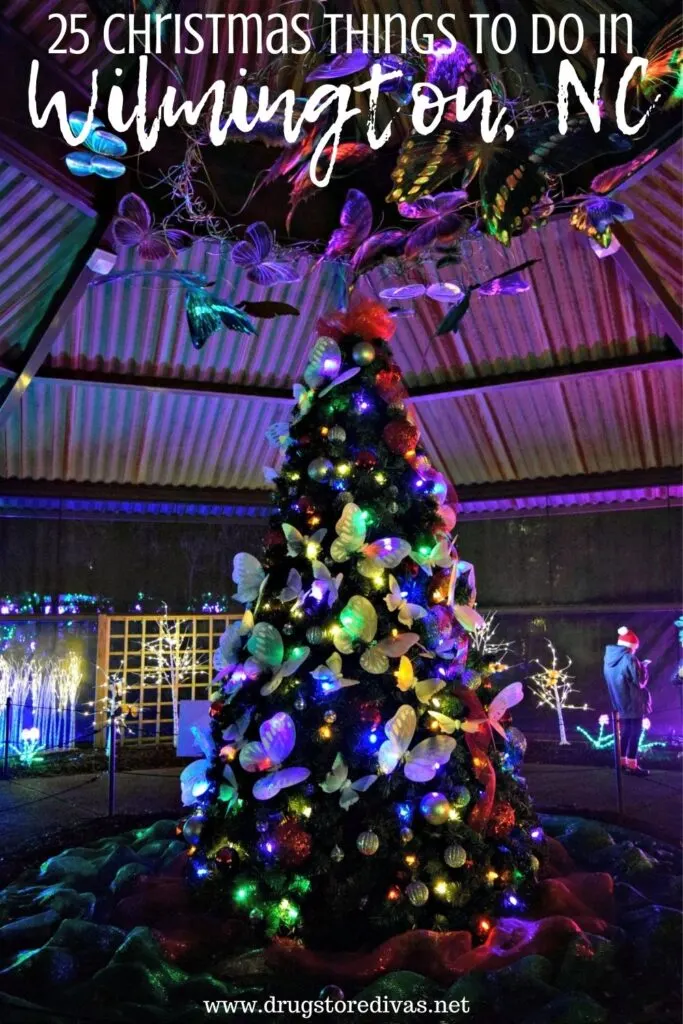 Leland In Lights in just one of the Christmas things to do in the Cape Fear region.
For more, check out our 25 Christmas Things To Do In Wilmington, NC and 25 Christmas Things To Do In Fayetteville, NC posts for more holiday fun in the region.
Leland In Lights: Everything You Need To Know
Affiliate links are included in this post and Drugstore Divas may make a small commission if you use them.
Leland In Lights, a completely free walk through event for residents and non-residents of Leland, had its inaugural season in 2020 and has grown every year since.
Leland In Lights' Grand Illumination is Saturday, December 3, 2022 and the lights will go on daily until January 3, 2023. The lights will turn on at 6 pm and are on until about 6 am the next morning. The singing trees stop singing at 10 pm.
The town started putting the lights and animatronic displays up on September 12, 2022, although they will remain off until the Grand Illumination on December 3.
Residents who go to the park to walk or to the Senior Center or library, located at the front entrance of the park, are able to see the unlit displays. In fact, you can still visit the park during the day to see the unlit displays.
The displays don't come down during the day, which is why the Founders Park Disc Golf Course has been closed since the lights began being put up last month.
Leland In Lights: Frequently Asked Questions
Where can you park for Leland In Lights?
Parking is available at four public lots.

Three are at Founders Park itself (there are two near the Senior Center, off Town Hall Drive, and one is off Perry Ave., between Village Road and Animal Control).

The fourth is the public parking lot available at Town Hall.

For the Grand Illumination, overflow parking is available at First Baptist Church of Leland. During the Grand Illumination, a shuttle will run between the church and the park. This shuttle and parking area will not be available any day other than December 3.
Is Santa at Leland In Lights?
If you're looking for an animatronic Santa, you'll find two at Leland In Lights. Last year, there one Santa in the back of the park, near Old Fayetteville Road, waving from an animatronic fire engine. There's a second Santa near the little library, on Town Hall Drive, waving next to a snowman. Santa may be set up in different locations this year.

As far as Santa in the flesh, he'll be at the Grand Illumination. He'll have a workshop there and kids will be able to visit with Santa, sit on his lap, and share their Christmas lists. Santa's Workshop will be set up behind the craft tents.

His workshop will be removed after the Grand Illumination. The craft tents will only be available that day as well.

If you're looking for the big man, check out this Where To See Santa In Wilmington, NC post. Also of note: A sensory-friendly Santa will be in Leland, at the Leland Cultural Arts Center, from noon until 2 pm on December 17.
What's the Leland Express train schedule?
The Leland Express train made its debut at Leland Homecoming/Founders Day in November 2021.

The Leland Express will be back for Leland In Lights, running a path through the back portion of the park.

The train ride takes about five minutes and goes past the lights in the back half of the park. The line starts on Town Hall Drive, down near Town Hall (where the Town of Leland Incorporation Pokémon Gym is, if you play Pokémon Go).

Adults are permitted to ride the 26-foot train, although I wouldn't consider it accessible for wheelchair bound passengers.

The schedule for the train is December 3, 9, 10, 16, and 17.

The town is showing the movie Polar Express in the park on December 10 at 6 pm and the train may run that day, if time permits.
Other Christmas light displays near Leland, NC:
Leland In Lights is one of the best Christmas light displays in coastal Carolina, but it's not the only display in the area.
Katie commented to let us know that there's a house on Redfield Drive in Magnolia Greens in Leland, NC that has an "amazing" display. I haven't checked it out yet, but now it's on my list.
There are a few others that are within driving distance of Leland, NC.
Enchanted Airlie
Enchanted Airlie is the Christmas lights display in Airlie Gardens. You pay per carload, but it's a walkthrough display.
The display is open on November 25 and 26, then again from December 2 to 22 with arrival times at 5:30 pm, 6:30 pm, 7:30 pm, and 8:30 pm each night. Tickets go on sale to the public on November 2 (there is a pre-sale for Airlie Garden members) and advance tickets are required.
Enchanted Airlie has been a Wilmington, NC staple since 2005 and sells out every year.
Nights of a Thousand Candles
Brookgreen Gardens, a botanical garden in Murrells Inlet, SC puts on Nights of a Thousand Candles every year.
The event starts on November 26 and 27, then happens each Thursday to Sunday until December 18, then revives from December 28 to January 1, 2023. It's open from 4 pm to 9 pm each of those days and you're able to stay the entire time.
There are over 2,500 candles and countless lights displayed throughout the garden. It has been dubbed the "Best Christmas Lights in South Carolina" by Travel+Leisure Magazine.
254 Buff Court
Leland was lucky to be home to the Ford Family, a real life Griswold family. The Fords have lit up their home on with one of the most incredible home light displays since the 90's.
But not always in Leland.
Tyler Ford serves in the Coastguard and was stationed in Leland. He received new orders and the family moved, so 2021 was the last year that Leland residents could see the display of over 50,000 lights at Buff Court (in Birch Creek).
So, even though this display isn't happening this year, we're leaving this up for the people who are searching for it and wondering what happened to the display.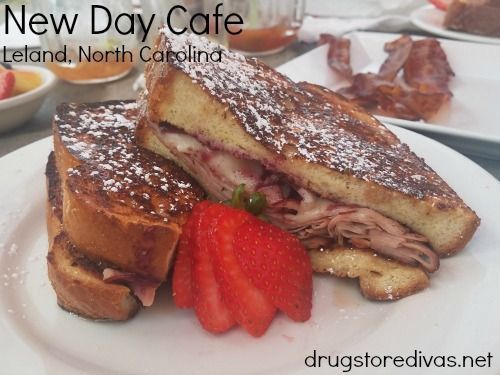 Restaurants in Leland, NC near Leland In Lights
If you're coming to Leland In Lights, you may want to have dinner either before or after walking through the display.
Luckily, we have two lists filled with restaurants in the area. There's our 20+ Restaurants In Leland, North Carolina To Try, filled with restaurants in town, and the other is 20+ Must Try Restaurants In Wilmington, NC, filled with eateries in Wilmington (which is the town over from Leland).
More events near Leland, NC:
If Leland in Lights was your first time in the Leland area and now you're looking for more excuses to come back, there are some other annual events you'll want to put on your calendar.
For the spring, add the North Carolina Azalea Festival (the biggest annual event in Wilmington) and the St. Patrick's Day Parade and Festival.
For the fall, there's Wilmington Riverfest and Rims on the River (although Rims on the River is canceled for 2022, it is coming back in 2023).
In the winter, there's Enchanted Airlie (the light display at Airlie Gardens).
Have you been to Leland in Lights? Tell us what you thought about it in the comments.