One of the best festivals in Southeast North Carolina is Wilmington Riverfest in Wilmington, NC. It will be held October 7 to 9, 2022.
If you're planning a trip to the area, check out all of our Wilmington, NC posts.
For the third time in six years, the dates for Wilmington Riverfest won't be changed due to weather. And that's crazy because before this a hurricane in 2015 moved the festival's date, it had never been changed.
It started in 1979 and was on schedule annually until 2015. Then moved in 2016. And again in 2018. That's coastal Carolina for you. You live on a river, have a festival called Riverfest, and, well, the river's gonna get you.
It was on schedule for 2019 … and then we all know what happened the next two years.
This year's Wilmington Riverfest is on the scheduled for October 7 to 9, 2022. And with Hurricane Ian hitting the weekend before, well, that feels like lucky timing.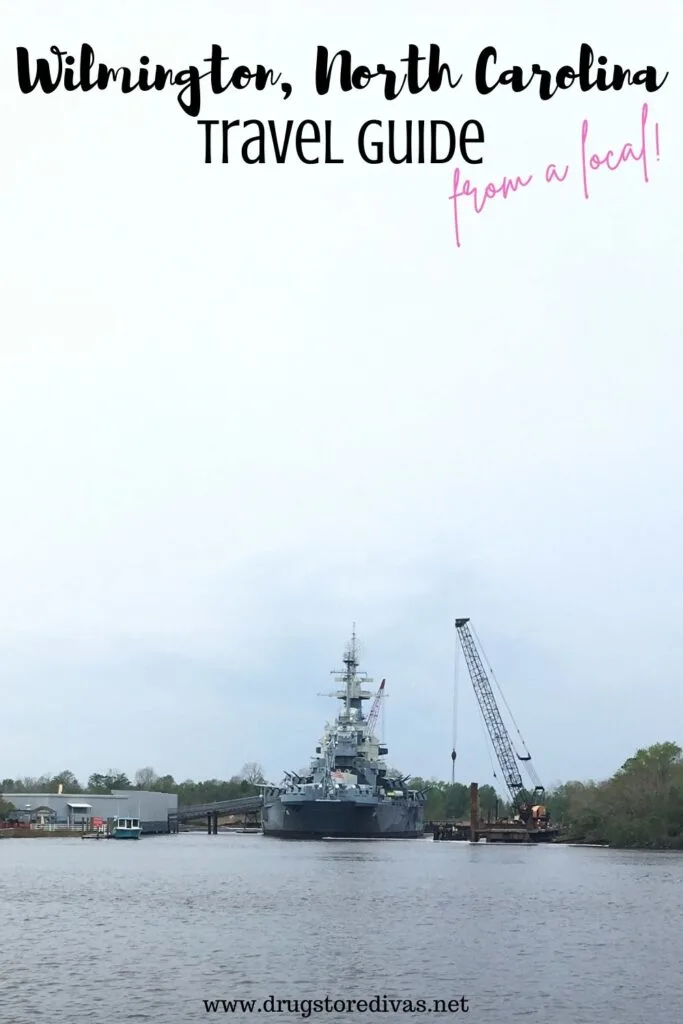 Planning a trip into Wilmington, NC for Riverfest? Get help planning your trip with this Wilmington, North Carolina Travel Guide.
Wilmington Riverfest: Frequently Asked Questions
Before we get into the reasons to attend, let's get a couple frequently asked questions out of the way.
What are the dates for Wilmington Riverfest in Wilmington, North Carolina?
Wilmington Riverfest is on the scheduled for October 7 to 9, 2022.
Who is playing Wilmington Riverfest 2022?
This is still a mystery. There will be a stage set up for bands to play, but the bands have not been announced publicly yet.
Where is Wilmington Riverfest held?
Wilmington Riverfest will be held on Front Street from Orange Street to Grace Street.

This is different than years past. In the past, Riverfest was held on Water Street but is moved this year due to the construction that's happening downtown.
5 Reasons To Go To Wilmington Riverfest
Affiliate links are included in this post and Drugstore Divas may make a small commission if you use them.
The Food
I'll be honest: The main reason I ever want to go to a festival is because I want an excuse to get a corn dog. I won't often let myself get one outside of a festival because then I would get into a really bad habit. But at a festival, it's okay.
There's more than just corn dogs here. You can get funnel cake, lemonade, turkey legs, ribbon fries, huge sodas … you name it, it's available for your enjoyment.
There will be vendors like C/Que from Lumberton, NC selling items like barbecue and brisket. You might find vendors that had previously been at the South Carolina Festival of Discovery (which you might have skipped this summer since it's in Greenwood, SC, about five hours from where Wilmington Riverfest happens).
The Music
There's always good live music at Wilmington Riverfest. It's usually off in an area away from the street vendors, so it's not crazy loud when you're walking downtown.
This year, the bands still have yet to be announced, although there is confirmation that a stage will be set up (at least on Saturday).
The Vendors
The street fair portion of the Riverfest is a big draw. I love checking out the small crafters to see what they have to offer.
The last few years, the Wilmington Riverfront Farmers' Market had been incorporated into the Saturday portion of Riverfest, so you may have seen Pete selling Rita's Wooden Spoon there. This year, though, the Riverfront Farmers' Market is taking the week off, so don't head downtown looking for it on Saturday.
Some of this year's Riverfest vendors are Finklepott Fairies (fairy hair), Photography by Nathalie, Whiskey Run Customs (custom laser engraved items and more), and Copperline Co. (a clothing boutique).
The Fireworks
My favorite holiday is July 4th because nothing beats a good fireworks show for me. In fact, the night I met Pete was minutes before a fireworks show. Literally. Not figuratively.
So the fact that there's a fireworks show on Saturday night at Riverfest, that's definitely a reason to go downtown.
The Car Show
One of the big Wilmington events for car lovers is the huge Rims On The River festival every fall. It's canceled for 2022 due to construction, so if you want to see cars in Wilmington, this is your chance.
Full Wilmington Riverfest 2022 Schedule
Friday, October 7
7 pm: Food vendors are set up
Saturday, October 8
10 am to 6 pm: Car show
10 am to 6 pm: Food and craft vendors are set up. (Some food vendors will stay open later due to the fireworks.)
10 am to 6 pm: Kids zone (with rides for kids)
9 pm: Fireworks
Sunday, October 9
10:30 am to 5 pm: Food and craft vendors are set up.
Where To Stay For Wilmington Riverfest:
If you're coming into Wilmington for the festival weekend, you'll need somewhere to stay. A good option is staying downtown, which means you can walk to the festival. But, you'll probably get a better hotel price if you stay within driving distance, so we listed out both options for you.
Hotels Within Walking Distance Of Wilmington Riverfest:
Hotels Within Driving Distance Of Wilmington Riverfest:
Where To Eat And Drink In Wilmington, NC:
If you're not as into street fair food as I am, you might be looking for some other places to eat and drink. Our 20+ Must Try Restaurants In Wilmington, NC will help you find the best food in the area.
For coffee to get you ready for the festival, check out our Best Cups Of Coffee In Wilmington, NC post. And to get your drink on at night (if you're 21+), The Complete Guide To Breweries In Wilmington will help.
And, of course, if it's nice out, you'll want to cool down with some ice cream. Figure out where to go using our The Best Ice Cream Shops In Wilmington, NC post. Almost all of them are within walking distance of the festival.
Things To Do In Wilmington, NC:
Wilmington Riverfest doesn't last all day, so you might be looking for other things to do in the area when you're done with the festival. A few of our posts below can help you plan your trip:
And, if you're coming for a weekend away with your significant other, be sure to check out these Romantic Things To Do In Wilmington, NC while you're in town.
More events near Wilmington, NC:
If Riverfest was your first time in the Wilmington area and now you're looking for more excuses to come back, there are some other events you'll want to put on your calendar. For all of them, check out this Guide To Festivals In Wilmington, NC, with a breakdown by month.
For our favorites, check out the ones tagged below.
For the spring, add the North Carolina Azalea Festival (the biggest annual event in Wilmington) and the St. Patrick's Day Parade and Festival to your calendar.
For the fall, there's Rims on the River.
In the winter, there's Enchanted Airlie (the light display at Airlie Gardens) and Leland in Lights (a light display in neighboring Leland, NC).
Have you been to Wilmington Riverfest? Let us know your favorite part in the comments!