There's so much to do in Fayetteville, NC this holiday season. Check out this great list of 25 Christmas Things To Do In Fayetteville, NC — updated for 2022.
For more help planning your trip, check out all of our Fayetteville posts.
We basically consider Fayetteville, NC our home away from home. Pete and I love to drive over there for the weekend. A few years ago we went during the Christmas season, which is such a great time to go because there's so much to do there.
I narrowed this list down to 25 Christmas things to do in Fayetteville, NC because, really, you can't do everything.
This would be, more or less, our exact itinerary if I was planning a trip to Fayetteville at Christmas for 2022.
Before you read the list, keep in mind that this (pretty much) all the Christmas things to do in Fayetteville. It's also not all offered in one day. I tried to mention a lot of things going on all season (like coffee, cookies, and cocktails), but there are a few events that are only happening on certain dates. Be sure to confirm those dates/times before you go.
And, a second note: Drugstore Divas has no association with any of these shops, events, etc. And actually, none know about this post beforehand. So none of this is sponsored and no one paid to be in my guide. It's honestly all stuff I would do, places we love in Fayetteville, and events that just sound like fun.
25 Christmas Things To Do In Fayetteville, NC
Affiliate links are included in this post and Drugstore Divas may make a small commission if you use them.
Visit Holiday Lights in the Garden at the Cape Fear Botanical Garden.
I've been to the Cape Fear Botanical Garden (536 North Eastern Boulevard) a few times, and it was beautiful each time. We always spend the entire afternoon walking around, checking out the gardens, spinning Pokestops, and checking out the museum houses. I can only imagine it's more beautiful lit up for Christmas, so definitely check it out.
Tickets for members are $10 for adults and $6 for children (ages 3 to 10); tickets for non-members are $14 for adults, $12 for seniors, $12 for military, and $9 for children (ages 3 to 10). Quick note: The Cape Fear Botanical Garden is a part of the American Horticultural Society Reciprocal Admissions Program. You can use your membership from a reciprocal garden for complimentary admission during normal hours, but not during Holiday Lights in the Garden.
Dates are December 2 to 4, 9 to 11, and 16 to 22 from 5:30 pm to 9 pm. December 1 is a members only night.
For more, check out our Cape Fear Botanical Garden review.
Visit the Sweet Valley Ranch Festival Of Lights
The Festival of Lights at Sweet Valley Ranch (990 Sunnyside School Road) started in 2020 and continues on. You'll see the farm, animals, a nativity scene, and thousands of sparkling lights.
Even better, you can visit with Santa, check out vendors and the gift shop, ride on amusement rides, and more.
Dates are November 25 and 26, then December 2, 3, 9, 10, 11, 15, 16, 17, 21, 22, 23, and 26 from 6:30 pm to 10 pm.
Ticket prices vary based on number of people in your group. For 1 to 3 people, it's $10 per person; 4 to 11 people is $9 per person; 12 or more is $8 per person. Children 2 and under are free.
December 21 is Customer Appreciation Day and everyone gets in for $8.
Take a ride on the Holly Jolly Singalong Trolley
Get your voices ready for Cool Spring Downtown's Holly Jolly Singalong Trolley.
The trolley starts at 222 Hay Street will take you around town to see holiday lights and decorations. There will be "songs of the season" led by Michael Daughtry too. You're encouraged to dress up for the event, so break out your ugly sweater and get your song on.
This is happening December 15 and 16 at 7 pm and 8 pm (each ride is about 45 minutes long). Tickets are $30 for adults and $15 for kids.
Laugh at Sleigh What?! A Holiday Comedy Trolley On Wheels
If the Holly Jolly trolley sounded fun, but you're not into singing or family-friendly events, Laugh at Sleigh What?! is for you. It's basically a comedy show on wheels.
The comedy show will last about 45 minutes with a showing at 8 pm and 9 pm that night. Tickets can be purchased ahead of time here and are $30. The ticket price includes a free adult beverage.
Check out the Holidays on Hay
The Arts Counsel of Fayetteville/Cumberland County is hosting a huge Holidays on Hay festival on Friday, November 25 from 3 pm to 9 pm.
There are a ton of events at this event, so plan your day accordingly.
For the entirety of the event, vendor tents will be set up so you can start your holiday shopping, there will be a kid zone (with Santa's workshop, crafts, and more), and food trucks will be on site. There will also be a gingerbread house contest.
The community tree and candle lighting is at 6 pm, and the big highlight, is a drone light show at 7 pm. The Ugly Holiday Sweater Contest will take place at 7:30 pm, after the drone show. There will also be Holidays On Hay After Dark with lighted performances.
Also, at the Fascinate-U Children's Museum (116 Green St), you can decorate cards for pediatric patients and nursing staff.
Create at the How the Grinch Stole Christmas Workshop
If you have a little one (ages 18 months to 6 years old, you can head over to Kidcreate Studio – Fayetteville (434 Westwood Shopping Center) on Friday, December 16 for the How the Grinch Stole Christmas Workshop.
It'll be held from 9:30 am to 10:15 am, which should enough time for your child to make the Grinch-themed cotton ball craft.
Tickets are $15 and you can register here.
Take a picture with the Grinch
Are you a little too old for the craft above, but you still like the Grinch? No worries. Just head down to Green Side Up – Garden and Gift Center (3783 Wilmington Hwy).
The Grinch will be there to take photos — just remember to bring your own camera.
You can visit on December 3, 4, 10, 11, 17 & 18 from 10 am to noon and again from 1 pm to 3 pm. Kids and pets are welcome.
Fly through fall foliage at ZipQuest.
I was driving around earlier this week, and I was just taken aback by all the reds and oranges of the foliage. It's finally fall around here. Now, imagine seeing those reds and oranges from a zipline. You can!
ZipQuest (533 Carver Falls Rd) is actually still open (Friday through Monday from 9 am to 5 pm) — and are still offering holiday deals.
Our morning there was an unforgettable experience, even if I was so incredibly scared on the first zipline.
Learn about Jesus the Christmas Drive Through At The Village
Put me down for this one. At Village Baptist Church (906 South McPherson Church Road), you'll drive through the sights and sounds of the events leading up to the birth of Jesus. And since Jesus is the reason for Christmas season altogether, this sounds like the perfect way to remember that.
Live actors and animals pair with custom-made sets and period-accurate scenery. There's pre-recorded Christmas music and narration to listen to as well here.
The event is happening on December 9, 10, and 11 from 6 pm to 9 pm.
Have brunch with Santa
King's Grant Golf & Country Club (347 Shawcroft Rd) is hosting Brunch with Santa on Saturday, December 17 from 10 am to noon. Call 910-630-1111 to RSVP (it's not required, but requested).
There will also be crafts, a digital image of your kids and the big man, and more.
Tickets are $10 for members and $15 for guests if you RSVP. They're $20 at the door.
King's Grant Golf is also hosting an Ugly Sweater Party on December 10 with music, food, drinks, and more. Tickets are $20 for members and $30 for non-members.
Join The Green Grump Who Stole Foo-Ville scavenger hunt
On Saturday, December 3, there will be a self-guided Green Grump Who Stole Foo-Ville scavenger hunt in downtown Fayetteville. The scavenger hunt will take you around a bunch of the downtown stores and restaurants, and you'll have time to check them out and buy some Christmas gifts either before, during, or after the hunt.
It'll officially take place from 1 pm to 4 pm, but you don't have to be there at the start or the entire time. You also don't have to wear an ugly sweater or Grinch-themed clothes, but it's encouraged. Find more details here.
Have pancakes with Santa at Huske Hardware House
Huske Hardware House, Fayetteville's oldest brewery, is hosting a pancake breakfast with Santa on Saturday, December 10.
There is a session from 9 am to 10:15 am, then a second from 10:15 am to 11:30 am. Seating occurs during 15 minutes prior to the session.
Breakfast is for kids is scrambled eggs, bacon, and a waffle and scrambled eggs, bacon, banger sausage, a biscuit, and hash browns for adults.
Tickets must be purchased in advance here.
Visit Santa at the Cross Creek Mall
You can visit Santa at the Cross Creek Mall (419 Cross Creek Mall) from November 18 until December 24.
You can see Santa from Monday to Thursday: 11 am to 7 pm; Friday and Saturday from 11 am to 8 pm; and Sunday from noon to 6 pm. Santa is off on Thanksgiving. His hours on Christmas Eve are 10 am to 1 pm and 2 pm to 4 pm.
Santa does take a daily break to feed his reindeer.
Santa will also visit with your pets on Mondays from 4 pm to 7 pm.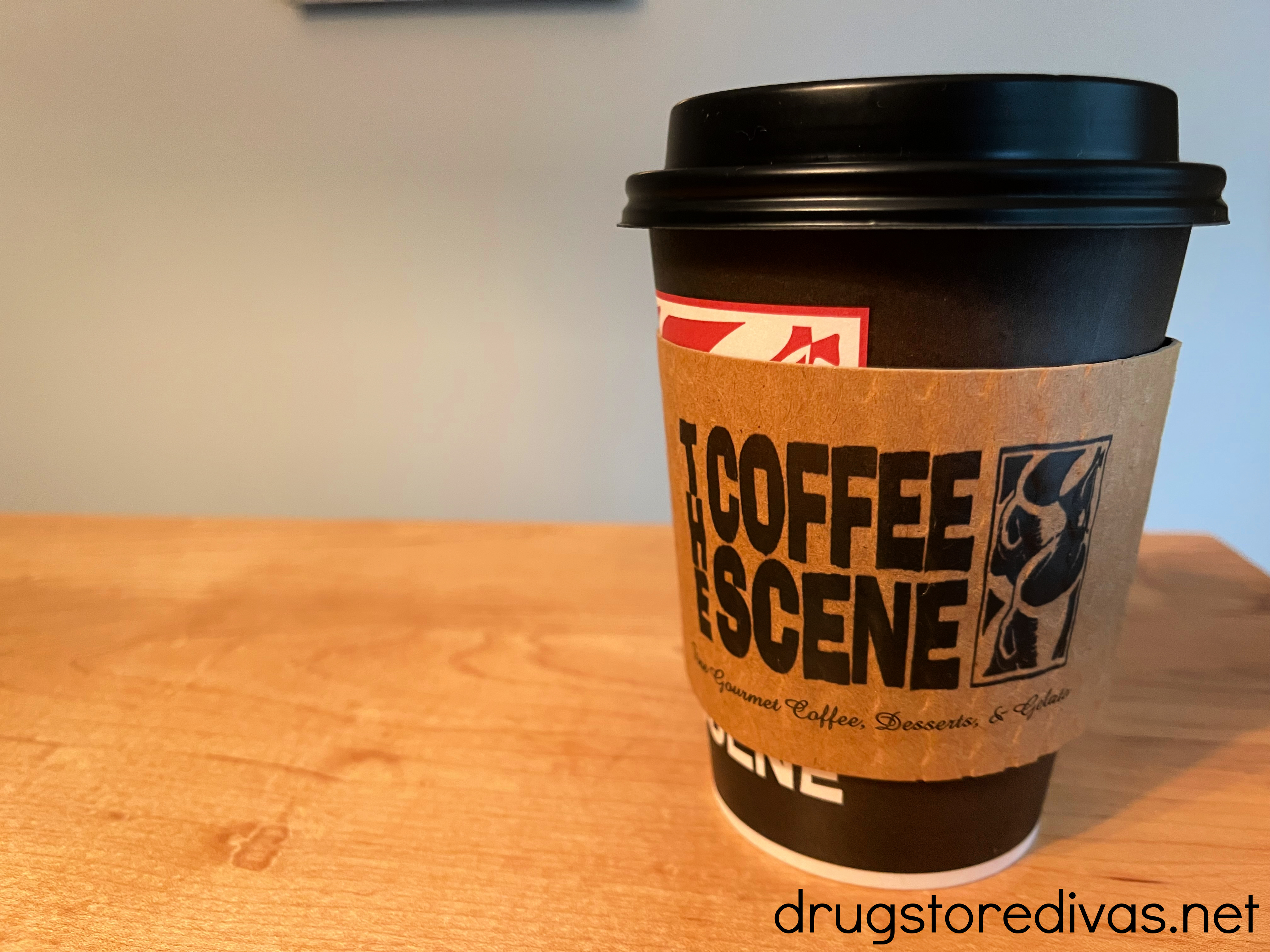 Drink a Peppermint Latte at The Coffee Scene.
Pete discovered The Coffee Scene (3818 Morganton Rd) on one of our trips to Fayetteville and we instantly fell in love. It's such a cute, cozy place where we could have spent the day sipping coffee and snuggling on a couch in the loft.
The mocha there is my absolute favorite, so we have to make a point to stop in and grab one when we're in town. If you're there and looking for something wintery and festive, The Coffee Scene can make you a peppermint latte. Actually, even though that's not on the menu, The Coffee Scene can make you any version of a peppermint beverage.
Sounds like I should take a ride and try a peppermint mocha.
Find some Holiday Popcorn from Hot Sugar Pop.
Hot Sugar Pop is a Fayetteville based popcorn company, which has a lot of seasonal flavors during the holiday season.
Also, huge kudos to Hot Sugar Pop. When I originally wrote this list, the popcorn was only found at the botanical gardens at at the Dickens Christmas festival, and now it has a full shop. Talk about growth.
Drive through Christmas in the Park at Arnette Park
We've been to a lot of parks in Fayetteville, but somehow, we've never made it to Arnette Park (2165 Wilmington Hwy). If you love disc golf, there's a course there (we have a course at one of our local parks here, too, so I would be curious to compare them). It's not disc golf weather now. But it is the perfect weather for Christmas in the Park.
Admission is free, which is nice because you used to have to pay per carload. You do have to stay in your vehicle during the entirety of your visit.
Dates are Sunday through Thursday (December 4 to 8, 11 to 15, and 18 to 21) from 6 pm to 9 pm.
Watch the tree lighting in Hope Mills
The Town of Hope Mills is holding its tree lighting at Hope Mills Municipal Park (5770 Rockfish Road, Hope Mills) on Friday, December 2. The event begins at 5:30 pm and runs until 7:30 pm.
There will be food trucks, Santa and Mrs. Claus, and more.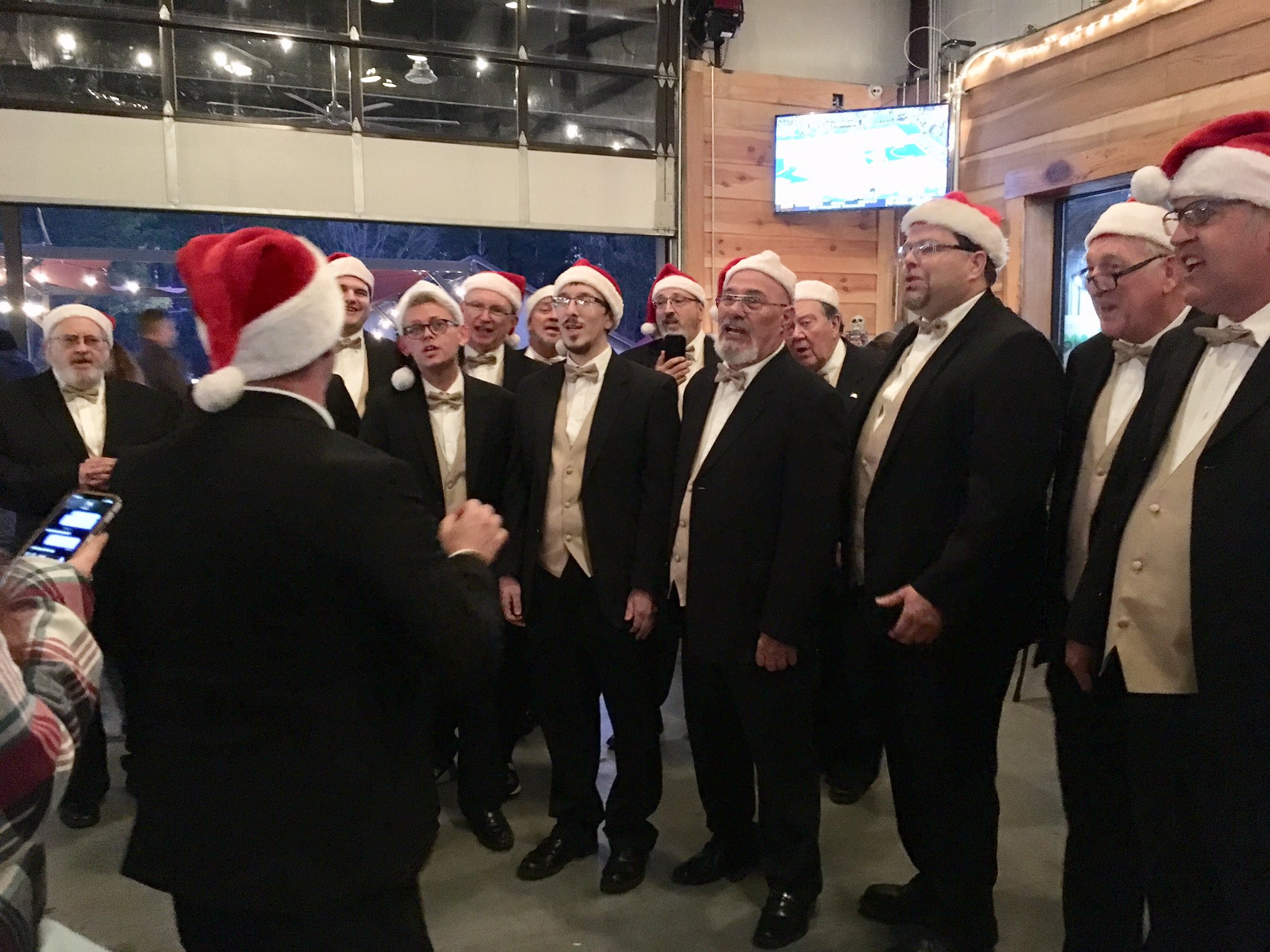 Drink gleuhwine at the German Christmas Market at Dirtbag Ales.
A few years ago, we packed a friend's very large car and introduced a bunch of friends to the German Christmas market at Dirtbag Ales Brewery and Taproom (5435 Corporation Dr., Hope Mills).
It was amazing. There was be craft and food vendors, Dirtbag Ales beers to drink, plus the German hot wine offering gleuhwine, Santa Claus was there, and a barbershop quartet (with way more than four).
Plus, Napkins, one of our favorite Fayetteville restaurants, was serving schnitzel.
This year's Fayetteville Christmas festival will be Friday, December 9 from 5 pm to 10 pm; Saturday, December 10 from 10 am to 10 pm; and Sunday, December 11 from 10 am to 2 pm. Details here.
Check out our full Dirtbag Ales review.
Vote for your decorations in "Light Up the City"
To dress up downtown, the Cool Spring Downtown District holds "Light Up the City," a decorating contest for the businesses downtown.
Over 35 businesses, restaurants, and museums are decorating their storefronts, creating a beautiful path to walkthrough while you're either window shopping or actual shopping. There are participating storefronts on Hay Street, Person Street, Maxwell Street, and more around town.
You can also vote for your favorite decorations to win the "Viewer's Choice Award."
Grab a pint of Jack'd Up Stout at The Mash House.
One of my favorite bites of food, ever, were the pulled pork potato skins at The Mash House (4150 Sycamore Dairy Rd). Last time we went, I almost ordered the chicken potato skins to change it up, but I went with the pulled pork. My stomach was happy. And good thing because, you guys, there's. off. the. menu.
Usually in December, The Mash House releases Jack'd Up Stout — which is aged in Jack Daniels oak barrels for seven months. It's sold on tap or in gift packages. It hasn't been released just yet, but keep your eyes out.
Read our full review of The Mash House.
Watch the Rotary Christmas Parade
A Christmas parade is back in Fayetteville. The Rotary Christmas Parade is happening on December 3 at 10 am. It kicks off at Person St., past Market House onto Hay St., and ends at the Railroad Station. The parade should last about two hours.
If you can't make it, or just want to wax poetic about parades past, you can check out the Fayetteville Rotary Christmas Parade photo gallery.
Tour the 1897 Edgar Allan Poe House
The 1897 Edgar Allan Poe House (801 Arsenal Ave.) is named for Edgar Allan Poe, the Fayetteville-born businessman not the poet of the same name (that Edgar Allan Poe was born in Boston). This Poe owned a house turned museum that is decorated for a Victorian Christmas celebration.
We have a home here in Wilmington, NC that is similar, and visiting is one of my favorite things to do during the season. And, last summer, I finally got to tour the 1897 Edgar Allan Poe House one in Fayetteville and I really enjoyed the tour.
The house is decorated for Christmas in December and early January. You can take guided tours on Wednesday through Friday at 11am and 1pm. Saturday tours are offered on the hour from 10am to 2pm. Tours are limited to 10 people.
And, if you're on town on Sunday, December 4, that's when The Poe House Holiday Jubilee is. From 1 to 5 pm, there will be performances by the Coventry Carolers and the Cross Creek Chordsmen, a visit from Santa, and more. The event is free but donations will be accepted.
Meet Krampus at Dirtbag Ales
When we went to the German Christmas market at Dirtbag Ales Brewery and Taproom (5435 Corporation Dr., Hope Mills), we kept wondering if we would see Krampus, who our German friend described to us as a demonic who follows Santa around and is mean to kids.
What?
Basically, Santa is nice and gives kids presents, and Krampus punishes kids who misbehave.
Since it's a German tradition, we thought Krampus would be at the German Christmas market, but just regular, nice, present doling out Santa was there. On December 8, from 7 pm to 9 pm, Krampus will be at Dirtbag Ales (taking photos, not pushing children, probably).
We always call Fayetteville our second home and wish we could spend more time there, but this Krampus event really makes me wish we had bought a house in downtown Fay for no real reason.
Photos are $20 and include a digital upload of your shot.
A Dickens Holiday Carriage Rides
If you're looking for a horse and carriage ride, you're in luck. You can ride a Dickens Holiday Carriage ride on Friday, November 25 from 1 pm to 9 pm.
Tickets must be purchased ahead of time and are good for a 15 to 17 minute private carriage ride through the district. Carriage Rides will depart from the Fayetteville Area Transportation and Local History Museum (325 Franklin St).
Private carriage ride tickets are $75 per private carriage ride (which can hold 2 to 6 people).
View the Fayetteville Holiday Lights at Segra Stadium
Segra Stadium, which is home to the Fayetteville Woodpeckers, is an amazing addition to the Fayetteville community. Especially this year at Christmas.
The stadium will be open to the public from December 8 to 23 for lights, visits from Santa, and more. Tickets are $12 for adults and $10 for children. They can be purchased ahead of time here.
Looking for other things to do in Fayetteville NC in December?
Fayetteville has a ton going on year round, from parks to fishing to free museums. I highly encourage you to check out this Calendar of Events to see what's going on in December. Don't forget about hockey team the Fayetteville Marksmen, who will be playing in December.
If you're looking for things to do in Fayetteville, NC, check out our post here.
And, if you're looking for places to eat in Fayetteville while you're there, we have a few restaurant reviews that might help you decide:
Where To Stay For Fayetteville Comic Con:
If you're planning a trip to Fayetteville for Christmas and need a place to stay, you have a lot of hotel options. Check out a few of them and search for availability below:
More Things To Do In Fayetteville, NC:
If you're visiting Fayetteville outside of the Christmas season, be sure to check out Fayetteville Comic Con, which happens in April and October, and Blues N Brews, which happens in June.
Looking for more Christmas things to do in the south?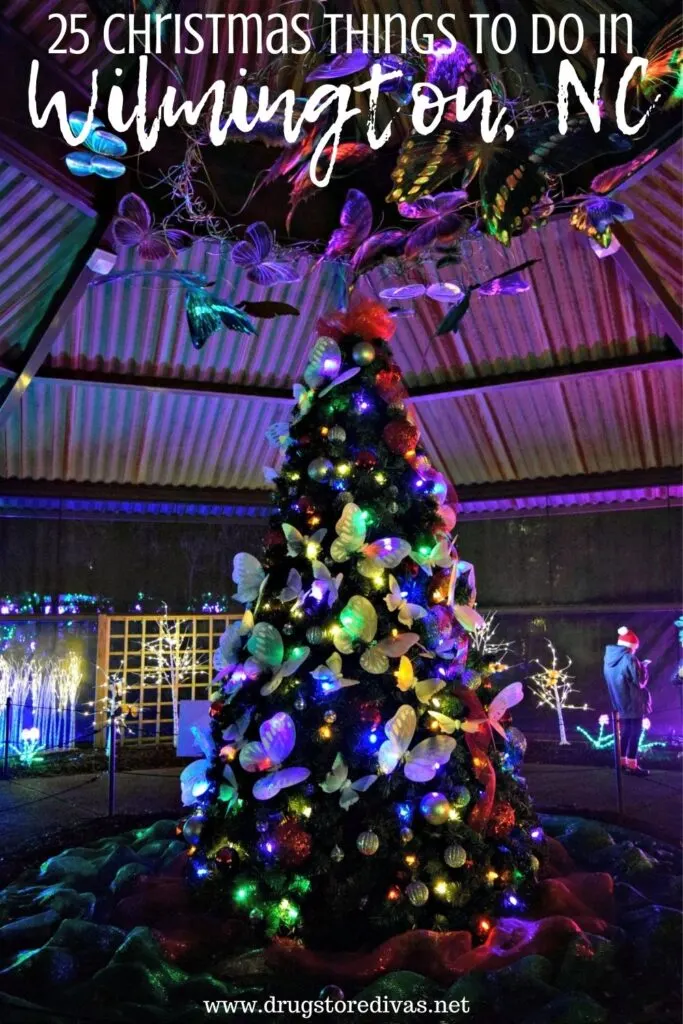 Christmas things to do in Wilmington, NC
If you're in the area, check out our list of 25 Christmas Things To Do In Wilmington, NC.
There are holiday parades, holiday cruises, holiday lights, and more.
Christmas things to do in Myrtle Beach, SC
Tree lightings, a double decker bus playing The Polar Express, and tons of opportunities to see Santa are just some of the fun things to do to get ready for Christmas in Myrtle Beach.
Find all the Christmas things to do in Myrtle Beach, SC.
Christmas Things To Do In Charleston, SC
Holiday shopping at local holiday markets and checking out the Christmas village at the botanical garden are just a few of the holiday events in Charleston, SC this time of year.
Find the rest in our Christmas things to do in Charleston, SC post.
Nights of a Thousand Candles at Brookgreen Gardens (Murrells Inlet, SC)
Brookgreen Gardens, a botanical garden in Murrells Inlet, is filled with countless Christmas lights and over 2,500 hand lit candles. There are holiday treats and carolers as well.
Check out our full Nights of a Thousand Candles review for more.
Christmas things to do in Union Gap, WA
And, if you're on the complete other coast, check out these Christmas things to do in Union Gap, WA.
Which of these things to do for Christmas in Fayetteville, NC are you looking most forward to?