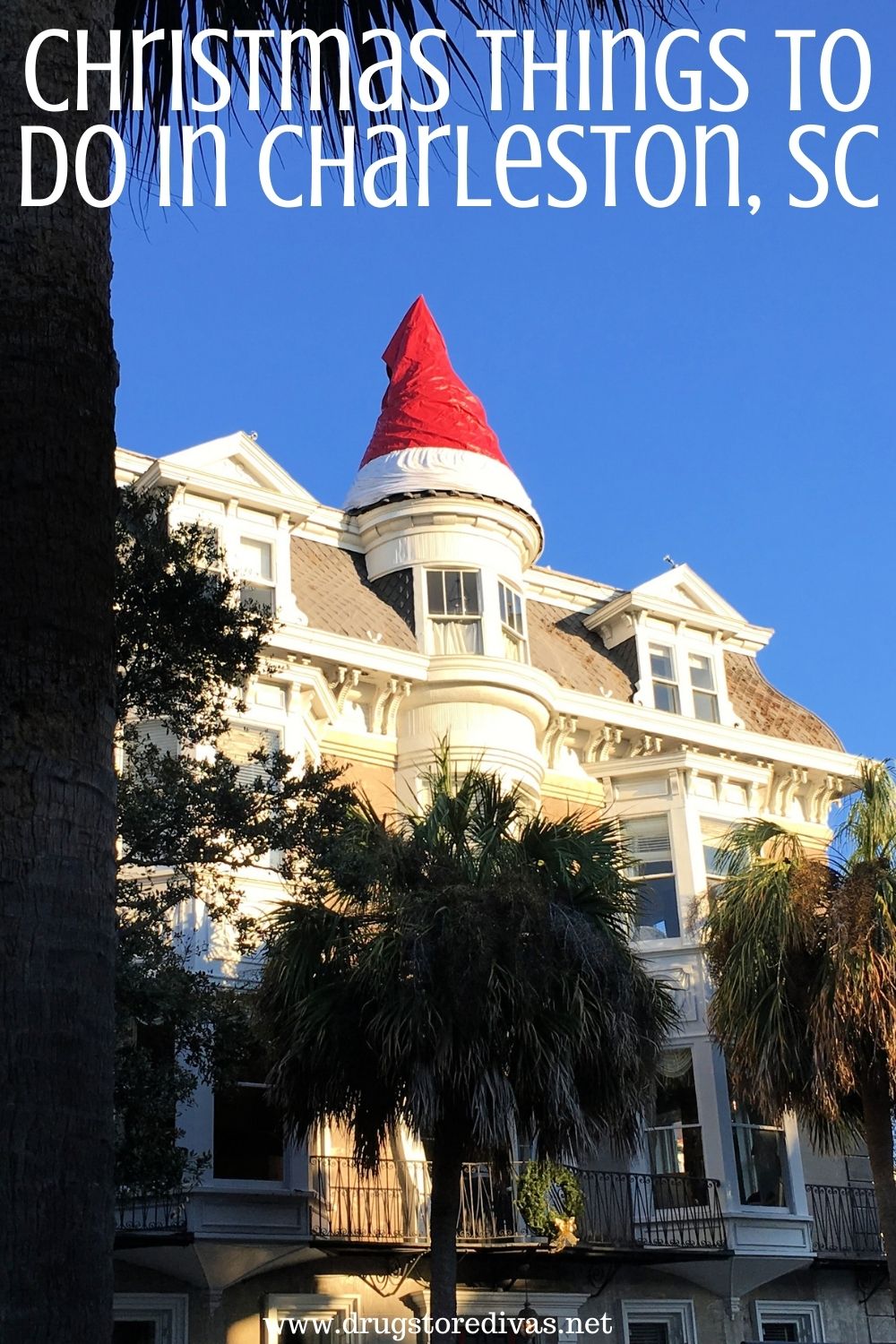 Charleston is one of the nicest towns in the South. It has that old Southern charm, tons of great restaurants, a beautiful botanical garden — and the South's first cat cafe. This time of year, there are tons of Christmas things to do in Charleston, SC.
And the Christmas things make the visit to the quintessential Southern town that much nicer.
If you're planning a trip to Charleston this season, this list will help you plan your trip.
If you're not looking for Christmas-only things to do when you're in town, we can still help you plan.
Check out our 24 Hours in Charleston, SC post for inspiration and things to do.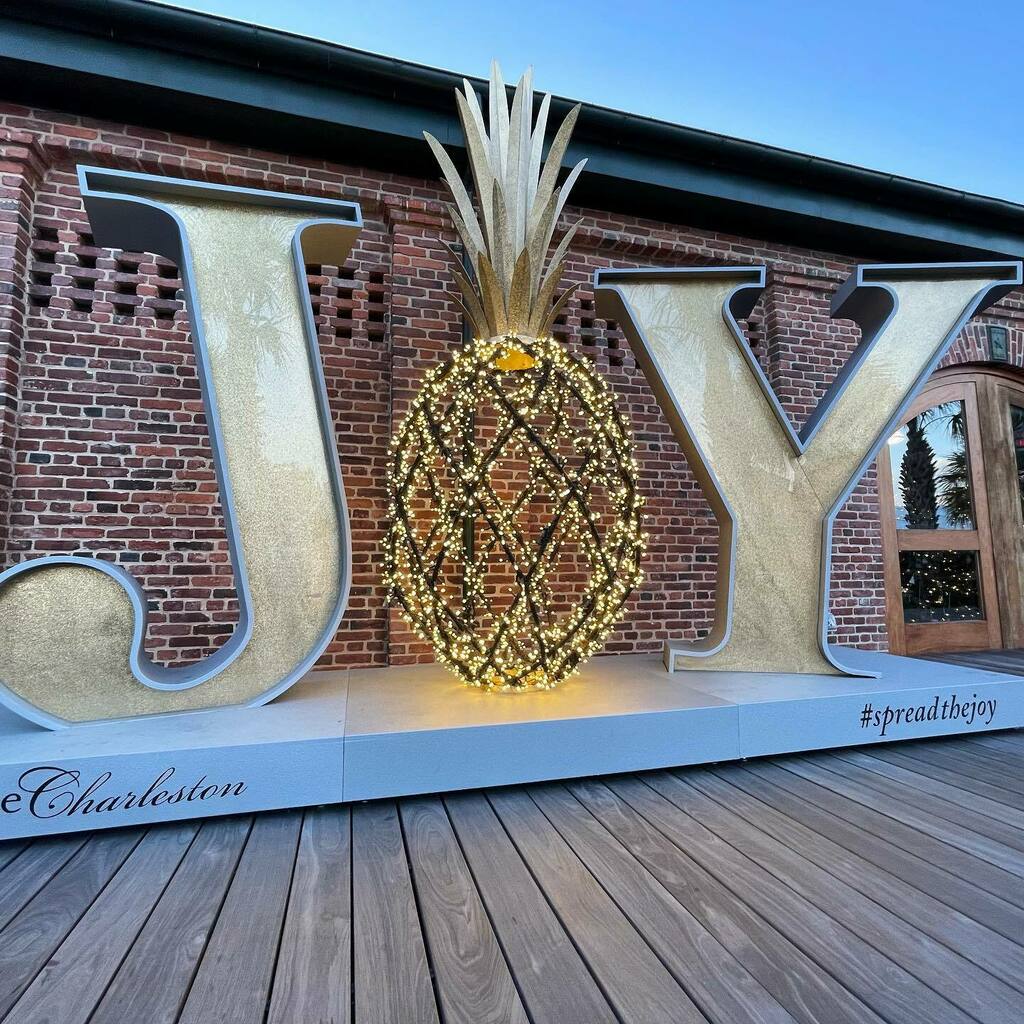 Christmas Things To Do In Charleston, SC
This list is a mix of events on specific days and things that are happening all season long. That way, no matter when you take a trip to Charleston for Christmas, you'll be able to find fun things to do.
Head to Marion Square Park (329 Meeting St) at 5 pm on December 2 to watch the Tree Lighting Ceremony.
The events starts with local musicians performing, along with arts organizations, and it ends with the lighting of the 64-foot Holiday Tree Of Lights. This tree is the official tree for the city.
If you miss the tree lighting, you can still enjoy the tree and Marion Square Park during the festive holiday farmer's markets. The market officially closes for the season in November, then reopens with a series of Christmas markets on Saturdays and Sundays, December 4 to 19, from 9 am to 2 pm.
In addition to vendors, there will be performances from church choirs and storytellers, plus potentially a visit from Santa and Mrs. Claus.
Take a Holiday Walking Tour
Join a two-hour walking tour, hosted by Bulldog Tours.
The Charleston Strolls Holiday Walking Tour heads through the historic district of the city, passing the Four Corners of Law and The Battery, plus checks out private neighborhoods — all decorated for the holiday season.
The tour also includes a stop at the the Edmondston-Alston House, a Charleston house museum.
Tours start at the Mills House Hotel (115 Meeting Street) at 9 am and 3 pm, Monday through Saturday. Tickets are $45 for adults, $35 for kids ages 4 to 12, and kids 3 and under are free.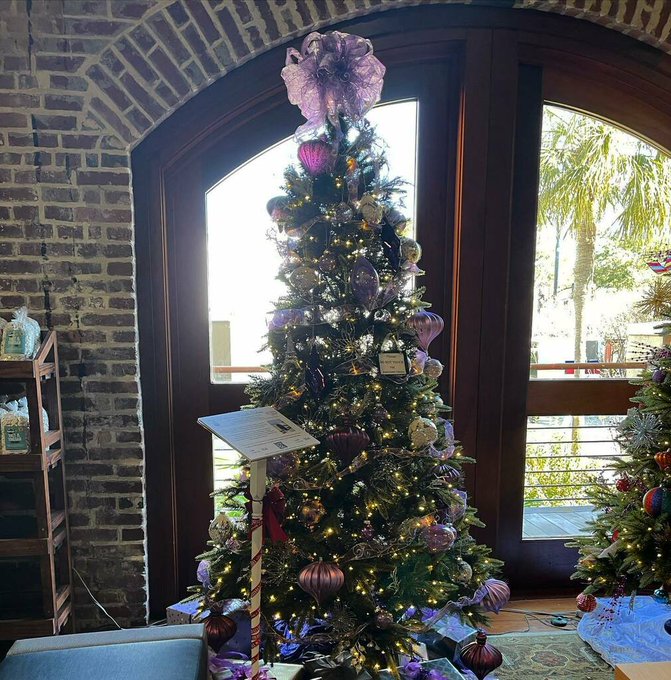 The second annual Festival of Trees will be held at the Charleston Visitor Center (375 Meeting Street).
Wreaths and trees are decorated in honor or in memory of someone who has battled cancer and displayed at the Visitor Center. The event doubles as a fundraiser for Dragon Boat Charleston since you can bid on the wreaths and trees.
The event is happening from November 15 to January 4 during normal Visitor Center hours (daily from 8:30 am to 5:00 pm). The public event is free.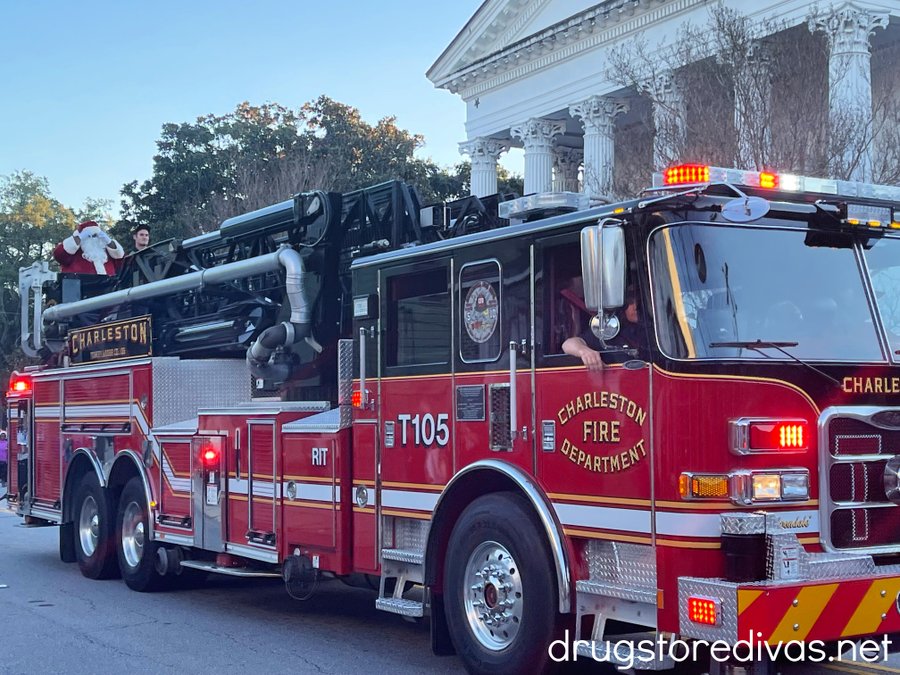 The annual Charleston Holiday Parade is taking place on Sunday, December 5, beginning at 3:30 pm.
The parade runs from Broad Street at Rutledge, travel north on Meeting Street, and ends at Calhoun Street at Meeting Street.
Visit the Children's Holiday Village at Magnolia Plantation
Magnolia Plantation, America's oldest gardens, gets into the holiday spirit with the Children's Holiday Village. The village is open daily from December 1 to 31, from 8:30 am to 4:30 pm. Admission to the village is included in admission to the gardens (3550 Ashley River Road).
The village is filled with kid-sized structures, with Santa's Workshop, a candy factory, a gingerbread house, a barbershop, a post office, an Elfementary school, and more.
The Children's Holiday Village is located in the new Children's Garden at Magnolia Plantation.
For more about the gardens, check out our Magnolia Plantation review.
Each year, the Holiday Festival of Lights takes place at James Island County Park (871 Riverland Drive). There are over two million lights throughout the park, including 50 light displays and a Cooper River Bridge display.
In addition, there are photos with Santa, a climbing wall, gift shops, a sand sculpture, a train depot, and more.
The event runs November 12 to December 31, 2021 from 5:30 pm to 10 pm. Tickets are sold per vehicle. They're $15 in advance on regular nights and $20 at the gate or $25 in advance on peak nights and $30 at the gate on peak nights. You can purchases tickets online.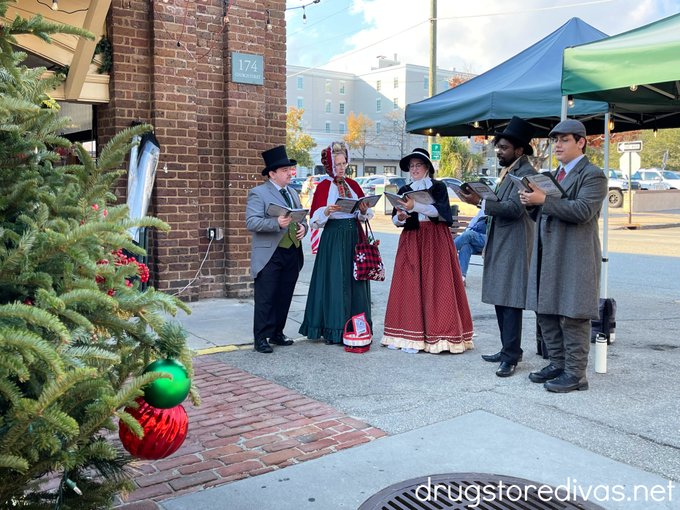 We make sure to make a trip to the Charleston City Market every time we're in the area because I need to pick up my favorite benne wafers there.
The market is hosting its annual tree lighting on December 4 with festivities beginning at 7 pm.
There will be holiday décor throughout Charleston City Market, holiday products for sale, and more.
The market is open daily from 9:30 and to 5:30 pm (it closes at 5 on Sunday) and the night market is from 6:30 pm to 10:30 pm on Friday and Saturday.
This is the first year for Aquarium Aglow at the South Carolina Aquarium (100 Aquarium Wharf).
It's an after-hours holiday light spectacular with tens of thousands of lights throughout the Aquarium. There will be live entertainment, food and beverages available for purchase.
The event runs from 5:30 pm to 9:30 pm daily.
Tickets for non-members are $24.95 for adults 13 and older, $19.95 for kids ages 3 to 12. For members, tickets are $19.95 for adults and $14.95 for kids 3 to 12. Toddlers who are 2 and under are free.
Those are advanced ticket prices. They are subject to change on the day of.
Old South Carriage Co. is hosting holiday sleigh rides this year.
This 20-minute ride around downtown Charleston, leaving you at Santa's Workshop (behind Old South Carriage Co.'s barn). There you'll be greeted by Santa, Mrs. Claus, and Rudolph. You can take photos with them, plus enjoy hot chocolate and cookies.
Tickets are $30 for passengers 3 and over (under 3 is free). The carriages can accommodate up to 16 passengers.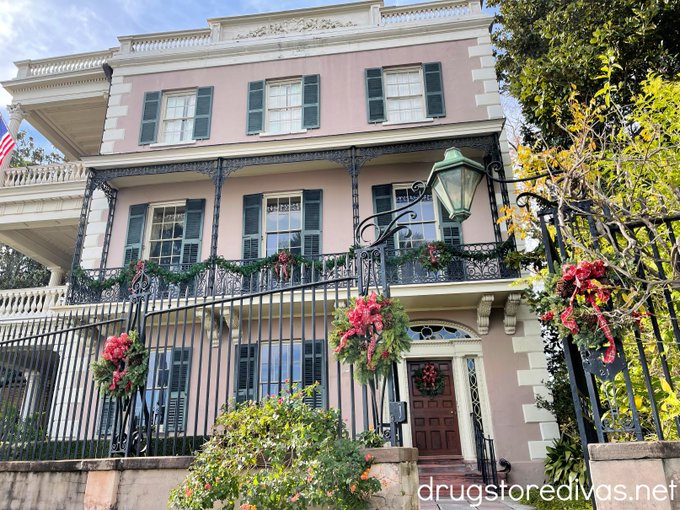 See the Edmondston-Alston House decorated for the season
The Edmondston-Alston House is one of the numeous historic homes in Charleston, SC. For a nominal fee, you're able to take a guided tour the home. Well, the first two floors of the home. The third is a private residence for a descendant of the family.
The tour doesn't incorporate Christmas, but the home has Christmas decorations throughout.
If you're lucky enough to be in Charleston on December 3, you can take a Candlelight Tour of the Edmondston-Alston House at 5:30 pm. At the event, the house is lit solely by candlelight, which I've heard is just as amazing as it sounds.
More Christmas In The South:
Charleston, SC isn't the only Southern city that's great to visit during the Christmas season.
We have a few other cities, that are driving distance from Charleston that you might want to check out this December.
Christmas things to do in Wilmington, NC
From Christmas parades to huge displays of Christmas lights, there are a ton of ways to celebrate Christmas in Wilmington, NC.
Find them all in our Christmas things to do in Wilmington, NC post.
Christmas things to do in Fayetteville, NC
Christmas lights in the botanical garden, carriage rides, and special Christmas brews are just some of the really great things Fayetteville has to offer this time of year.
For more, check out all the Christmas things to do in Fayetteville, NC.
Christmas things to do in Myrtle Beach, SC
A pirate Christmas show, tree lightings, and ice skating downtown near the water are some of the events you'll find in Myrtle Beach, SC at Christmastime.
Find all the Christmas things to do in Myrtle Beach, SC in our post.
Which of these Christmas Things To Do In Charleston, SC are you making sure to attend?