From soup to entrees, from appetizers to desserts, you can make so much in a slow cooker. Try these Budget-Friendly Slow Cooker recipes now.
If you're looking for more frugal recipes, check out The Ultimate Guide To Saving Money By Cooking At Home.
Affiliate links are included in this post and Drugstore Divas may make a small commission if you use them.
I'm a huge fan of my slow cooker. The day our old one went was such a sad day. Because really, these budget-friendly slow cooker recipes are more than a help to my wallet. They're a help to my time.
See, I cook every meal at home, but that doesn't mean I want to stand in front of a stove every day. Sometimes, you just want to set it and forget it.
That's where the slow cooker comes in.
You do a little prep work, put everything in, and come back when it's done. That's it.
Budget-Friendly Slow Cooker Recipes
This list is great and has a little bit for everyone. There are soups, stews, main dishes, appetizers, and a dessert.
As we add more slow cooker recipes to Drugstore Divas, I'll update this list. So be sure to bookmark it (or save it, however you save posts) so you can come back to it later.
Slow Cooker Soups & Stews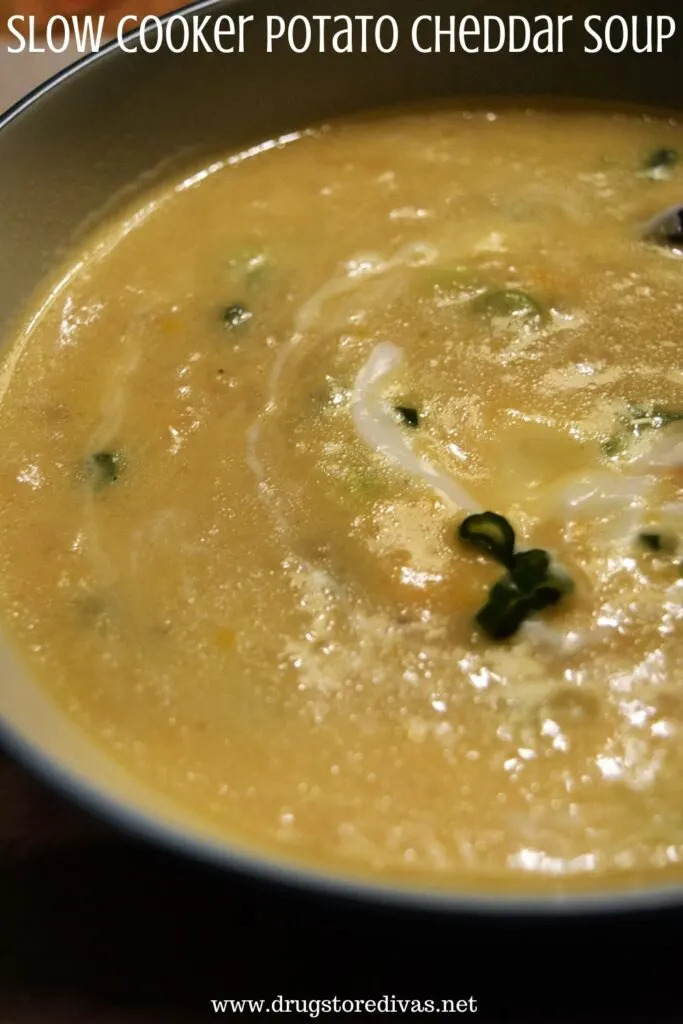 Slow Cooker Potato Cheddar Soup
One of my favorite soups of all time is potato cheddar soup. It's delicious, warms the soul, and has potatoes and cheese. What's not to like?
Well, the cooking part of it.
This Slow Cooker Potato Cheddar Soup is really easy. You do have a lot of prep work to do for it, but once everything is in the slow cooker, you can just let it work its magic (until you eventually have to mash the potatoes).
Slow Cooker Taco Soup
If you want all the tastes of tacos, without having to eat a taco (and watch the shell fall apart on your plate), this Slow Cooker Taco Soup is the way to go.
Taco seasoning meshes with chicken, beans, broth, and tomatoes to form a delicious soup. Cheese is stirred in at the last minute.
You can add crushed tortilla chips after plating to get the entire taco experience — but in soup form.
Slow Cooker Chicken Soup
It's chicken soup season. Which means it's not feeling well season. And when you're not feeling well, the last thing you want to do is stand over the stove making yourself chicken soup.
That's why Slow Cooker Chicken Soup is the best. You can just put everything in the slow cooker and head back to the couch for a nap.
What's great is you can freeze this soup too, then take out a canister of it when you're feeling under the weather instead of having to make a whole batch.
Slow Cooker Main Dishes
Slow Cooker Chicken Curry
Curry is so good. Curry is even better as Slow Cooker Chicken Curry.
Our recipe gives you all the delicious flavors of curry without giving you any of the work of standing over a pot, building the flavors. And honestly, you do still have layers of flavors in this — just not sore feet from standing and stirring.
Slow Cooker Beer Pulled Pork
Pulled pork is a North Carolina staple. We've eaten so much of it since we moved here (in fact, I actually made it for dinner tonight).
It can be a project to make it, but it doesn't have to be. This Slow Cooker Beer Pulled Pork is another one of those set it and forget it slow cooker recipes.
When it's done cooking, you will actually have to stop and pull the pork (shred it) before serving it, but that's the most labor intensive part of the whole process.
Slow Cooker Ginger Marmalade Chicken
The ginger and marmalade in this Slow Cooker Ginger Marmalade Chicken recipe balance each other so perfectly. You get a little spice from the ginger and a little sweetness from the marmalade to get a really tasty bite every bite.
You can choose different varieties of marmalade each time you make it too, if you want to change up the flavor of the dish. That way, you can make it a lot without it feeling repetitive.
Slow Cooker Chicken Burrito Bowl
Burrito bowls are so popular right now. But you don't have to go to a restaurant to get one. You can make one in your own home — and easily make it with the slow cooker when you make our Slow Cooker Chicken Burrito Bowl.
If you'd rather use a different protein, you can do that too. We find chicken cooks easily and evenly in the slow cooker, but you could use pork, turkey, or steak if that's the kind of burrito you prefer.
Slow Cooker Chicken Teriyaki
No one needs take out when you can make Slow Cooker Chicken Teriyaki at home.
This recipe also has a recipe for homemade teriyaki sauce, which is so much easier to make than you think. You do have to measure the ingredients for those, rather than just opening a bottle of teriyaki sauce and pouring it in.
Although if you do the latter, I won't tell anyone.
Slow Cooker Mushroom Soup Chicken
This Slow Cooker Mushroom Soup Chicken is great because it makes so much gravy. That gravy is delicious and is the perfect topping for rice (or another grain, if you'd rather serve that under your chicken).
This one is sure to become one of your family's favorite chicken dinners.
Slow Cooker Appetizers & Sides
Slow Cooker Sweet And Spicy Meatballs
If you're having a party, these Slow Cooker Sweet And Spicy Meatballs are such a good appetizer.
They're hands off for you, which means you can clean your house or cook the rest of the food and not have to worry about these. And they're great for your guests because they're one bite appetizers, so they can eat one and continue mingling.
Plus they taste good, so everyone's happy.
Slow Cooker BBQ Sausage Bites
If you like sausage, you'll love these Slow Cooker BBQ Sausage Bites. They're very similar to the meatballs above, but you use fresh sausage instead of frozen meatballs.
But other than that, they're similar. Trust me.
Slow Cooker Desserts
Slow Cooker Candy
You can absolutely make dessert in the slow cooker too.
This Slow Cooker Candy is a twist on a traditional candy made in a slow cooker. The traditional candy uses peanuts (although some versions use puffed rice cereal); this version uses Golden Crisp cereal.
Slow Cooker Recipe Books:
If you want even more slow cooker recipes, these cookbooks are filled with really great ideas.
Slow Cooker Recipes: Frequently Asked Questions
Which slow cooker is best?
We have this 6-Quart Cook & Carry Programmable Slow Cooker with Digital Timer and it's perfect for us. You can latch the sides so you're able to travel with it in the car and you don't have to worry about the slow cooker opening.

When you're done cooking, it automatically switches to warm, which is great. Our old slow cooker turned off completely, which isn't good if you're not at home or ready to eat when it's done cooking.

It's large and can fit a whole roast or chicken. We made a 3.5-pound pork tenderloin in it today and there was enough room for a second one.

That's our suggestion, but you have to choose the slow cooker that you think will be large (or small) enough for your family.
Which of these Budget-Friendly Slow Cooker Recipes is your favorite? Let us know in the comments.