If you are are still trying to figure out what your baby should be for Halloween, this list of 10+ Fun Halloween Costumes for Babies can help.
Make this the best holiday yet with help from all of our Halloween posts.
We're only a few weeks from Halloween, which means you have to start thinking about Halloween costumes.
Not too long ago, I wrote a post about the Top 10 Halloween Costumes for Kids. We put together a similar list, 10+ Fun Halloween costumes for babies.
With the kids Halloween costumes post, we gave you ways to make those costumes (or at least parts of them) at home. We didn't do that with these babies Halloween costumes post because if you have a baby, you have very little free time. And you should use that free time to quickly take a shower rather than quickly sewing a Halloween costume for your newborn.
If you can do that, more power to you. And if you can't, don't stress it. These costumes can all be purchased and are all adorable.
10+ Fun Halloween Costumes For Babies
Affiliate links are included in this post and Drugstore Divas may make a small commission if you use them.
Pumpkin Infant Halloween Costume
This Pumpkin Infant Halloween Costume is the quintessential first Halloween costume. It's perfect if you live in a state where it's cold on Halloween because this costume is pretty heavy and will keep your baby warm.
Baby Triceratops Halloween Costume
If your baby has older siblings who are obsessed with dinosaurs, they'll love if their baby brother or sister dresses in this Baby Triceratops Halloween Costume. You can have the older kids dress in the inflatable T Rex costume that was popular a couple years ago and everyone is happy.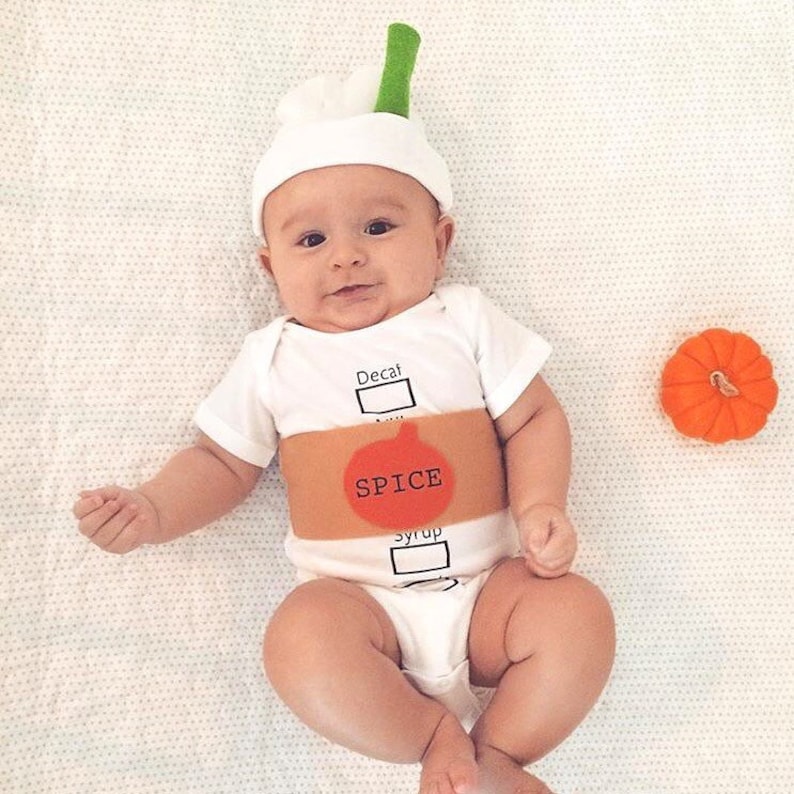 Pumpkin Spice Coffee Baby Halloween Costume
If you're a huge fan of your Pumpkin Spice Latte, one of those people who will start drinking a PSL in August when it's out rather than September when it's fall, your baby needs this Pumpkin Spice Coffee Baby Halloween Costume. It's adorable and will give you your PSL fix all year round.
Elmo Plush Infant Halloween Costume
Sesame Street is super popular with little kids, so this Elmo Plush Infant Halloween Costume is perfect for your baby to wear. You could pair it with some Sesame Street t-shirts to coordinate an easy family costume.
And, if your kids do love Sesame Street, think about planning a day trip to take them to Sesame Place's The Count's Halloween Spooktacular.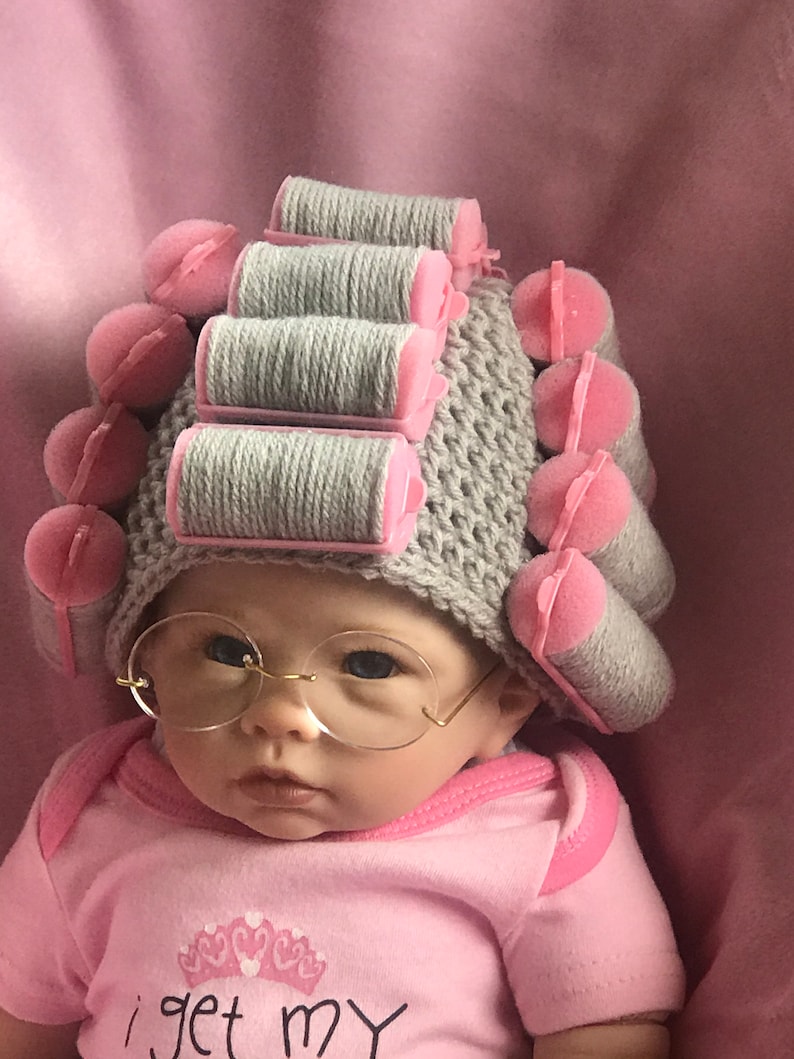 Baby Curler Cap Halloween Costume
If you want every owner of every home you stop at to laugh, pick up this Baby Curler Cap Halloween Costume for your baby. It's just the knit cap with the curlers, so you can dress your baby in any regular outfit and still get the costume across.
Baby Peacock Infant Halloween Costume
If your baby can sit up, your baby needs this Peacock Infant Halloween Costume. It's super adorable and really eye catching. The model baby looks less than thrilled to be wearing it, but I think your baby will love it.
Winnie The Pooh Halloween Costume
This Winnie The Pooh Halloween Costume is so sweet and so adorable … and so warm if you're trick-or-treating somewhere that's cold.
If you want to DIY something to go with this, check out our DIY Winnie The Pooh Hunny Pot. If you're strong, you can use that as a trick-or-treat bag. And, if you're not, just put it in the wagon you're using to wheel your baby around in on Halloween.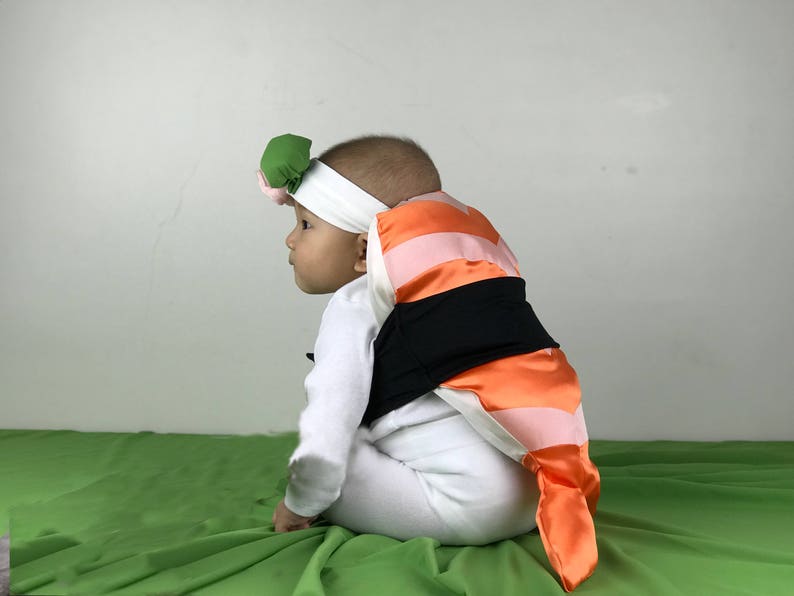 Sushi Halloween Costume
This Sushi Halloween Costume is so, so funny. It's great for babies that can already sit up, but it also works perfectly for babies who can just lay and do tummy time with a piece of shrimp on his or her back.
Baby Octopus Halloween Costume
This Baby Octopus Halloween Costume has me laughing so, so hard. It looks like it's missing a couple tentacles, but babies can't count yet, so it's okay. What they can do is flail around, which makes all the tentacles that are there move, which makes this costume so, so fun.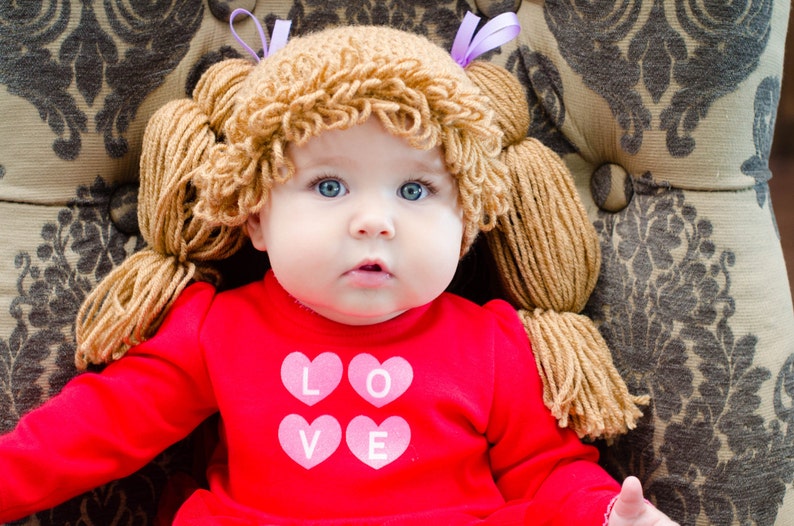 Cabbage Patch Hat Halloween Costume
If you had a Cabbage Patch Doll growing up, you can now have a real life Cabbage Patch Doll in your baby. Just dress her with this Cabbage Patch Hat Halloween Costume. It is just the hair, so you'll be able to pick any outfit you want to dress your baby.
You have seven color yarns to choose from (like brown, yellow, red, and more) so you can easily match your baby's coloring.
Unicorn Halloween Costume
This Unicorn Halloween Costume is probably the coziest costume we have on this list. It's basically just a jumper, so your little one can wear it on Halloween and then, basically, any time after. Assuming, of course, that the white stays white. Which might be hard with babies, so good luck.
Purchase Halloween Costumes For Babies Online:
Of course, these aren't the only costume ideas for kids, just the top ones we found from surveying kids this year. We're missing some, like the Tigger Halloween costume above. For more ideas and costumes to purchase online, check out the following stores:
Be sure to check a store's minimum cart total to qualify for free shipping. Also, consider instore or curbside pickup where available to avoid shipping charges.
More Halloween Costume Ideas:
If you're looking for some other Halloween costumes, we have some ideas.
For kids, read our Top Ten Kids Halloween Costumes. For couples, there's our 5+ Last Minute Couples Halloween Costume Ideas. And for families, our 30+ Pokémon Halloween Costume Ideas & Accessories For Adults & Kids is a great theme.
If you have a little bit of time, go with our DIY No Sew Cat Ears For Halloween.
And, for your fur babies, check out our Fun Pet Halloween Costumes (For dogs and cats).
Which of these Top Halloween Costumes For Baby is your favorite? Let us know in the comments.