If your kids are still trying to figure out what to be for Halloween, this list of 10 Great Halloween Costumes for kids can help.
Make this the best holiday yet with help from all of our Halloween posts.
Can you believe Halloween is later this month. So crazy, right?
Don't be the parent who is on the hunt at the very last minute to find the hottest costume. Grab your kids Halloween costume now.
We have a list of ten great Halloween costumes for kids. Hopefully they'll help your child brainstorm so you can make a great costume. For most of these, we give you a bunch of details to help you if you did want to DIY a Halloween costume for your kids.
But, if you just want to buy a costume (because who has time to sew anymore?), you can through the links in this post.
10 Great Halloween Costumes For Kids
Affiliate links are included in this post and Drugstore Divas may make a small commission if you use them.
T-Rex
This T-Rex costume got so popular a few years ago and it hasn't stopped being one of the most popular Halloween costumes. This is one that you're probably better off buying rather than sewing … unless you can figure out an easy way to make the T-Rex head stay up all night long.
If you can figure out how to do that, you are a T-Rexcellent seamstress (oh, you see what I did there?). If you're not, just purchase it and your kid will be the talk of the town.
And, if you're near the horse track Emerald Downs in Washington, you can actually enter into the annual T-Rex race. Check it out via that link. It's hilarious.
Eevee
I think we're at the point where Pokémon will always be a popular Halloween costume. People who don't play Pokémon always think Pikachu is the go to costume (actually, it's the one I sewed when we went to Comic Con). But, as far as Pokémon players go, Eevee is actually the most popular.
If you're creative, you can sew an Eevee costume for your kids. Which is actually great because then you can sew any of the Eeveelutions because those are hard to find in store. If you can't sew, just go with regular unevolved Eevee.
Speaking of Pokémon, if your kid would rather be a Pokémon that's not Eevee, we have a list of 30+ Pokémon Halloween Costume Ideas & Accessories For Adults & Kids that you should check out.
Black Cat
A black cat is such a classic Halloween costume. If you wanted to make it, it's pretty simple too. Have your kid put on black jeans and a black sweatshirt. Then, follow our DIY Cat Ears tutorial to figure out how to easily make the cat ears. And, if you can sew, sew a tail and pin it to the back of your kid's clothing.
If all of that feels like too much effort, you can just purchase the ears and tail to go with the black clothes. Or just purchase a cat jumpsuit costume.
Spider-Man
No matter what comic book movies are out, kids always gravitate towards Spider-Man. And this year, with the help of the animated Spidey and His Amazing Friends, Spider-Man is definitely going to be trick-or-treating around your block.
Making a Spider-Man costume at home goes way beyond my creativity skills, so I would suggest you go ahead and order that online if your kid really wants to go as Spider-Man or Spidey (or one ofhis amazing friends) this year.
Fox
I don't know why a fox is a popular costume this year. Like literally, no idea. But it is. And if your kid wants to be a fox, it's pretty similar to making the black cat costume that we talked about earlier. Except instead of a black top and bottom, you'll want to go with brown (unless your child wants to be an Arctic fox for Halloween, and then you would need white).
Make the ears just like cat ears and sew the tail, although the tail is gonna be bigger and fluffier (and two colors) rather than the simple cat tail above.
If all of that sounds like too much for you, you can just purchase a costume online instead.
Mermaid
Mermaids are really popular this year. I know a bunch of little girls who are going as the mythical creature this year (and, the new The Little Mermaid isn't even out yet, so imagine how popular this will be next year).
Making the top of a mermaid costume is pretty easy. Just sew seashells on top of a shirt (because you don't want your little girl walking around with just seashells in the cold weather, so you want them on top). Making the mermaid tail might be out of your wheelhouse unless you're an experienced sewer.
But, we found a DIY Mermaid Costume made with coffee filters, which feels really easy for anyone to make.
If you don't want to make a mermaid costume, just buy one below.
Cowboy
Putting together a cowboy Halloween costume is really, really easy. This is probably the easiest costume to put together on this list.
Pair a button down shirt with a pair of blue jeans. Add a cowboy hat. If you have a plastic gun, have your child carry it around. If your kid owns cowboy boots, add those. If not, sneakers are just fine. That's it.
Now, if you need to be fancier, you can click on the link below to purchase a cowboy costume or just accessories (that might be all you need).
Minecraft
Minecraft is so popular with kids still. If you know Minecraft really well, you can make a really cool Minecraft costume. I've seen them online and have been really impressed with them.
I hardly know Minecraft at all, so I'm definitely not the person to walk you through the costume. However, I can direct you to the Creeper costume below.
There are actually a bunch of Minecraft costumes online, so your child doesn't have to choose a Creeper just because that's the photo I picked.
Witch
A witch is a very popular Halloween costume, no matter what the year. And it's so easy to throw a witch costume together if you need to. Put your daughter in a black dress, give her some colorful tights, and pick up a witch hat. That's it, basically.
Of course, if you can sew, you'll want to add some fun embellishments to the bodice of the dress to make it look more Halloween-like and less thrown together at the last minute.
If you don't own those items, or just want to grab something, you have a ton of witch costume options at the link below.
Baseball player
I said the cowboy was the easiest costume on this list to throw together at the last minute, but honestly, a baseball player is even easier … assuming your child already plays little league. If he or she does, just grab the team uniform and throw it on.
If you have a younger sibling, you can dress him and her in your child's old baseball uniform, so this is a great hand me down costume too.
But, if your child wants to be a baseball player and doesn't play baseball (Halloween is a day for pretend, after all), you can just pick one up via the link below.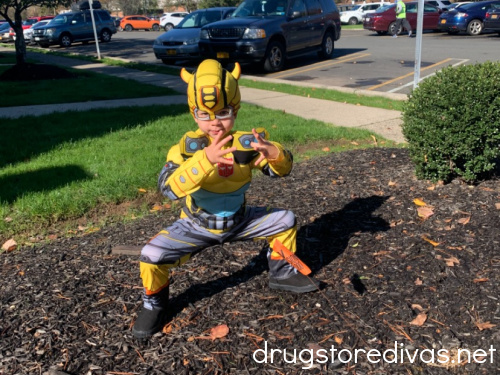 Purchase Halloween Costumes For Kids Online:
Of course, these aren't the only costume ideas for kids, just the top ones we found from surveying kids this year. For more ideas and costumes to purchase online, check out the following stores:
Be sure to check a store's minimum cart total to qualify for free shipping. Also, consider instore or curbside pickup where available to avoid shipping charges.
More Halloween Costume Ideas:
If you're looking for costumes for the family that go with these kids Halloween costumes, check out our list of 5+ Last Minute Couples Halloween Costume Ideas, our Top 3 Halloween Costumes For Baby, and our 30+ Pokémon Halloween Costume Ideas & Accessories For Adults & Kids.
For your fur babies, check out our Fun Pet Halloween Costumes (For dogs and cats).
And, if you have some time, go with our DIY No Sew Cat Ears For Halloween.
Which of these 10 Great Halloween Costumes For Kids has your child been for Halloween? Let us know in the comments.