Dressing up your pet is so easy with this list of Fun Pet Halloween Costumes. The list has costume ideas for dogs and cats.
Make this the best holiday yet with help from all of our Halloween posts.
Halloween is coming up, which means you're probably thinking of Halloween costumes for your family. And, if you have a dog that's coming trick-or-treating with you or a cat that's helping you hand out candy, you want to get them in the fun.
We understand. Dress up those fur babies (as long as your pets are into it; please, don't make your pets uncomfortable just for a photo op).
If you want some inspiration, check out our list of fun pet Halloween costumes. We separated this into a list of dog Halloween costumes and cat Halloween costumes so it's easier for you to find what you're looking for.
10+ Fun Pet Halloween Costumes
Affiliate links are included in this post and Drugstore Divas may make a small commission if you use them.
Dog Halloween Costumes
Dog Guitarist Costume
This Dog Guitarist Costume is so incredibly adorable, so this Halloween costumes for pets list kicks off with it.
I imagine this dog is playing some sort of flamenco music, because of that distinct white and blue striped shirt. But you can put a Bluetooth speaker near your dog and have him "playing" anything you want.
Chucky Doll Dog Costume
If you love the Child's Play movies, you'll love this Chucky Doll Dog Costume. It actually pay a lot of attention to detail. Chuck's overalls say "Good Guys" on them and this costume says "Good Dogs".
If you really love the movie, you know that Chucky wears a striped shirt with more colors than just red and white, but it's close.
UPS Dog Costume
This UPS Dog Costume is amazing, especially if you've been ordering a ton from Amazon lately. This costume comes equipped with a brown box that says UPS on it.
The box itself doesn't carry anything, and you should keep it that way. You don't want to weight your poor pup down.
Giant Spider Costume
No one likes spiders in their house, but you'll love your dog in this Giant Spider Costume.
It works best
Mermaid Dog Costume
Mermaids are one of the most popular Halloween costumes for kids this year, so your child and dog can twin if you pick up this Mermaid Dog Costume.
The costume is super shiny, so your pet might outshine your child.
Dog Crocodile Costume
A quick glance at this Dog Crocodile Costume makes it look like the crocodile is eating the dog, which would be a terrible thing to happen to your dog. But, of course, you look further and it looks like your dog is just cosplaying as a crocodile, and that's much better.
This is actually perfect for this Halloween because the Lyle, Lyle, Crocodile movie came out this month, so you could say this costume is a play on that.
Cat Halloween Costumes
Lion Mane Costume for Cat
This lion mane costume is perfect if you have a ginger colored cat. It won't work as well on a black cat or even a gray tabby because the coloring won't match up. But if you have a cat with coloring that matches the mane, this lion costume is so cute.
Wednesday Addams Cat Costume
The new Addams Family show, Wednesday, is debuting on Netflix next month. If your family is super excited about it and planning on going as the Addams Family for Halloween, you can have your cat go as Wednesday.
Now you just need to figure out costumes for the rest of the family. (By the way, Thing is easy. Just click that link and order a hand.)
Cat Pirate Costume
I'm laughing so so hard at this Cat Pirate Costume. I think it's because the expression on the cat (which may or may not be photoshopped) fits so perfectly.
You could reuse this on International Talk Like A Pirate Day, too, so you can get a few uses out of this costume.
Cowboy Cat Costume
Cowboys are always such a popular costume for kids. And, they can wear it again if you go somewhere like Wild West City in Stanhope, NJ.
So, if your child wants to be a cowboy (or cowgirl, of course), this year, have the cat match with this Cowboy Cat Costume.
Bat Halloween Costume
This Bat Halloween Costume is the best if you have a black cat because the wings just blend right into the cat's fur perfectly. But, it's really cute no matter what color cat you have.
The costume is just a pair of bat wings and nothing else, so it's probably the least restrictive costume out of all of these Halloween costumes for your pet.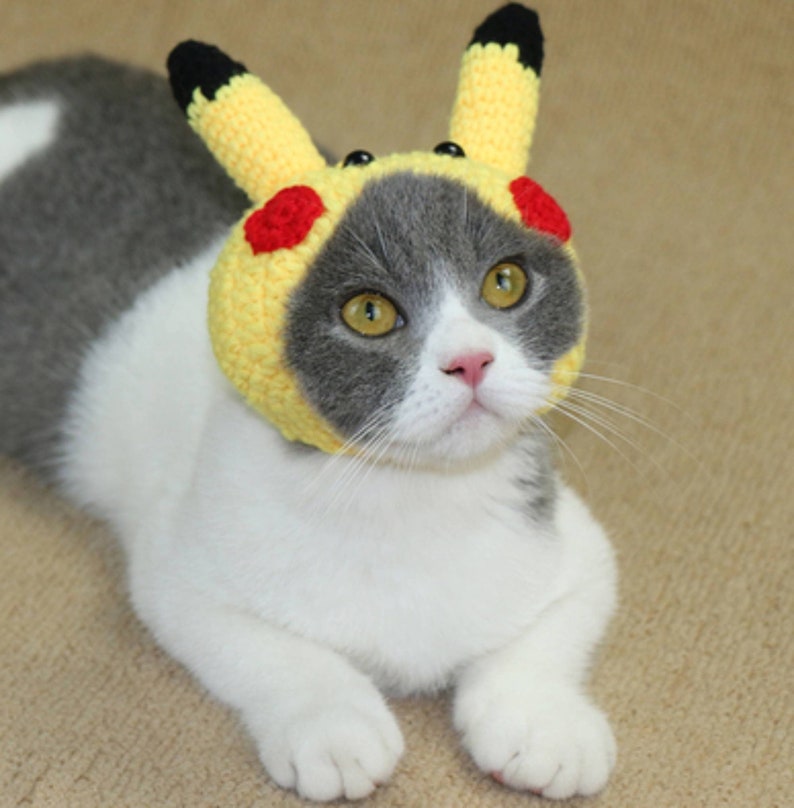 Purchase Pet Costumes Online:
Of course, these aren't the only pet costumes that are online. Just our favorites. We had to leave some off, like the Pikachu Knitted Yarn Hat For Cats above.
For more ideas, check out the online stores below:
Don't forget to check a store's minimum cart total to qualify for free shipping. Also, consider instore or curbside pickup, when available, to avoid shipping charges.
More Halloween Costume Ideas:
If you're looking for some other Halloween costumes, we have some ideas. Our most popular costume ideas are these 30+ Pokémon Halloween Costume Ideas & Accessories For Adults & Kids.
For babies, our Top 3 Halloween Costumes For Baby is a great place to start. For kids, read our Top Ten Kids Halloween Costumes. And for couples, there's our 5+ Last Minute Couples Halloween Costume Ideas.
If you have a little bit of time, go with our DIY No Sew Cat Ears For Halloween.
Which of these 10+ Fun Pet Halloween Costumes is your favorite? Let us know in the comments.