Sesame Place is cute for Halloween. Plan your visit to Sesame Place's The Count's Halloween Spooktacular, open September 17 to November 6, 2022.
For more ways to make this the best holiday, check out all of our Halloween posts.
It's been a long time since I've been to Sesame Place. A fridge magnet we had for years reminded me of when I went when I was young. And I have a lot of memories about going when I was around 11. My friend Michelle takes her kids annually to Sesame Place for Halloween. Sesame Place's The Count's Halloween Spooktacular is so great. Her kids love it.
Have you been?
If not, this is the year you should go. Before you do, find answers to all your questions about The Count's Halloween Spooktacular below.
Planning Your Visit To Sesame Place's The Count's Halloween Spooktacular
Affiliate links are included in this post and Drugstore Divas may make a small commission if you use them.
This post was originally written in 2018, and we updated it for 2022.
Where is Sesame Place? And when The Count's Halloween Spooktacular open?
Sesame Place (100 Sesame Rd, Langhorne, PA) is open from Fridays through Sundays (with three weekday exceptions), with The Count's Halloween Spooktacular happening from September 17 until November 6, 2022.
Sesame Place hours are 4 pm to 8 pm on Friday nights, and Saturday and Sundays from 10 am to 6 pm.
Do we need to stay all day?
Michelle goes for about four hours with her kids and that's plenty of time to do everything. So don't feel like you have to wake the kids up early, rush over to get there when the park opens, stay through nap time, and miss bedtime.
What are the eating options? Can I bring my own food?
If you're at Sesame Place through lunch time, there are is the Halloween-themed Halloween Dine with Elmo & Friends. You can enjoy meals with your favorite Muppets.
Seating varies per day. It's 5 pm on Friday, then 9:30 am, 11:30 am, 1:30 pm, and 4:00 pm on Saturday and Sunday (plus on random weekdays that the park is open). It's $44.99 per person ages 10 and up, children ages 2 to 9 are $24.99, and anyone under 2 is free, although you do have to reserve those youngsters a ticket.
If you prefer to be a little more frugal, you can pack a lunch and eat it at the picnic tables in the parking lot. You're not allowed to bring full meals into the park (unless you have dietary restrictions), but you can bring a small cooler filled with sealed, non-alcoholic beverages, baby food/formula, and small, single-serve snack-sized items such as chips, pretzels, cookies and fruit.
Can we dress up?
Part of the fun of Sesame Place's The Count's Halloween Spooktacular is that everyone gets to dress up. Kids and adults dress up.
You're able to dress up any day during The Count's Halloween Spooktacular — so that's a great way to get a little more use out of this year's Halloween costumes. There is a Halloween costume contest on October 30 and prizes are awarded for first, second, and third place.
There is also trick or treating for the kids, which is so much fun. Plus, there are Halloween-themed shows and parades, an interactive Scarecrow Scavenger Hunt, and photo opportunities with the characters dressed up in costume.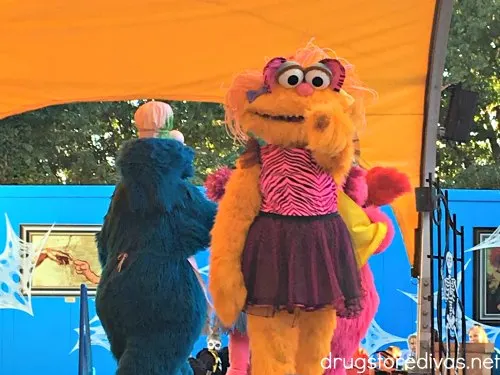 Are there Halloween shows?
The shows are Halloween themed this time of year, and they're really fun. Well, for the kids who can sit through them. There are three shows throughout the day: Who Said Boo?!, The Not-Too-Spooky Howl-O-Ween Radio Show, and the (new for 2022) Our Street on Halloween. There's also the Furry Friends Halloween Dance Party.
Michelle's oldest son was able to sit through the shows just fine, but her younger son lost his attention span around the 12 minute mark. That's when he was about 16 months. So if your child is around that age, sit in the back or near an exit so you don't disturb anyone if you have to leave early.
Are the characters there?
Yes. Characters are located throughout Sesame Neighborhood, and you're able to hug them and stop for a photo. Times of this vary through the day, so it's hard to plan ahead to find out when you're gonna see Super Grover or Oscar the Grouch. But make sure to see your kid's favorite character in the flesh — uh, fur. They'll light up and that's worth it.
You can also see the characters during the Neighborhood Street Party Halloween Parade. Elmo, Count von Count, Bert, Ernie, Abby Cadabby, Zoe, Cookie Monster, Rosita, Big Bird and Telly are all a part of the parade.
Are there rides?
Yes. The day isn't just fawning over characters and watching them perform in shows. There are also rides.
For the little ones, there are tiny rides like the Silly Sand Slide and there's the Mini Monster Clubhouse for kids 5 and under. For the big kids, there's Oscar's Wacky Taxi Roller Coaster, this year's brand new wooden coaster, and Vapor Trail, a traditional roller coaster.
There are water rides at the park, but they are closed during Sesame Place's The Count's Halloween Spooktacular.
Is Sesame Place okay for kids with special needs?
Sesame Place was the first theme park in the world to be designated as a Certified Autism Center. Team members are trained in topics like sensory awareness, motor skills, autism overview, program development, social skills, communication, environment, and emotional awareness so that they are able to cater to all children, including those with special needs.
For those with sensory needs, Sesame Place offers quiet rooms, noise-cancelling headphones (on a first come, first serve basis), low sensory areas, and more. There is also Julia, a character who has autism, which is amazing for integration.
Sesame Place also has a Ride Accessibility Program that matches the individual abilities of guests to the requirements of each ride. You can pick up a Ride Accessibility Guide for an overview of services and facilities available for guests with special needs. You do want to register for the Special Access Program ahead of time, and guests who do can receive priority boarding on up to six dry rides and up to three water tower rides.
And, if your special need is that you have a cast or brace at the time, Sesame Place can accommodate that as well. Guests with walking boots and knee braces will be able to ride rides as long as the boot or brace fits comfortably in to the ride unit. Guests with a full arm cast, certain types of forearm casts, full leg cast, braced arm cast, or braces between the legs may be restricted from riding certain rides.
Is there a Sesame Place Christmas event?
There is! A Very Furry Christmas at Sesame Place starts November 19 and goes until January 1, 2023.
Sesame Place's The Count's Halloween Spooktacular: Frequently Asked Questions
Sesame Place's The Count's Halloween Spooktacular Address:
100 Sesame Rd; Langhorne, PA
Sesame Place's The Count's Halloween Spooktacular Phone:
(215) 702-3566
Sesame Place's The Count's Halloween Spooktacular Hours:
Friday: 4 pm to 8 pm
Saturday and Sunday: 10 am to 6 pm
How much are tickets for Sesame Place's The Count's Halloween Spooktacular?
One day tickets start at $42.99. Tickets are required for anyone who is 2 or older.

You can order tickets here.
Is there a second Sesame Place?
There are actually two Sesame Place locations. There's this one, located in Langhorne, PA, which is near Philadelphia.
In early 2022, Sesame Place San Diego opened at the former Aquatica San Diego location, making it the first West Coast Sesame Place. Sesame Place San Diego opened as a Certified Autism Center (CAC), just like Sesame Place on the east coast.
There is also Sesame Street Land in SeaWorld Orlando and Sesame Street Bay of Play in SeaWorld San Antonio.
Sesame Street Gift Guides:
Speaking of Sesame Street, don't forget about our Sesame Street-themed gift guides: 15+ Sesame Street Gifts For Adults and 15+ Cookie Monster Gift Ideas For Adults And Kids.
More Halloween things to do with kids:
If you're looking for something else Halloween-themed to do with kids this season, check out Stew Leonard's Spook-tacular Halloween Drive Through. Click that link to read our review of it.
If you're on the other coast, check out all the 10 Fun Fall Things To Do In Union Gap, WA.
Are you planning your trip to Sesame Place's The Count's Halloween Spooktacular? Let us know about it in the comments!