Union Gap is a small agricultural town in the Yakima Valley, known for its James Beard-award winning tamales. Find out what other things to do in Union Gap, Washington you should add to your list if you're passing through.
For more help planning your trip, check out all of our travel posts.
If you're a content creator, Twitter chats are really popular. They're a great way to connect with other creators, brands, tourism boards … you get the idea. So when we get the chance to join one, we do.
A few years ago, we stumbled across #SmallTownTourismChat, a Twitter chat hosted by the Washington town of Union Gap.
I had never heard of Union Gap before, but the chat was a great way to showcase travel posts I had written about other towns, like Fayetteville and Gatlinburg. And actually, it was how I connected with towns like Abbeville and Greenwood.
Finally, after years of seeing Union Gap through the Twitter chat, I got the chance to head out West to experience the town for myself. If you get the chance to be in the area for a night, our 24 hours in Union Gap, Washington will help you put together the best itinerary to maximize your time.
24 Hours In Union Gap, Washington
Visit Union Gap hosted Drugstore Divas on this trip. Affiliate links are included in this post and Drugstore Divas may make a commission if you use them.
We're starting this post at lunchtime in Union Gap, then taking you through a full 24 hours in the town.
Afternoon:
Lunch:
During the aforementioned Twitter chat, Los Hernandez Tamales were always mentioned. They're James Beard award winning tamales, which is a really big deal — especially for small shop in a small town.
So of course, you should start your day (and we'll start our post) with tamales.
The most common tamales, which most people make at home, is beef. So that's actually not on the menu at Los Hernandez Tamales (3706 Main St). Rather, chicken — made with a red sauce not a green sauce, which is more traditional (and actually, what I make at home) — and pork are their staples at the shop.
Filipe Hernandez, whose paper machet doppelgänger hangs out in the shop, also dabbles recipes in seasonal items, like the asparagus tamales.
As his daughter Rachel tells the story, he made them "because he was hungry." He had some asparagus from Fruit City (the town's outdoor produce market) and decided to throw some in masa and make a tamale. It turned out great, was a big hit in the restaurant, and is now a staple on the menu and a fan-favorite during the spring Asparafest festival in Union Gap.
Small aside about that masa before we leave the tamale shop: It's hand ground from corn. That's the traditional way to make it and what most Mexican families do when they're making masa. Some restaurants use ground masa for convenience. But that lacks the nostalgic taste that eaters desire. So, it's the masa (which is available for purchase), that sets Los Hernandez Tamales apart — and probably why the main shop in town sells approximately 1,000 dozen (yes 12,000) tamales every Christmas Eve.
After your lunch, if you need a sweet treat, head over to For Heaven's Cake (2630 Main St #101). Nina Rodriguez makes the prettiest cupcakes in town.
The best sellers are the Strawberry Shortcake (which has a piece of Milano Cookie, the top of a Pocky stick, and popcorn on top — plus a jelly filling on the inside) and the Lemon Cheesecake.
The most Instagram-worth, which we all care about of course, is the Candy Land, with a bright pink frosting, lollipop, Jolly Rancher chew, macaron, and sprinkles on top.
Now that you've gotten some sugar, you should have enough pep in your step to take on the Central Washington Agricultural Museum, known colloquially as the Ag Museum (4508 Main St). It's 15 acres and decades of history.
What's great is the museum is free (although donations are accepted). Personally, I'm always looking for free activities in a city when I'm visiting. Going to all the free activities (of course, leaving a donation if it fits into your budget) is a way to help stretch your budget. Save here and buy an extra pastry at the family-owned Panaderia Aguililla (3206 Main Street) instead.
If you pick up an audio tour card at the office, it'll help guide you through the machinery, displays like a Young's cabin (prefabricated portable cabins that were used as seasonal homes for orchard workers in the Yakima Valley), the farm equipment yard, and more. The card is free and once you scan the QR code to open the audio tour, you can listen to it indefinitely on your phone. So if you're a fan of history, that's a cool way to bring the museum home with you.
If you're traveling with young kids, head straight for the farmstead area. There's a train that travels throughout that section, a working windmill ride that runs on occasion, a small village of shops like Ed's Horseshoes and a barbershop, and more.
If you're into hiking, you can find a trail at Fullbright Park. It shares a lot with the Central Washington Agricultural Museum, and there are various hikes ranging from a mile to five miles. There is a steep gain (about 500 feet) at the start of the hike, so keep that in mind if you do choose to take this path.
It's worth it for the views, though. You can actually look over the entire Ag Museum from there.
Definitely don't miss the Olde Yakima Letterpress Museum, if it's open when you're there. It's technically a separate museum that operates in the Ag Museum. You're able to see old printing plates and letters, which was so cool and definitely one of the highlights of the museum for me.
Evening:
Dinner:
There are a ton of restaurants in Union Gap, so if you're looking for a specific cuisine, you'll probably find it. There's seafood and Mexican, a couple food trucks, and burgers. Lots of burgers.
My travel buddy and I ate on the Union Gap Burger Trail when we were in town and tried seven local burgers between the two of us. Our winner for the best burger in town: Old Town Pump Saloon (3716 Main St). The caramelized onions on the Stuffed Garlic Burger edged it out over the other burgers in town, like the Major Cheese Burger from Major's Restaurant (1902 S 3rd Ave) and the Big Minor burger from Miner's Drive In (2415 S 1st St).
Side note: You can save at Old Town Pump Saloon when you purchase a Restaurants.com certificate for the restaurant. Click that link and you can get a $10 certificate for $4 or a $25 certificate for $10.
For more about that Burger Trail, check out our post about The Best Burgers In Union Gap, WA.
Even better than the burger, though, were the onion tanglers appetizer at Old Town Pump Saloon. Those were, honestly, the best bite of food we had in town. They're super thin onion rings, coated and deep fried, that just melt in your mouth.
Trust me when I say you should place a double order.
The Pump (which we decided to call Old Town Pump Saloon the entire time we were in town) is a bar (I mean, saloon is in the name) … which, according to legend, is haunted. There's a friendly ghost who lives in the basement and is known to do things when the bar is closed, like opening all the liquor drawers (you can see more about that exact incident here).
So, if you're traveling with young kids and you don't feel comfortable bringing them to a bar for dinner, take them to Pepp'rmint Stick Drive In (4002 Main St). It's a drive in, in the sense that you can drive through a drive through, but not a drive in theater.
There are a ton of burgers on the menu (my highlight being the Katy's Kitchen mayo that's used on it. I'm not a mayo connoisseur so I can't tell you why it's so good, but I can tell you it makes the burger).
But, what makes it fun for kids is Pepp'rmint Stick has milkshakes. You absolutely can get a peppermint shake, but I recommend a chocolate shake with peanut butter added. So good, especially because they use crunchy peanut butter, so it gives the milkshake some texture.
Late Night:
If you're looking for something to do in Union Gap at night, you have a couple options. There's St. Joe's Bingo (3112 Main St), which yes, we definitely played. You need to rent a machine to play the games and specials (which isn't my favorite way to play bingo), but you can buy paper cards as well so you can get some dauber action.
Kids as young as 10 (and sometimes 8, like during the Halloween-themed Boo Bingo) are able to attend.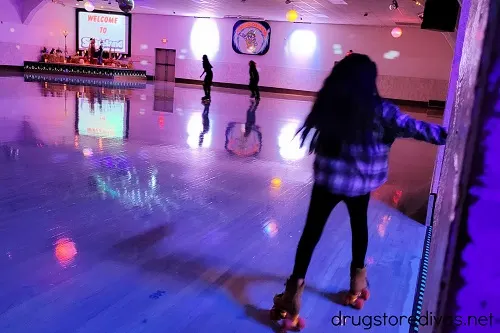 For something a little more kid oriented, Union Gap has a skate rink called Skateland (2506 Old Town Rd) with open skate sessions throughout the week. The rink does have skate rentals, so you don't have to worry about packing your skates on vacation.
This is also a really great option if you're looking for things to do when it rains in Union Gap because the entire skate rink and its classic snack bar is indoors.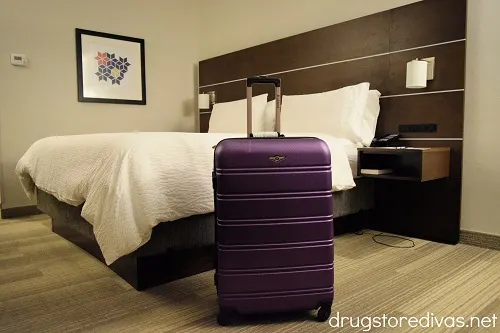 Bedtime:
We stayed in two hotels during our time in Union Gap: the Best Western Plus Ahtanum Inn (2408 Rudkin Rd) and the Holiday Inn Express & Suites (1215 Ahtanum Ridge Drive). Both had fresh baked cookies at night, both had coffee in the lobby, and both had complementary continental breakfast. All things I really like in a hotel.
Both of them have pools (the Best Western is outdoors and the Holiday Inn's is indoor, plus there's a hot tub). And they both have fitness centers, so you can exercise on vacation.
The Best Western was located off the highway, which gave us easy access to the hotel as soon as we drove into town. It's also really close to the Valley Mall (2529 Main St) in case you plan on doing some shopping while you're visiting.
Morning: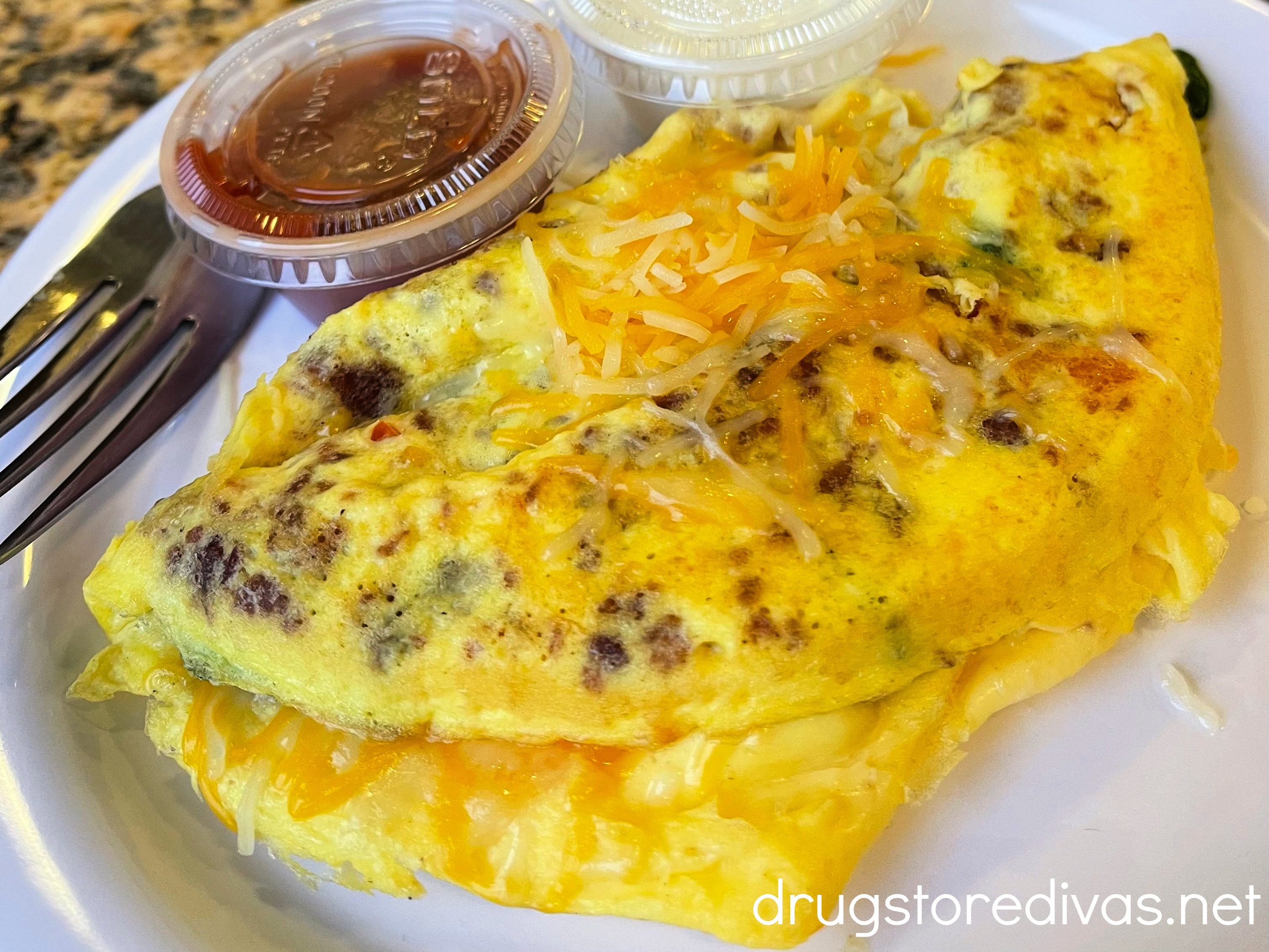 Breakfast:
Rise and shine, it's breakfast time.
A complementary breakfast is one of the amenities I look for when I'm choosing a hotel because it stretches your travel budget. If you don't have to pay for breakfast, you can spend your money on other things.
But — BUT — if you only have one chance to eat breakfast in Union Gap, skip the hotel and head straight to Jean's Cottage Inn (3211 Main St). The onion tanglers at Old Town Pump was the best bite I had in Union Gap, but the French toast at Jean's Cottage Inn was a close second.
The menu boasts that it's a secret recipe, and when I inquired about the secret, our waitress was mum at first. I asked her what the French toast was crusted in because the batter was amazing. So she let part of the secret out: The French toast is deep fried.
French toast is now something I can never order again anywhere for the rest of my life. Because I will never have deep fried French toast again. So thank you, Jean's Cottage Inn, for the best French toast I've had in my life. But also, no thank you because I will not order French toast for breakfast again until I'm back in Union Gap.
Quick side note about fried food: Old Town Station (2530 Main St) has deep fried Oreos. They were six for $6 when we were there, so keep that in mind if you need a treat. And see if you can get a biscuit to go too. The restaurant serves homemade drop biscuits with their benedicts and other meals, and they're really good.
Late Morning:
If you stayed at the Holiday Inn Express, a quick drive will bring you to the Ahtanum Youth Activities Park (107 West Ahtanum Road). It's a little bit further from the other hotels in town, but it's relatively close to everything and a great spot for the afternoon.
The youth park has a playground, soccer fields (where two soccer tournaments are held annually), basketball courts, an equestrian arena (not that you're bringing your horse on vacation, but this is just cool to say), and more.
But the best part, in our opinion, is the Washington State University's Master Gardeners Demonstration Garden. Parking at the Youth Activities Park is $2 per car and that garden is worth every penny of that parking fee.
The garden is filled with flowers, a hopscotch board, a space for demonstrations, and more. The Demonstration Garden has events on Saturday mornings at 10 am during the season (you can see them all here). Most recently, there was a class on making bird seed ornaments and inviting birds into your garden. These events usually take an hour, so it's perfect timing to get you out of town in exactly 24 hours since you came in.
And that's it. Your 24 hours in Union Gap are over and it's time to hit the road and continue on your Washington adventure. Will you travel to Issaquah or Ellensburg? Further on to Tacoma or Seattle? Just over the border to Yakima or Toppenish? The decision is all yours.
Where to stay in Union Gap:
We mentioned two of the hotels already, the Best Western and the Holiday Inn Express. In addition, there's also the Super 8 by Wyndham and the Quality Inn in Union Gap.
Where to eat in Union Gap:
We're working on a longer post about restaurants in Union Gap, but here's a real quick run down of our favorite foods so you can narrow down your list.
Our best bites:
Breakfast – French toast at Jean's Cottage Inn
Burger – Stuffed Garlic Burger at Old Town Pump (Find more burgers in our The Best Burgers In Union Gap, WA post)
Coffee – Stop 'n Go Express-o (We actually didn't get any coffeeshop coffee in town, but we have on good authority that this is the best)
Lunch – Tamales from Los Hernandez Tamales
Milkshake – Major's
Sweet – Cupcakes at For Heaven's Cake
Seasonal Things To Do In Union Gap, WA:
If you're heading to Union Gap in the fall, check out our post with a bunch of Fall Things To Do In Union Gap, WA.
And if you'll be there in winter, check out our list of Christmas Things To Do In Union Gap, WA.
What things will you do during your 24 Hours In Union Gap, Washington? Let us know in the comments.