Tacoma is a port city, although you wouldn't know it from its vibrant downtown area. Find out what things to do in Tacoma, Washington you can't miss, especially if you're only passing through the Seattle suburb.
For more help planning your trip, check out all of our travel posts.
I was on a whirlwind trip in Washington, which you saw if you followed my Instagram stories earlier this month. That trip ended with just under a full day in Tacoma, which was a shame. Not because my trip ended there, but because I didn't get enough time there.
I loved spending time in Tacoma.
Luckily for me, I was with a friend who is a former Tacoma resident. So before our trip, we were able to plan, outline, and maximize our time. Which is exactly what you'll want to do if you only have a day in Tacoma.
But worry not, if you don't have a friend who can help you map out your trip. You have me And this activity-filled 24 hours in Tacoma post.
If you have more time, definitely spend it in Tacoma. If you have little time, like I did, you can still see a ton of the city — and really enjoy your time there. Then you'll be like me and start planning a trip back as soon as you leave.
24 Hours In Tacoma, Washington
Travel Tacoma hosted Drugstore Divas on this trip. Affiliate links are included in this post and Drugstore Divas may make a commission if you use them.
I hope you packed your running shoes because there is a lot to do in Tacoma and you only have 24 hours, so you're going to need to run around town.
We're starting the day in the afternoon, where you might have sunny weather. but, it's Washington, so it might rain too. Our afternoon was raining, so we're planning your trip with rain in the afternoon before bed and sun in the morning after it. If your 24 hours ends up the opposite way, just flip flop the itinerary.
Afternoon:
One of the coolest things about Tacoma is all the glass sculptures around town. There's even a huge glass sculpture in a McDonald's in Tacoma, which makes it fancier than any McDonald's I've ever been to.
That's (mostly) thanks to Dale Chihuly, the glass artist who was born in Tacoma. He graduated from a Tacoma high school, studied for a year at the College of Puget Sound in Tacoma, eventually forming the Pilchuck Glass School in the Pacific Northwest.
The Museum of Glass (1801 Dock St) isn't a full Chihuly display, like the Chihuly Garden and Glass in Seattle. But, what Tacoma has that Seattle doesn't, is the Chihuly Bride of Glass, which is a 500-foot pedestrian walkway that features (something wild like) $45 million worth of Chihuly glass.
Inside the Museum of Glass is the Hot Pot, which is so cool if you can catch the action in it. It's a working studio with a seated amphitheater, so visitors can sit and watch while glass artists work on projects. There's a large screen above them, in case you're sitting in the back and can't exactly tell what's going on.
What's very helpful is there's a commentator there who explains everything that's happening at the work station so you can follow along.
My absolute favorite part of the museum is the hallway heading to the bathroom. So, even if you don't have to go, you should go.
Down that hallway are displays of glass models that were made based on children's drawings. You see the drawing along with an explanation of the piece. It's really just so sweet to see the children's artwork come to life in glass form.
Admission ranges from $10 for children ages 6 to 18 (under 6 is free) to $18 for adults. There is discounted admission for EBT card holders. It's open Wednesday to Sunday 10 am to 5 pm (closed Monday and Tuesday) with extended hours on the Third Thursday of the month.
Late Afternoon:
After you leave the museum and cross the Chihuly Bridge of Glass, you'll end up at the Washington State History Museum (1911 Pacific Ave).
In fact, there's an entire area of Tacoma, known as the Tacoma Museum District (which includes the Museum of Glass), with a variety of museums. In addition to the history museum, there's the Tacoma Art Museum (1701 Pacific Ave), the Lemay – America's Car Museum (2702 E D S), Foss Waterway Seaport (705 Dock St), and Children's Museum of Tacoma (1501 Pacific Ave).
There are a lot of museums, and they all charge an admission fee, so you might have to pick and choose based on your budget. Unless you get the chance to be in Tacoma for the Third Thursday museum district celebration. Each month, the museums offer either free or discounted admission as part of the celebration.
Pick one (or two) of the museums, and that'll pretty much take up the rest of the afternoon. We're gonna write a full post on these, just as soon as we can, but for now, a quick rundown to help you decide:
Children's Museum of Tacoma: If you have kids, obviously, this is the choice for you. But, what's very cool about this museum (I don't want to say "unique" because I think a lot of museums are getting on board with this now) is that Thursday from 10 am to 1 pm are low-sensory hours, geared towards children with autism and special needs.

Public hours: Thursday: 10 am to 1 pm (sensory hours) 1 pm to 5 pm; Friday to Sunday: 10 am to 5 pm
Admission: Pay as you will (which basically means its a donation only museum, so it allows anyone to access the museum regardless of financial status)
Evening:
Head down to the shops at Point Ruston (5005 Ruston Way). If you can time it right, you'll want to be there in time to watch the sunset. The shops are right on the water and the view is gorgeous. If it's a clear day, you'll be able to see Mount Rainer in the distance.
Dinner:
I know I just mentioned heading to the shops at Point Ruston before sunset, but you do want to make it to the Waterfront Market at Ruston (5101 Yacht Club Rd) before 6 pm because it closes at 6.
It's a very fun co-op type of storefront with booths that are sometimes, but not always open. You want to spend some time browsing the shops, like Cle Elum-based Owen's Meats for things to bring home (the sauces and rubs are definitely worth packing in your luggage).
When you're hungry, stop at Taco Street for (you guessed it) street tacos. You can get other items, like tortas and burritos, but the chorizo taco is where it's at. It's traditionally topped with cilantro and onions and is such a delicious bite of food.
I also got a veggie taco there too, which was filled with zucchini, bell pepper, and beans. If you're of the mindset that tacos don't always have to have meat (not everyone agrees with this), this taco is a good break from tradition.
If it's a hot night and you're looking for dessert, walk into the shops at Point Ruston and head over to Ice Cream Social (5107 Main St, A). The ice cream is all natural and homemade, which you can absolutely tell as soon as you look at it. I ordered pistachio, which was white not green (which, like, really, does it need green food dye? No. So awesome for Ice Cream Social to not add it).
Late Evening:
You have a couple options for late night fun in Tacoma. There's a movie theater in Point Ruston, there's Dorky's Bar Arcade (754 Pacific Ave) and The Triple Knock (2713 6th Ave), which is a pinball bar, and there are a ton of breweries and bars in the area.
But — BUT — if you want the coolest experience in Tacoma (in my opinion), head to McMenamins Elks Temple (565 Broadway). Matt from Travel Tacoma called it "Tacoma's Living Room" and, honestly, nothing prepared me for how incredible the building is.
From the outside, it's nothing special. It's a large, white, square building that pretty much lacks any charm. You'd walk right by it without even giving it a second glance.
But the inside is like you stepped inside Willy Wonka's psychedelic dream. You are literally inside a "world of pure imagination." And that explains nothing until you step inside and realize it actually explains everything.
It's a seven floor hotel that's open to the public. If you enter from the back, you'll walk in on the fourth floor where you can pick up a wandering map. Take the elevator up to the seventh floor, so you can see all the gorgeous chandleries, then take the stairs down to the first floor.
You'll pass a bunch of bars, like the Spanish Ballroom where you can just walk right in and Doc's Bar, which has a QR code on the outside of the door and you need to figure out clues to get in. There's also The Vault, which is hidden bar — behind secret panels and located under an old sidewalk. And then there's a brewery, which is very easy to find from the first floor.
I honest to God want to plan a trip to Tacoma for me and Pete, book a room here, and just explore from the time we check in until the time we check out. I'm putting that into the universe and making it happen. And you should too because this place is just very, very cool.
It's also haunted. Potentially. If you're into that, Tacoma is actually a very good city for paranormal activity. Check out this Comprehensive Guide To Haunted Places In Tacoma, WA for more.
Bedtime:
After this non-stop day, you're going to want to sleep in a cozy bed so you can rest for the next day. And the beds at Silver Cloud Hotel Tacoma at Point Ruston Waterfront (which we will refer to as Silver Cloud from now on because the full name is too many words to type and read every time) are amazing. They're so comfortable, the pillows are amazing, and the view from the room. Ours was on the waterfront and we left the curtains open all night to enjoy the look at the water.
If you're not quite ready for bed, you can have a nightcap in Silver Cloud's (5125 Grand Loop) on site restaurant, Copper & Salt Northwest Kitchen. You can order a handcrafted cocktail or a local beer, like the helles from E9 Brewing Co.
If it's a nice night, head out to the rooftop swimming pool and sun deck and enjoy a dip in the hot tub. Or, if you just want to relax in the room, there's a huge 65-inch television and complementary Caffe D'arte k-cups in the room.
Morning:
If you're an early riser, like Pete is, Silver Cloud has the best hotel fitness center I've ever seen. There are treadmills and kettle bells, but also state-of-the-art machines that you usually only find at a gym. So, definitely take advantage of that because, even if you don't want to, you should definitely exercise on vacation.
Breakfast:
If you have an "I'm on vacation" mentality when it comes to breakfast, head over to Pao's Donuts (6919 6th Ave) and enjoy a doughnut and coffee for breakfast. They look like a basic doughnut shop, by oh my gosh. They're so good. The glazed is a light and airy doughnut (similar to Britt's Donuts in Carolina Beach, NC if you've been there). The vanilla iced is a tasty cake doughnut.
Of course, you could go somewhere for eggs and bacon, but you only live once. Go for a doughnut. (Plus, you just worked out in the hotel's fitness center, so … balance.)
Oh, but, keep in mind Pao's is cash only. So you'll need to pack some cash if you do go.
Daytime:
Now that you're filled with sugar, you should have enough energy to tackle Point Defiance Park (5400 N Pearl St). It's a 760-acre park filled with gardens, a zoo, beach, trails (like Five Mile Drive, which you can only walk on right now because of the elements … but walk quickly because it may be haunted), and the Fort Nisqually Living History Museum (in case you didn't get enough museums yesterday). It's really easy to drive between each location, so you can park, explore, and drive on to the next spot.
Let's start with the gardens.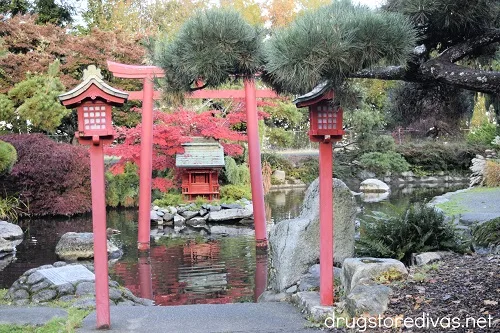 The highlights Rose Garden, which isn't really in bloom this time of year and is next to the Fuschia Garden, which is really in bloom this year; the Japanese garden with a footbridge, stone lanterns, and more; and the Northwest Native Garden, which in itself contains six gardens and a meadow. If you're on limited time, visit those ones.
Point Defiance Park also has a Dahlia Garden, an Iris Garden, and Herb Garden, and a Rhododendron Garden. The latter is super easy to check out when you're driving through the park's loop.
If gardens aren't your thing, but zoo's are, the Point Defiance Zoo and Aquarium is a great one. It's open Thursday to Monday from 9 am to 3:30 pm and tickets are $15 for kids 3 to 12 (under 3 is free) and $20 for adults (13+). That's online and military pricing. Tickets are $2 more for kids and $3 more for adults at the door. Parking is free, which is nice.
There are tigers, elephants, leopards, sea lions, otters, and more at the zoo. There's also a nice kid zone with a playground area and learning centers, so if you're visiting Tacoma with kids, this is where you should spend the morning.
If you're visiting between November 25 and January 2, you can head back at night for Zoolights, the zoo's holiday display where its illuminated with over 800,000 lights. Zoolights is separate from traditional park admission.
If you're visiting in the summer, you'll miss Zoolights, but you can head to Owen Beach (we're still in Point Defiance Park … it's huge!). The waterfront park reopened earlier this year after nearly a year and a half of renovations. There's an area for kayak rentals, benches, a pavilion, a seasonal food concession stand, and more.
And yes, you can swim there too. It wasn't swimming weather when I was there, so I only saw people walking near the water, not in it. But you can definitely swim during the season. Just be sure to pack a change of clothes because your day in Tacoma isn't done just yet.
Lunch:
It's time to grab a bite to eat before heading out of town.
If you're from the east coast and you want to try PNW pizza, head back to Point Ruston for Farrelli's (5104 Grand Loop). That's the local chain's flagship location.
We have it on good authority, though, that E9 Brewing Co. (2506 Fawcett Ave) has the best pizza in Tacoma. The dough is made with yeast from the brewery's Tacoma Wild beer, then cooked in a pizza oven. There are traditional pies, a white pie, and a vegan pie, so you can satisfy everyone here.
You can get beer with your pizza here, which is Pete's all time favorite meal, but you're heading out of Tacoma after this so please, have water with your pizza if you're the one driving out of town.
And that's it. Your 24 hours are over. But we didn't even talk about the WW Seymour Botanical Conservatory in Wright Park, the minor league baseball team the Tacoma Rainers, Stadium High School where 10 Things I Hate About You, including that famous scene where Heath Ledger sings in the bleachers was filmed.
But alas. A day goes quickly when you only have a day to spend somewhere.
You can stay in the Pacific Northwest. Head to Seattle. Head to Union Gap or Yakima. Go visit Issaquah or Ellensburg or Toppenish. Head wherever your heart desires, but your 24 hours in Tacoma are over, so you can't stay here.
Where To Eat In Tacoma, Washington:
Of course, we couldn't eat everywhere in Tacoma in our short time there. So, I have recommendations from a few locals to help you if you want more suggestions:
Also, if you're wondering about it, we have a full Al's Hot Chicken review based on the new Tacoma location.
Help planning your Tacoma trip:
All this information is as up to date as we can find. However, Drugstore Divas has no affiliation with these attractions, so we suggest you check with each one for its current operating hours and any pertinent information.
For additional help, Travel Tacoma is a phenomenal resource for help planning your trip to Tacoma and Pierce County. We got a ton of suggestions from them. So if you have a specific type of trip you want to plan, definitely check out the Travel Tacoma website or call the visitor information phone number (1-800-272-2662) for help.
Which of these things to do in Tacoma, Washington is going on your travel itinerary? Let us know in the comments.