You may have heard of Ellensburg because of the famous rodeo. But, there are a ton of other things to do in Ellensburg, Washington. Find out about them and plan your visit to Ellensburg with the help of this post.
For more help planning your trip, check out all of our travel posts.
When I was in Washington at the end of last month, we were driving from one small town to another. Instead of driving straight through, we decided to stop in Ellensburg, Washington to spend a little time.
If Ellensburg sounds a little familiar, it's probably because of the Ellensburg Rodeo. That's been happening every Labor Day Weekend since 1923. If that's not familiar, you might have heard of Ellensburg because it's the home of Central Washington University (which, FYI, may be haunted).
And, if haven't heard of either, allow us to introduce you to the town.
24 Hours in Ellensburg, Washington
Affiliate links are included in this post and Drugstore Divas may make a small commission if you use them.
As with all our "24 hours in … " posts, we're taking you through a full day in town. Of course, if you're spending longer in Ellensburg, you can spread these things out. But, if you only have a day to stop before you're traveling on to somewhere else, this will help you maximize your time.
We're starting our 24 hours right after breakfast and ending it with breakfast in Ellensburg the next morning. If your day starts differently, you can just move things around.
Afternoon
Ellensburg has an easily walkable downtown with lots of free parking. So park in an open spot and then head down to the Ellensburg Rodeo Hall of Fame Museum (416 N. Pearl).
The town is known for its rodeo, so of course, there's a museum dedicated to all things rodeo and horse riding. It's a really nice way to learn about the area and the reason it's popular.
There's a full section of the museum dedicated to "Rodeo Royalty," the Rodeo queens and princesses, which is definitely worth checking out. When most people think of rodeos, they think of bull riding and cowboys, so it's nice that there's a section dedicated to the women who become the face of the rodeo, doing press and traveling to events prior to the rodeo itself.
Next to that museum (literally, right next to it — they share an entrance) is the Clymer Museum & Gallery. It's a private collection of Ellensburg-native John Ford Clymer. Clymer, known for his artwork of the American West, illustrated magazines, including The Saturday Evening Post (for which he did 80 covers — second only to Norman Rockwell), Woman's Day, Field and Stream, and more.
There are also two other galleries within the museum that display works from other artists.
If you're into sculptures, you could spend so much time enjoying the pieces. If you're not, well, you're already in the door for the rodeo museum, so you might as well check out the artwork.
Both museums are free (although donations are accepted), and if you know me, you know I love finding the free things to do on vacation. It helps to stretch your vacation budget, so definitely take advantage of those options when you can.
If you like art, you should also head to the Gallery One Visual Arts Center (408 N Pearl Street). It's only two storefronts down from the Clymer Gallery and general admission is free. At Gallery One, there are rotating visual art exhibits, so even if you've been to town before, pop in. There will probably be something new to see.
But, if you miss it, you can virtually tour the Gallery One Visual Arts Center via that link. And, side note: If you do like touring virtually, check out our list of 20+ Free Virtual Museum Tours.
Before you leave that area, head across the street and take a photo with the bull sculpture in the Rotary Plaza.
Lunch
Now it's time for lunch. There are a bunch of restaurants in town within walking distance of the museums. We suggest you walk to the Ellensburg Pasta Co. (600 N Main St).
It's a nice restaurant that's set back off the road, so the outdoor seating is actually more private than you would expect.
The restaurant sells pasta, as you would expect from the name. If you have time for appetizers, you can start with deep fried Brussels sprouts because yes please. If you need to rush a little bit, skip right to the main course. You can get salads, burgers, wraps, pastas with red or white sauce, or dishes like Chicken Parm (which I love but it's too heavy for me to have for lunch). But, you do you.
Late afternoon
If you're in town on a Saturday from May to October, you can check out the Ellensburg farmer's market. It's on 4th Avenue between Pearl Street and Ruby Street. You can pick up chamoy and other condiments from La Reyna Handmade Sweets, craft cider from Wheel Line Cider, and more.
You can also pick up street tacos and churros from Genesis Churros y Tamales, which is at the market every Saturday. That means the stand (700 E University Way and N Walnut St) is actually closed at that time. So don't head to the stand looking for churros, street tacos, esquites, fruit cups … all the deliciousness. But, outside of market hours, head to the stand.
Don't forget about local favorites like flowers.
Side note: If you're headed to this part of Washington, flowers are the big draw at the farmer's market. So, if you're able, pick up a bouquet.
If you're not in town for the market, but still want to do some shopping, there are so many shops in the downtown area. And they're all small businesses. You won't see any chain restaurants or stores in downtown Ellensburg. Closer to the college, sure, but not in the downtown area.
So definitely pop into a shop or two and see what souvenirs you can bring home.
And, if you didn't get enough of the museums before lunch, you can check out the Kittitas County Historical Museum (114 E. 3rd Ave.). This free museum is filled with really cool exhibits, like neon signs (not as many as The Neon Museum in Las Vegas, but still … a lot), a military room, a railroad section (which a lot of towns in this area have), and more.
What's actually really fun is the museum and the downtown area collaborated on a scavenger hunt. Pick up the Past Meets Present postcard at the museum's gift shop. The back will give you a bunch of locations that have a red framed photo somewhere in their shop or gallery. Locate it, then record the photo on the postcard. Return it to the museum to be entered for a monthly drawing.
If you'd rather get some outdoor time, you have a ton of options. There are over 20 parks in Ellensburg. The most popular are the Olmstead Place Historical State Park (921 N Ferguson Rd), a 200+ acre park on a former homestead property, the CWU Japanese Garden, a botanical garden located on the Central Washington University campus that's open to the public, and the Irene Rinehart Riverfront Park (Irene Rinehart Riverfront Park), a 100+ acre park with trails, volleyball courts, picnic areas, and more
Evening
Dinner
If you're hungry for dinner, head into The Tav (117 W 4th Ave). It's a bar, and you can only eat there if you're 21 or older, so this isn't a great place if you're traveling with kids, but it is a great place if you're not.
If you go, get the burgers. That's what the restaurant is known for. And, if it's nice out, sit out in the beer garden near its firepits. It's a great spot for a great night.
Late night
Ellensburg has a nice local brewery scene, so if you're looking for something to do at night, checking it out is a good idea.
Our favorite, mostly based on very cool aesthetics and partially based on a very nice bartender (who told us to tell anyone he's nice, so oops) is Whipsaw Brewing (704 N Wenas St). It has a very fun lumberjack/wood theme throughout which is very reminiscent of what everyone thought of the Pacific Northwest based on the late '90s grunge era.
There are a ton of taps and a ton of outdoor seating (which is nice if it's a nice night) and ample seating indoors (which is nice if it's cold).
If you have a designated driver, you can check out Iron Horse Brewery (412 N Main St), Ellensburg Brewery & Tilted Tree Cidery (206 N Main St), and Enchantment Brewing (416 S Main St).
For a little late night fun, head out of downtown to the Wild Goose Casino (1600 Currier St). It's a bar and grill too, so you could get a bite to eat there if you're still hungry. But, really, we're just suggesting you go for the table games. And who knows. You might hit a jackpot. The casino is only open Wednesday through Sunday, though, so plan accordingly.
After you hit that big jackpot and cash out, it's time for bed.
Bedtime
Hotel
For cute accommodations, book a stay at Hotel Windrow (502 N Main St). It's a 59-room boutique hotel in the heart of downtown Ellensburg.
It's centrally located, so it's great for when you're walking around downtown. But each room is relaxing and comfortable for when you're ready to unwind.
Morning
The hotel does offer WiFi and complementary coffee in the room, but the hotel doesn't offer complementary breakfast (which, you know, is one of my top vacation tips if you're traveling on a budget), so you'll have to head out to find it.
Breakfast
If you have time to sit and relax, head out to The Palace Cafe (4th and Main) for breakfast. The restaurant has been a staple in the area since 1892, which is incredible.
The restaurant is located downtown, making it a super convenient spot to get your eggs, breakfast wraps, and more.
If you're on the go, check out Happy's Market (207 W University Way). This place made me laugh so hard every time we passed it because it offers breakfast burritos and beer and that just sounds like a recipe for trouble if you ask me.
But, we did see an older couple coming out without beer very early in the morning, so I'm guessing they were there for the burritos. Which I'm told are actually a very popular grab and go breakfast.
And, while you're there, admire the very pretty rodeo-themed metalwork on the top of the building because it's one of the last things you'll see before heading out of town. See, your 24 hours in Ellensburg are over, so you gotta go.
But, as you're heading out, stop by the Umtanum Creek Canyon (Canyon Rd). You'll want to go to the Umtanum Creek Recreation Site, specifically. There are other Umtanum Creek options in the area, but the recreation site is where you'll find the pedestrian suspension bridge that crosses the Yakima River.
Cross it and you can continue onto two trails, the Umtanum Ridge Trail to your left and the Umtanum Creek Trail to your right.
If you're lucky (and we were!), you can actually see bighorn sheep in that area. If you're unlucky, you can see rattlesnakes too, so keep an eye out.
For non-hikers, you can go fly fishing at the creek, rafting, or just enjoy a picnic.
Will you head into central Washington to check out Union Gap, Yakima, or Toppenish? Head back towards the airport for Issaquah? Go a little further on for Tacoma or Seattle? Wherever it is, your next PNW adventure awaits.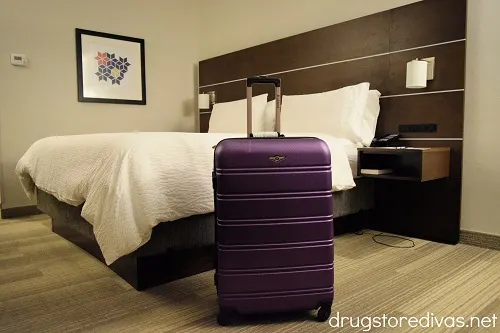 Where to stay in Ellensburg:
There are a few other hotels in Ellensburg that we didn't mention in the post itself. So, if you're looking for more options or just don't want to stay at a boutique hotel (because you'd rather get hotel points at a chain), check out the following options:
Ellensburg Rodeo:
The Ellensburg Rodeo began in 1923 as a competition between ranch hands that has grown into a professional event with over 600 competitors held every Labor Day Weekend.
Riders, ropers, and wrestlers compete from Friday to Monday of Labor Day Weekend. There are ticketed events at the rodeo, but also free events like the Ellensburg Rodeo Hoedown in the Downtown (at the corner of 4th and Pearl) on Friday evening and a parade on Saturday morning. On Sunday, there's Cowboy Church, which is open to the public.
You can see the full Ellensburg Rodeo 2023 schedule now.
The Kittitas County Fair happens on the same weekend, and tickets for the rodeo will get you into the fair as well, making it a very fun weekend in Ellensburg.
Have you been to Ellensburg, Washington? Let us know the things you like to do in Ellensburg in the comments.