Corn mazes and haunted scavenger hunts are just some of the fun fall things to do in Union Gap, WA. Find them all here.
For help planning your trip, check out all of our travel posts.
It's fall in Union Gap, WA. Okay fine, it's fall everywhere in the northern hemisphere. But this post is focused on Union Gap, a city in the Yakima Valley in Southern Washington because there are so many fall things to do there.
Also because I'm flying out to the area at the end of the week to check out Union Gap. I'm lucky that the town's tourism bureau is hosting me at some of these fun activities next week.
10+ Fun Fall Things To Do In Union Gap, WA
Drugstore Divas is being hosted by Union Gap later this month and will be checking out some of these activities then. Affiliate links are included in this post and Drugstore Divas may make a commission if you use them.
Some of these events have already happened, but they were still fall things to do in Union Gap, so I included them so you'll have them if you're planning a trip for next fall.
Check out the fall foliage at the Yakima Area Arboretum
Address: 1401 Arboretum Dr.
Hours: Daily from dawn until dusk
Admission: No charge, but donations are accepted
We are huge fans of botanical gardens and love checking them out during various times of the year. You get a chance to see different foliage, from flowers in spring to gorgeous leaves in the fall.
At the Yakima Area Arboretum in October, the highlights are the Maple, Birch, and Oak trees. There's the Japanese garden, with a pagoda and traditional bridges, which are gorgeous any time of year. Plus, there's the arboretum's Rose Garden. It's not in bloom this time of year, but it's a gorgeous area in the garden.
(Also, now that we we've been to Union Gap, we learned the arboretum is on the border of Union Gap and Yakima, but it's just barely past the Union Gap border, so we're keeping this on the list.)
Get lost at the Union Gap Corn Maze and Pumpkin Patch
Address: 3213 South Tacoma Street
Hours: Wednesday and Thursday: 4 pm to 9:30 pm; Friday: 4 pm to 11 pm; Saturday: 11 am to 11 pm; Sunday: 11 am to 5 pm
Admission: $10 for ages 3 and up (children 2 and under are free with a paid adult)
We don't really want you to get lost at the Union Gap corn maze, but you might. Corn mazes are actual mazes, so you will have to navigate your way from the start to finish. You can do a regular corn maze during the day or a haunted corn maze from 7 pm to close. What's really fun is admission is valid all day, so you can do the maze during the day, then return for the haunted maze at night.
There's much more to do at the corn maze, like hay rides, apple cannons, a pumpkin chucker, a pumpkin patch, and more.
Eat a pumpkin iced cupcake at For Heaven's Cakes
Address: 2630 Main St., Suite 101
Hours: Monday to Friday: 9 am to 3 pm; Saturday: 10 am to 4 pm; Closed Sunday.
For Heaven's Cakes sells the prettiest cupcakes I've ever seen in real life. Honestly, head there just for photos for Instagram. If you're in the area during the fall, stop by and pick up one of the pumpkin iced cupcakes that are for sale. They're not iced with a pumpkin icing. Oh no. There's a full pumpkin made of icing on top. You can see it here.
If you don't want to have a whole cupcake, you can purchase a cake pop with candy corn and candy pumpkins on top instead.
Get spooked at the Madd Hatters Haunt
Address: 208 Ahtanum Rd.
Hours: Tuesday to Thursday: 6:30 pm to 8:30 pm; Friday and Saturday: 6 pm to 10:30 pm; Sunday: 6:30 pm to 8:30 pm; Monday: 6 pm to 9 pm
Admission: $13 or 2/$25 (VIP Fast Pass Tickets: $18 or 2/$35)
If you like haunted houses, you'll like the Madd Hatters Haunt. I have it on good authority that it's not too scary, but it still might not be something you'll want to take young kids to. (The website says it's not recommended for kids under 10.) There are actors in scary masks that will jump at your during the haunted house.
There's other stuff to do at the haunt besides the haunted house, like a gigantic chess game, cornhole, actors wandering around, and more.
Find "Clues" at the Haunted Harvest Scavenger Hunt at Skateland
Address: 2506 Old Town Rd.
Hours: 6 pm to 7 pm on Friday (October 7, 14, 21) and Saturday (October 29)
Admission: $10
New for 2022 is the Haunted Harvest Scavenger Hunt at Skateland. The Haunted Harvest Scavenger Hunt brings the game of Clue to live.
Attendees will have an hour to solve the scavenger hunt for a chance to win prizes (tickets for upcoming skate sessions).
With your admission, you'll get an order of Dead Man's Fingers (hot dogs) and a Bloody Shirly Temple drink.
Visit the Día de los Muertos displays at Valley Mall
Address: 2529 Main St.
Hours: Daily from October 28 to November 5: 11 am to 6 pm
If you've never been to a Dia de los Muertos celebration, I highly suggest going to one. Most people know about an ofrenda (a Dia de los Muertos alter) from the movie Coco. So many of the traditions of Hispanic culture were on full display during that movie, which is amazing.
But until you've seen one up close, which you can see at Valley Mall, you don't understand the full complexity of the ofrenda, the traditions and values behind it, the reason for the six objects of the alter.
The mall also has other activities that tie in with the celebration, like a Clay Flute Workshop with Samuel Becerra on November 5 at 11 am.
Purchase a loaf of Pan de Muerto at Panaderia Aguililla
Address: 3206 Main St
Hours: Sunday to Friday: 9 am to 8:30 pm; Saturday: 9 am to 8 pm
If you happen to be in town for the day before or the days of Dia de los Muertos, head over to Panaderia Aguililla to pick up a loaf of Pan de Muerto (Day of the Dead bread). It's a traditional Mexican sweet bread that's adorned with bone-shaped phalanx pieces on top. It has a domed top, which represents a grave.
The bread is often part of an ofrenda, which contains photos of loved ones who have passed, plus other traditional items. Pan de Muerto is generally eaten at gravesites or at the ofrenda (but the loaf that has sat at the ofrenda isn't eaten).
Steve Hahn Trunk-or-Treat
Address: 1730 S 1st St.
Hours: October 31 from 4 pm to 7 pm
Trunk-or-Treat events have been gaining in popularity lately, and they're pretty cool, especially if you live in a rural area. If you're in the country with tons of distance between houses, it's a lot of walking to go trick-or-treating. With trunk-or-treat, various cars set up in a parking lot and kids can trick-or-treat between them.
This year is the fifth annual Steve Hahn Trunk-or-Treat. Which is an auto dealership. So the trunk-or-treat event makes so much sense. There will be candy, costume contests, a haunted house, and more. Plus, Fiesta Foods Yakima will set up its food truck.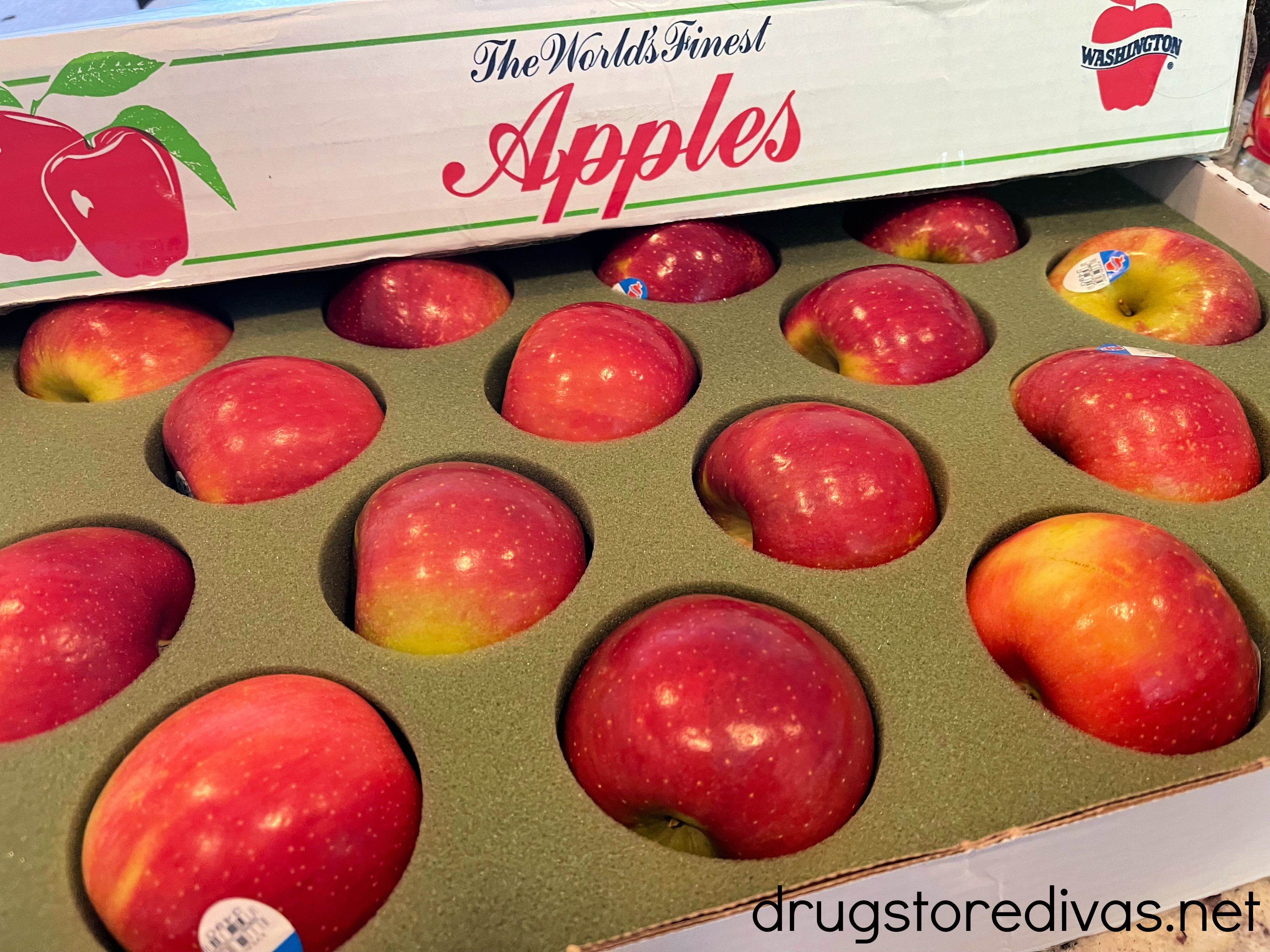 Make Some Apple Recipes
Washington is known for its apples and you can find delicious ones in Union Gap. If you have time, stop by Fruit City (3913 Main St) a large, free standing produce stand. It's iconic in the area (although it closed early, so I wasn't able to check it out myself).
If you're staying at an Airbnb, you can make some fun fall apple recipes, like our Halloween Ghost Chocolate Apples. Or, if you're in a hotel room without a kitchen, just enjoy the apples as is.
Malloween at Valley Mall
Address: 2529 Main St.
Hours: October 22, 3 pm to 5 pm
Malloween already happened prior to this list being posted, but I'm adding it because the event is replacing trick-or-treating on Halloween Eve at the Valley Mall. So if you were looking up that event, I want you to know it's not happening this year. Unfortunately, you also missed its replacement event, which was a costume contest, candy, crafts, and games.
Definitely plan for it for next year.
Agri-Copia
Address: 4508 Main St.
Hours: Saturday, October 15 from 9:30 am to 4 pm; Sunday, October 16 from 9:30 am to 2 pm.
Agricopia has already happened, which is why it's down here at the end of the list. But it's an annual fall festival to benefit the Central Washington Agricultural Museum. There were wagon rides, pumpkin decorating, s'mores kits, and more. So definitely put it on your list for next year.
More Things To Do In Union Gap:
There are definitely more things to do in Union Gap, WA. We just got back from a trip to Union Gap and put together a 24 Hours In Union Gap, Washington post. So definitely check it out to plan your trip.
And if you'll be there in winter, check out our list of Christmas Things To Do In Union Gap, WA.
And, no matter when you're there, you need to eat. If you like burgers, you're in luck. Union Gap has a bunch. Check out The Best Burgers In Union Gap, WA to decide where to eat one.
Where To Stay In Union Gap:
If you're coming to Union Gap to enjoy these fun fall events, book your stay at the following hotels:
Best Western Plus Ahtanum Inn
More Fun Halloween Things To Do:
If you're on the other coast and looking for some Halloween-themed things to do this season, check out Sesame Place's The Count's Halloween Spooktacular (in Yonkers, NY and other various locations) and the Stew Leonard's Spook-tacular Halloween Drive Through (outside Philadelphia, PA). Click those links to read our review of those Halloween events.
Which of these Fun Fall Things To Do In Union Gap, WA are you most interested in? Let us know in the comments.