If you like animals and the outdoors, you'll love the mountain town of Issaquah. Find out what things to do in Issaquah, Washington you don't want to miss.
For more help planning your trip, check out all of our travel posts.
Issaquah, Washington is barely 30 minutes from the Seattle airport. So, when you're flying in, plan an extra day before you get to your destination or before you leave town to spend some time in Issaquah, Washington.
It's the quintessential Pacific Northwest town, filled with PNW favorite chains, local shops, outdoor activities, state parks, hiking trails, salmon that swim in the streams, and one of the coolest roadside zoos. Plus, there's a candy shop that transports you to a cute European town and makes you forget that you're in Washington.
It's definitely a town where you can spend a few days, but if you only have 24 hours, we can help. We've packed as many things to do in Issaquah, Washington as we could in this post.
24 Hours In Issaquah, Washington
Affiliate links are included in this sponsored post and Drugstore Divas may make a small commission if you use them.
As with all our "24 Hours In … " posts, we're taking you through a full day in Issaquah, Washington. We're starting in the late afternoon and taking you through lunch the next day.
Late Afternoon:
Start your time at Cougar Mountain Zoo (19525 SE 54th St) because you definitely don't want to miss it.
It's an 11-acre roadside zoo on the side of Cougar Mountain.
And I know, you might be thinking a zoo is a zoo is a zoo. And I feel like that sometimes. So when I'm on limited time in a town, I generally don't stop at the zoo or aquarium (especially because we have the Tregembo Animal Park and Fort Fisher Aquarium in town).
But Cougar Mountain Zoo is not your typical zoo. It's filled with endangered species and animals you just don't see at most zoos. Like wallabies. And. You. Can. Feed. Them. I mean, you're tossing apple pieces over a fence and watching them eat, but you can fee a wallaby (!!), so that's reason enough to visit the zoo.
There's also a huge reindeer exhibit, with a barn and celebration house. They're actually part of the zoo's Issaquah Reindeer Festival, which returns on December 1. During the festival, you can take photos with Santa (for an additional donation), see his reindeer, visit Santa's house, hear Christmas music, and more.
The zoo shouldn't take you all day, so depending on how much daylight you have, there are a few options.
If you do decide to go to the zoo, be sure to check out our What To Pack For A Day At The Zoo post to make sure you have everything you need to enjoy your afternoon there.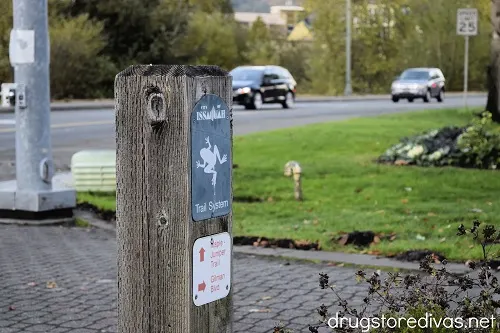 You can hike right at Cougar Mountain or you can head over to Tiger Mountain to hike the trails there. There are actually a ton of trails in Issaquah, like the Poo Poo Point Trail (which is almost four hours!), which leads you to a launchpad for paragliders and hang gliders. That would be a cool view, but it would take up a ton of your day.
There are also trails at Lake Sammamish State Park, which also has a playground, areas for geocaching and playing Pokémon Go, and kayaking (you can also rent some, if you didn't pack yours). You will need a Discover Pass for entry or you'll have to pay $11.50 (plus $1.50 processing) for a day pass.
If your feet need a little break from walking around the zoo or those trails, head down to the Issaquah Depot Museum ( 78 1st Ave NE). It's only open Saturday and Sunday from 11 am to 3 pm, so you need to hit it right.
If you do, you'll enjoy a museum with a few interactive rooms, plus a nice trolley ride through Issaquah, passing landmarks like the Issaquah Creamery aka the Darigold Plant (611 Front St N), a dairy facility that's been open since 1909.
If you're not around on a weekend, head down to the Issaquah Salmon Hatchery (125 W. Sunset Way). Salmon are a huge part of Issaquah. In fact, the town's chamber hosts an annual Salmon Days festival in October with over 300 vendor tents, salmon viewing areas, beer and wine gardens, salmon barbecue, and more.
In fact, you can look over any bridge in Issaquah (when the salmon are spawning) and see a ton of them in the water.
It's a little more controlled at the fish hatchery, and you'll be able to see salmon jumping out of the water, trying to get upstream. It's very cool and definitely something you have to see if you're in town.
Speaking of salmon, it's time for dinner.
Dinner:
Despite that fantastic transition, we're not sending you out for salmon dinner. You just hung out with the fish. It's too soon.
Instead, go to Instagram-worthy Triple X Rootbeer Drive-in (which, I promise, is a family-friendly restaurant despite what the name implies. Triple X Rootbeer (98 NE Gilman Blvd) is a cash-only, 1950's style restaurant, known for its burgers. They're, quite possibly, the largest burgers you've ever tried to eat.
The restaurant does have an interesting history, almost as interesting as the décor on the walls. The XXX Root Beers chain was established in Renton, Washington (where Jimi Hendrix's memorial is) by A.H. Rutherford. The only ones remaining now are this one in Issaquah and one in West Lafayette, Indiana.
Back in the day, cars would drive up (it was a drive in). So it makes sense that the location still holds more than 30 car shows each year.
And yes, of course, you can order root beer (or a root beer float) served in a tall, frosted glass.
Evening:
Issaquah is a great town with a ton of community events. And they're really welcoming to visitors. We actually went to a community Halloween bingo when we were there and everyone at our table was incredibly kind.
There are a bunch of community events happening this month, like Santa's Arrival and Tree Lighting Event, the Issaquah Turkey Trot, the Historically Hip Artisan Market, and more. Check the chamber's events calendar for ideas.
If you'd rather do something low key, head to check out Big Picture (35 W Sunset Way). It's a 21+ movie theater that's, actually, the first movie theater on the West Coast that offer a full bar and seat-side drink delivery. So that's cool.
The theater shows first run movies (currently it's showing the new Black Panther movie). If you don't want to watch a movie, you can still hang out and have food and cocktails in the lounge (no ticket required).
Bedtime:
If you enjoyed some cocktails at Big Picture, have someone else drive you back to the hotel for bed. We suggest staying at the Hilton Garden Inn (1800 NW Gilman Blvd). The hotel is centrally located (super close to the zoo, actually).
It has a gorgeous lobby with a really nice (and really warm, if need be) fireplace along with seating. There's a hot tub and a pool, in case you want to take a late night dip before heading to bed.
Morning:
Breakfast:
You're on vacation, so we're starting your day with sugar … in the form of a breakfast sandwich from Pacific Northwest-favorite Legendary Doughnuts (1640 NW Gilman Blvd #3). It's sausage or bacon, egg, and cheese on a classic glazed doughnut, grilled like a panini.
It's actually a lot less sweet than my doughnut breakfast sandwich recipe — and so much better too.
If you just want sugar, you can't go wrong with the Twix doughnut. It's huge, light and airy, and packed with flavor.
You can grab a coffee there too, or you can drive down to Gilman Village (317 NW Gilman Blvd STE 32) and pick up a cup at local favorite Issaquah Coffee Company. I went with the highly recommended Aztec Mocha, which is not on the menu, but is definitely something the baristas make there. It's a mocha with spices, so basically a coffee/Mexican hot chocolate hybrid.
Daytime:
Now that you have your sugar and caffeine … get ready for more sugar. Head down to the Issaquah staple, Boehm's Candies (255 NE Gilman Blvd). It has been around for over 80 years.
The shop was started by Julius Boehm, who has such an interesting backstory. He was born in Austria, ran for the Austrian team in the Paris Olympics and was an Olympic torch bearer. He skied through the mountains in Austria to Switzerland to avoid being drafted into the German army. And, a year later, he found himself in the mountains of the Pacific Northwest.
He opened and operated a candy shop in Seattle before relocating Boehm's Candies to Issaquah in 1956, where it has remained for over 60 years.
Walking onto the property feels like walking into Switzerland, which is the point. The shop was designed as a Alpine chalet (the first in the Northwest). Through windows you can see chocolates and candies being made. Inside the retail shop, you're greeted by the smell of chocolate. Try the orange chocolate, if you get the chance. You'll love it.
Around the bend there's the High Alpine Chapel. Boehm's dream was to have a Swiss chapel, and here it lies. It fits 35 people and has a recreation of Michelangelo's Creation of Man suspended from the ceiling. Boehm, himself a decorated climber who traversed the 14,000-plus-foot Mount Rainier at the age of 80 (and a half) dedicated the chapel to mountaineers who lost their lives in the mountains.
Boehm has passed away and the shop is owned by Bernard Garbusjuk who has owned and operated it for (almost) the last 40 years. He learned from Boehm and has followed the same process to make the chocolates.
Lunch:
And now that you've had dessert first, it's time for lunch. Our top pick is Ivar's Seafood Bar (6150 E Lake Sammamish Pkwy SE), another Pacific Northwest staple. We went to one of the Seattle locations on our first trip to Washington and have been hooked ever since.
Start with the white clam chowder for sure. No matter what you order after that is a good choice, but trust me when I say start with the clam chowder. That's what Ivar's, which has been around since 1938, is known for.
And that's it. After lunch it's time to jump in your car and head to wherever's next. Your 24 hours in Issaquah are done.
Will you travel to Seattle? It's just 20 minutes away. Or a little further to Tacoma? What about a nice drive to Union Gap, Yakima, Toppenish, or Ellensburg, a few other small PNW towns? The decision is all yours, but you can't stay here.
Where to stay in Issaquah:
We mentioned the Hilton Garden Inn already, but there's also Homewood Suites (1484 Hyla Avenue NW), Springhill Suites (1185 NW Maple Street), and the Motel 6 (1885 15th Place NW).
But, if you want a one of a kind experience, definitely book a stay at Treehouse Point (6922 Preston Fall City Rd SE), which has nine, rentable, treehouses that you can stay in.
Which of these things to do in Issaquah, Washington is going on your travel itinerary? Let us know in the comments.