Don't let rain ruin your vacation. Instead, get creative and check out these Things To Do When It Rains In Abbeville, SC.
For more help planning your trip, check out all our travel posts.
Abbeville, South Carolina is the quintessential American small town. It's the one that stars in Hallmark movies, with a cute town square that hosts festivals, new shops built into old buildings, and a historic haunted hotel.
If you're visiting the area for one of the town's two large festivals (the Spring Festival in early May or the Hogs & Hens BBQ Festival in mid-October), you probably have a list of things you want to check out.
But what if it rains? That could totally throw off your plans, but don't let it ruin your vacation. We have a list of things to do when it rains in Abbeville, SC to help you come up with a backup plan.
Abbeville is super haunted. Like way more haunted than any small town should be. So, if you're into the paranormal, check out our A Comprehensive Guide To Haunted Places In Abbeville, SC and take a self-guided ghost tour when it's not raining.
Things To Do When It Rains In Abbeville, SC
Affiliate links are included in this post and Drugstore Divas may make a small commission if you use them.
Visit the Abbeville County Museum
The Abbeville County Museum is hosted in the former Abbeville Jail, which was built in 1854. So just going inside to check out the historic building is reason enough to visit.
Inside, you'll be able to check out collectables from Abbeville County, plus exhibits, historical documents, and more.
Abbeville County Museum Information:
Address: 309 Poplar Street
Hours: Open most Saturdays and by appointment
Phone: 864-378-0772
Admission: Free
Check out the Abbeville County Library
Libraries are such cool places to spend an afternoon, even if it's not raining. You can't check out books or movies if you're not local and don't have a library card, but you can still read books when you're there. Out local library holds weekly storytime outdoors, and non-residents are able to attend.
The Abbeville County Library has a ton of weekly activities, like storytime, magic shows (which are hosted by the library at the nearby Abbeville Opera House), yoga, and more. It also has a Seed Library where patrons can collect free seeds to plant. Patrons can also donate seeds to the seed library, helping to preserve rare or heirloom seeds.
The library's website doesn't say if these events or Seed Library is exclusive to the community, so if you're visiting from out of town, give them a quick call and see if you're able to take part in the activities.
Abbeville County Library Information:
Address: 1407 N Main St.
Hours: Monday, Wednesday, Friday: 9 am to 5:30 pm; Tuesday, Thursday: 9 am to 8 pm; Saturday: 9 am to 3 pm. Closed Sunday.
Phone: 864-459-4009
Admission: Free
See a performance at the Abbeville Opera House
The Abbeville Opera House is a historic (and maybe haunted) performance theater. It was opened in 1904, a year after its next door neighbor, The Belmont Inn, was opened.
It's an operational space with plays, concerts, comedy shows, and more scheduled in throughout the year. There are over 200 seats in the theater — but one is always left open. That's for the ghost who haunts the theater. As the story goes, a young woman was set to perform at the Abbeville Opera House but fell ill. She went to rest at The Belmont Inn and died. Her spirit now haunts the Opera House (probably because too many other spirits haunt The Belmont Inn, so she wouldn't get top billing).
If it's raining on your Abbeville vacation, check to see if any performances are happened at the Opera House … or just stick your head in to look for a ghost (just look for the Welcome sign outside so you know it's open).
See the full schedule of performances here.
Abbeville Opera House Information:
Address: 100 Court Square #102
Hours: Varies
Phone: 864-366-9673
Admission: Varies
Explore the Trinity Episcopal Church
If you need a quick escape from the rain, and the Trinity Episcopal Church is open, you can step inside and admire the historic church, which dates back to 1842.
The church is gorgeous from the outside and inside, with beautiful stained glass windows that glow so radiantly at night.
If it's nice out, you should definitely take a walk around the church grounds. There's a brick and gravel labyrinth that was built a couple years ago. Prayer labyrinths are a way to journey in prayer and center you. Even if that's not for you, it's still a nice outdoor spot with benches where you can take a break from walking through town.
You can learn all about the church's history here.
Trinity Episcopal Church Information:
Address: 200 Church St.
Hours: Open 24 hours
Phone: 864-366-5186
Admission: Free
Visit the McGowan-Barksdale-Bundy House
The McGowan-Barksdale-Bundy House is a gorgeous Queen Anne Style home that was completed in 1888. It's known colloquially as the general's house because not one but two generals have owned this house: Confederate Brigadier General Samuel McGowan and WWII General William E. Barksdale.
Barksdale's nephew, J.D. Bundy, deeded the home to Abbeville's historic society, and that's how this home has a trio of names attached to it.
The property consists of the four story home, plus the three servant cabins behind the main home.
Tours are given on Saturdays by appointment, so hopefully you're trying to hide from the rain on a Saturday.
McGowan-Barksdale-Bundy House Information:
Address: 211 N Main St.
Hours: Saturdays by appointment
Phone: 864-378-2884
Admission: Free
Take a tour of the Burt-Stark Mansion
The Burt-Stark Mansion, which was built in the 1830s, was once a resting place for Jefferson Davis, President of the Confederacy (on May 2, 1865, according to the plaque outside the home). Within this home, Davis held the last council of the war of the Confederacy and was convinced to give up the fight. The council was officially dissolved two days later.
Twice a week, tours are given of the mansion. If it's raining in Abbeville, you'll want to skip the garden portion of the tour and stick to the home portion. You'll see the architecture of the home, artifacts from the time period, the kitchen (and all the primitive techniques that were used), and more.
Burt-Stark Mansion Information:
Address: 400 N Main St.
Hours: Friday and Saturday: 1:30 pm to 4:30 pm
Phone: 864-366-0166
Admission: $10 per person
Go out to eat
When we were heading to Abbeville, we had a list of restaurants that we wanted to eat at. Unfortunately, when we were in the area for the South Carolina Festival Of Discovery in nearby Greenwood, the majority of the restaurants in Abbeville were closed for a nearly two-week July 4th holiday that many of the businesses in the town take.
But, when we went back for the South Carolina Festival Of Flowers, everything was opened and we got to check out enough of them to write our 10 Places To Eat In Abbeville, SC post.
Go shopping
The center of town is lined by shops on all four sides. If it's raining, you can just pop from shop to shop. I wouldn't recommend window shopping when it's raining, but going in stores is great.
The front desk worker at our hotel recommended The Yellow Brick Road Gift Shop, which was very cute (although, it has since closed). We also stopped into Pendleton Farms because we heard the truffles were amazing, but because the store had just reopened after being closed for a few days, there weren't any available for us to try. So if you get the chance to try them, they come highly recommended (not by us, though, by the internet).
Get a massage at Abbeville Massage Company
Vacations are relaxing. But, if you want to relax even more when you're on vacation, a massage is such a good idea. Honestly, I think people should get them on a regular basis.
If you're on vacation in Abbeville, and it's raining and you start stressing, start relaxing instead with a massage at Abbeville Massage Company.
The family owned massage therapy practice offers relaxing massages, ongoing therapeutic sessions, pain relief, and more.
Abbeville Massage Company Information:
Address: 114 Court Square
Hours: Wednesday to Saturday: 9 am to 7 pm; Sunday: 1 pm to 7 pm.
Phone: None, but you can email them at [email protected]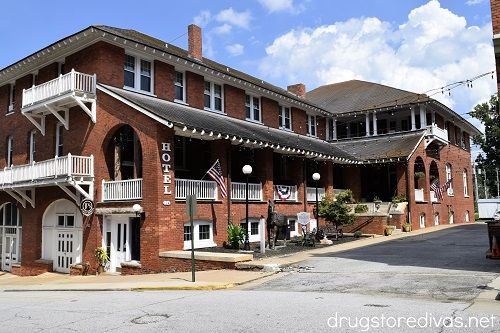 Where To Stay In Abbeville, SC:
If you're going to Abbeville, there are only a couple hotel options in town.
There's The Belmont Inn by OYO (that's the haunted hotel, so just be warned), the Westbrook Motel, and Sharon Manon (a B&B/event venue with three rooms).
There's also The Lofts On Court Square, a super cute Airbnb located on Court Square, right in the heart of everything Abbeville. All you need to do is walk downstairs from your loft to have access to restaurants, the Opera House, and more.
We were hosted to such a comfortable stay here. The one bedroom loft apartment has a pull out couch in the living room, so you can sleep a family comfortably. It has a kitchen (which we used to make our Peach Hand Pies), a table in the living room for eating or any remote work you might be doing while you're in town, and the most adorable set of fairy lights in the bedroom that just make you feel like you're staying somewhere special.
Read about Abbeville, SC:
If you can't make it to the Old 96 District, but now you want to learn more about Abbeville, SC, you can read about the town in the following books:
Which of these Things To Do When It Rains In Abbeville, SC are you adding to your Abbeville itinerary?