Union Gap is known for asparagus and award-winning tamales. But did you know the town also has a bunch of really good burgers? Find the top ones in our Best Burgers In Union Gap, WA post.
For more help planning your trip, check out all of our travel posts.
When we were hosted in Union Gap, Washington, one of our goals was to try all the burgers in town. Yes, Union Gap is known for its James Beard-winning tamales, but there are a ton of non-tamale serving local restaurants in the town.
Sure, there are chains in town too. But we skipped those.
I don't mind chains. I appreciate them for setting up in small towns because they support the local economy. And local employment. Because someone local to the area runs that location and people who are local work there.
But, for the most part, when we go out to eat in town, we don't choose a chain restaurant. And, when we are on a trip (work or personal), we also don't choose chain restaurants … except the time I had to go Burger King in Japan for a red bunned burger and when we had to go to Whataburger in Texas to try the burgers … and, well, speaking of burgers …
Union Gap has a bunch of different burgers at local restaurants that are absolutely worth trying. There are so many, in fact, that the town boasts the "Union Gap Burger Trail" (sadly, there's not a map of the actual trail … but maybe I can work on that).
Also, there's Union Gap Burger Week held annually in February where the restaurants offer discounts. Perfect for the burger lover in you.
So, let's virtually take you on that Burger Trail, shall we?
There's more to do in Union Gap than just eat burgers. If you're heading to town and need help planning the rest of your trip, check out our Things To Do In Union Gap, WA post.
And, depending on when you're visiting, check out our Fun Fall Things To Do In Union Gap, WA and Christmas Things To Do In Union Gap, WA posts too.
The Best Burgers In Union Gap, WA
Drugstore Divas ate these burgers on a hosted trip in Union Gap.
Old Town Pump Saloon
This list kicks off with Old Town Pump Saloon because it was, by far, our favorite burger in Union Gap. So, if you're only in Union Gap for a minute, and you only have time for one meal, have it at Old Town Pump Saloon (3716 Main St).
There are a bunch of hand-smashed burgers on the menu to choose from, but we recommend the Garlic Stuffed Burger. It's a nice sized patty that's topped with caramelized shallots that are cooked to perfection. They're the star of the burger.
Don't forget to order the Onion Tanglers as a side. Those thin sliced, beaded, lightly fried, not even a tiny bit greasy bites of delicious onion are hands down the best bite of food we had in Union Gap. So definitely order them. Or order two orders.
Trust me on that.
Pepp'rmint Stick Drive-In
Don't let the name fool you (because it fooled me). Pepp'rmint Stick Drive-In (4002 Main St) isn't a drive in, like a drive in theater. It just has a drive through. The family-run location opened in the 1940's, so maybe that was a big deal for cars to be able to drive through back then.
Speaking of cars, every August there's a car show at Pepp'rmint Stick. Retro cars show up and park in the lot to amaze onlookers.
Now, back to the burgers. You can get a traditional made to order burgers on traditional buns, but we suggest the Wild Card Burger because it's served on a pretzel bun. And when you have an excuse to get a pretzel bun, get it. It's also served with garlic fries instead of a plain fries.
When you're there, order a milkshake too. Of course, you can get the namesake peppermint, but my go to is chocolate with peanut butter mixed in. It goes perfectly with the burger.
Miner's Drive In
Miner's Drive In, again, is a misnomer for visitors. It's not a drive in, but rather, a burger joint with a drive through.
And for locals, it's not even a burger joint. It's the background for so many of their childhood stories. Nights after sports games, first dates, they all happen at Miner's.
Is it the best burger you'll find in the Yakima Valley if you're a tourist? No, definitely not. It's very similar to a Burger King burger. It tastes fresh, tastes like a lot are made every day, and tastes like you'll forget about it pretty soon.
But — BUT — if you're a local? Or if you're on a traveling sports team that's visiting the area? The is the undisputed best burger in the Yakima Valley … because it tastes like nostalgia.
Majors Restaurant
The current looks of chain restaurants make social media sad. Everything is starting to look so generic, cold, and minimalist. Gone are the fun designs of the old McDonald's locations with the hamburger jail outside.
So when you see the outside of Majors Restaurant (1902 S 3rd Ave) with its gigantic burger, fries, and Pepsi on top of the building, it reminds you of those fun restaurants of yore.
Oh, and let's stop for a second and notice how that's specifically a Pepsi cup on top of the restaurant. So many restaurants in the area boast carrying Pepsi products. Pepp'rmint Stick has a huge logo on its sign as well. Why? We don't really know.
Pepsi and Coca Cola both have bottling facilities in Yakima, the next town over from Union Gap. But Pepsi reigns supreme here.
The burgers are fresh and lightly topped with toppings. The bun is generously topped with sesame seeds, looking like they were stuck on one by one to make sure there were enough. And the fries are the best out of any of these burger restaurants.
But, if you're passing by and your stomach is too full for a burger, stop in for a milkshake. It's handmade, to order, and is the best milkshake in Union Gap. There are two dozen flavor combinations to choose from (and a secret, server-only chocolate milkshake that our cashier told us about).
If you do go, we advise you skip the chicken sandwich, though. I like trying the spicy chicken sandwich when I'm out (partially so I can see where it would fare on our Best Fast Food Chicken Sandwich Rankings) and the one at Majors is extremely dry. Like dipping it in copious amount of fry sauce didn't help.
Old Town Station Restaurant
If you're looking for somewhere for breakfast, Old Town Station Restaurant (2530 Main St) is the place to go. The restaurant serves all day breakfast and is packed from the after church crowd on Sundays. The biscuits and gravy are a top seller, which makes sense because the dense and thick but light and crumbly drop biscuits are insanely good.
But, if you're on the burger trail, you wanna try the burger.
You're getting a run of the mill burger with a bit of a thinner patty than at some of the other restaurants in town. But the bun makes the burger a triumph.
It's not made in house like the drop biscuits are, but somebody there knows something about bread-based products because they know to butter and grill the hamburger buns before serving them. It adds a little depth of flavor to the burger, making it a great choice to eat amongst the brunch crowd.
Jean's Cottage Inn
If you're looking for fries, go to Jean's Cottage Inn (3211 Main St). The helping of fries that comes with the burger are very, very generous. I mean, the description on the menu says the burgers come with a "pile of fries" and they're not kidding.
But also, the toppings that come with the burger are really generous too. It's one of those burgers where you have to stare it down and plan out how to take your first bite before you actually do it.
You can get the burger during breakfast hours, if that's your thing. Just an FYI.
A bigger FYI, though, is skip everything else on the menu and order the French toast. The menu says it's a "secret recipe," which I wrongly assumed would be a corn flake breaded French toast. Oh no. That's not the secret. That's something you see on an episode of Chopped on the Food Network.
The actual secret? The French toast is deep fried. Deep. Fried. French. Toast. So sure, get the burger, which you can get pretty much anywhere else. Or get deep fried French toast, which you can only get at Jean's Cottage Inn.
Other Burgers In Union Gap
So, the aforementioned burgers are the best ones in Union Gap, the ones that you should try if you're on limited time.
If you have more time and more stomach, there are a few other locally owned restaurants in town that serve burgers.
New York Teriyaki & Burger
If you're from the East Coast or the South, burgers and Japanese food aren't a combination. You don't see them together at restaurants. But in the Midwest and on the West Coast, teriyaki and burgers or teriyaki and burritos is actually really common.
Long haul truckers, or people who travel on the road for work, are drawn to these type of places because they're easy, the food is quick, and it's good food.
Plus, teriyaki is really abundant out that way too because of the amount of immigrants in the area. In that part of Washington, the majority of the doughnut shop owners are Cambodian (and in the greater Tacoma area, they're all one family).
So, with that all being said, it makes sense that New York Teriyaki & Burger (2518 Main St) is in Union Gap. You can get either a burger or a double cheeseburger here. No teriyaki burger (although there is a chicken teriyaki burger).
GearJammer Truck Plaza
If you need a burger quick, GearJammer Truck Plaza (2310 Rudkin Rd) is where to go. It's a restaurant attached to a gas station, next to a hotel that's right off the highway. So it definitely caters to truck drivers.
The portions are large and the service is good … as long as you keep in mind that you're at a truck stop. This isn't fine dining. So be reasonable with your expectations and you won't be disappointed.
James Gang Tavern
For an affordable option, James Gang Tavern (2101 S 3rd Ave) is your spot to get a pub burger. It's a local dive bar (Pete's favorite) with burgers and sliders, free pool every day, and a really popular taco special on Tuesdays (they're $1.50 each!).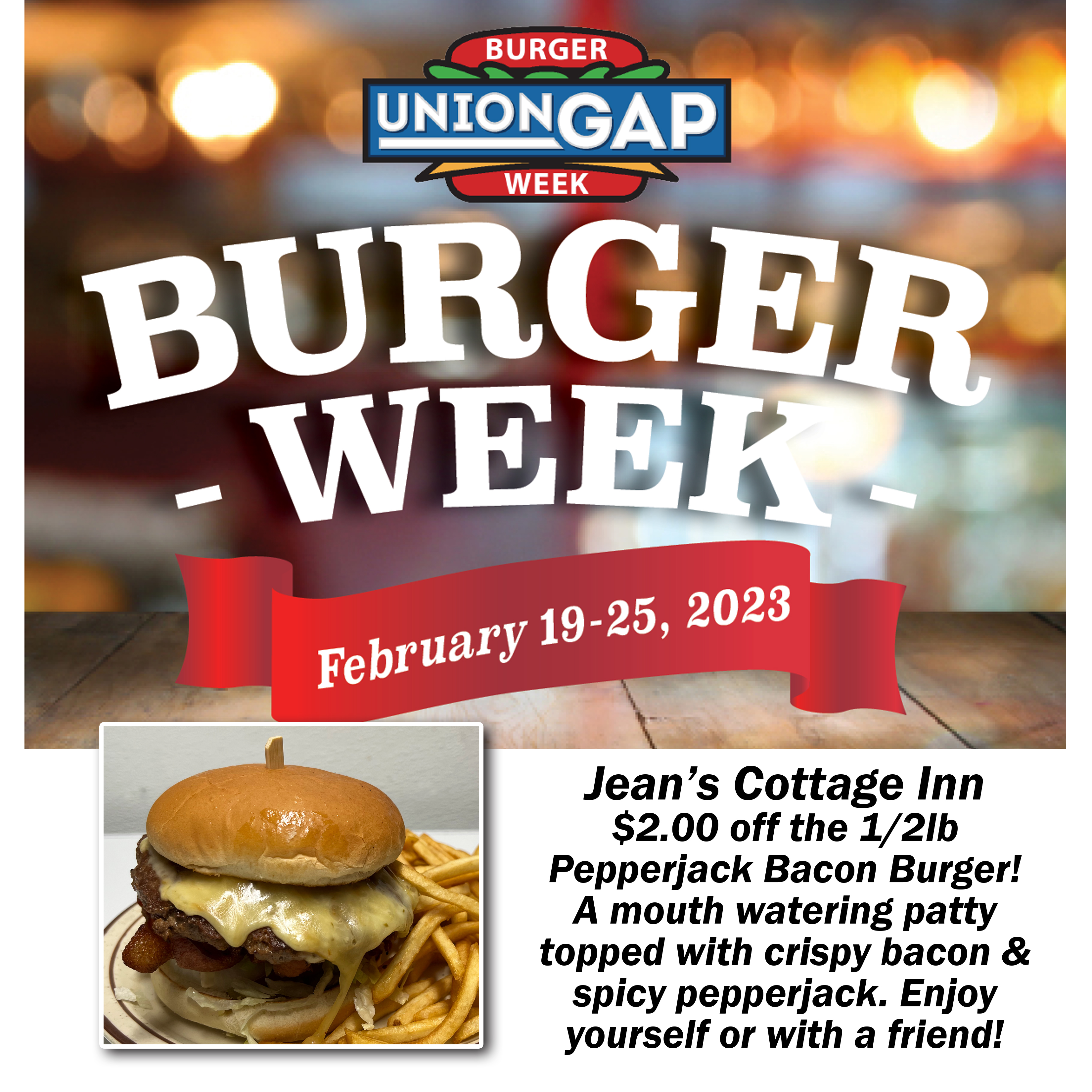 Burger Week In Union Gap, WA
Burger Week in Union Gap, WA happens annually in February. This year, it's February 19 to 25, 2023. Restaurants throughout Union Gap will have specials all week long.
Plus, you can win prizes.
If you visit two or more participating restaurants during Union Gap Burger Week, you can enter to win either a $20 gift card to Old Town Pump Saloon, a $25 gift card to James Gang Tavern Gift Card (plus a beanie), one of two $20 gift cards to Jean's Cottage Inn, or a $50 gift card to Major's (and a sweatshirt).
To enter: Tag Union Gap on Facebook, Twitter, or Instagram. Or, email your punch card to [email protected].
Burgers Near Union Gap
If you're in the area, there are a few burger joints within driving distance of Union Gap that you need to check out.
Bob's Burgers & Brews (multiple locations)
Bob's Burgers & Brews is a local burger franchise with a dozen locations throughout Washington. The closest to Union Gap is in neighboring Yakima.
The burgers are charbroiled burger and the menu boasts a dozen to choose from. The burgers are really large, like fall of the bun large, and are almost too much to eat in one serving, especially if you're saving some room for those brews.
Stack 571
Stack 571 is another local burger chain. It has six locations in Washington, including one in Point Ruston in Tacoma, WA.
It's a really good date night burger spot, especially if you like whiskey (it's full name is "Stack 571: Burger And Whiskey Bar").
The burgers are made with Northwest cattle, so you're eating local (or contributing to depopulation in the area, depending on how you look at it).
There are a dozen burgers on the menu, all of which are tremendous (so, maybe I take back that date night comment because you might not want to be stuffing your face on date night). There's also the burger of the month, which isn't regularly on the menu.
Triple X Rootbeer Drive-in (Issaquah, WA)
The cash only Triple X Rootbeer Drive-in (which, when it started, was solely a drive in) in Issaquah, WA is a must see in Issaquah, WA. The entire restaurant is very Instagram-worthy, the root beer is top notch, and the burgers are the size of your head.
If you can believe it, the chicken cheesesteak I got was even bigger.
Which hamburger on this list of The Best Burgers In Union Gap, WA caught your eye? Let us know in the comments.