Don't miss anything when you only have a day in Seattle! Follow this 24 Hours In Seattle guide with ideas for food, activities, and more.
If you're wondering when to visit, we suggest spring break. Find out our Fun & Frugal Spring Break Destinations via that link.
My friend got married on Whidbey Island in Washington a few years ago. I had never been to Washington before, so I made a vacation out of it. I went out a few days early and spent time with my friend and her family on the island. Then, after the wedding, I spent half a week in Seattle. It was a really fun city. There are so many things to do in Seattle. It's definitely somewhere you could spend a day. If you only have 24 Hours in Seattle, Washington, stick to the highlights on this list to maximize your trip.
24 Hours In Seattle, Washington
9am:
If you know me, you know two things. One, I tend to always start my 24 Hours In … posts right after breakfast. And two, I love my coffee. Love it. I'm actually sipping on a cup as I type this. So of course, I'm starting your day in Seattle at the original Starbucks location in Pike's Place Market (102 Pike Street).
The line at that Starbucks is always long, partially because it's a tourist attraction and partially because there is so much to do at Pike's Place Market. If you don't want to wait on line, you can always just take a photo outside Starbucks instead, just to say you went.
That's actually what we did and then I got a drink at the Starbucks (1101 Alaskan Way, 102) by the Argosy Cruise (1101 Alaskan Way Pier 55).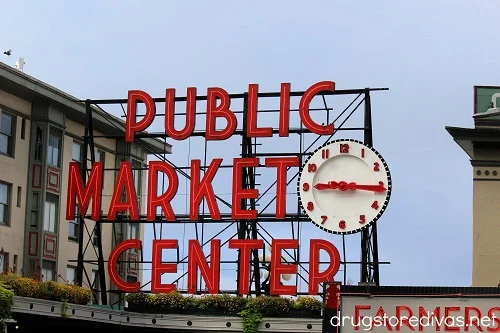 9:30am:
Pike Place Market (85 Pike Street) is a really cool public market. It's one of the most recognizable places in Seattle, with a huge Public Market Center sign. You've definitely seen it in TV shows and movies. There's more than just a sign with a huge clock, though.
Quick side note: If you happen to be in Seattle on the first day of spring, that's when the market hosts Daffodil Day and visitors to the market can get free daffodils. So, if you're here then, you might want to adjust your timing because that happens from 11 am to 2 pm, while supplies last.
The market is filled with vendors selling food, shirts, souvenirs, crafts, and more. You can watch as the fishermen throw fish back and forth, putting on a show for the tourists. That's something fun to see on TV, but even cooler to see in real life.
It's located at the very top of a steep hill, and the shops are built on different levels. So wear your sneakers during your trip in Seattle. There's a lot of walking.
I'm having you walk the next little bit because it's a lot easier than trying to move your car to find parking. Plus, as you're walking from the market to lunch, you can walk past the famous Gum Wall (1528 Post Alley). It's exactly as disgusting as you expect. And yet, you have to go.
The Gum Wall is literally the wall of an alley that is filled with ABC gum (Already Been Chewed gum, if you missed that gag in middle school). People chew gum and affix it to the wall. I didn't even want to get close to it because germs are gross, and it's really gross in real life, but you still have to see it. It's like when a friend offers you a bite of food saying, "This is awful, you need to try it." I'm always that friend. And I'm being that friend now.
Lunch:
A 12-minute walk from the market will put you at Ivar's Seafood Bar (1001 Alaskan Way). Specifically, this is the Ivar's Acres of Clams location. There are a few Ivar's Seafood Bars in the area, but they're often crowded, hard to get a seat at, and a little pricey. An insider tip I got when I was there (and am sharing with you) is to head to the Ivar's Acres of Clams location, right outside Pier 54.
This location is more casual. You order your food, then sit outdoors overlooking the water. It's a beautiful view, especially when you're eating Ivar's famous clam chowder. It's the same recipe that you can get inside the other Ivar's locations, and it's what you should order when you go.
This location opens at 11am, and I'm going to recommend you get there then. If not, you will start to run out of time for everything else during the day. Seattle is one of those cities where the museums and attractions close early, and you need to maximize your time if you only have 24 hours in Seattle.
12pm:
From there, you can walk seven minutes to get to the Seattle Aquarium (1483 Alaskan Way). If you get a CityPASS, which is what I recommend you do. Small aside about that. As of April 2018, a Seattle CityPASS saves you 42% on the top 5 Seattle Attractions: the Space Needle, Seattle Aquarium, Argosy Cruise Harbor Tour, Museum of Pop Culture or the Woodland Park Zoo and the Chihuly Garden and Glass or the Pacific Science Center. A pass will cost you $89 for adults and $69 for kids. Even if you skip an attraction like I did (I refuse to go on a boat, so no Harbor Tour for me), it's worth the price. And this is me saying this as a normal, regular person. I have no affiliation with CityPASS. I just like saving money.
So head to the Aquarium and you can enjoy the jellyfish, seals and otters, and more. It's a great place to spend a little time, especially if it's a hot (or knowing Seattle … rainy) day and you want a little break.
2pm:
You're going to want to head back to your car now to move it closer to the Space Needle (400 Broad Street). The ticket for the Space Needle is actually valid twice: once for the day and again for nighttime. It was amazing both times. Since you've already spent a little time around the harbor, it will look familiar to you when you're up in the Space Needle. You'll be able to see the entire city from the top.
From the bottom, you'll head into a gift shop filled with a ton of tourist souvenirs. I didn't buy any, but I do still think about the Space Needle shaped pasta. All the time. Seriously. Once a month, this pasta pops into my head for no good reason and I start to regret not buying it. If I did buy it, I would have eaten it long ago, so it's not like I would have this souvenir for the rest of my life. And yet, I still think about it.
So for my sake, buy the (overpriced) pasta.
3pm:
This is where you are going to have to rush your day just a little. The Museum of Pop Culture (325 5th Avenue N) is a quick 3-minute walk from the Space Needle, but the museum itself isn't that quick. It does close at 5, though, so you are really only getting to spend two hours here. If you're a nerd (which I say in the nicest possible way), you can spend all day here.
The museum has so much to see and read. There's also a audio tour, and that will slow your down quite a bit. You'll also slow down if you have an affinity for Seattle-based grunge band Nirvana … or just music in general. If you have more time in Seattle, definitely make a day of it. But if you don't, just enjoy the highlights.
Dinner:
If you like burgers, you'll like Dick's Drive-In (500 Queen Ann Avenue N). Even if you don't like burgers, you'll like Dick's Drive-In. It's an iconic Seattle burger joint with a few locations around the area. They're all pretty eye catching and will be calling you every time you pass it. So stop in and grab a bite to eat. Just be sure you have cash on you as its a cash-only chain.
6pm:
You can spend you're time after dinner walking around downtown Seattle, checking out the city's statues and buildings. Or you can drive to Archie McPhee (1300 N 45th Street). It's a novelty store selling really funny novelty items. It's mostly just gag gifts sold inside a store that has a large piece of bacon, Big Foot, a space ship, and other crazy paintings on the outside.
Another novelty that you need to stop at is the Fremont Troll (Troll Avenue N). It's an 18-foot sculpture of a troll under a bridge. If you have heard the story of The Three Billy Goat Gruff, you need to stop. You need to see a troll under a bridge at least once in your lifetime. And there's one here in Seattle. So yes, it's a must see in Seattle (according to me, anyway).
8pm:
Now that it's dark out, head back to the Space Needle. It's one of the best things to do in Seattle at night. It's beautiful to see the entire city lit up at night. Be sure to look out the windows when you're going up the escalator. You can see the Chihuly Garden and Glass (305 Harrison Street). If you get a feel for it from there, you don't need to go inside. And that means you get to save your CityPASS ticket for the Pacific Science Center. You can head there tomorrow morning at 10am (which I recommend you do, even if you go without kids), but that fits just outside our 24 hour window.
Bedtime:
When we went, we stayed overnight at the University Inn (4140 Roosevelt Way NE). It's a really cute boutique hotel that serves Starbucks coffee in the lobby. It doesn't have a free breakfast, which you know is one of my favorite perks of a hotel when you're trying to save money, but the location was so convenient we couldn't pass it up.
Breakfast:
Since you can't dine in the hotel for free, I suggest packing something when you're packing for your trip. A granola bar, peanut butter crackers, or a pastry from one of the local coffee shops works. If you're running out to the museum in the morning, you only have time for a grab-and-go breakfast, so you don't have much time for a sit down meal this morning.
Road Trips From Seattle:
Your 24 hours in Seattle are over, so you need to travel on. If you want to stay close, head to Tacoma. If you have a little more time, travel on to Union Gap, Yakima, Toppenish, Issaquah, or Ellensburg. Wherever you go, you can't stay here.
Have you been to the Pacific Northwest? What are some of your favorite things to do in Seattle? Let us know in the comments!