If you're looking for something to do in Issaquah, Washington, the Cougar Mountain Zoo is definitely a great idea. Find out all about it in this Cougar Mountain Zoo review.
For more help planning your trip, check out all of our zoo posts.
Let me start this off by saying that I like zoos. I know some people don't, and that's fine. But I'm not one of those people. I like going to the zoo when I'm on vacation and seeing a bunch of different native animals.
So when I was planning my hosted trip to Washington last fall, I really wanted to go to Fall City Wallaby Ranch because you get to pet and feed wallabies. Wallabies! The ranch was on the top of my list of things to do in Washington, but the more I planned, the more I realized it just wouldn't fit into my schedule.
But, what did fit into my schedule was a trip to the Cougar Mountain Zoo. And, get this: The zoo has wallabies. And you can feed them.
Sure, feeding them is throwing apples over a fence, but still. I fed a wallaby. Cross that off my bucket list. And yours, too, if you head to the roadside zoo.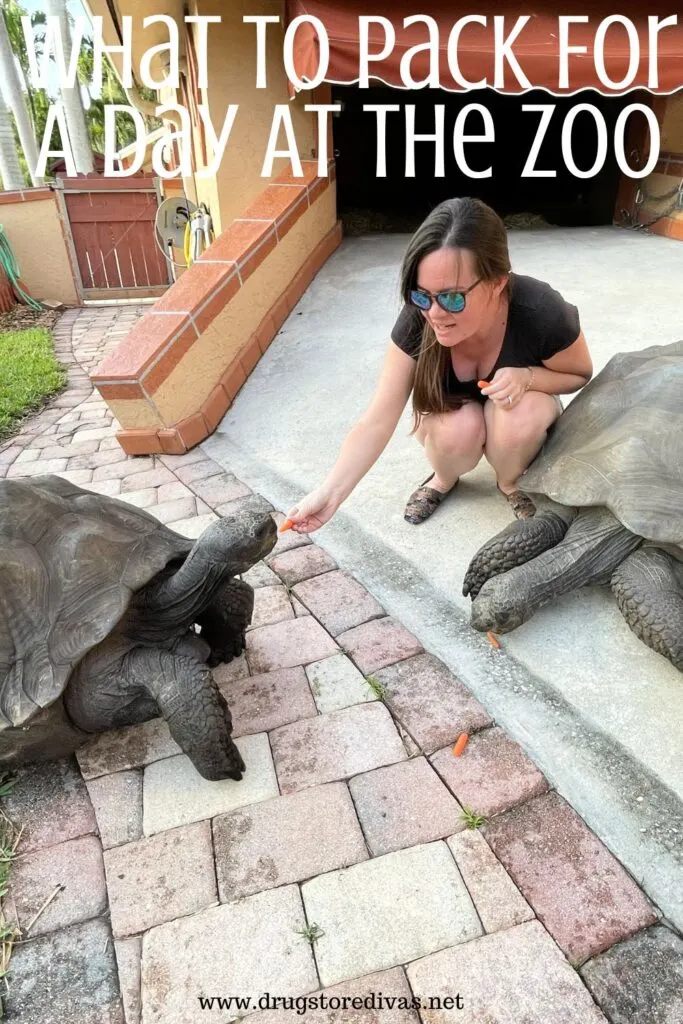 You don't want to get to the zoo and realize you forgot something. So, before you go, check out our Zoo Packing List to assure you have everything you need.
The Cougar Mountain Zoo is an 11-acre roadside zoo on the north slope of Cougar Mountain. Both the mountain and the zoo both have cougars. Which makes sense if you've watched the new TV show Animal Control, which takes place in Seattle (about 15 miles from the Cougar Mountain Zoo). There's a plot point in the series where the main character has an affinity for a wild cougar and doesn't want it to be put down.
So yes, you can see cougars at the zoo.
Of course, I darted straight to the wallabies when I got there. You can purchase a cup of apple pieces at the entrance for $2 to feed the wallabies (and some of the other animals in the zoo). Is the tiny bit of apple you get worth $2? Absolutely not. But is the experience of feeding wallabies worth $2? Absolutely.
I wax poetic about the wallabies because they're pretty unique to a zoo (our local roadside zoo, Tregembo Animal Park, doesn't have them). Another super unique feature is that the Cougar Mountain Zoo has reindeer. A lot of reindeer. Enough for Santa's sleigh.
​The zoo actually hosts the Issaquah Reindeer Festival all December, complete with Santa, his reindeer, photo opps, and more. So definitely add that to your calendar if you're in Issaquah in the winter.
History Of The Cougar Mountain Zoo
The Cougar Mountain Zoo was started in 1972 by the husband and wife duo of Peter Rittler and Marcie McCaffray Rittler. It was originally established as a compliment to a then-private school, Cougar Mountain Academy, which had been operating for a decade. The school actually still stands.
Due to its popularity, the Cougar Mountain Zoo opened to the public — and was free of charge for its first 15 years.
At its inception, the goal was to create a Noah's Ark of sorts, collecting and showcasing as many different animals as possible. That wasn't sustainable, so the zoo decided instead to focus on endangered species and conservation efforts. A smaller menagerie meant more care could be paid to the zoo animals.
The zoo currently has a variety of animals: big cats, alpacas, lemurs, wolves, emus, and of course, the aforementioned wallabies, reindeer, and cougars. There's also a nice-sized area for tigers.
Featured Attractions At The Cougar Mountain Zoo
There are two featured attractions at the zoo: The Wildlife Tracks Library, which shows tracks of different animals to help viewers learn to identify them while hiking, and the Bronze Statue Collection, which are bronze statues of animals placed throughout the zoo.
The statues (which include a dinosaur amongst other non-extinct animals) are alluded to on the zoo's map, but their locations aren't noted on the map. So you do have to hunt to find them.
And then there's the Magnani Nature Gallery, a permanent art gallery, which has a permanent exhibit and art for sale.
There's also the Mountain Lion Plaza, which is a space with picnic tables, next to the Wildlife Theatre, where the daily bird show or bird walk occurs.
Close Encounters at the Cougar Mountain Zoo
For an additional cost, you can have one-on-one animal encounters with some of the zoo animals. The fee is technically a donation (with a minimum donation listed). The suggested donation varies per animal. You can choose from a special tiger tunnel encounter, a tiger feeding experience, a behind the scenes tiger tour, a mule deer encounter, a reindeer encounter, a lemur encounter, and a cougar encounter.
A close encounter must be booked ahead of time (with the exception of the tiger feeding and tiger tunnel encounter). The encounters are all reliant on the weather and the animal's temperament and needs that day.
These type of animal encounters are something that I've seen larger zoos offer and they're really an excellent choice for a birthday gift for a child. So definitely keep that in mind if you're traveling to the area.
Cougar Mountain Zoo Review Summary
Overall, I liked the zoo. It was a small zoo (compared to, say, the Bronx Zoo), so it's easily walkable, especially if you have young children. There are some hilly parts, but it's nothing that's incredibly strenuous. I would consider the entire zoo to be handicapped accessible, which is great if you're traveling with kids in strollers or anyone in wheelchairs.
We went on a random Thursday in October (the zoo is open Wednesday through Sunday) and the zoo was empty our whole visit except for two families (one mother and daughter and one mother with two children). We did go during school hours, at lunchtime, so I'm sure that had a lot to do with the attendance (or lack thereof).
While we were there, there would have been an emu and wallaby lecture in the Magic Forest and a mammal walk, but we didn't see either happening. We were by the tigers at the time the tiger lecture was scheduled, one of the staff members was there talking to us about the tigers and answering our questions. So I'm guessing that was the tiger lecture.
There's a lot of animals, ones that you're not used to seeing at most museums. So that was really exciting for me. Honestly, the Cougar Mountain Zoo is worth it just for the wallabies and reindeer. Everything else is a bonus.
Festivals At The Cougar Mountain Zoo:
Henrietta Summer Bash
An annual summer party hosted by Henrietta, a turtle at Cougar Mountain Zoo, with tropical fun, games, raffles, prizes, and more.
Howl-o-Ween
The Cougar Mountain Zoo hosts Howl-o-Week for two days before Halloween. There's a costume contest, scavenger hunt, and themed enrichment.
Issaquah Reindeer Festival
The zoo is decorated for Christmas, there are tons of places for Christmas-themed photos, and hot chocolate and other small snack items are available for purchase. The Reindeer Barn is turned into Santa's Workshop and the big man is on site for photos. There are also stations to write Letters to Santa and there's a mailbox to send your letter.
It does get pretty crowded. You're able to purchase timed tickets beginning on November 1 and we recommend you do that.
Cougar Mountain Zoo: Frequently Asked Questions
Cougar Mountain Zoo Address:
19525 SE 54th St; Issaquah, WA
Cougar Mountain Zoo Phone Number:
425-391-5508
Cougar Mountain Zoo Hours:
Wednesday through Sunday: 9:30 am to 5 pm. Closed Monday and Tuesday.
Cougar Mountain Zoo Admission Cost:
$15.50 for ages 16 and older. $14.50 for seniors (age 62+). $12.50 for children (ages 2 to 12). Children under 2 are free.

Prices are higher in December for the Issaquah Reindeer Festival.

You can purchase Cougar Mountain Zoo tickets up to one month ahead of time. Be sure to check Groupon for Cougar Mountain Zoo tickets because you can often find discounted tickets there.
Is there parking at Cougar Mountain Zoo?
There are free parking lots in the front of Cougar Mountain Zoo.
What should you wear to the Cougar Mountain Zoo?
Definitely wear comfortable shoes because you'll be walking around the zoo. You may also want to wear a cardigan or light jacket with sleeves. It can get a little chilly in the Pacific Northwest.
Does Cougar Mountain Zoo have food?
You can purchase drinks and packaged ice cream in the gift shop, but there isn't a cafe or full snack bar lie other zoos have.
How long does it take to go through Cougar Mountain Zoo?
If you're traveling with adults only, you can do the zoo in an hour. If you're visiting with kids, you can get through it in about 90 minutes.
Other Things To Do In Issaquah, Washington:
If you're heading to Issaquah for the Cougar Mountain Zoo, it won't take all day. So you'll want to find other things in the area to do. Our Things To Do In Issaquah, Washington post can help. But, for some quick ideas, stop by Boehm's Candies for a step into an Austrian wonderland that has been producing delicious handcrafted chocolates for over 80 years.
If you're at the zoo because you like animals, stop by the Issaquah Salmon Hatchery and you can see salmon. It's so much cooler than it sounds. And if you're there because you're looking for outdoor things to do in Issaquah, Lake Sammamish State Park is also in town, less than 10 minutes from the zoo.
Have you been to the Cougar Mountain Zoo in Issaquah, WA? Let us know what you thought about it in the comments.