Shopping for a home baker? Find a great gift on this list of the Best Gift Ideas For Home Bakers. There are cake pans, cookie tools and more.
For more shopping help, check out all of our gift guides.
I love baking. And I'm very convinced that I should be on The Great British Baking Show next season. Pete, however, joked that I should be on Nailed it instead.
Sigh.
It's hard to be a home baker. You have to make due with what you have at home. You don't have access to a ton of tools. But that's why shopping for a home baker is so easy. There are so many tools and accessories to buy.
That can also be overwhelming.
So to help, we put together a list of the 10+ Best Gift Ideas For Home Bakers.
If you need more help shopping for gifts, we can help. Check out Drugstore Divas' Holiday Gift Guide for all of our gift guides.
10+ Best Gift Ideas For Home Bakers
Affiliate links are included in this post and Drugstore Divas may make a small commission if you use them.
Silicone Baking Mat
I am obsessed with my silicone baking mat. It's not pretty and doesn't photograph well, but man does it make my life easier.
You place it on top of your cookie sheets and your baked goods and chocolate-coated treats just pop right off. They don't get stuck like they sometimes do when you're using a cookie tray. And that means you're not leaving behind the bottoms of your cookies.
Plus, using one means that cleanup is so much easier. Your cookie sheet never gets messy.
They come in different sizes and some come with printed circles to help space out cookies correctly, which is a nice extra perk.
Bundt Pan
I had a silicone Bundt pan years ago, but we donated it when we moved because we didn't use it very often. It was so floppy and that was awful when you were pouring batter in, and it just wasn't very useful.
A few years ago, my brother got me a metal Bundt pan and honestly, it's a game changer. So definitely pick one up for your home baker. But a metal one. Not a silicone one. I know, the silicone one is cheaper, but it won't get used. Trust me. Been there, (not) done that.
Wilton Expand and Fold Cooling Rack
Usually, when I put these lists together, I'm not too specific about brands. A pan is a pan is a pan. But in this case, I'm very specific about the Wilton Expand and Fold Cooling Rack.
This is the one we have, use all the time, and would never trade with another. It collapses, so it's easy to store, and it expands for when you make large batches of treats.
Doughnut Pan
Doughnuts aren't my junk food of choice. Like, I'll run out because I'm in the mood for fried chicken, but I almost never run out for a doughnut.
But a homemade doughnut where I can make it from my own cake batter? Yes. I have a doughnut pan for just that. Actually, I have two. A full size and a mini doughnut pan.
So your home baker definitely needs one (or two — to make a dozen).
Nonstick Bakeware Set
I'm not brand specific on my baking pans, for the most part. If you have a good oven, brand of pan doesn't matter. (I say that about pans only. For pots, that's a different story.)
What matters, though, is you want to have the right pans.
Home bakers usually have a mix of pans that they've purchased when they needed one, so definitely grab a full Nonstick Bakeware Set. The one we're linking below comes with two 8-inch round cake pans, a medium loaf pan, a 9×13-inch cake pan, a 12-cup muffin pan, and a 10×15-inch baking sheet.
Stand Mixer
My home baking game has been elevated ever since we were given a Stand Mixer for Christmas a few years ago. I can make cookies (like Italian Rainbow Cookies) that have an impossible to mix by hand dough and huge batches of meringues, that I couldn't make otherwise.
It also makes recipes where I previously used my hand mixer, like banana bread, so much easier. Your home cook will love this.
Cake Decorating Tip Set
If you want a gift for your favorite home baker, a Cake Decorating Tip Set is perfect. A frugal home baker will usually just making homemade piping bags from ziptop bags with the corner cut off, which works but it's not ideal.
The set we link below comes with 20 tips, 5 bags, 2 couplers (which are key if your home baker wants to actually ice, not make a mess), and more.
Even better, though, it comes in a really nice box to keep everything organized — unlike my current method of throwing icing tips in a plastic bag in the bottom of the pantry.
Cake Shapers
Home bakers spend a lot of time baking square, round, and rectangle cakes, then cutting them into different shapes to make shaped cakes. It's a lot of work, but home bakers can't store dozens of cake molds like a cake shop can. So they use the traditional shapes and just make it work.
Enter Cake Shapers. You can use them to shape cakes into shapes like hearts, snowmen, and more before pouring in the cake batter.
This is one of the best gifts for the baker who has everything because I'm sure they don't have this.
Adjustable Layer Cake Slicer
Have you ever tried to make a layer cake at home? You have a couple options. Either, you bake the layers separately and stack. Or you bake a large cake and cut it in half, hoping you're cutting straight. Neither is ideal and both can produce lopsided cakes.
That's why the Adjustable Layer Cake Slicer is amazing. You wrap it around your cake and it guides you so you are cutting straight across your cake. Makes making layer cakes so much easier.
Pie Pan
I've bought pie pans as gifts before, and I actually own really nice a pie pan, but I don't have a photo of it (who knows why).
if people don't have pie pans, they'll make pie in round cake pan, which works fine but then the pie doesn't have embellishments it would have if it was baked in a pie pan. And when you do all that work for a pie, you want it to be as pretty as possible.
So grab a pie pan for your home baker. They'll appreciate it.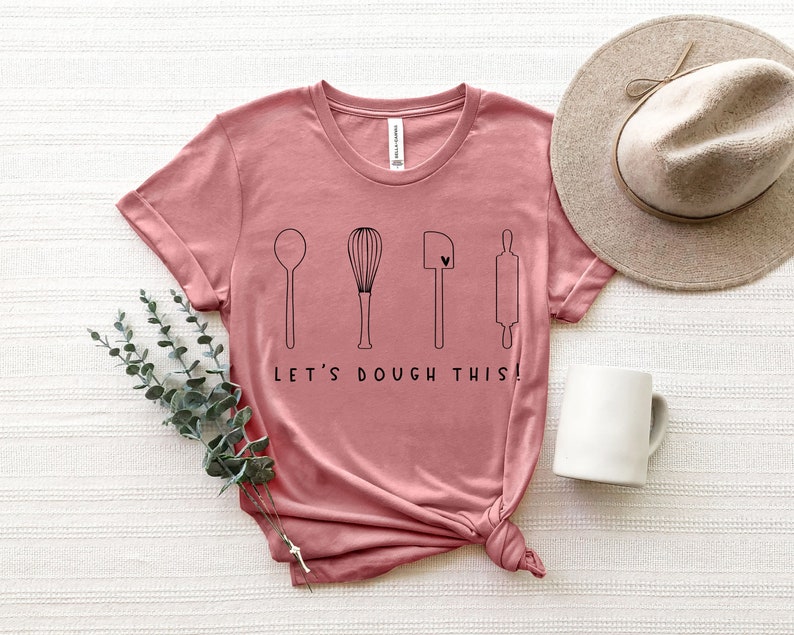 Purchase Gifts For Home Bakers Online:
These, of course, aren't all of the gifts for home bakers out there. Just our favorites. We left some off, like the Let's Dough This t-shirt above (which is amazing, by the way).
For more ideas, check out the links below:
Be mindful of a store's minimum cart total to qualify for free shipping. Also, consider instore or curbside pickup, when available, to avoid shipping charges as well.
More Kitchen-Themed Gifts:
If you want some other kitchen-themed gift ideas, check out our Grilling Gifts For The King Of The Grill and our Kitchen Appliance Gifts For Home Chefs.
There's also our Cute Kitchen Timers and Fun Ice Cube Molds, Cute Animal Tea Infusers, and our Funny Coffee Mugs To Give As Gifts lists if you have a very specific kitchen-related gift in mind.
Which of these gifts for home bakers is your favorite? Leave us a comment to let us know.