Dad is the King of the Grill (at least, he thinks he is). So he'll love all these Grilling Gifts For The King Of The Grill.
For more ideas for dad, check out all of our gift guides.
Let's be honest. Men love grilling. There's something about throwing some meat on a grill that gets them all hot and bothered.
Maybe it's all the people trying to talk to them while they're around a warm grill.
But, really, men and grills go together like … peanut butter and jelly. So if you're looking for a gift for the man in your life, something for his grill is the way to go.
We're not suggesting you purchase a new grill for him, because he already has one, but things like grilling tools, a grill cover, and more are the way to go.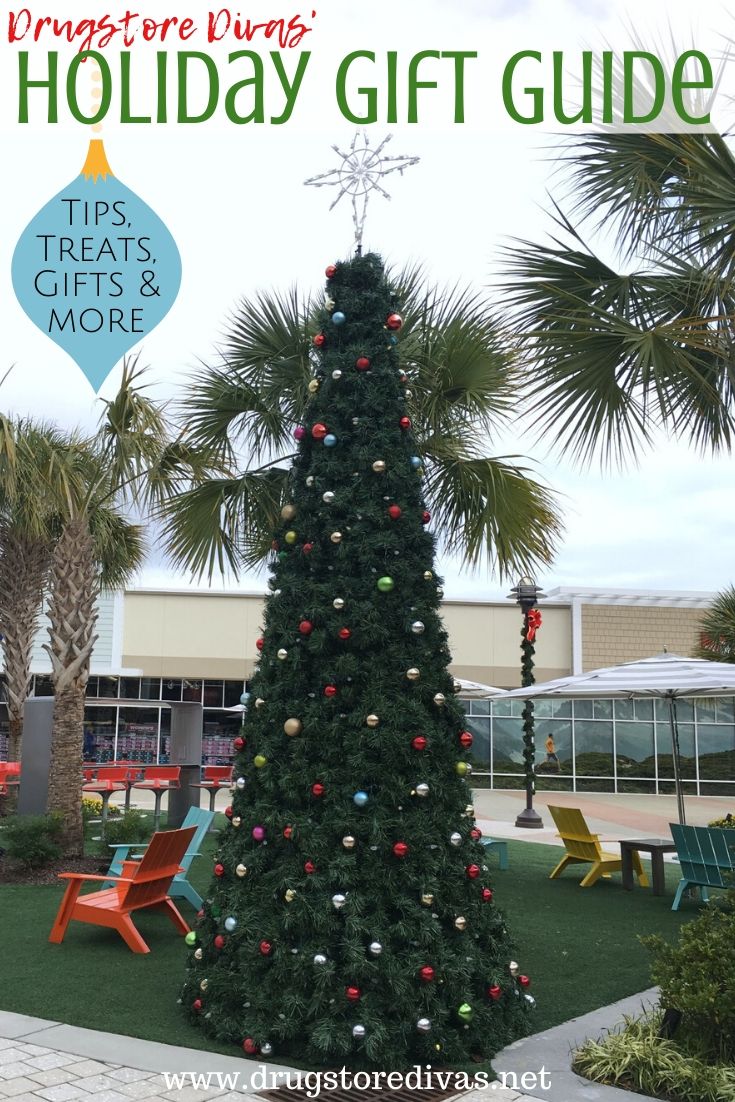 If you can't find something for dad on this list, don't worry. Check out the rest of our Holiday Gift Guides.
Grilling Gifts For The King Of The Grill
Affiliate links are included in this sponsored post and Drugstore Divas may make a small commission if you use them.
Pellet Smoker Tube
Pellet smoker tubes are the poor man's way to turn a grill into a smoker. Seriously. You take the pellet smoker tube, fill it with pellets, and put it in a propane grill. The pellets smoke, turning your grill (gas, propane, or electric) into a smoker. The smoke fills the grill and gives that great flavor to the food.
What's cool is that the pellets basically evaporate into thin air. When it's done smoking, they're gone. So it's super easy cleanup.
I got one for my dad and one for Pete a few Christmases ago, and, as you can tell from the photo above, we've used them quite a bit. We actually used it to make this Smoked Garlic Butter recipe.
Grill Cover
A grill cover is super important to have if you own a grill. It'll prevent it from the elements, like rain, which means it won't rust out and it will last longer.
There's a chance that your dad has a cheap grill cover that gets the job done (because, really, that's such a dad thing). But, the number of times a cheap grill cover has to be replaced is ridiculous. So buying dad a really good nice grill cover is a great idea.
What makes a good grill cover? Ones made of water-resistant, UV-blocking materials. You want one a little shorter than your grill so it doesn't touch the ground. You want to give air room to circulate so mold doesn't come in.
Personalized Grilling Tools
If dad has grilled before, then he has grilling tools. But, does he have personalized grilling tools? Probably not.
If you look at the main photo above, you can see the personalized side of these grilling tools and the immediately above photo shows the three grilling tools that are inside. I absolutely love this set, which I got from Groovy Guy Gifts, because it folds and has cool latches, then a handle to carry these like a briefcase. It's the perfect way for dad to transport his grilling tools from one location to another.
And yes, that happens to my dad a lot. Just two weekends ago, he rolled his grill and tools over to the neighbor's house to grill for their party (because they don't have a grill). And he has wheeled his grill across the cul de sac to grill at our house (because our grill was too small).
This exact set isn't available anymore, but you can find a similar one and other fun grilling gifts via the link below.
Grill Mat
The worst part about grilling is the cleanup. You need a grill brush (which is actually later on this list) to get between each of the grates. You cane make that a lot easier for dad by purchasing a grill mat.
The concept of a grill mat is so simple.
A reusable mat sits on top of the grates of a grill. When dad is ready to grill, he can simply place the food on top of the grill mat. When the food is done, it will slide right off the grill mat.
Many of them are dishwasher safe, or dad can just hand wash them. Super simple.
Beer Can Chicken Rack
When you're trying to stay frugal (like we all are right now), cooking a whole chicken is so much more economical than cooking chicken pieces. But throwing an entire chicken on a grill and closing it is sort of boring.
So let dad's whole chicken be a little cooler … in the form of beer can chicken. Our recipe for it calls for most, but not all, of a can of beer, so that gives dad an excuse to drink a little beer too.
To make the chicken, dad needs a beer can chicken rack. Grab him one, and a chicken and a six pack, and he'll be a happy man.
Cast Iron Skillet
A cast iron skillet is such a good, but overlooked, grill accessory. You can use it to cook delicate foods, like seafood, or you can use it to finish foods. In Pete's case, he generally grills a piece of meat first, then moves it to the cast iron skillet with garlic butter to finish it. The varying of temperatures gives it a really great taste.
Cast iron skillets can get a lot hotter and hold that heat more evenly than dad's grill actually can. So heating it over the flame, then putting your food inside gives you a more even cook.
Dad will think he's the king of the grill; you'll know it's the pan.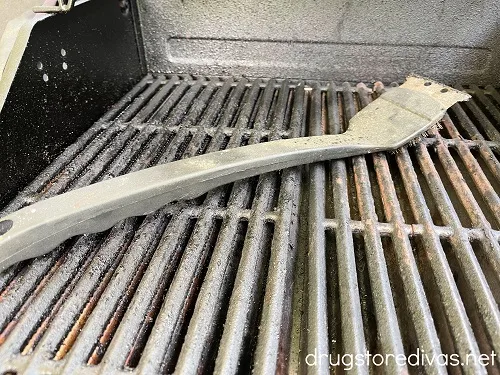 Grill Brush
Grilling is a great way to cook. It's not a great way to clean up. Things get stuck to to the grates and that has to be cleaned up asap. If not, when those left behind bits get warmed later on, they can burn and potentially cause a fire. So yeah, no good.
A grill brush. That's good. It has a stainless steel scraper at the front to remove anything left behind on the grates, plus stainless steel bristles for cleaning.
These don't last forever, so even if dad has one, buying him another can't hurt.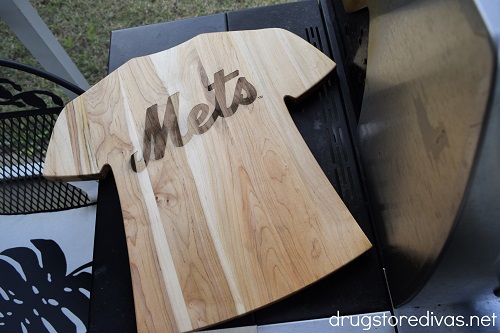 Personalized Jersey Style Cutting Board
If you're looking for a gift for a baseball fan who loves to grill, Baseball BBQ is absolutely the shop for you. It sells, as the name implies, baseball themed grilling products, like the Personalized Jersey Style Cutting Board (pictured above).
You can add your recipient's favorite team's logo to the front and a name and number to the back. This cutting board is just as large as it looks in the photos. It's 16- x 17-inches and a whopping three pounds (because it's made from maple hardwood).
It's such a high quality board. It'll be perfect for your recipient to cut his steak, veggies, or whatever else is going on his grill.
Food to Grill
If all else fails, and you really can't figure out what to get for the grill master, just get him some food to grill. But, if that's your gift, you don't want to just run to the local grocery store and pick up whatever meat is on sale. Instead, you'll want to order him some high quality meat and seafood.
Picking up items that are pre-seasoned make dad's life a lot easier, but picking up non-seasoned meats lets him have some fun. So really, think of what dad likes best and go with that.
Some of our favorite places to order high quality meat online are:
Don't forget you can order barbecue through Goldbelly and have it delivered to dad directly. Then, you can either heat it up on the grill or in the oven.
Order Grilling Gifts Online:
These are our favorite grilling gifts (and all ones we've personally used, as you can tell from the photos), but they're not all the grilling gifts out there. We left some off, like the very cool Garlic Roaster above.
For more grilling gifts, check out the following stores:
Be sure to check a store's cart minimum for free shipping. Also, consider instore or curbside pickup to avoid shipping charges.
Want more Father's Day Gift Ideas?
If you're looking for more Father's Day gift ideas to go with the ones above, we have a few other posts that might interest you. Check them out below.
Which of these Grilling Gifts For The King Of The Grill are you getting this year?