Be prepared for Hurricane Season with Drugstore Divas' How To Prepare For A Hurricane Guide. There are tips for evacuating and staying home.
For more hurricane tips, check out all of our hurricane preparedness posts.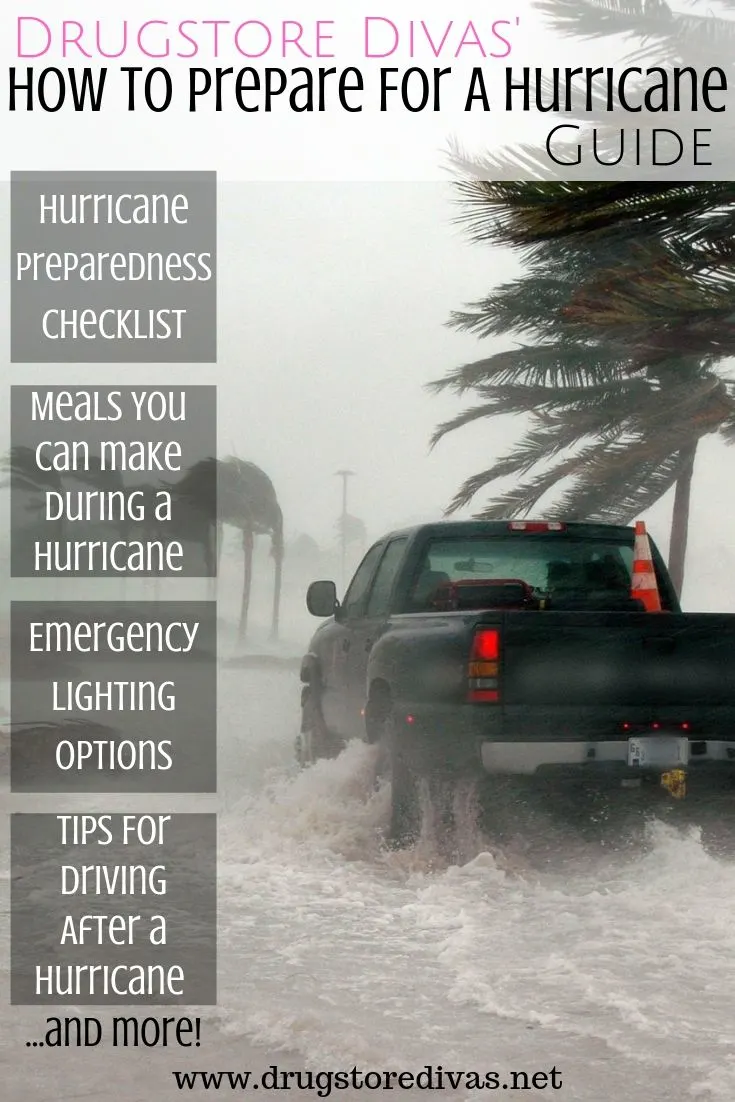 We lived through Hurricane Florence last year, and I wouldn't wish a hurricane on anyone. Hurricane Matthew hit our area a few years before that, and Hurricane Michael passed by us right after Florence, so I've had my share of hurricanes. Enough so that I finally sat down to put together Drugstore Divas' How To Prepare For A Hurricane Guide.
Since Matthew was the first hurricane to head for us after purchasing our house, it was a big learning curve. I read a lot, wrote down a lot, prepared a lot.
So when Hurricane Florence came through, I was really secure in my preparation. And thank goodness because we actually ended up evacuating because of it.
Kind of.
Parts of our town had a voluntary evacuation. And let me tell you: If parts of your town need to evacuate, get out of there too. You don't want to be home during the storm. Even if your house is fine, your area is not. And access to food and gas — or just access to roads — is extremely limited. So get out of there.
We actually had a flight planned anyway because my brother was getting married in New York at, virtually, the exact moment our house was getting pounded by the hurricane. So we had to leave even though we didn't have to leave.
We did have to get back, though, and that was crazy.
Our plan had always been to fly up north and then drive back south with my parents because the return flight options would get us home later than driving would. At least, originally. It did end up taking us three days to get back from New York (which is usually a 10 hour drive, with stops). We kept hitting curfew for the counties and having to stop for the night.
We learned a lot during that situation, and I blogged a bunch of it. With it being Hurricane Season now, I've been getting a lot of search traffic coming to those posts.
So I wanted to make it easier for everyone and put all my hurricane preparedness posts n one place.
How To Prepare For A Hurricane Guide
This Hurricane Guide is split into three parts: Before the hurricane, during the hurricane, and after the hurricane.
If you're starting to plan, the Hurricane Preparedness Checklist is a good place to start. It's filled with things you need to do (like purchasing enough water) and tips (like filling your bathtub with water so you can flush your toilet in case you lose water). It's mostly a list so you can get your home ready for a hurricane — if you're staying or not.
If you're not staying, the what to pack if you have to evacuate for a hurricane post is really helpful. If you are getting ready to evacuate, it's nice to read it to make sure you didn't overlook anything.
The during the hurricane section focuses on if you are staying home and waiting out the storm. I can't advise you on if you should stay or go. But, if you do stay, these posts are a good read. And read them now because if you lose power, you might not be able to read them later on.
And the after the hurricane section gives you tips about traveling and driving, mostly geared towards after it is safe to come home because the hurricane has past. Keep in mind that roads you're used to taking may not be accessible after a hurricane. Around our area, downed trees and sinkholes were popping up all over. Roads that we took on a Sunday were closed and impassable by Monday.
Whatever you do — and I can't stress this enough — is be safe. This is a Hurricane Guide. It's not law. You're the one in your area, not me. So I can't tell you the best decision to make to keep you and your family safe. But I can tell you this: Make the decisions that will keep you and your family safe. You can replace a house or food; you can't replace people. We kept repeating that during Hurricane Florence, and it really did put a lot into perspective.
Before The Hurricane
Before the hurricane hits, make sure your home is ready, make sure your car is filled up, and make sure you have everything you need in case you need to evacuate.
During The Hurricane
These are tips if you're not evacuating and staying home during a hurricane.
After The Hurricane
If you're traveling after a hurricane, or want to do something for the residents of a hurricane hit area, these posts will help.
Hurricane Information:
If you want the most up to date hurricane information, head over to the National Hurricane Center's website. You'll get the most up to date information and warnings on that page. Plus, you'll be able to track the storm to see where it is and gauge if you need to start making preparations.
You can also follow the hurricane's path and its cone (which, residents in hurricane prone areas know as the cone of uncertainty) at Weather.gov (the National Weather Service's official website).
Social media is also really helpful in times like this. You'll be able to see information that people are posting so you can see what's happening with the storm through their eyes. Personally, I think Twitter has the most up to date information and most user-friendly search option. You can search hurricane information on Twitter (or just get there via that link) and sort by "latest" or "top" depending on what information you want to see first.
If you're one of the people in this hurricane's path, or maybe just in a future one's path, I hope the posts in this How To Prepare For A Hurricane Guide helps you prepare. And I hope that you and your family stay safe.