If you evacuated during a hurricane, you want to get home. But, be sure to heed these Tips For Driving After A Hurricane on the way back.
For more hurricane tips, check out all of our hurricane preparedness posts.
I'm looking out the window at the gray skies, and it's blowing my mind that we have less than 24 hours before our county is back under a State of Emergency because of another hurricane. We haven't even gotten out from under Florence and now Hurricane Michael is headed right for us.
We are staying put this time. Last time, we evacuated to New York, and then had to navigate driving after a hurricane. We learned a lot about hurricane driving that day.
We were still in the aftermath of the hurricane, with closed roads, flooding, and sink holes. I wouldn't advise driving during a hurricane. Drive before it to evacuate, drive after it to return home, but don't drive while it's happening.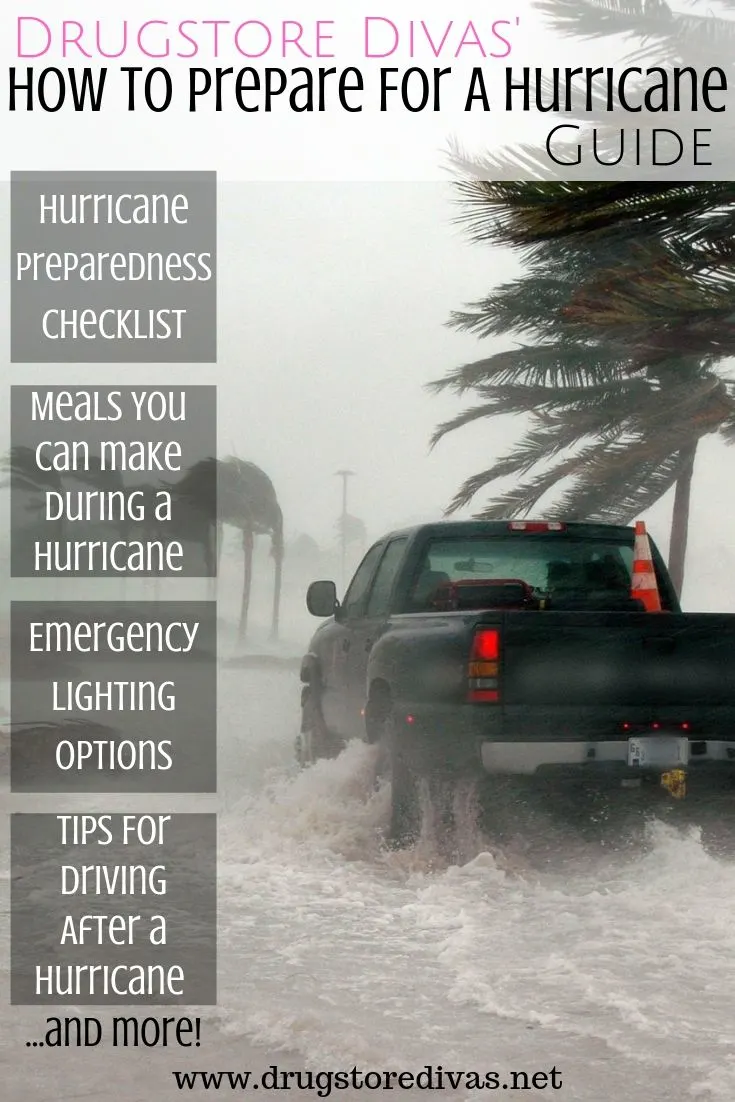 This is just one of the many posts about hurricane prep in our How To Prepare For A Hurricane Guide. Click that link to find out more so you're the most prepared if and when when the storm hits.
5 Tips For Driving After A Hurricane
Affiliate links are included in this post and Drugstore Divas may make a small commission if you use them.
Use the Google Storm Effects Map
Google Maps is helpful when you're driving, but the Google Storm Effects Map is amazing. It lists road closures that are accurate (and tells you why those roads are closed), it lists shelters that are available (in case you need them), varies the seriousness by color, and it will keep updating as roads clear/become blocked.
Waze (and other similar apps) rely on users to update the road conditions/traffic. And since there aren't many cars driving after a storm, the information isn't necessarily accurate. The Google Storm Effects Map is much more accurate than those apps, so definitely use that instead.
Get gas often
When you're in an area that was hit by a hurricane, it's so hard for anyone to get in and out. And that includes trucks carrying gas (fuel not being able to get in is on of our Reasons To Fill Up Your Car Before A Storm). Lots of gas pumps are wrapped in plastic because they're empty. We stumbled over so many on our drive home after the hurricane.
So get gas on your way home. And get gas anytime you have the chance to get gas on the way home. If you stop for a bathroom, get gas. If you stop at a gas station to ask for directions, get gas.
Don't wait to get gas until you get home. You honestly have no idea if they'll actually have gas when you get there.
And, if you wait and can't be choosy about a gas station, you might end up like my parents. They left North Carolina to go to Florida after we got home and they ended up waiting an hour at a gas station because it was the first one that had gas and everyone needed gas.
That's a lot of wasted time. Plus, you have no idea if that gas station will still even have gas by the time you get to the pump.
So get gas often and never let your tank go below half filled. And, even if you're getting gas wherever and whenever, you can use our tips to save on gas.
Have a copilot
It's hard to drive during a hurricane's aftermath. It's almost impossible to drive and navigate at the same time. You really need someone else to watch the Google map and navigate you. A copilot is a huge help.
On our hurricane drive, my dad was driving, Pete was using his phone to navigate us, and my mom actually took out her laptop to check the map too, just in case.
It really made a difference. Plus, more people in the car made everyone a little more calm.
Use a GPS as backup.
We passed through so many areas that were dead zones. Cell phone towers had collapsed and our phones couldn't get a signal. Usually you can use your phone's GPS without using data, but the maps on our phone weren't updating at that point.
The GPS in the car wasn't affected by dead zones, so we had it just in case. We weren't able to use it for road closures, but it would at least update our path while we drove.
Pay attention
This is so important, so I'll say it louder for the people in the back: Pay. Attention.
We drove and passed so many sink holes, so many flooded roads, so many road closures. Sometimes, they would just appear out of nowhere and if you weren't paying attention, your car could slide off the road into a brand new ditch. There were times when we had to turn around because of flooding, and times when we saw small cars get through water so we knew we were safe.
This is not the time to be texting and driving or distracted by phone calls. This is when you need to be paying attention. Things can change so quickly.
More Hurricane Tips:
If you're reading this post about driving through a hurricane, you probably already evacuated and you're on your way back.
But, in case you're still getting ready, this Hurricane Preparedness Checklist & Tips post is a great place to start. For more details, check out our Tips To Prepare Your Home For A Hurricane. And, while you're getting your home ready, you need to do The Quarter On A Cup Of Ice Trick to figure out if you lost power while you were evacuating.
And, if you are evacuating, our What To Pack If You Have To Evacuate For A Hurricane should be your checklist while you pack. And, when you're evacuating, our Hurricane Travel Tips should help.
If you decide to stay, be sure to have all these Emergency Lighting Options available. Shop at the grocery store for supplies with help from our Meals To Eat When You Lose Power During A Hurricane (Plus 30 shelf-stable foods to buy now). And, if you buy bread, our What You Can Do With Bread During A Storm post will give you meal ideas as well.
What tips do you have for driving during a hurricane? Let us know in the comments.