Are you in the path of a hurricane? Get prepared with this Hurricane Preparedness Checklist & Tips — with a free printable.
For more hurricane tips, check out all of our hurricane preparedness posts.
My cousin texted me yesterday to ask if we were in the path of Hurricane Florence. I wanted to reply, "No, not in the path. We're the end point." Because this hurricane is, apparently, headed right for us. It's our second major hurricane since we moved into our house in 2016, so we are a little better versed in preparing using a Hurricane Preparedness Checklist than last time.
Last time, I bought a case of water. And then a friend who was concerned that wasn't enough water bought me another case.
This time, I'm using our hurricane checklist to help. And then we're evacuating. Well, that was our plan anyway because my brother is getting married just as the hurricane will hit us here.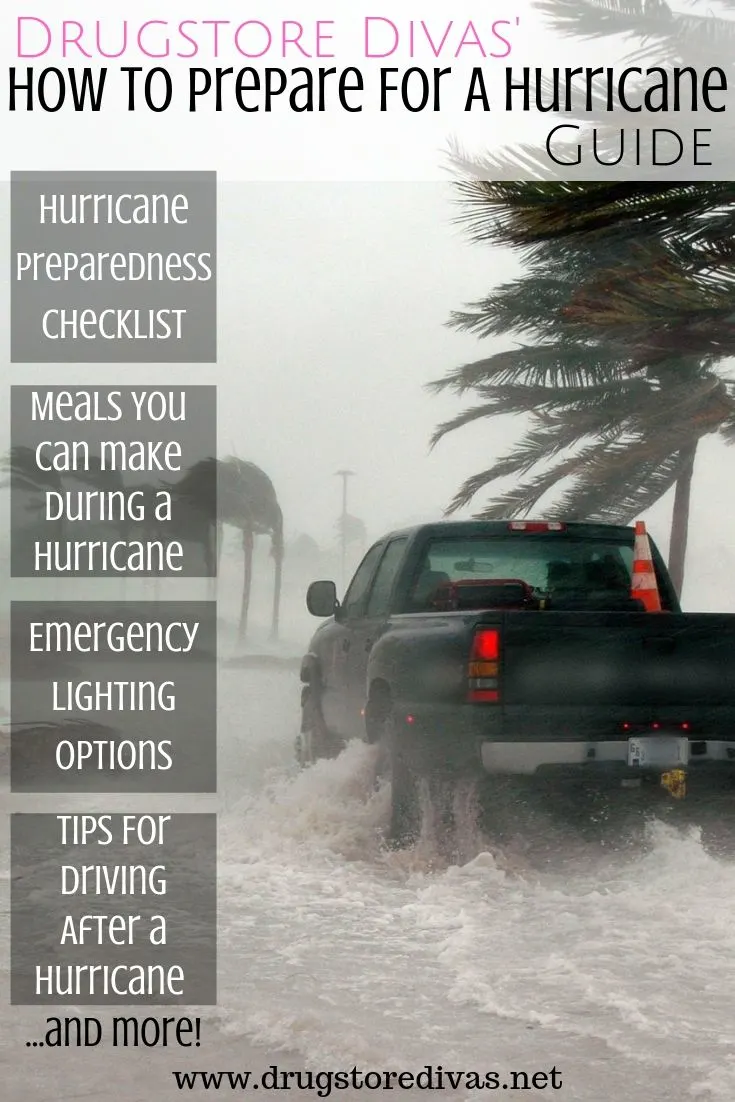 This is just one of the many posts about hurricane prep in our How To Prepare For A Hurricane Guide. Click that link to find out more so you're the most prepared if and when when the storm hits.
Hurricane Preparedness Checklist & Tips
Affiliate links are included in this post and Drugstore Divas may make a small commission if you use them.
The Hurricane Preparedness Checklist is at the end of this post. But first, a couple hurricane tips that are super important.
Hurricane Preparedness Tips
Just a couple Hurricane Preparedness Tips to think about before the storm hits.
Pick up water and non-perishables
You are not the only person in your area who is preparing for the hurricane. Everyone is. So head to the store early to pick up your water and non-perishable items. You don't want to rush out at the last minute and find empty shelves.
In fact, a lot of our stores were selling out of bottled water a week before the hurricane. A friend was traveling out of the hurricane's path for work and offered to pick up water for us there if we needed.
Bottled water will last for a long time too. So you can afford to buy it ahead of time and then just store it in case of a hurricane. We usually have at least one case of water in our garage at all times now, just to be prepared.
Check your batteries
I don't know how often you use flashlights, but probably not often enough to remember if yours need new batteries or not. So before anything happens, check your flashlights and anything that's battery operated. Then, to be safe, pick up some more.
We also picked up a solar powered phone charger prior to the last hurricane. It doesn't use batteries (obviously), can charge two phones at once (which is really important), and it actually has a really bright LED light on the back of it. So now we don't even to worry about batteries for flashlights. We just have to make sure our charger is handy.
Find a shelter
Search online for the closest local shelters, in case you have to evacuate. I'm talking about temporary shelters that are set up for hurricane evacuees, not homeless shelters.
Write down the addresses and directions before you lose power. Don't just write down one shelter either. You may get there and find it's full, so having a few others to try is a great idea. Keep in mind that not all shelters will be pet friendly, so if you need to bring your pet along, look for shelters that will allow it.
And, in case you do need to drive around town looking for safety, make sure your car has gas. You don't want to run out, especially if the tankers may have trouble getting to your area after the storm has passed. So definitely fill up before the storm.
Figure out playtime
If you have children, be sure to have ways to entertain them. Board games are good, so are card games. They won't be able to watch TV or play on the tablet if the power goes out, so be sure to be prepared for lots of non-electronic family time.
And, if the storm is passing by, they won't be able to play outside either. If you have young kids, definitely explain this before the storm hits and help them come up with indoor games to play together.
Do the quarter on a cup of ice trick
If you are evacuating, you'll have no good indication of if your home lost power. And if it lost power, all the food in your fridge and freezer have unfortunately become unsafe to consume.
So, pour a cup of water and put it in the freezer. When it has turned to ice, put a quarter on top. When you return home, check the freezer. If the quarter is still on top, you didn't lose power. If the quarter sank, it means you lost power long enough for the ice to start to melt and for the items in the freezer to melt and then refreeze. Depending on how far down the quarter is, you can gauge how long you lost power.
We wrote a full-length post about the quarter trick here.
Hurricane Preparedness Checklist
TO PACK:
Personal papers (birth certificates, marriage licenses, insurance forms, etc.)
Bottled water (1 gallon per person per day for three days, plus pets)
Shelf-stable juice and milk
Non-perishable food (enough for three days), including canned goods and bread
Manual can opener
Disposable plates, napkins, utensils, cups
Pet food
Flashlight(s)
Batteries
Candles
Matches and/or lighters
Lanterns
Radio
Extra clothes (including extra dry socks) and shoes/rain boots
Wrench (to turn off utilities)
First Aid kit
Medications
Non-prescription drugs
Vitamins
Blankets
Charcoal and/or propane and grill
Moist towelettes for washing
Paper goods (toilet paper, paper towels)
Garbage bags
Board games
TO DO:
Fill a bathtub with water. You'll be able to use this to flush the toilet in case you lose water.
Fill containers with water and freeze them. You can use this as ice for perishables.
Stuff dryer lint in an empty toilet paper or paper towel roll. Use it as a fire starter if you need.
Bring all outdoor furniture inside. Secure anything that cannot be brought indoors.
Charge all electronic devices (phones, tablets, etc.) to 100%.
Get cash out of the bank. If electricity goes out, you can't use ATM's or credit cards.
Get your generator ready and know how to use it.
Now, you can print the image above to keep it with you when you are preparing. Just right click the image, save it to your computer, and print it. It's formatted to print on an 8.5×11 piece of printer paper.
What additional hurricane preparedness tips do you have to keep people safe during a hurricane? Let us know in the comments.