Food seems like the best thing to donate after the hurricane, but is it? Find out on this list of Great Items To Donate After A Hurricane (and what not to donate).
For more hurricane tips, check out all of our hurricane preparedness posts.
Our town got hit by Hurricane Florence so badly during September 2018. I drove by a bar that year that was decorated for Halloween, and the first thing I thought was that our entire town has been decorated for Halloween since September. It's so weird. You think that when a hurricane leaves the area, everything goes back to normal. But that's not the case. If it's a powerful hurricane, it can take weeks, months, years even for things to get back to normal.
This is five years later too, so it takes a long time for things to go back to normal.
So of course, when disaster strikes you want to help, you want to come up with great items to donate after a hurricane.
But here's the truth: People lose all the food in their fridge and freezer when electricity goes out (we lost all our food), people don't have power to cook on a stove, but no one really wants your canned tuna and other items you find in the back of your pantry.
That's nice and I know you have good intentions. But so many of those people who need food, they're also in shelters because their homes are destroyed in some way.
We got very lucky but so many homes in our area lost shingles off their roof and many rooms got flooded. Those people don't need canned soup, they need tarps.
So if you want to donate after a hurricane, I put together a list of what you should donate. And, after that list, we have a few items that you should not donate after a hurricane, so check those out as well.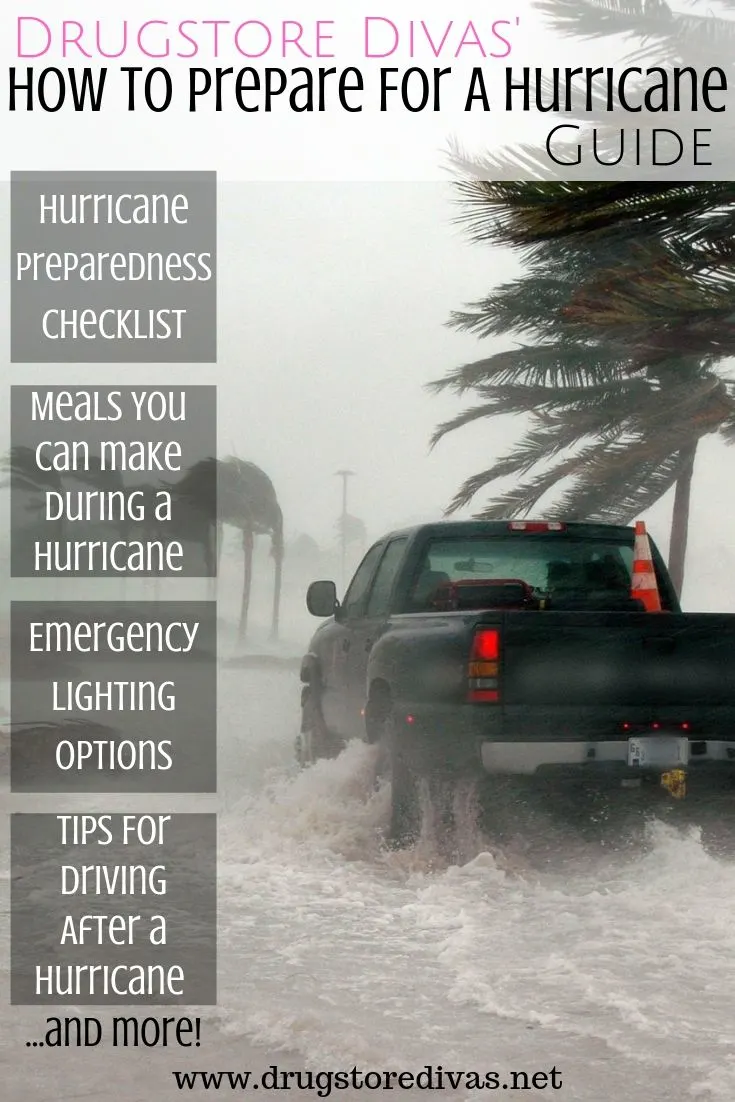 If you're on the opposite end, if you're the one who is getting hit with the hurricane, be sure to check out our How To Prepare For A Hurricane Guide to assure you have everything ready in case hurricanes or tropical storms come your way this hurricane season.
10+ Great Items To Donate After A Hurricane
Affiliate links are included in this post and Drugstore Divas may make a small commission if you use them.
Bug spray
It's impossible for me to explain to you how big post-hurricane mosquitoes are. They're triple the normal size, are literally the size of a quarter, and bite through clothing. It's awful.
The first day we cleaned up the trees that had fallen, I went out in long sleeves and leggings so my skin would be covered. It didn't matter. After 30 minutes, I ended up with 28 mosquito bites — on one leg!
The mosquitoes are so bad that our county actually called in FEMA to help spray. Twice. It helped a bit, but it took almost four weeks to spray. And in all that time, the standing water that breeds mosquitoes didn't have time to evaporate. So it was a mess. An itchy, awful mess. Bug spray would have been an incredible thing to have.
Tarps
We were so lucky that our roof was fine. So many people in our area lost shingles, which exposed their roof. It rained hard for days during the hurricane, and that water got into homes. For the lucky ones, it was just a little water damage. For others, it cause mold (which is a whole different issue).
People need tarps to place over the holes in their roofs. But with so many homes with damage, and so many stores closed for the same reason, tarps are hard to find during disaster recovery. So look into purchasing and donating tarps to those in need.
Waffle House gift cards
Waffle House is basically like FEMA during an emergency. Waffle House will stay open to make sure people have shelter and food and electricity. Honestly, I don't know how they do it.
We actually were out helping a friend who was in an emergency situation after the hurricane. We had rushed out before dinner, and by 8 pm, we were starving. We found the closest Waffle House and had dinner. It was a limited menu, and was take out only, but the food was hot and that was perfect.
I'm not sure how Waffle House is during the daytime in an emergency, because we didn't go, but even a limited hot meal is amazing during a tragedy.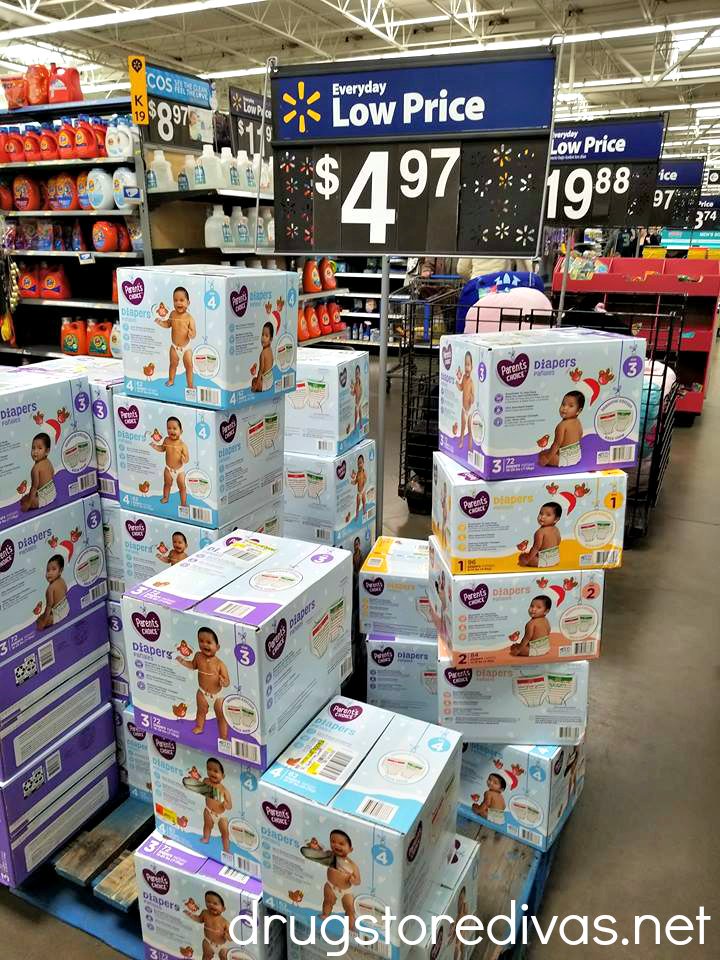 Diapers and formula
This doesn't apply to us, so I never think about donating baby items, even when I'm just donating to church or a food pantry. But after the hurricane, the radio kept reminding us that there was an urgent need for diapers and formula in our area.
Both items are really expensive, so I can see why people don't donate them often. But, there are babies who are displaced with their families in the wake of natural disasters, and not all babies are breastfed and cloth diapered. So they need diapers and formula and lots of it.
Storage bags
When supplies are divided up, so many storage bags are used. It's just easier to organize and distribute that way. But that means that lots of storage bags are needed.
If you want to donate them, pick up the clear, plastic bags with the zip close top. That's what they asked for in our area. The ones with twist ties, or even with the snap and seal, aren't as easy for the volunteers who are dividing up the supplies.
Laundry detergent
Clean up after a hurricane is so gross. You just want to peel off your clothes and throw them in the trash sometimes. You're covered in tree sap or pine needles or mold or sweat. And then there's the chance that so much of your clothes, bedding, curtains, etc. were covered in water.
So you have to do laundry. Lots of laundry.
Or, honestly, you might be without electricity or without a home and cannot do laundry. Companies like Tide came in to our area and allowed people to drop off two loads of laundry. Tide would then wash, dry, and fold the laundry and text when it was done. That was a great way to get the worst of the worst done.
When you have to do it on your own, though, it takes a lot of loads and a lot of detergent to get back to normal. So a donation of laundry detergent is a huge help.
Also, to go along with this, cleaning supplies like antibacterial wipes, floor and glass cleaner, paper towels, etc. are really helpful too.
Gift cards for tree services
This is probably only if you're rich, and only if you are donating to a friend. But I'll put this down anyway because it's a big need.
So many trees fell down in our backyard. One fell from the house behind us on to our property, so our back neighbor came over to ask if we wanted to split the cost of the tree. He asked, honestly, because it can cost a couple thousand dollars (like sometimes over $2,000 a tree). That's so much money.
Of course, you're not going to donate $2,000 to strangers, but maybe you can call a tree service company and work something out where they take $25 off the next estimate. Every little bit helps.
Solar battery chargers
When we were driving after the hurricane, our house still didn't have power. We were doing everything we could in the car because we could charge our phones and electronics there. It would be fine to be without a laptop for a few days, but no phone would make it hard to keep in touch with worried family.
During that time, I was scrolling through Facebook and saw a friend post about a solar battery charger. So smart! I wanted to order one, but our post office was closed for ten days so there was no way I would have been able to get it.
Luckily, our power came on a few hours before we got home, so we didn't need it. But I picked one up for next time. You should too. And grab a couple to donate.
Grocery store gift cards
You know the hurricane is coming. That's true. But, when Florence came, we had plans to leave on Wednesday after dinner, and instead ended up leaving Tuesday morning before breakfast. So that's six meals we had ingredients for that we left behind.
People lost homes, valuables, memories, possessions. We lost a garbage bag full of condiments and expensive Japanese sauces and another bag of perishables. And then everything in our freezer.
And some people around here hunt, then freeze the meat to feed their families in the off season. All that food was gone.
So if you want to help people get on their feet, get them grocery store gift cards and let them fill their fridge. Don't assume you know what people like to eat and donate boxes of pasta and jars of sauce to those in need. Us? We always have tons of marinara sauce. What we didn't have was gyoza sauce. Or mayo. Or sliced cheese.
Rakes
We had about a foot of pine needles to rake after the hurricane. Well, a foot for Pete to rake. He handled that part of the clean up.
He used a leaf blower for much of it, but then the blower ran out of gas. So he had to use a rake for the rest.
And it doesn't sound bad. He was raking pine needles. But there were so many pine needles, and they were so heavy from the rain, our rake actually broke. We were able to borrow one from my parents to finish clean up, but for those who don't have family nearby, a rake donation would help them so much.
Gas station gift cards
We left New York, where we were during the hurricane, on a Saturday and didn't get back to North Carolina until Monday. That's a lot of driving.
Luckily, my dad drove, which means we used my parents' gas. We had to stop a few more times than usual, and we drove in a roundabout way, so it took more gas than usual.
That happened to so many of our friends. They evacuated to safety and then had to drive back via an out of the way path. So many roads were closed, so a direct path was impossible.
For people living paycheck to paycheck, this extra gas is an unneeded expense. A gas card to help offset that is a huge help.
A massage
Okay, this is a silly one, but this is what I wanted.
Hurricanes stress people out. And then, when it's gone, there's so much yard work to do.
So a gift certificate for a is great. Definitely only offer this to someone you know and definitely don't offer to do it yourself (because eww).
What Not To Donate After A Hurricane:
Bottled water
There are memes that go around before every catastrophe mocking people buying all the bread and milk. And stores sell out of bottled water.
But here's the thing. They tell you to stock up with a gallon of water, per person or pet, for three days. What they don't tell you is you could return to a boil advisory, which means the water is unsafe to consume unless you boil it.
So you think donating water is a good idea, but it's not the best use of your money.
Clean water is usually brought in at the behest of the local government and response organizations help distribute it at local distribution centers. And those community organizations already know the most efficient way to distribute those items. So, it's actually taken care of.
If you donate some, it will take up a lot of space in a donation center, which may not actually have enough space to store it. They're also heavy, so it's hard to send them where they need to go.
If you're donating to a local food pantry, bottled water is good. But if you're not donating locally, it's not your best choice.
Stuffed animals
There was a news story recently where a church was handing out blessings bags to those who were in need after the hurricane. And, in them, there were small stuffed animals for the kids.
It broke my heart.
You don't know what their home is like. It could be completely destroyed. And a kid may not understand that. Young kids may not really understand much of what's going on. So a small toy can be a huge comfort.
But, I also read something where tens of thousands of teddy bears get donated after tragedies. And that's just too many to distribute. So, as much as it breaks your heart to think of kids without stuffed animals, it might not be the best donation item.
Canned goods (or any food)
If you're donating to your local church or food pantry, food is a great donation item. But, if you're donating somewhere that shipping to a location that's dealing with disaster relief, food isn't a good idea. The items need to be sorted, then checked to see if it's expired, then someone has to make sure it's not a health risk.
You're trying to do a good thing, but it overwhelms the volunteers in that area.
And sometimes, like when Hurricane Matthew happened here in 2016, shelters weren't able to accept donations of food (see more here). They were encouraged to make monetary donations or to donate to local food banks.
Pet supplies
Yes, disasters affect pets. And some people worry more about pets than people. So you want to help the pets. I get it.
The best way to do that is to make financial donations to the American Humane Association or a similar organization that participates in disaster response. This isn't their first rodeo. They know what they're doing, what the critical needs are, and the best way to distribute relief items. So donate to them and let them do the rest. Grabbing a bag of your cat's litter and sending it to hurricane victims isn't really going to work.
Medication
Don't donate medication or medical supplies. First responders and relief organizations will work directly with companies to get the specific items that they need. So, as nice as it is for you to want to dig into your coupon stockpile and donate the acetaminophen and allergy medicines you have, the pharmaceutical companies will have that under control.
Where to donate after a hurricane:
Our church always collects donations to help with recovery efforts, so that's how we donate.
If you're looking for places to donate, we put together some links filled with additional resources. Note, we have no association with these places, so be sure to do your homework and see their requirements for donations.
We limited the list above to national organizations.
If you had a hurricane in your home area, you can check with local organizations and/or local partners to see what the relief supplies your community could use. They'll know what the greatest need(s) are, where you can bring your donations, and different ways you can help the response efforts (if you feel like donating your time).
Have you been through a hurricane? What would you have liked to receive?