When you're sitting on the couch, watching college hoops, these Basketball-Shaped Foods For March Madness are the perfect snacks. They're all ball-shaped appetizers and desserts.
For more ideas, check out our list of One-Bite Appetizers.
March Madness is the best time to be a college basketball fan. Or a non-fan. If I had to guess, I would say as many non-fans fill out brackets as fans. And since there's always a Cinderella story (hello St. Peter's), everyone's bracket always gets busted at some point.
That's pretty much all you can count on during March Madness: Busted brackets and good food.
And sure, you can make traditional snacks, but that's boring. We are big fans of making fun foods. So, everything on this list is basketball shaped: meatballs, round tomato slices, circle-shaped cookies, you get the idea.
Basketball-Shaped Foods For March Madness
Affiliate links are included in this sponsored post and Drugstore Divas may make a small commission if you use them.
Slow Cooker Sweet And Spicy Meatballs
The easiest way to make appetizers for game time is letting the slow cooker do all the work. That's exactly how you make these Slow Cooker Sweet And Spicy Meatballs.
Just dump frozen meatballs (which look like basketballs) into a slow cooker with the other ingredients and set them to be ready by gametime.
Cornbread Sausage Balls
These Cornbread Sausage Balls look like basketballs that could benefit from an air pump because they do look a little deflated. But, they start out as round balls, but they spread out a bit as the cook.
Deflategate or not, these are an incredibly tasty game day recipe.
Baked Fried Green Tomatoes
You have to hold these Baked Fried Green Tomatoes up in order for them to look like basketballs, but they definitely do. And they're definitely a game time app too.
These are a lot easier than traditional fried green tomatoes because they're baked, not fried. So you can make them quick and get back to the game even quicker.
Jalapeño Jelly Meatballs
These Jalapeño Jelly Meatballs get their basketball shape from frozen meatballs. They get their flavor from a homemade jalapeño jelly.
These have a little bit of heat, which is perfect to eat when your team is heating up.
Cheesy Garlic Dough Balls
Take dough, stuff it with cheese, and roll it into a basketball shape. That's the basic recipe for these Cheesy Garlic Dough Balls.
They're easily poppable and small enough that you can chew it quick enough to start yelling at the ref for blowing a call.
Slow Cooker BBQ Sausage Bites
Sausage, cut into rings, needs to be turned to see it as a round basketball, but the shape is still there. And the flavor is there in these Slow Cooker BBQ Sausage Bites too.
The best part is that they cook in the slow cooker, which means you don't have to spend any of game time at the stove.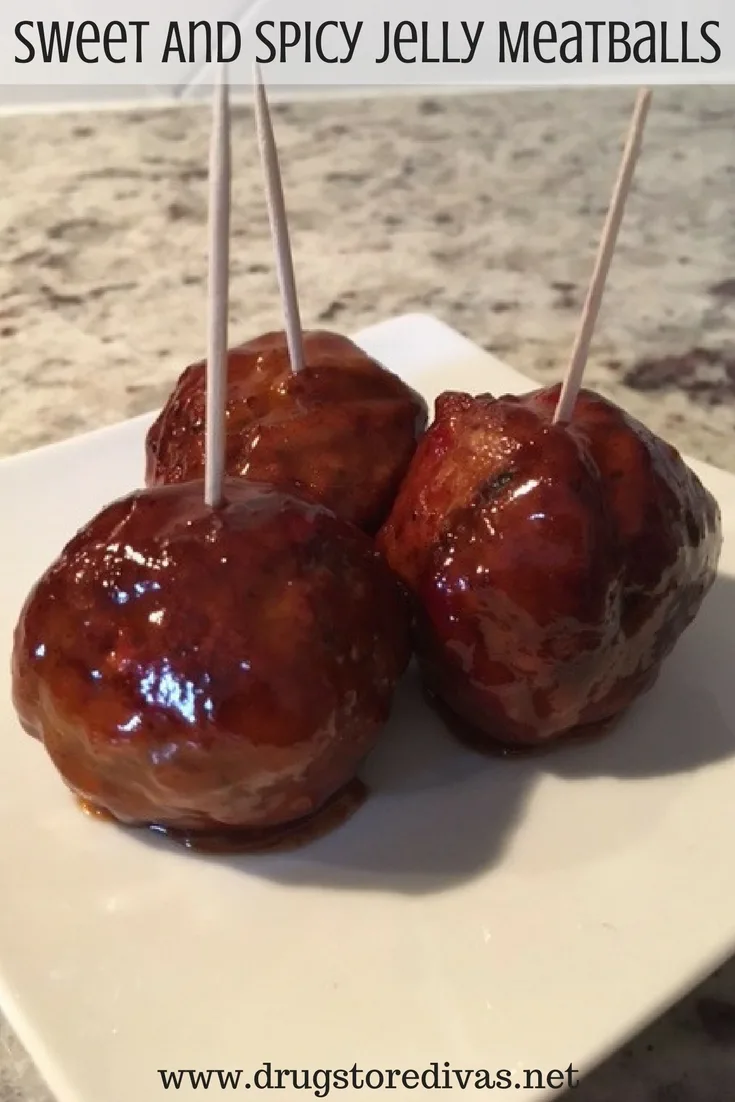 Sweet And Spicy Jelly Meatballs
These Sweet And Spicy Jelly Meatballs, which look exactly like basketballs, are a stovetop version of our Slow Cooker Sweet And Spicy Meatballs.
So if you don't own a slow cooker, you can still make these for your homegate.
Cinnamon Sugar Doughnut Holes
If you want something sweet to cheer on your team in the Sweet 16, these Cinnamon Sugar Doughnut Holes are perfect.
You actually make the dough yourself and roll it into round basketballs. It's not like some of the other doughnut recipes that use pre-made biscuit dough.
No Bake Chocolate Chip Walnut Energy Balls
If some of these March Madness games run too late and you need a little burst of energy, these No Bake Chocolate Chip Walnut Energy Balls are perfect. There's flax in them, which gives you energy (so they say).
If you don't need energy, these are just a delicious basketball-shaped treat.
Marshmallow Popcorn Balls
These Marshmallow Popcorn Balls are a large and tasty basketball-shaped dessert. Just be sure to make one for each person at your homegate. No one is gonna wanna share.
Pinwheel Cookies
Don't mind that these Pinwheel Cookies are made in Halloween colors. Instead, note that they're round like a basketball. Also realize that instead of black and orange, you can make the pinwheels in your team colors.
Unless you're rooting for Princeton University, which has orange and black as its colors.
Homemade Chocolate Chip Cookies
Everyone loves Homemade Chocolate Chip Cookies. So if you want to serve a dessert that everyone will love — even if everyone doesn't love the final score of the basketball game — these cookies are it.
Plus, they turn into rounds as they bake, which means they're basketball shaped and perfect for this list.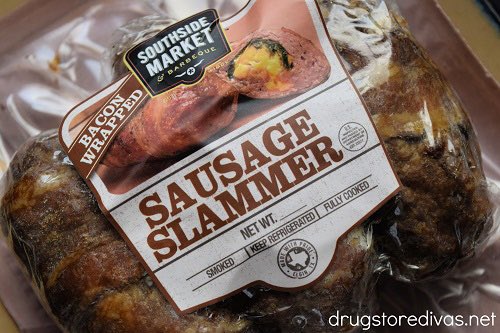 Purchase March Madness Food Online:
The next round of March Madness, the Sweet 16, starts on Thursday, March 24. And after a long day of work, maybe you don't want to come home and roll out dough for garlic dough balls. We get it. So go ahead and order some March Madness food online at Southside Market & Barbecue.
If you live near a restaurant/retail location, you can order for pickup or delivery. If you're outside of the delivery area like we are, you can order from the online store and have the food shipped to you. If you do order online, be sure to use the code TXBBQ15 to save 15% on sausages and meats.
If you order the Original Beef Sausage, you can cut it in rounds and use it in our BBQ Sausage Bites recipe from above and stick with the basketball-shaped foods theme. If you want to stay on theme, but you want a full meal instead of a snack, we used that sausage to make Sheet Pan Sausage And Peppers.
If you want to grill at your March Madness homegate, we suggest the Sausage Slammers. We are slightly obsessed with those. You can see our review of them here. Cook them on the grill (or in the oven), slice them into pieces, and you're still sticking to the "round" theme of this post.
If you order either of those (or anything from the site), you can add Jalapeno Cheddar Sausage Value Packs, which are on sale starting today (March 21) until March 27. They're regularly $25, but on sale for $9. And, like the other items, you can cut those into rounds and stay on theme.
More Game Day Recipes:
If you're looking for more recipes for game day, and you care more about taste than shape, check out our list of 50+ Recipes For Game Day.
Which of these Basketball-Shaped Foods For March Madness will you make for your watch parties this year?