If you're trying to figure out what to do with those beans in the pantry, this list of Easy Canned Beans Recipes will give you some great ideas.
For more ideas of what to make, check out all of our recipes.
Canned beans are one of those pantry staples that you buy at the grocery store because they're cheap and your brain says you need to have canned goods in the closet. At all times. In case of emergency. And then, you keep shoving those beans out of the way to get to the canned corn and the chicken broth.
And finally, you get to the point where you start resenting those cans because the tops are accumulating dust and they're always in the way. But you need them. Just in case.
Just in case of what, I don't know.
And if you don't really know either, you've come to the right place. We put together a list of easy meals to make with those canned beans.
Beans are a really budget-friendly ingredient. And cooking at home is a great way to save money. For more help with that, check out our The Ultimate Guide To Saving Money By Cooking At Home.
10+ Easy Canned Bean Recipes
Affiliate links are included in this post and Drugstore Divas may make a small commission if you use them.
Real quick. If you're going to be cooking with any type of beans besides refried beans, you're going to want to drain them. I used to pour the can of beans into a large handheld strainer. Which always worked, but it was annoying large and bulky.
And then, I had some gift cards that I had to use at a big box store that was closing. So I bought a can colander for my mom and myself. Let me tell you. This thing is the best kitchen gadget I've gotten in a really long time. You open the can, put the can colander on top, flip it over, and it drains. That's it.
So, if you're going to be cooking with cans of beans, you're gonna wanna spend the couple dollars on one of these. Trust me.
Easy Cheesy Refried Bean Dip
Refried bean dip is the most popular way to use a can of refried beans. This dip uses one can of those, plus six other ingredients (which you honestly might already have at home). It's such a simple recipe. You basically just put it all in a casserole pan, stir, heat it, and that's it. Serve it with tortilla chips for a really good party appetizer.
I might be biased, but this is the best version of refried bean dip that I've ever had. I mean, that's why I make it this way. But, honestly, every time I make it, even the pickiest of eaters inhale it.
Vegetarian Couscous with Zucchini, Chickpeas, and Tomatoes
Roasted chickpeas are the canned bean in this Vegetarian Couscous with Zucchini, Chickpeas, and Tomatoes recipe. They're roasted along with the vegetables (eggplant, zucchini, and cherry tomatoes), then mixed into couscous with green onion and feta cheese.
We absolutely love this for dinner. If you're making this for someone who needs meat with every meal, you could add in some cooked chicken. We do that sometimes, but not always.
Chicken Burrito Bowl
A can of seasoned pinto beans gives so much flavor to this Chicken Burrito Bowl.
Each main ingredient — rice, chicken, beans, and corn — is cooked separately then combined into a bowl at the end. You can mix it all together yourself to get a bite of everything when you're eating it.
Vegan Kale And Bean Soup
I can eat soup no matter what season it is. If you're the same way, this Vegan Kale And Bean Soup is for you. Even if you're not vegan, you'll love this soup, which features a can of black beans and a can of cannellini beans. There's also kale and carrots and other veggies.
If you're not vegan, a sprinkle of parmesan cheese is really delicious on top of this hearty soup.
Slow Cooker Taco Soup
When you want tacos, but you also want soup, this Slow Cooker Taco Soup is a great dinner idea.
Can of pinto beans and white kidney beans are added to the slow cooker along with the other ingredients. We use white instead of dark kidney beans in this, just for a color contrast, but you can use whichever you have in the pantry.
Taco Pie with Crescent Rolls
This Taco Pie is probably my favorite thing to make off of this list.
There's a layer of refried beans between meat and a crescent roll crust. There are a few other layers, then this entire tray is baked. Top it with some sour cream or fresh cilantro for some extra flavor.
Black Bean And Kale Pasta
Arguably our most popular pasta dish on the blog is this Black Bean And Kale Pasta recipe. I think it's because it uses really simple ingredients, including a can of black beans. Oddly enough, this is one of only two black beans recipe on Drugstore Divas.
The beans add such a rich flavor to the recipe and helps to coat the pasta, so you don't even need a tomato sauce with this pasta recipe. Maybe that's why it's so popular.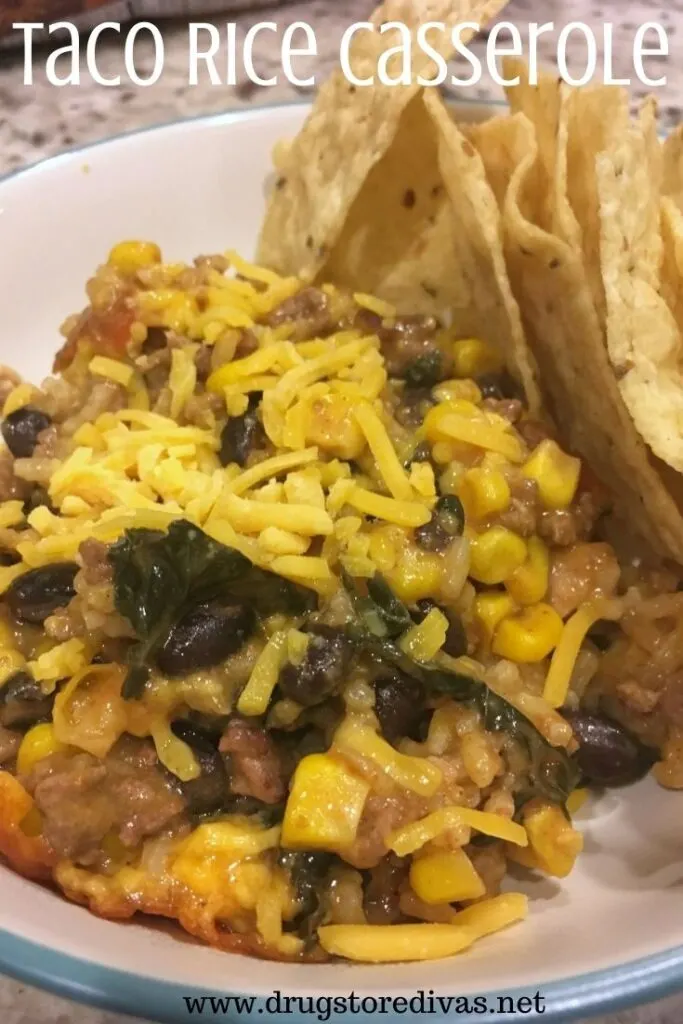 Taco Rice Casserole
The recipe we make most on this list is Taco Rice Casserole (which we also call Mexican Rice Casserole). It's one of the top two things that I make, according to Pete. (The other, by the way, is mini meatloaf).
This recipe is so good. You brown a pound of ground beef, fill a casserole pan with the meat and the rest of the ingredients (including a can of black beans) and bake. It's really hands off and an easy weeknight dinner.
Chickpea And Spinach Vegan Burger
Of course, when you're talking about bean recipes, there has to be a bean burger on the list. And ours is this Chickpea And Spinach Vegan Burger, which is made with two cans of chickpeas.
Bean burgers made from chickpeas, also known as garbanzo beans, hold together a lot better than other beans do. So, the next time you're looking for a bean burger recipe, be sure to try this one.
Wonton Taco Cups
If you're throwing a party and looking for an easy way to feed a crowd, these Wonton Taco Cups are it.
They're super simple to make. And one can of refried beans (along with other ingredients, of course) is all you need to make two dozen of these delicious poppable tacos.
Slow Cooker Chicken Burrito Bowl
If you're looking for a really easy recipe, this Slow Cooker Chicken Burrito Bowl is it, mostly because the slow cooker does all the work. Except for the white rice. But you can make that in the rice cooker, so really, this recipe is pretty simple.
We use a can of pinto beans in this recipe, but you could use a can of black beans, if that's what you prefer.
Chicken Chili
Chili is known for being filled with beans, so of course, you'll find beans in our Chicken Chili. It actually only has two cans of kidney beans.
Of course, there are other ingredients like a green and red bell pepper (which aren't traditionally found in chili) and chili powder (which is) so it's a really nice twist on a traditional recipe.
Tuscan Bean Soup
Believe it or not, this Tuscan Bean Soup only uses two cans of cannellini beans and no other beans. But trust me when I tell you, this is super bean forward.
It's Pete's mom's recipe. And we make it how she did … although we do throw it over some pasta because you can never go wrong with pasta.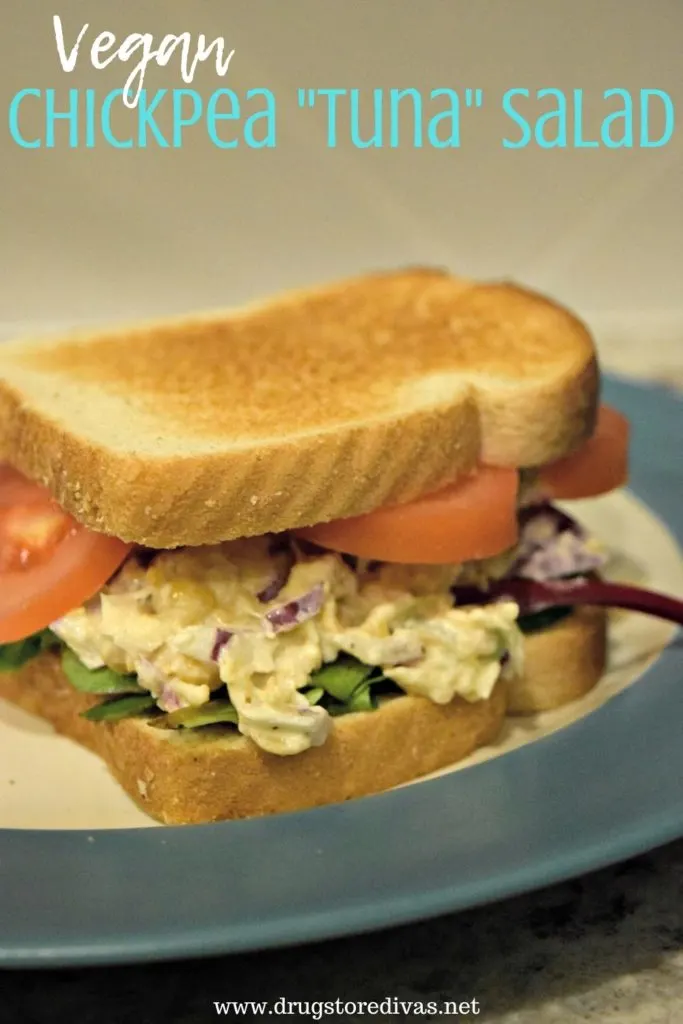 Vegan Chickpea "Tuna" Salad
For a fun, vegan twist on a classic tuna salad sandwich, try our Vegan Chickpea "Tuna" Salad.
Now, of course, there isn't actually any tuna in the recipe. But, the chickpeas are made to mimic the flavor and texture of tuna, thanks to a little help from seasoning, lemon juice, and red onion. If you didn't know this wasn't tuna, you might not even notice.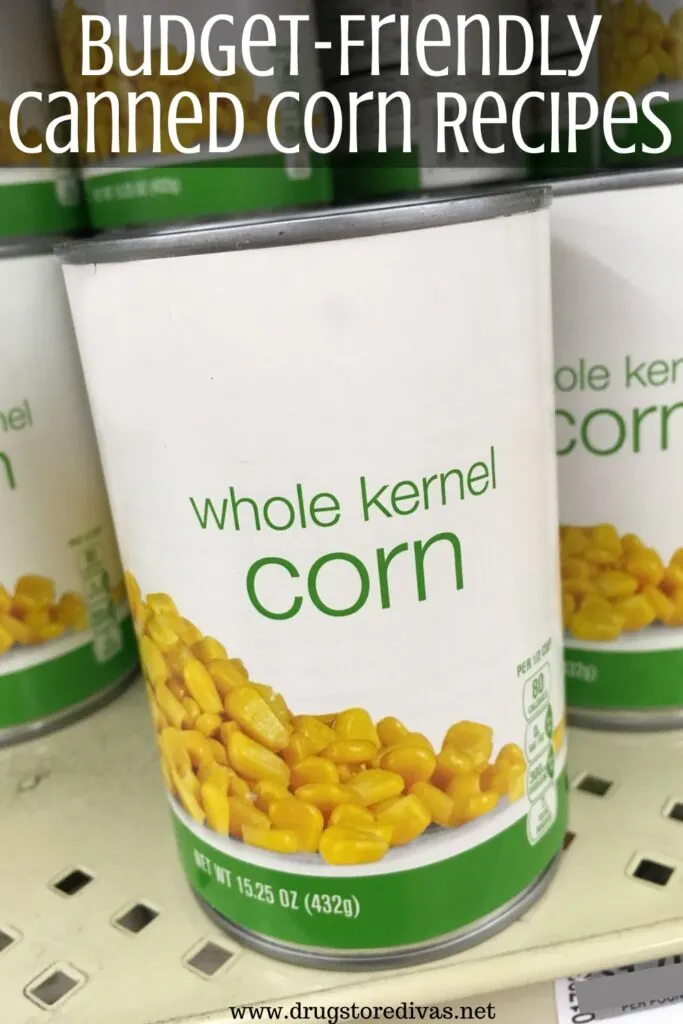 More Recipes Using Pantry Staples:
If you're looking for other ways to use the canned goods in your pantry, we also have a list of Budget-Friendly Canned Corn Recipes that might interest you.
Which of these Easy Canned Bean Recipes are you going to try first? Let us know in the comments.