When you plan your trip to the Grand Strand, check out this Myrtle Beach, South Carolina Travel Guide.
For more posts about the area, check out all of our posts about Myrtle Beach, SC.
Myrtle Beach is such a popular tourist destination. And for good reason. There's so much to do in town. Most people think of the beach and the boardwalk, but there's more to the Grand Strand area than that. There's so much food, so much live music, and so much shopping.
Once you find out how much there is to do there, you'll be wondering why you didn't book more vacation time.
We live within driving distance of Myrtle Beach, so we get the chance to go quite often. As we do and we add more Myrtle Beach content to Drugstore Divas, we'll be updating this post. So be sure to pin it or bookmark it (however you save webpages) and come back to this site before your trip to see if there are more tips added.
Myrtle Beach, South Carolina Travel Guide
Affiliate links are included in this post and Drugstore Divas may make a small commission if you use them.
Things To Do In Myrtle Beach:
15+ Family-Friendly Things To Do At Broadway At The Beach In Myrtle Beach, SC
Broadway At The Beach is one of the most popular attractions in Myrtle Beach. It's filled with shopping, restaurants, and things to do like WonderWorks (pictured above).
It's the perfect place for families because there are so many family-friendly activities there, like Dave & Buster's. And it's a great place for girls night or guys night, with really fun bars like Crocodile Rocks. And perfect for date nights for couples with live music at Hard Rock.
So whoever you're on your Myrtle Beach vacation with, you'll enjoy Broadway at the Beach.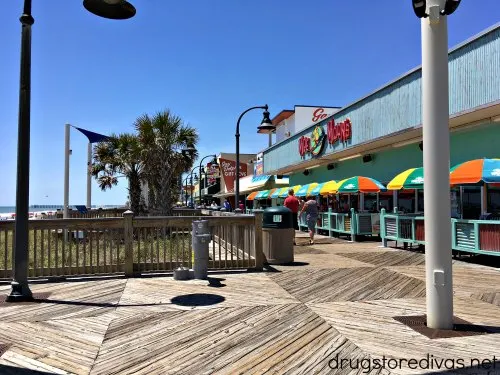 15 Reasons To Visit Myrtle Beach, SC This Summer
Summertime is a hot time for Myrtle Beach visitors because it is a beach town. Yes, there's some stuff going on in the offseason (and we've been there in the offseason a lot), but there's so much more going on during the summer.
This post lists a bunch of things to help you plan your summer trip to Myrtle Beach.
Top 10 Dinner Shows In Myrtle Beach, South Carolina
There are a bunch of dinner shows in Myrtle Beach, so no matter what you're into, you'll be able to find a dinner show to enjoy. There's the very well known Medieval Times, a murder mystery theater, a comedy show, and more.
Going to a dinner show makes planning your vacation really easy because you're planning dinner and an activity at the same time instead of having to plan dinner and also plan an activity.
The Bowery: Myrtle Beach, South Carolina's Oldest Music Bar
The Bowery is a very cool place to add to your Myrtle Beach To Do List. It's South Carolina's oldest bar and where the band Alabama got its start.
The season officially kicks off at the beginning of March every year, with house band The Bounty Hunters play almost always. When they're not on stage, national touring bands and artists play The Bowery.
Why Polynesian Fire Luau Is A Myrtle Beach Must-See
A few years ago, for Pete's birthday, we went to see the Polynesian Fire Luau in Myrtle Beach. We had such a great time there. You enjoy a full Polynesian buffet before a show with dancing (when the audience is pulled onto stage) that ends outdoor with a fire show.
The entire show is over two hours, so you definitely get your money's worth.
Legends In Concert Myrtle Beach Review
One of the best things we've done in Myrtle Beach is catching a Legends In Concert show. It's a tribute show with four to five performances by tribute artists.
The artists change on a seasonal basis, so you can go back even if you've already gone and still enjoy it.
Purchase Legends In Concert tickets here.
12 Things To Do On The Myrtle Beach Boardwalk
Beach towns all have boardwalks and Myrtle Beach is no exception. So when you visit the town, you'll definitely want to visit the boardwalk.
There's shopping, a ton of Ripley's attractions, bars, restaurants, ziplining, and more. You can definitely spend quite a bit of time o the boardwalk.
Christmas Things To Do In Myrtle Beach, SC
If you're visiting Myrtle Beach at Christmastime, there's a bunch of things to do that are Christmas themed, from visiting Santa, watching a tree lighting, and more.
Eat in Myrtle Beach:
We loved Paula Deen's Family Kitchen, which is located in Broadway at the Beach. So if you're looking for somewhere to eat in Myrtle Beach, this is a good spot to go.
There are also a bunch of restaurants in the area that offer Restaurant.com certificates. Those are discounted dining certificates, like coupons, that you can use when you're paying for your meal.
Sometimes, when we don't know where to eat, we see what restaurants offer a Restaurant.com certificate so we can save some money when we're dining out.
More In Myrtle Beach:
If you're looking for more to do in Myrtle Beach, be sure to check out the guide below to help you book tours, attractions, and more.
Road Trips From Myrtle Beach, SC:
If you're spending time in Myrtle Beach, you don't have to stay the entire time in Myrtle Beach. There are a bunch of fun destinations within driving distance from Myrtle Beach.
These are all listed in distances from Myrtle Beach.
Brookgreen Gardens in Murrells Inlet, South Carolina (17 miles)
Wilmington, North Carolina (77 miles)
Charleston, South Carolina (96 miles)
Fayetteville, North Carolina (118 miles)
Hilton Head Island, South Carolina (221 miles)
Murphy, North Carolina (380 miles)
What part of this Myrtle Beach, South Carolina Travel Guide has you most excited for your trip to Myrtle Beach?