If you're taking a vacation to Myrtle Beach, you'll want to check out the Myrtle Beach Boardwalk for the shops, music venues, and more.
If you're wondering when to visit, we suggest spring break. Find out our Fun & Frugal Spring Break Destinations via that link.
When my cousin and I were driving down to Myrtle Beach recently, she asked me, "Does Myrtle Beach have a boardwalk?"
I had never seen a boardwalk at Myrtle Beach, and I had been there plenty of times. There's a whole tourist area called Broadway at the Beach where we've been quite a bit since we moved. And there's a beach near a condo we've stayed at. But I never saw a Myrtle Beach boardwalk.
I told her no.
I was wrong.
When we drove up to the address for some of the Ripley's attractions in Myrtle Beach, we drove one block away from the beach and the Myrtle Beach boardwalk. Who knew? Not me.
There's so much to do at the boardwalk. You can spend an entire afternoon there. To be fair, I'm also including Ocean Boulevard, which is one block up from the boardwalk. The Myrtle Beach Boardwalk address is is one block up from Ocean Boulevard. So you have to pass it to get from any of the paid parking lots to the boardwalk, so you're not going to just walk right past it.
12 Things To Do On The Myrtle Beach Boardwalk
This 12 Things To Do On The Myrtle Beach Boardwalk post is sponsored.
1. Ripley's Believe It Or Not
Believe it or not, I've never been to a Ripley's Believe It Or Not before. I used to read the comic in the newspaper every Sunday, and I've walked past them a few times in Atlantic City at Gatlinburg, but I've never been in one.
They're so much fun.
In this Ripley's Believe It Or Not (901 N Ocean Blvd) all this weird and wacky stuff in there, like a life-size replica of the World's Tallest Man. Believe it or not, he was over 9 feet tall. Comparing him next to my 5-foot-2 cousin was a lot of fun.
I'm not sure how often the exhibits change, but when we were there, we saw displays of art made out of pennies and another from staples, the longest gum wrapper chain (which was from my county in New York!), torture devices, Erik Sprague (The Lizardman), and more.
If you actually walked around and read all the description cards, you could spend the entire day there.
2. Myrtle Beach SkyWheel
The Myrtle Beach SkyWheel (1110 N Ocean Blvd) is actually one of two Ferris wheels in Myrtle Beach. The other is located at Broadway at the Beach.
I rode the Sky Wheel in Orlando, so we actually skipped this one when we were in Myrtle Beach recently. It was exactly like the Orlando Eye, though, in the fact that each cage is completely enclosed with enough room for you to stand (as opposed to a carnival-like Ferris wheel where you sit).
You are able to see all of the boardwalk when you are at the top. What's very cool is you're positioned in a way where you can also look across the ocean, deep into the horizon. It's a really nice way to sort of gain perspective of how tiny you really are.
3. Family Kingdom Amusement Park
It's been a long time since I've been to an amusement park. I used to go to Six Flags every summer when I lived in New York. In fact, we had season passes to Six Flags New England because it had a water park and we would drive there just for the water part.
If it's been a long time since you've gone to an amusement park, you'll be thrilled to know about Family Kingdom Amusement Park (300 S Ocean Blvd). There are 38 rides, including two coasters, a Tilt-A-Whirl, a Log Flume, and more.
On a hot day, I can imagine the line on the Log Flume is very long, so maybe head to the Sling Shot instead. You'll get a beautiful view of the beach … before the 100-foot free fall starts anyway.
4. Ripley's Marvelous Mirror Maze
When we were deciding what to do, I was telling my cousin about the Ripley's Marvelous Mirror Maze (913 N Ocean Blvd). In the description, it said that search parties are sent in every 30 minutes.
We laughed.
And then we went into the Mirror Maze.
Oh geez, it is not as easy as you would think. They give you gloves before you enter so you don't get fingerprints on the mirrors. There are two curtained doorways to enter through. You walk in one curtain with the goal of walking out the other. You then go back through that curtain and try to walk out where you started.
The amount of times we thought we made it, only to realize that we were just back at the first curtain, was comical. And when we finally made it through the second curtain and were on our way back, we thought it would be so easy. I mean, we just came from that way.
Nope. Not easy. But definitely a lot of fun.
5. Eat
When it's nice out, all you want to do is enjoy the sunshine. At least, that's all I want to do. But sometimes, you have to stop and eat. So why not combine the two and eat outside.
There are a ton of Myrtle Beach boardwalk restaurants with outdoor seating. Most do have indoor seating too, so you can sit inside if you need a break from the sun.
If you just want snacks, you can find a bunch of ice cream, Italian ice, and other goodies. And if you just want a drink, there are a bunch of bars that you can drop into.
What's nice is that there aren't any typical chain restaurants on the boardwalk. There aren't any fast food restaurants either (but you can go a couple blocks up and find one). When I'm out of town, I always like to skip anything I can get at home. But, at the same time, sometimes you just want to run into a fast food joint for a $1 cheeseburger.
6. Free Fall Park
When I was in Orlando a few months back, we had so much fun watching the Sling Shot. I had no idea that this was something you could find all over.
In Myrtle Beach, the Free Fall Park (1201 N. Ocean Blvd.) features the Sling Shot, the Sky Fall, the Air Strike, the Sun Dance, and the Screaming Swing.
These give you a great view of the beach during the day, but they light up in rainbow lights at night. That's when it's really fun to watch the rides.
7. Ripley's 5D Moving Theater
If you're going to see a 5D movie, my suggestion is to wear a jacket. Oh my goodness. At the Ripley's 5D Moving Theater (915 N Ocean Blvd.), you get to experience two 5D movies. That means 3D with the glasses, plus a seat that rocks and vibrates, and bursts of air blown at you. In fact, during our second movie Santa's WHATEVER, "snow" actually fell on us.
Thank goodness I put on a sweatshirt between the first and second movies because I was so cold during the first one. Every time the air would blow, I would cringe. I couldn't focus on or enjoy the movie. I just kept waiting for the cold air.
The movies change quite frequently. I looked at the movies a couple weeks ago and by the time I purchased our tickets, the movies were completely different.
We went in May and saw a Christmas movie, so although the movies do rotate, I wonder how often new movies are created.
8. Gay Dolphin Gift Cove
There are a lot of Myrtle Beach boardwalk shops, but if you need souvenirs, the Gay Dolphin Gift Cove (916 N Ocean Blvd.) is for you. Located one block off the boardwalk, the East Coast's largest souvenir shop is five floors of stuff. There's a front section and a back section, and more knickknacks than you can imagine.
There's also a nearly life-sized Elvis status, Big Foot … and a huge dolphin fountain that spits water. That's a crazy thing to see in the middle of a store.
The store sells everything you need, like Myrtle Beach keychains, and everything you don't, like shells. I don't understand why souvenir shops sell shells a block away from their native habitat (the beach!), but I think I've bought them when I was young.
I walked out empty handed, but I do sort of regret not getting my mom a driftwood wall hanging to match the one I bought her in the Outer Banks a few years ago. Maybe next time.
9. Myrtle Beach Zipline Adventures
When we were in Fayetteville, I did a zipline course for the first time. I was so scared. Ask Pete. I was ready to climb down the tree and wait for him in the parking lot.
Then I realized I can't climb trees. I also can't be scared of everything. So I pushed myself and it was so worth it.
If you get a chance to head to Myrtle Beach, check out the Myrtle Beach Zipline Adventures (321 9th Ave N.). It's outside, but you zip from manmade structure to manmade structure. You're not going from tree to tree. But it's still fun. Especially if you've never been before.
10. Ripley's Haunted Adventure Laser Strike
I know very little about the Ripley's Haunted Adventure Laser Strike (913 N Ocean Blvd.) because we didn't actually go here. It was the one Ripley's attraction near the boardwalk that we skipped.
Basically, it's like a haunted house with lasers. I don't do scary, and I don't like any kind of guns, so nothing about this was for me.
But, maybe it's for you.
It's 30 minutes of live actors jumping out to scare you, and you shooting them with a laser gun.
11. Family Kingdom's Splashes Oceanfront Water Park
If you are heading to Myrtle Beach when it's hot out (which is almost all the time), you'll want to check out the Family Kingdom's Splashes Oceanfront Water Park (300 South Ocean Blvd.). It's Myrtle Beach's only oceanfront water park.
There's a lazy river, water slides, and even a kids zone.
Best part though? You don't have to worry about sand.
You're on the boardwalk, basically, so you can see the beach from the water park. In fact, you'll get a really nice view from the top of the water slides. But you land in a pool and walk on pavement. You don't walk on sand, which means you don't have to deal with sand all day.
12. Beach
But, if you don't mind sand, you won't mind relaxing on the beach.
Pack a towel, pack your sunscreen, and enjoy a whole day on the beach. The beach itself is free, but if you rent beach chairs and umbrellas, it will cost you. Those are available from March until October, and, of course, are based on availability.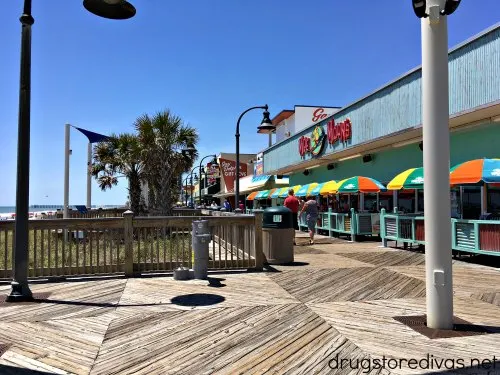 Which of these Myrtle Beach boardwalk attractions is your favorite?