Broadway At The Beach in Myrtle Beach is a really fun, family-friendly place. There's an aquarium, WonderWorks, a Ferris wheel, and more. And this list of Family-Friendly Things To Do At Broadway At The Beach In Myrtle Beach, SC covers them all.
If you want some more vacation inspiration, check out all of our travel posts.
We're so lucky that we only live about 90 minutes from Myrtle Beach. We went down just for the afternoon on Saturday, and honestly, there's so much to do there. If you're coming for vacation, you can't squeeze it all in. It's impossible. So we're here to help. I put together a list of 15+ Family-Friendly Things To Do At Broadway At The Beach.
Broadway At The Beach (1325 Celebrity Circle) is a shopping center and entertainment complex set on 350-acres. It's located about a mile and a half from the beach, ocean, and Myrtle Beach boardwalk. There are over 150 shops and restaurants at Broadway At The Beach, which can be super overwhelming.
And if you don't go with a game plan, you can spend a lot of your time walking around aimlessly. That's good if you're worried about getting 10,000 steps for the day, but it's not that great if you're on limited time.
15+ Family-Friendly Things To Do At Broadway At The Beach In Myrtle Beach, SC
As with the majority of our lists, this isn't in any particular order. I will say, though, that I wanted to make this list family friendly, so it's not filled with bars to check out.
Nothing wrong with bar hopping, but I wouldn't consider that a family friendly activity.
Also keep in mind that these are all open as of this post going live. There is always the possibility of stores closing and new attractions at Broadway At The Beach opening. We'll try to update this list as need be.
Check out Ripley's Aquarium
I went to Ripley's Aquarium (1110 Celebrity Circle) with my cousin a few years ago and we had a great time.
You're able to check out sharks, jellyfish, and more. The aquarium isn't huge, so you won't spend all day there. Which is good because you want to keep it moving when you're on vacation.
Beach Rider Jet Boat
The Beach Rider Jet Boat (1325 Celebrity Circle) is seasonal, so if you're in Myrtle Beach in the winter or spring, you might miss it.
But if you're around when it's open, check out the high speed boat ride. The boats do tricks like shooting 50 gallons of water a second out of a nozzle and rotating 360-degrees.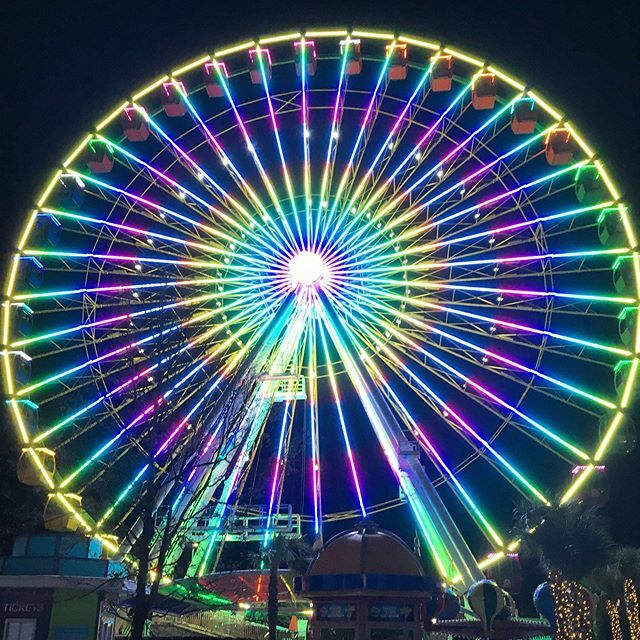 Ride the Ferris Wheel
There's a gigantic Ferris Wheel at Pavilion Park at Broadway at the Beach that's worth a ride. You'll be able to see the full entertainment center — and more — from the top.
There are also a few other rides there too, so you can spend a bit of time at those attractions.
Dinosaurs The Exhibition
Every time the dinosaur show comes to our area, I try to figure out which of my friends' kids I can borrow and take to the show. Dinosaurs are just something kids and adults both can enjoy.
So Dinosaurs The Exhibition (1112 Celebrity Circle) is perfect. It's a self-guided tour, which takes about an hour, with a fossil dig, a dino movie room, a T-Rex fun house, and more.
Learn at WonderWorks
When Pete was still working at the school district, he took many field trips to WonderWorks (1313 Celebrity Circle).
It's an "amusement park for the mind" according to the website, with 50,000 feet of different learning stations and over 100 hands on exhibits. There are exhibits about natural disasters, a space discovery section, an imagination lab, and more.
Play games at Dave & Buster's
One of the newer additions to Broadway At The Beach is Dave & Buster's (1322 Celebrity Circle). The arcade and eatery is part of a national chain, so you may have seen it before.
What I love about it is happy hour is food and games. Because the games at Dave & Buster's can get expensive. It's the only arcade in BATB though, so it might be worth the price.
Go Shopping
There are so many stores at Broadway At The Beach, so you definitely want to go shopping.
There aren't any of the traditional boardwalk shops (you know the ones with the cheap sunglasses and $.99 souvenirs). Rather, you can do a lot of nice shopping at stores like the Southern Living Store, Tervis, and — if you really need sunglasses — Sunglass Hut.
Zipline with Soar & Explore
If you remember, we did a zipline course a couple years ago and I loved it (although I was super nervous at the beginning of it).
With Soar & Explore (which is technically part of WonderWorks although located near not inside it), you zipline twice between towers that are 50 feet above water and 1,000 feet apart. No time to get acclimated to it, so no time to get scared.
Eat
There are so many restaurants at Broadway At The Beach. We've been to a bunch of them.
The majority of them are chain restaurants, like Wahlburgers and Johnny Rockets. We've been to Paula Deen's Family Kitchen on a whim, Yamatos Steakhouse Japan for my birthday, and Hard Rock Cafe for a blog post.
No matter what you're hungry for, you're bound to find it at Broadway At The Beach.
Escape at the Backstage Escape Games
Escape games are getting so popular right now. They're a great way to interact with your friends for an hour without anyone dipping or just spending all their time on their phone.
If you haven't done one, check out the Backstage Escape Games (1314 Celebrity Circle) when you're on vacation in Myrtle Beach. You have a few "scenes" to choose from and you only have 60 minutes to escape. Good luck. You'll need it.
Feed the fish
When you're crossing from one end of Broadway At The Beach, you take a wooden bridge that goes over the 23-acre body of water called Lake Broadway. There are actually five bridges to cross from one end of BATB to the other, so keep that in mind when you're walking around.
When you look down from any of them, you'll see a bunch of fish.
When Broadway At The Beach opened in 1995, the pond was stocked with 29,000 fish including Bream, Catfish, Hybrid Bass, Japanese and Israeli Carp. There are feeders on the bridges so you can buy fish food to feed them.
Get lost in the Backstage Mirror Maze
We've never done the Backstage Mirror Maze (1314 Celebrity Circle), but mostly because we've done a different mirror maze at Myrtle Beach. And for me, one is enough.
But that one was so much fun, so I expect this one to be too.
It's not for the faint of heart or anyone with claustrophobia because no matter how confident you are that you can easily escape, there's a good chance you'll find yourself going round and round in circles. At Backstage Mirror Maze you can use kaleidoscope glasses and really assure you won't get out the first try.
Check out Legends In Concert
Legends In Concert (Hwy 17 bypass at 29th Ave North) is a four- or five-tribute artist concert that lasts about 2 hours and 15 minutes, with intermission.
The acts change four times a year, but when we went, the performers were Elvis Presley, Blues Brothers, Dolly Parton, Roy Orbison, and Bruno Mars.
Check out our full Legends In Concert review. And purchase tickets here.
Ride The Simpsons in 4D
If you've never done a 4D ride, The Simpsons in 4D (1199 Celebrity Circle) is the time to do it. It's a 3D movie with special effects, including motion seats. If you do the Simpsons ride, you also get a digital photo with The Simpsons family and that's an awesome keepsake.
Meet "celebs" at the Hollywood Wax Museum
A few years ago, I went to a wax museum with my parents. We had so much fun, way more than any of us expected. So definitely check out the Hollywood Wax Museum (1808 21st Ave. N.) if you have a chance.
Purchase tickets here.
Golf at TopGolf
I wanted to check out the brand new TopGolf (2850 Robert Grissom Pkwy) when we were in Myrtle Beach last time, but we ran out of time.
There are over 70+ climate-controlled hitting bays, restaurants and bars, a rooftop terrace with a fire pit, and more.
Play at Broadway Grand Prix
Broadway Grand Prix (1820 21st Avenue North) has seven go-kart tracks, mini golf courses, a rock wall, an indoor arcade and more.
Broadway At The Beach: Frequently Asked Questions
Broadway At The Beach Address:
1325 Celebrity Cir, Myrtle Beach
Broadway At The Beach Phone:
(843) 444-3200
Broadway At The Beach Hours:
Sunday to Thursday: 11 am to 7 pm
Friday and Saturday: 11 am to 9 pm
Broadway At The Beach Map:
You can view a map of Broadway at the Beach by clicking that link.

If you look at the Broadway at the Beach map on a computer, it's interactive and you can click on each shop. The map isn't as friendly on mobile.
Broadway At The Beach Calendar Of Events:
Check out the calendar before you go so you can see all the Broadway At The Beach events that are happening when you're around. Over the summer, there are fireworks twice a week, so look out for those.
Does it cost money to go to Broadway at the Beach?
Nope. It's completely free to visit Broadway at the Beach. Attractions, dining, and shopping do cost money though.
Which is better Barefoot Landing or Broadway at the Beach?
Barefoot Landing is a shopping area in Myrtle Beach. There are just shops at that location, no attractions like Broadway at the Beach has.

If you just want to shop and stroll, Barefoot Landing is great. If you want more things to do, Broadway at the Beach is for you.
Plan Your Myrtle Beach Trip:
If you're planning a Myrtle Beach vacation, and need some help, you're in luck. We have a bunch of Myrtle Beach, SC posts that will give you some ideas of other things to do in Myrtle Beach.
Which of these 15+ Family-Friendly Things To Do At Broadway At The Beach In Myrtle Beach, SC are you most excited about?