I found a time machine. It's located on 9th Ave N in Myrtle Beach, South Carolina, between Ocean Boulevard N and the Myrtle Beach boardwalk. Sure, it's disguised as a music venue called The Bowery, but I promise you, it's a time machine. When we stepped into The Bowery in Myrtle Beach, we were instantly dropped into 1974 (give or take a few years).
The Bowery (110 9th Ave N., Myrtle Beach) was everything — everything — we imagined it would be.
The Bowery: Myrtle Beach, South Carolina's Oldest Music Bar
Let's start with a little history. The Bowery (110 9th Ave N, Myrtle Beach) — which flies the slogan "Ya Can't Beat Fun" — opened in 1944. World War II was going on, Betty White was unmarried, color televisions had almost a decade before they would be in homes.
All three founding members of the band Alabama — Randy Owen, Teddy Gentry, and Jeff Cook — weren't born.
Twenty five years after The Bowery opened, Alabama was formed. And four years later, Alabama became The Bowery's house band. For seven years, the band tirelessly played six nights a week at The Bowery, working completely for tips.
Alabama signed to MCA in 1980 and the band's stint at The Bowery ended a few months later.
But you can open the door at The Bowery, step inside, and go back to the time when Alabama was a house band and I was only a glimmer in my parents' eyes.
The venue itself is nearly identical to the way it was in 1944, more or less, except for a chicken wire that replaced what was once a solid wall. That chicken wire allows a section of a full bar to overlook the stage at The Bowery.
In that section, you can smoke cigarettes. Just like you could before a gazillion laws went in place to stop you. And you can order off a full bar menu while you take in the tunes.
If you sit in the main room, you can order beer. Water too. And that's it.
The beer, it's $2.75. And it's beer. What kind of beer? Beer that costs $2.75 and comes in a mug. No more questions. Large signs are pinned to posts saying, "Beer. $2.75" and the most attentive waiters and waitresses will serve you that beer in glass mugs all night long.
Yes. All night long.
The Bounty Hunters, who have been the house band for the last two decades and who, like its predecessor, only work for tips, play one long seemingly never-ending set until the wee hours of the morning. On the venue's website, it says its open from "11am until." Until what depends on the night.
The Bounty Hunters don't take a break … unless you count Sundays (the band plays six nights a week, just like Alabama did). It plays one set that starts at 8:30pm and goes until.
On The Bowery's opening night in March, Pete and I snuck out around 11:30pm because our parking meter was up, and we got heckled for dipping.
I bring that up because it was a little bit of extra fun.
Honestly, the whole night was so much fun. The Bounty Hunters are such a good cover band. The band played really well, joked on stage, and made for an entertaining night. The waiters and waitress were on point, ready to grab you another beer before yours even got close to the bottom. You never waited, despite it being a packed house.
Speaking of the staff, according to The Bowery's website, former staffer Scuba Osborne holds the Guinness Book of World Records record for carrying 34 mugs of beer without a tray. Another waiter, "Don't Cry Joe" allegedly holds a record for dancing 5,295 consecutive hours.
Yes. The website says hours. And yes, 5,295 hours is over 220 days, which is approximately 31 weeks. And I don't can't imagine how someone could dance for nearly a full pregnancy.
I tried, in vain, to verify these claims — and the closest I got was that a woman from Nepal holds the dancing record at 126 hours, over five days, so I'm thinking The Bowery's website meant minutes because 5,295 minutes is 88 hours and that seems reasonable, all things considered.
But let's pretend "Don't Cry Joe" did dance for 7-and-a-half months because really, that just adds to the mystique that is The Bowery.
It's a tourist attraction, without being a tourist trap. It's a local dive bar that you instantly make your stomping grounds. And it's somewhere you can sit, have a beer, and time travel back a few decades.
If you're in Myrtle Beach, but too early to check out the always free concert at The Bowery, you can check out Duffy's at The Bowery. It's a bar/restaurant that boasts lousy food and bad service, but it actually has good food and great service.
We were there before The Bowery's season opened and the bartender was incredibly kind to us, even taking Pete into The Bowery for a personal tour. The couple sitting next to us had met at a show at The Bowery over four decades before and there's actually a photo of the on the wall of the venue.
The customers keep coming back, but so do the staff. The bartender was telling Pete about staff that had been working there for decades, almost as long as the bar has been around. With loyalty like that, you can see why The Bowery is Myrtle Beach, South Carolina's oldest music bar, why it celebrated 75 years in 2019, and why it'll probably be around (at least) another 75 more.
Save at The Bowery
You can save at The Bowery when you purchase a Restaurant.com certificate for the restaurant. Click that link and you can get a $10 certificate for $4, a $15 certificate for $6, or a $25 certificate for $10.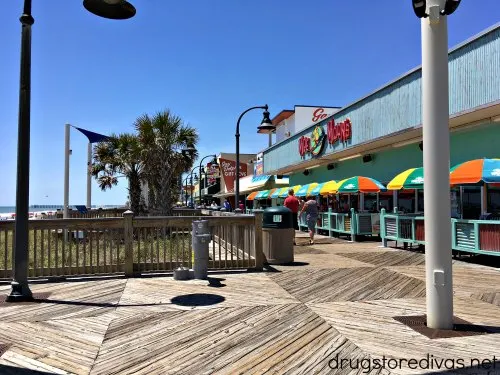 Traveling to Myrtle Beach?
If you're heading to The Bowery in Myrtle Beach, SC, you may want to check out the town when you're in the area. These posts, of things to do in the area, can help you plan your trip: