If you're planning a trip to Charleston, SC, you might get overwhelmed with the amount of restaurants there. But don't worry. Our list of The Best Bites In Charleston, SC will help you decide exactly what you should eat in the Holy City.
For more help planning your trips, check out all of our travel posts.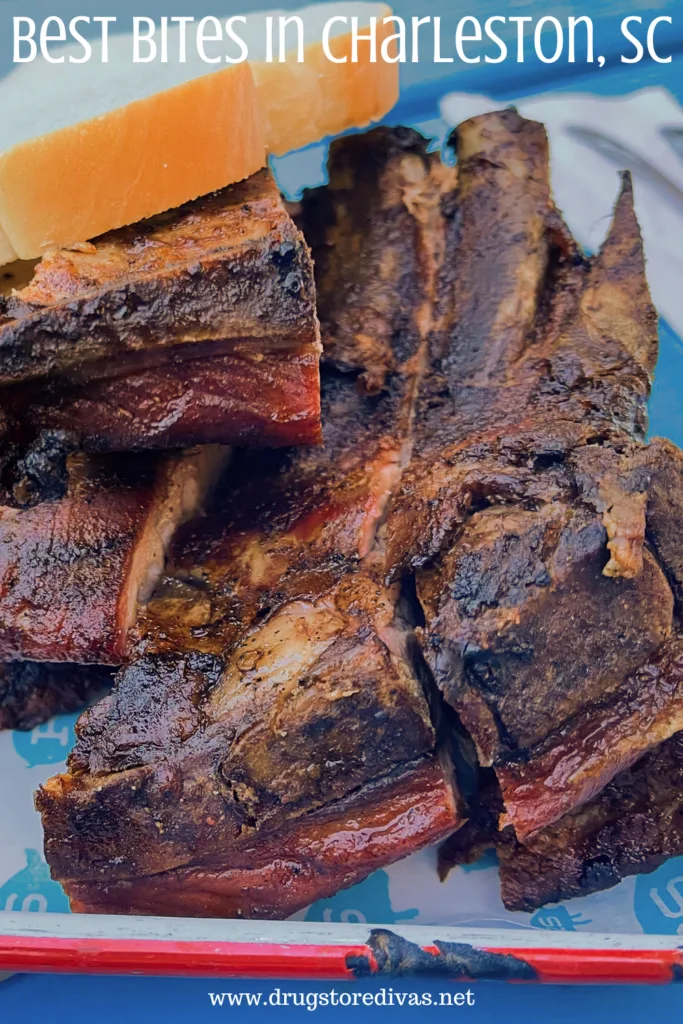 I love food. I love going to a new town and finding some new restaurants to enjoy. And then I fall in love with those restaurants and have to go back to them every time I'm in town.
That's me and Rodney Scott's BBQ in Charleston. It's where I always want to eat dinner every time I'm in town.
There are a lot of restaurants in Charleston, and if you're going on vacation, it's overwhelming. You don't know where to eat in Charleston. Don't worry. This list can help. It's filled with the Best Bites In Charleston, SC.
These, of course, are my best bites … like specifically bites. It's not a list of restaurants in Charleston that you need to try, which is what a lot of other lists are. No, this is specifically the exact bite of food that you should have at the specific restaurant mentioned.
And, just a side note, but we have no affiliation with any of the restaurants we've listed. They don't even know they're in this list. They're just places we've gone, spent our money at, and really enjoyed.
If you're planning a trip to the Holy City and need some help planning more than just what you're going to eat there, you're in luck. We have a great list of things to do in Charleston, SC.
Best Bites In Charleston, SC
Affiliate links are included in this post and Drugstore Divas may make a small commission if you use them.
Chicken Taquitos at Taco Boy
The chicken taquitos appetizer at Taco Boy is one of my favorite bites of foods of all time. It's that good.
I'll be honest. There's nothing that special about taquitos, right? Pulled chicken inside a rolled corn tortilla that's deep fried. Pretty simple. But, if you do simple to perfection, it's perfect. And that's what these are.
They're topped with a green chile sauce that's so creamy, it's like a creamy guacamole. And then it's drizzled with a crema and a salsa cruda that are both delicious in their own ways.
Taco Boy also has a bunch of tasty tacos (hence the name) on its menu, some of which are common (like the Taco Americano with ground beef), some of which are trendy (like the Birria taco, which I made Pete try because of TikTok), and some that I thought I would love, but didn't (the Tempura Avocado taco just didn't hit the mark with us).
There are also quesadillas, fajitas, and drinks on the menu. Plus dessert. So there's something for everyone.
Address: 217 Huger St
Phone: 843-789-3333
Hours: Daily: 10 am to 10 pm
Website
Ribs at Rodney Scott's BBQ
The ribs at Rodney Scott's BBQ are amazing. Ah-mazing. Like, if you only eat one bite of food in Charleston, let it be the ribs at Rodney Scott's. And I'm saying this to you as someone who generally does not enjoy ribs.
How much do I not enjoy ribs, you ask? Small sidebar, but we tried 10 different barbecue vendors as part of the People's Choice at the SC Festival Of Discovery this year. The winner was a vendor that gave out pork ribs as its sample. I hated it. And that was considered the best barbecue vendor in all the land that day.
Anyway, back to Rodney Scott's. These ribs are amazing. They have a really nice bark, the meat falls off the bone, and they have such a good flavor (mostly smoky, sort of sweet, and the perfect balance). They inspired me to write a full Rodney Scott's BBQ review because I loved them that much. There is a lot of barbecue in Charleston, but Rodney Scott's is the best (in my — and my dad's — opinion, anyway).
Rodney Scott's sells a lot of other typical southern barbecue items, like pulled pork and collards and hush puppies. So you can order other items besides the ribs. But, why would you?
Address: 1011 King St.
Phone: 843-990-9535
Hours: Daily: 11 am to 9 pm
Website
Goat Cheese Biscuit at Callie's Hot Little Biscuit
There's a very good chance Callie's Hot Little Biscuit products are sold in your grocery store's freezer section. You may have never seen them because, well, why would you if you're not looking. But if you're in Charleston, you should definitely look for them. There are actually two Charleston locations, so you can easily find Callie's.
But what you might not easily find is the goat cheese biscuit that I'm in love with because it was on special when we were there in December. And I'll be so very sorry for you if you go and it's not available.
It's Callie's famous buttermilk biscuit, sliced in half and filled with goat cheese, arugula, and blackberry jam. Oh my gosh. The combination is divine (and my non-arugula loving mother agreed).
If you can't find it at Callie's, you can order Callie's Hot Little Biscuit products online (either as a mix or as fully made biscuits that you just warm up). Then, add the goat cheese, arugula, and jam yourself).
Address: 476 1/2 King Street | 188 Meeting Street (in City Market)
Phone: 843-737-5159 (King Street) | 843-577-8900 (Meeting Street)
Hours: Daily: 8 am to 2 pm (both locations)
Website
Olde Colony Bakery Benne Wafers
Every time I go to Charleston, I come home with bags of benne wafers. When Pete and I went a couple summers ago, I came back with six bags because I knew we wouldn't be going back for a while.
The only place you can get authentic benne wafers is in Charleston. The sweet sesame seed cracker cookie was brought to the Low Country with from East Africa with the slave trade (which is a huge part of Charleston's history and, which, surprisingly the city is very open and honest about).
There are a couple knock off brands, but if you're going to Charleston, you want to get the benne wafers from Olde Colony Bakery. They're the "only existing original Benne Wafer recipe" (according to the brand's website), and they're the best (according to me, who has tried no less than three brands of benne wafers in Charleston).
If you can't get to Charleston, you can order the Olde Colony Bakery benne wafers on Amazon and Etsy. If you're in Charleston, I always get them in the Charleston City Market at the Historic Charleston Foundation store.
Beignets at Eli's Table
If you've been hoping to get to New Orleans, but you only got as far as Charleston, you can't get Café du Monde coffee, but you can get beignets at Eli's Table. And you should.
The restaurant itself is pretty fancy. I mean, one of the entrees is New Zealand Rack of Lamb for $48. And while I'm all about splurging on food when you're on vacation, that's a little much (even if the accompanying goat cheese mashed potatoes sound heavenly).
But, don't be intimidated by the fine dining set up. Walk inside, hold your head high, and get yourself an order of beignets. They come with the most decadent berry coulis, which, honestly, I would put on everything if I could — bagels, toast, drizzle it on ice cream, anything.
The beignets come in an order of four or five (depending on the size, not depending on your choice). So you can definitely share them. And, if you want to sit and share them, there's a bench right in front of Eli's Table, so you can eat them fresh right there (that's what we did).
Address: 129 Meeting St.
Phone: 843-405-5115
Hours: Daily: 9 am to 10 pm
Website
Hush Puppies at Hyman's Seafood
Hyman's Seafood does a lot of good. Like good in the world. Hyman's will feed any homeless person during operating hours, no questions ask. Places like that deserve all the business, all the money.
And give them your money and business and buy the hush puppies. I don't know what magic makes those balls of fried goodness because they have no business being that good. Usually, I can pass on hush puppies. They're not my southern side dish of choice. But these (which are sold in a basket) are the perfect balance of sweetness and grease and breading. Magic, I tell you. Magic.
Hyman's Seafood also sells seafood, soup, and salad … plus poboys and tacos (which can be filled with the same items, which you don't generally see on menus, like salmon croquettes and Buffalo oyster).
Address: 215 Meeting St.
Phone: 843-723-6000
Hours: Sunday to Wednesday: 11 am to 9 pm; Thursday to Saturday: 11 am to 10 pm
Website
Where to stay in Charleston:
The last time we stayed overnight in Charleston, we stayed at the Hyatt House Charleston/Mount Pleasant, which is just a few minutes outside of Charleston proper. The hotel has a great breakfast and we didn't have to pay Charleston prices to stay there.
If you want to stay in Charleston proper, these hotels are right in the heart of downtown:
Things to do in Charleston:
If you're coming to Charleston, you definitely want to check out The Old Exchange & Provost Dungeon, a very cool downtown museum that will help you learn the history of Charleston.
And, if you're visiting in December, check out all these Christmas Things To Do In Charleston, SC.
More food near Charleston:
When you're in the area, don't forget about Smokey Bones. It's in North Charleston, so a little bit of a drive from Charleston proper, but it's a great stop on your way in or out of town.
Find out more about it in our Smokey Bones Bar & Fire Grill review.
Which of these Best Bites In Charleston, SC looks like something you want to try?