Before you head out for a chicken sandwich, check out The Best Fast Food Chicken Sandwich Rankings … from Hardee's to Bojangles, and more.
For more reviews, check out all our restaurant reviews.
When my brother came to visit a couple months ago, we took my dad on a "chicken crawl." We went to a bunch of joints that sold chicken sandwiches to come up with our fast food chicken sandwich rankings.
Our gold standard is the Bojangles Bo's chicken sandwich. We were, luckily, in a test market for it and have been able to enjoy it for about a year at this point.
Now that Bojangles finally rolled the chicken sandwich out nationwide, I feel like I can post our rankings. It didn't seem fair that a sandwich that wasn't accessible to everyone could top the list.
And yes, I know not every fast food restaurant is in every location, but we did our best to cover as many as we could.
Our standard order was a spicy chicken sandwich. Some fast food restaurants offer a deluxe version, with lettuce and tomato, but we didn't upgrade. We stuck with the pickle-only version, which is basically every restaurant's copycat version of the Popeye's Chicken Sandwich that started this whole craze.
And, we made sure to try the fast food chicken sandwiches that are similar to that Popeye's sandwich. The ones that were on the menu before this, that are chicken patties on the bargain menu, were not what we were using in this ranking.
Most of the chicken sandwiches are a breaded chicken breast, fried, and put on a bun with a pickle. Some vary with how they incorporate the sauce/spice.
Every fast food restaurant but Hardee's offers a spicy version, so that's the only one where we had to get it plain.
And we all enjoy spice, so that was a level factor in our rankings.
The Best Fast Food Chicken Sandwich Rankings
Affiliate links are included in this post and Drugstore Divas may make a small commission if you use them.
Unlike the majority of our lists, this one is actually in order. We start with our least favorite chicken sandwich and end up with our top fast food chicken sandwich.
Although, for what its worth, I usually order a fried chicken sandwich nearly every time we go out to dinner. My favorite was at a local restaurant in Leland, NC until it was taken off the menu. My new favorite is the Nashville Hot Chicken Sandwich at Excalibur Hotel & Casino in Las Vegas.
Hardee's chicken sandwich looks delicious in the commercials. A huge piece of chicken on a buttery bun. We were excited to try it.
But advertising can be deceiving. And in this case, it was.
Hardee's doesn't offer a spicy version of its sandwich, which should have been our first indication that we were not in for a treat.
The chicken breast was tiny and only filled up two-thirds of the bun. My dad thought that the restaurant might have just used its hamburger buns on the chicken sandwich and that's why they didn't fit.
We could have looked past that if the sandwich was good, but it wasn't. The chicken was small and dry and lacked any seasoning. Save your money and avoid this.
McDonald's is lucky Hardee's came out with a subpar sandwich because for a long time, McDonald's was on the bottom of my list.
Back in 2016, McDonald's tried to lure some of the fast casual customers to its fast food establishment with its Signature Collection. Three delicious top tier varieties were on that menu, and McDonald's topped either a burger or a piece of chicken with things like pico de gallo, served on a really great brioche bun.
The restaurant should have used that bun with its new chicken sandwich. Instead, it uses an incredibly soft bun. And the batter on the chicken is not crunchy like the other fast food restaurants. So each bite of McDonald's chicken sandwich is soft and really boring.
There's no texture, nothing interesting in the bite. But, at least the chicken fills the bun. So that gives it an edge over Hardee's.
7. KFC Spicy Classic Chicken Sandwich
KFC put out a decent chicken sandwich. There's nothing discernibly bad about it. It isn't small and dry, like Hardee's, and it isn't texture-free, like McDonald's.
But just because it's not bad doesn't mean it's good either. It's pretty middle of the road. The chicken is moist, the breading is crunchy, the bun is fine.
The trouble with KFC's chicken sandwich, and why it ranks so low, is the fact that KFC is a chicken place. And it should do chicken the best. That's its thing, right? And by doing a mediocre sandwich, even if its done well, is not good enough.
KFC's chicken sandwich is the Kourtney Kardashian of chicken sandwiches … the least interesting to look at.
Popeyes chicken sandwich started this whole craze, which is great for people like me who almost solely orders chicken sandwiches. This sandwich made everyone elevate their game and for that, I'm grateful.
It's a good sandwich. The spicy sauce is tasty and the chicken was juicy.
But, was it worth all the hype? No. Was it worth people getting killed over? Absolutely not.
We actually tried the spicy and regular here, during the sandwich's peak, and waited 45 minutes on line for it.
We liked them, but there wasn't much of a difference between the spicy and the regular. Pete has a spicy marinara sauce that he sells at the local farmers market. When people ask if its spicy, I always say, "It's mellow for the masses." That's how Popeye's spicy chicken sandwich is. There's a spice to it, but it's not spicy like you would expect from a Louisiana-based establishment.
I give Popeyes a lot of credit for blowing up the fast food scene with its chicken sandwich, but a lot of other fast food restaurants have blow it out of the race.
Culver's ranks high on the list because it does what Bojangles does (spoiler alert) and puts the spice in the batter, not as a sauce. That makes for a better sandwich eating experience because you get all the flavor without the mess that the sauce can bring.
The chicken breast patty at Culver's is really large, larger than the bun (take note, Hardee's).
The batter around the chicken is as crunchy as it is flavorful.
Where the chain varies from the rest of the pack, though, is that its standard sandwich comes with lettuce. This is the only one that doesn't just offer a pickle as its sole topping.
The lettuce isn't why it ranks high on the list, though, it's the batter.
It is the priciest of all the chicken sandwiches on the list, which was a tiebreaking factor between it and the sandwich right above it.
Burger King was so close to ranking higher on this list. And for a minute, it did. There was a dead heat between Zaxby's and Burger King for completely different reasons.
Burger King's sweet, buttery bun is so good. It perfectly offsets the spice in the chicken sandwich and that combination shot Burger King to near the top of the list.
And if I only ever ate Burger King's chicken sandwich once, it would have stayed there.
But I had it again. And again. And there's no consistency there, which is really one of the key points of a fast food chain. Regardless of if you buy a sandwich is California or Connecticut, it should taste the same.
But it doesn't.
The first Burger King chicken sandwich we had was moist, but all the others since have been pretty dry. The bun is soft and tender, and helps make up for the chicken's inconsistency. But the dry chicken did knock it down a few pegs (and this is coming from someone who actually prefers dry chicken).
Burger King's fall is Zaxby's gain because the two had been in a dead heat during our chicken crawl.
My brother tied them both in his rankings, refusing to pick one over the other. My dad enjoyed them both equally as well, although when I told him I needed a tiebreaker, he said he would choose Burger King because it's $1 less than Zaxby's.
And my tiebreaker was the bun. Burger King's bun was better than Zaxby's, but Zaxby's chicken was better. But Burger King's bun was not enough to keep it ranked higher after two dry sandwiches.
Zaxby's is the largest, most generous chicken portion of all the sandwiches. Height wise, it's nearly double the patty you get at McDonald's.
The white meat was surprisingly moist and the breading is really crunchy. You definitely get your money's worth with this sandwich, even though it was the most expensive on the list.
It almost — almost — cracked the top two. And would have if it had a more interesting bun. But it didn't. And so it rounds up the metals at third place.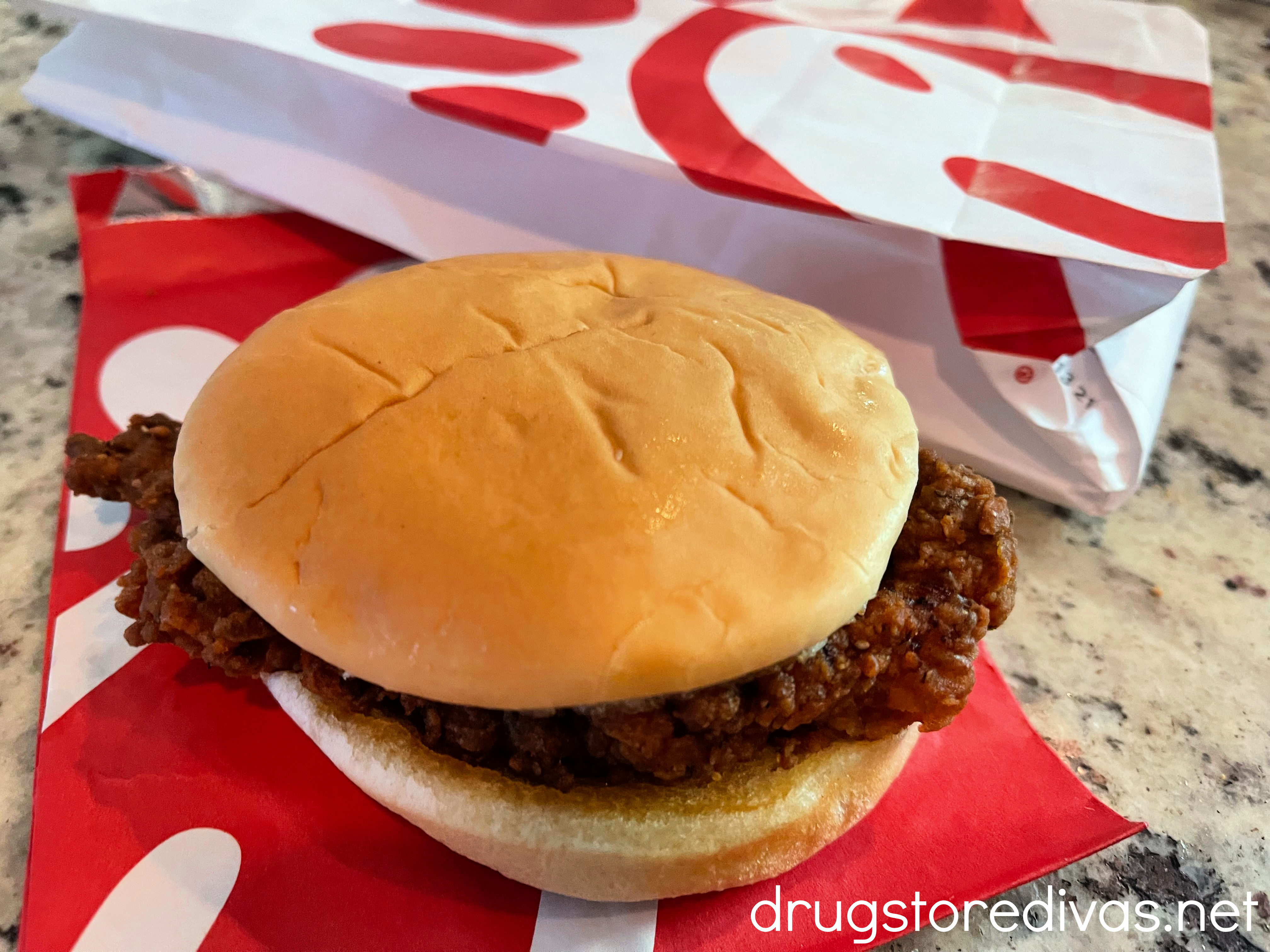 Chick-fil-A's chicken sandwich is so, so good. But, here's why.
Chick-fil-A's sandwich isn't fried. It's pressure cooked, just like Royal Farms Chicken, which is the best gas station chicken you'll ever eat.
Cooking the chicken in a pressure cooker, rather than a fryer, gives it a great taste and texture without all the oil of frying. It might be the secret to keeping breading crunchy and fresh longer, but I'm not sure.
Whatever it is, it's delicious. The breading is so crunchy, and the bun is so sort, giving each bite an incredibly texture.
Be aware, though, that the spicy version is actually spicy. And this is coming from someone who likes spice. It's not "mellow for the masses" like Popeye's spice. It's actually spicy, and the spiciest of all the ones on the list. And that spice is why it just edges out Zaxby's, which was delicious but just missing that little zing.
And … the moment you've been waiting for … the number one fast food chicken sandwich: Bojangles.
Bojangles was the top and we compared each of them to Bojangles, trying to dethrone the king. But it was impossible.
The spice of the sandwich is in the batter, like Culver's, not as a sauce, like many of the others. Because the spice is in the breading, that makes it a true spicy chicken sandwich as opposed to a chicken sandwich that can become spicy with a condiment.
But, Bojangles doesn't stop its flavor there. It adds a zesty mayo, so you get the added texture and dynamic that the sauce brings, but all the flavor isn't reliant on a sauce.
Bojangles chicken sandwich, like Zaxby's, is a large portion of chicken (height wise) and it fills the bun (unlike Hardee's).
The breading is really crunchy, like Chick-fil-A, and the bun has a lot of integrity (unlike McDonald's) and doesn't fall apart.
Plus, it's the same price point as the Burger King sandwich (and $1 less than Zaxby's), so you're not even paying more for a superior sandwich.
It has all the qualities we liked in the other sandwich, combined into one.
Now that it is rolled out nationwide, order it. Your stomach will than you.
Fast Food Chicken Sandwich: Frequently Asked Questions
What is the best selling chicken sandwich?
This list is our rankings, based on our taste buds. But, what does America say?

Chick-fil-A outperforms every other fast food restaurant, according to this article. It did fall to second place when Popeyes came out and everyone was flooding that restaurant. But once the hype died down, Chick-fil-A reclaimed its top spot.

But, why do we answer the "Which fast food has the best chicken sandwich?" question with Bojangles if it's not the top selling chicken sandwich nationwide?

First of all, it was just released nationwide this month (previously it was in test markets only). Second, Chick-fil-A has way more restaurants. Chick-fil-A has almost four times the amount of restaurants as Bojangles (the most recent numbers we can find is about 760 Bojangles restaurants to 2,400 Chick-fil-A franchises). So it's almost impossible for Bojangles to outsell Chick-fil-A.
What is the most popular fast-food chicken?
According to QSR magazine, this answer is also Chick-fil-A.
More Fast Food Chicken Reviews:
There's other good fast food chicken out there, even if it doesn't come in a proper chicken sandwich form. Be sure to check out our other fast food chicken reviews:
Order Chicken Sandwiches Online:
If you're hungry for chicken sandwiches now, you can easily order them online with the following delivery services:
What do you think of these fast food chicken sandwich rankings? Where did your favorite compare to ours?