This gifts for gamers gift guide is the best gifts for Nintendo fans, Sega lovers, PC gamers, and others. There are lamps, shirts, coasters, and more.
For more ideas of what to buy, check out all of our gift guides.
A few summers ago, Pete's dad sent him his old Game Boy from 1989, and it has brought back so many memories. That was sandwiched between Netflix releasing two gamer-related documentaries: The Speed Cubers (about the Rubix Cube and friendship and had me crying the whole 40 minutes) and High Score (about video games, which had us nostalgic). So games had been on our mind that summer, and so had this Gifts for Gamers gift guide.
The list is filled with cool gifts you can get for the people in your life who like playing video games. There are t-shirts and socks and drinkware, things of that nature.
None of these items are things to improve their gaming experience, like a gaming chair or a VR headset, because honestly, gamers know exactly which chair is the most aerodynamic for RPG's.
We don't know that. Our Game Boy doesn't require much more than a couple batteries to be playable at its optimum.
So, these are gaming-related gift ideas that are more generic. They might not be the best for serious gamers, but they're great options for casual gamers.
This gaming gifts list is just one of our many gift guides on Drugstore Divas. Be sure to check out our full list of Holiday Gift Guides for more ideas and help shopping this holiday season.
Top 20+ Gifts For Gamers
Affiliate links are included in this post and Drugstore Divas may make a small commission if you use them.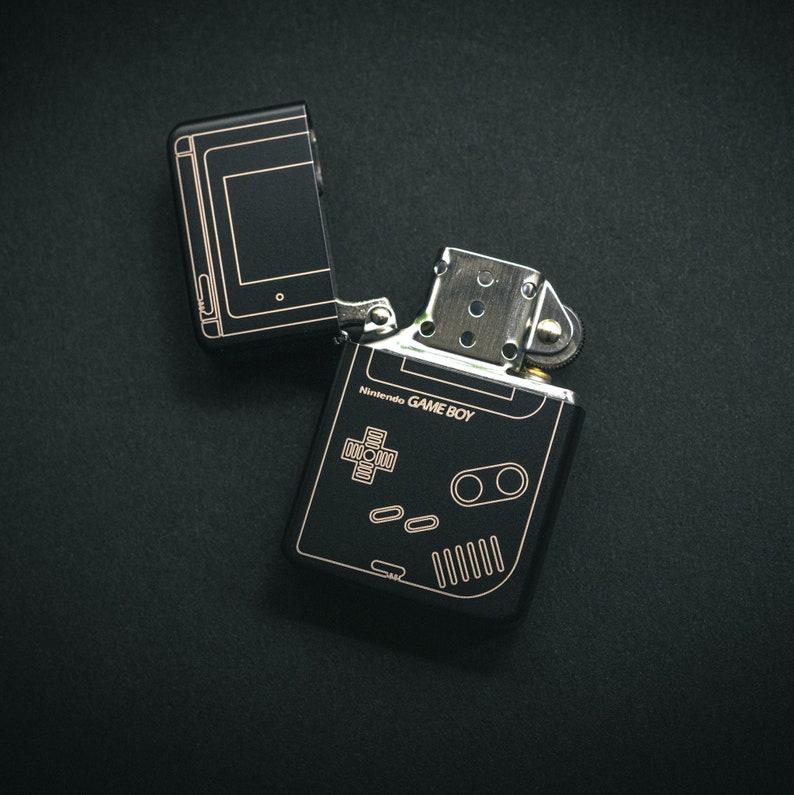 Engraved Nintendo Game Boy Flip Lighter
If you know have a gamer friend who smokes (or just lights fireworks or candles, whatever), this Engraved Nintendo Game Boy Flip Lighter is the perfect gift idea. It'll be such a fun talking piece when he pulls it out of his pocket. Plus, it looks cooler sitting out on a table than a plain lighter does.
What's really fun about it is the back of the lighter is also engraved to look like the back of a Game Boy, so that's really cute.
Super Mario Bros. Lamp
I love this Super Mario Bros. lamp because the lamp itself is really cool. It has a scene from Super Mario that wraps around the entire lamp shade.
But the best part about it is that the lamp is attached to an NES controller. That adds to the retro fun of this lamp.
Playstation Controller Alarm Clock
If your gamer is a Playstation fan, he'll love this Playstation Controller Alarm Clock.
The clock itself looks exactly like one of the wireless controllers from the Playstation consoles. So that's a lot of fun. Plus, that makes it the perfect clock for the game room.
D&D Decorative Wood Coasters
Gaming doesn't just mean video games. It means your favorite games.
Dungeon & Dragons players are gamers too. So of course, these D&D Decorative Wood Coasters are a great gift for D&D players. And that 20-sided die coaster is amazing (and honestly, the reason I added them to this list).
Donkey Kong Wall Clock
This Donkey Kong Wall Clock is so eye-catching. It'll be so bold on the wall in your gamer's room. The full Donkey Kong Wall Clock is a 12-inch circle, so you'll be able to tell time even from the other side of the room.
Plus, maybe having a clock in the room will stop the gamer from those long hours spent playing games since, well, now he can easily keep track of that time. Okay. Probably not. But it's worth a try.
Mario Kart I Have No Idea What I'm Doing Shirt
I'm crying over this Mario Kart "I Have No Idea What I'm Doing" Shirt. Mostly because I really have no idea what I'm doing when I play Mario Kart. I'm always driving off the road, flipping on my own bananas, coming in last place. So really, this shirt is me. It also has a double meaning, which is funny too.
Keep in mind that Mario Kart is on pretty much every Nintendo device, including the Nintendo Switch, so you can get this for every family member in your home (from your smallest to your parents; everyone has played this).
Space Invaders T-Shirt
For old school gamers, this Space Invaders T-Shirt is absolutely perfect. It features four of the space invaders from the classic game in their original byte form.
You can choose men's, women's, or youth sizes and 10 different colors.
Super Mario Color Changing Mug
This Super Mario Coloring Changing is the perfect glass for your gamer.
When it's cold, it looks like a scene where Super Mario had gone down a tunnel. When it's warm, you get an above ground scene from the game. That's awesome.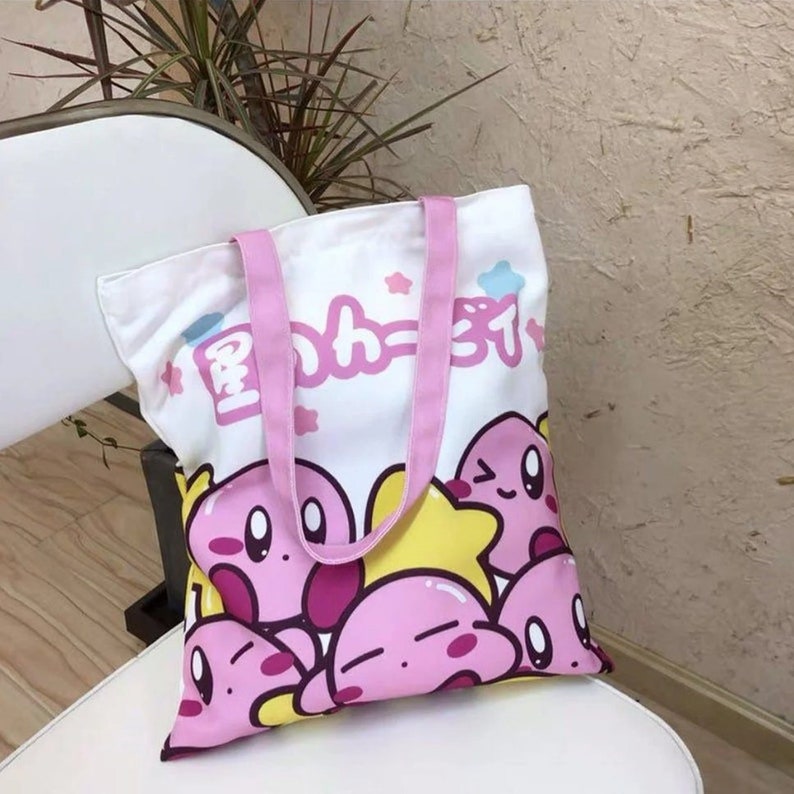 Kirby Tote Bag
I never played Kirby, so really, all I know about him is he's a cute, pink puff ball. And he looks super cute on this Kirby Tote Bag. I have no idea what it says above the Kirby figures on the tote bag and I don't even care.
If your gamer has regular game nights, this tote bag is a great place to pack any papers, writing utensils, cards, an extra controller, or whatever gaming accessories your recipient has to bring from one place to another.
Classically Trained T-Shirt
If your gift recipient is around my age, there's a good chance that one of his first forays into video games was NES. So this Classically Trained T-Shirt is really the right gift for him because it'll hit him in the feels.
It comes in men's, women's, and youth sizes and five different colors.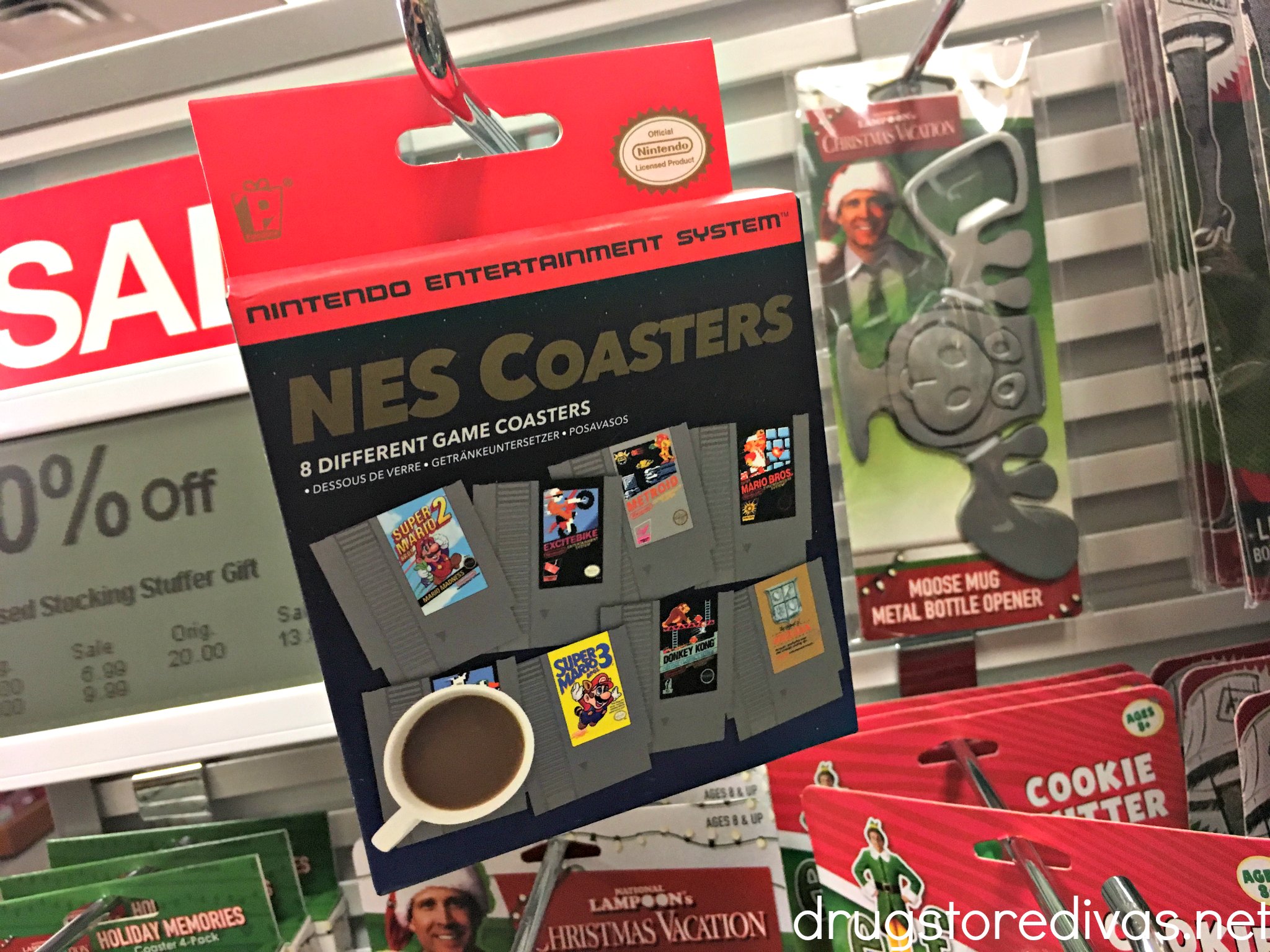 Nintendo Cartridge Coasters
I actually bought these Nintendo Cartridge Coasters for my brother for Christmas last year. The package comes with four coasters with Nintendo Cartridge images printed on both sides. There's all the Marios, Zelda, and more.
This is a really adorable way to save your coffee table.
Super Mario Warp Can Cooler
We have a lot of can coolers in this house, but I would throw almost all of them away and pick up a dozen of these Super Mario Warp Can Coolers. I love the boldness of the colors, but the low-fi graphics.
It can hold cans or bottles, so no matter what your gamer drinks, this can cooler can hold it. Coozies like this help keep drinks cool for a long time, which is great if your gamer likes to play games for hours on end. That way, her drink will still be cold when she finally beats a level and stops to take a sip.
Eat Sleep Game Sweatshirt
This Eat Sleep Game sweatshirt speaks to gamers. All they really want to do is eat sleep game. Okay no. All they want to do is game. They eat and sleep because they have to.
This sweatshirt has a generic controller on it in the "game" box, so no matter which of the video game consoles your recipient likes, they'll like this gift.
Pokémon Pokeball Mug
I'm still a big fan of Pokémon Go. Honestly, mobile games are really the only type of game I play. So I love this Pokémon Pokéball Mug.
The mug holds 12 ounces of liquid, which is the perfect amount for coffee. Or chocolate milk. Whatever your gamer likes.
I Went Outside Once The Graphics Weren't That Great T-Shirt
When I was looking for good gifts for gamers, this quote kept coming up. Over and over and over. But it wasn't until I saw this specific I Went Outside Once The Graphics Weren't That Great t-shirt that I decided to include it on this gifts for gamers list. It's the 8-byte house and cloud that really did it for me.
So this shirt is a great choice for someone who plays older games, not someone who grew up with something like Call of Duty where the graphics look like a movie.
Playstation Drink Coasters
If your gamer is a Playstation fan, he'll love this set of Playstation Drink Coasters. The Playstation Drink Coasters are metal, which makes them a really good gift.
Plus, they're a really great way to save your living room table from getting ruined from drinks.
Retro NES Controller Throw Blanket
It's gonna get cold in the game room, especially in winter. And, so there's no better time to better way to warm your gamer up than this Retro NES Controller Throw Blanket.
It's 4-feet by 5-feet, so that's a really nice size blanket.
The Game Room Sign
So many shirts had the words "I don't grow up, I level up" on them and I didn't like them. But when I found this The Game Room Sign and it had the same words, suddenly, it felt like the slogan was somewhere it made sense.
The game room is the best place to hang this sign, obviously, so hopefully your recipient has a designated gaming area for it.
Pac Man Ghost Shot Glasses
I'm obsessed with these Pac Man Ghost Shot Glasses and I don't even do shots. I just want to put them in our curio because they're so eye catching. And someone can use them for shots.
Just not me.
Mike Tyson Punch Out Socks
I buy Pete a pair of socks every year for Christmas. And this year's Christmas gift will (most likely) be these Mike Tyson Punch Out Socks.
We spent so much time playing Punch Out last year and got completely stuck at Mr. Sandman. IYKYK.
Sonic The Hedgehog Funko Pop
The game room needs at least one Funko Pop, and our gifts for gamers list needed at least one Funko Pop too. So I had to include this Sonic The Hedgehog Funko Pop.
Plus, he looks like he would throw that gem at me if I didn't.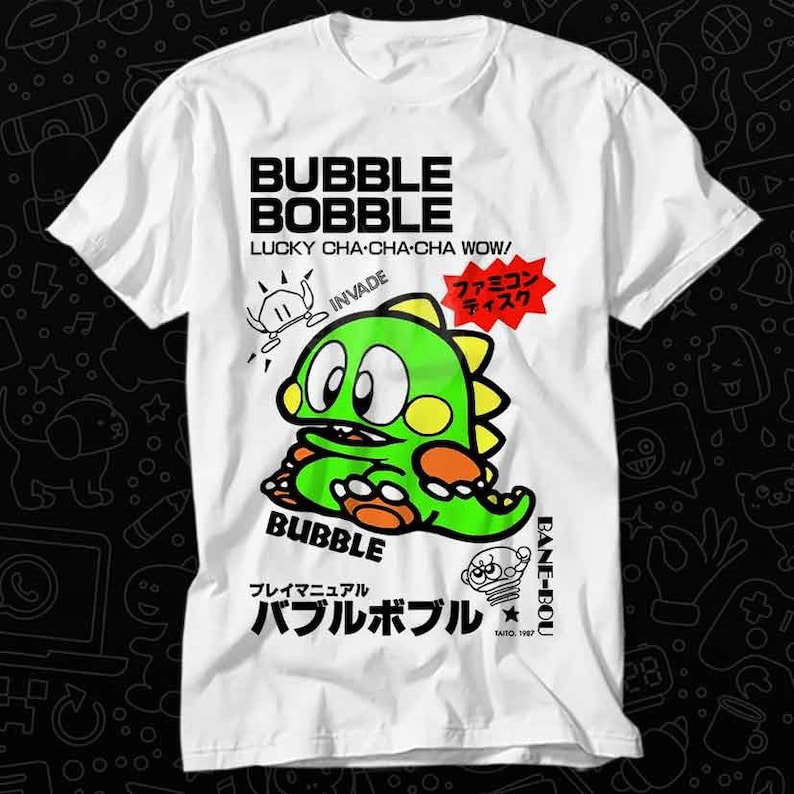 Purchase Gifts For Video Gamers Online:
This list is filled with our favorite gamer gifts. But, there are so many other gifts for video game lovers out there, like the Bubble Bobble shirt above.
Side note: Bubble Bobble is one of the best games ever made for Nintendo. So if you haven't played it, you need to. We bought a copy at Fayetteville Comic Con a few years ago and it warmed my nostalgic heart.
Be sure to check the following stores online for other ideas to help you finish your holiday shopping list.
And, of course, when you shop online, be sure to hit the minimum for free shipping or choose in store or curbside pickup to avoid shipping charges.
More Gaming Gift Ideas:
If you're looking for more ideas of what you should get your video game lovers, check out our list of the The 10+ Best Super Mario Gifts too.
And don't forget about board games. Those players are gamers too. So check out our list of 20 Board Games For Families To Play Together.
Which of these Top 20+ Gifts For Gamers is your favorite? Let us know in the comments.