This Gas Grilling Tips For Beginners post is sponsored.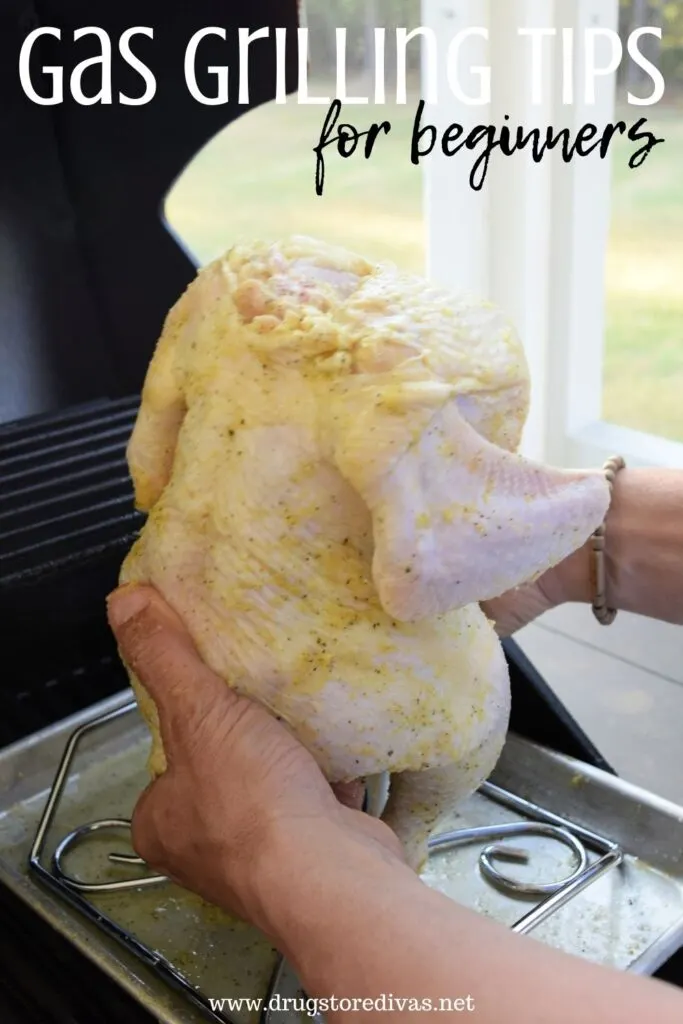 When we moved into our new home, one of our first purchases was a charcoal grill. Pete wanted one so badly and was excited that we now had a backyard to grill in. Because we were living in an apartment for three years before we bought the house and that didn't offer us any space for a grill.
Personally, I never used it myself.
Oh, if Pete was already grilling on it, I would throw something like our foil-packet vegetables on the grill, but I never used it for weeknight dinners. It was too much of a hassle and took too much time.
We got a new (to us) gas grill last year and it has been a game changer. I grill at least once a week on it.
Of course, if you're starting out, there are a few gas grilling tips for beginners that will help you.
Two things about this post.
One: Some of the grilling tips are basic, especially if you've grilled before, but this post is really geared towards beginners who have eaten grilled food, maybe been in charge of flipping the burgers once, but never cooked start to finish on their own.
Two: This post focuses on a gas/propane grill. You can apply some of the tips to a charcoal grill, but we are really keeping this to gas grilling since it's easier for beginners.
Gas Grilling Tips For Beginners
Light the grill with the lid open
For all grills, you start with the grill open. Do not ever light the grill with the lid closed. If you do that, the grill can potentially explode because of all the gas that's filling inside with the lid closed.
You don't want an explosion, so if you remember nothing else from this post, remember to light the grill with the grill open.
Turn the propane on
Just like the oven, a gas grill needs to be turned on. And so, you may think that all you need to do is turn the dial on the gas grill and it's on. Just like the oven.
It doesn't work that way.
Unlike the oven, which is constantly on, a grill is not. So you have to light it.
You have to light it with the lid open. Don't forget the first tip in this post.
It's not like lighting a charcoal grill, where you need a lighter, coals, and lighter fluid. With a propane grill, you need to turn the propane on first. It will be located below the grill grates somewhere. There are two main areas where the propane tank will be located. It'll either be behind the two doors in the front of the grill or to the side of the grill. There is a silver dial on top of the propane tank that tells you which way is open/on and which way is closed/off. Twist it in the correct direction and you're getting started.
There should be directions on the grill's door that tell give you directions on how to actually light the grill once the propane is on. You're going to want to read that to assure you're turning on the grill properly.
Speaking of the propane tank, it can (and will) eventually run out and you'll need to refill it. Be sure to watch this video on how to check the propane level on an LP tank to learn how to check that.
Pre-heat the grill
Like an oven, you're going to want to pre-heat the grill.
A grill can come up to temperature very quickly … and then keep going. So you want to keep an eye on it and help it to stay steady at your ideal cooking temperature for about 10 minutes before you start cooking your food.
To heat the grill, turn the dial up to high to start to get the temperature to rise. Once it does, you can turn it down to low or medium (depending on where you need the grill at) to keep it from overheating.
Don't be intimidated. It's a lot easier to keep a gas grill at a consistent temperature than it is to keep a charcoal grill at a consistent temperature.
Cook room temperature food
With the exception of burgers, which you should cook from frozen, the majority of the food you grill should be put on the grill at room temperature.
It doesn't have to be, but the food will cook more evenly that way.
Keep the grill closed
When you're cooking, keep the grill closed.
You might want to peek at your food, especially since you're new to grilling to make sure it's cooking properly and not burning.
Avoid the temptation.
You will lose so much heat when you open the grill, even just to peek at the food. And that will throw off your cooking time as well as your temperature.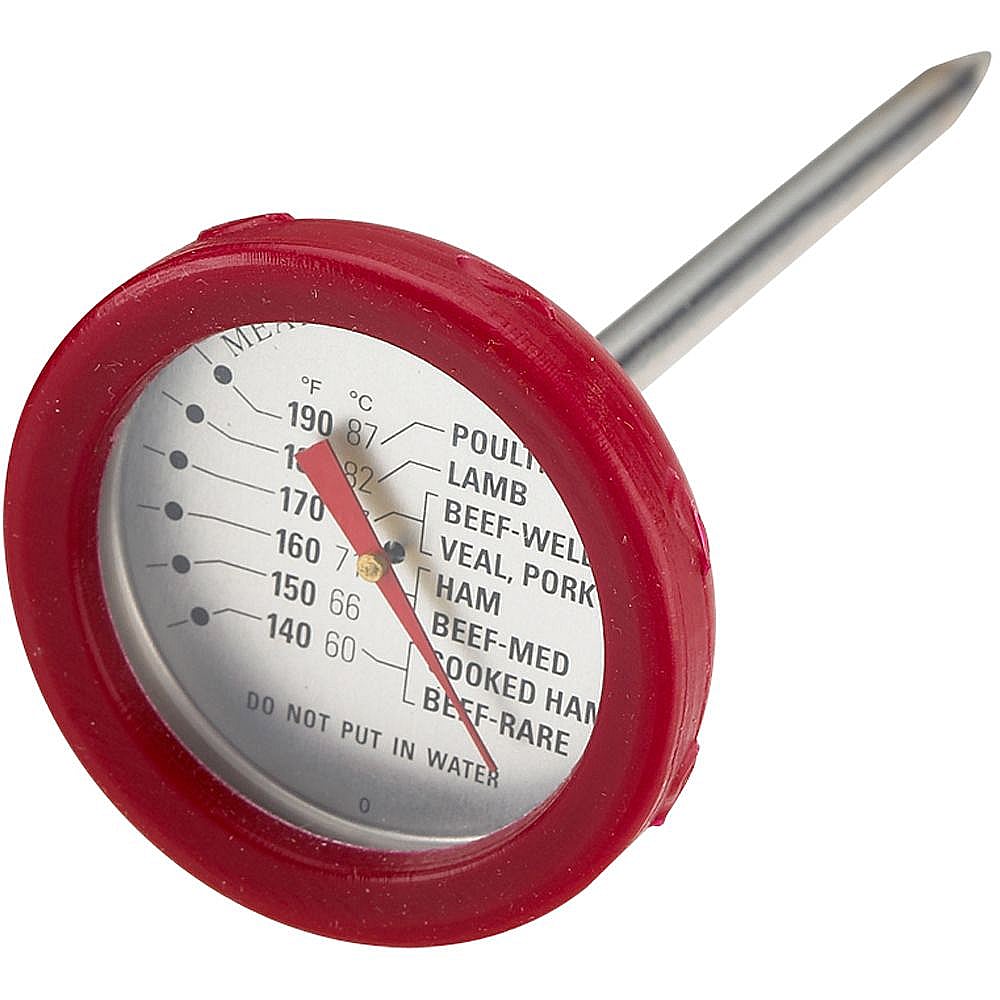 Use a meat thermometer
Check the food with a meat thermometer before taking it off the grill.
When you let meat rest after taking it off the grill, it may cook an additional five degrees, so you can take the meat off the grill a few degrees early. But nothing more than five.
Using a meat thermometer assures that your food is cooked through and is safe to consume.
Clean the grill when its hot
If you're cooking directly on the grill, the fat from the food will drip all over the grates. That's actually a perk of grilling. The fat falls into the heating element, then a delicious flavorful smoke comes up to add taste to what you're grilling.
I usually cook on a baking tray or grill mat to avoid cleaning the grill grates. If you cook directly on the grates, you want to clean them when the grill is hot. Use a grill brush to do this. Those have metal bristles, which really get the grates clean.
You want to clean the grill every single time you use it … unless you're grilling on a baking tray. Then, just clean the baking tray.
Grill maintenance:
Your grill may require maintenance and cleaning before, during, or after the season. And this could potentially be out of your wheelhouse. Call a professional.
If you head over to Sears PartsDirect's website, you can actually go to "Schedule a repair" section on the top right and easily book a maintenance or cleaning appointment.
Gas Grill troubleshooting:
If you're having trouble with your gas grill, check out the DIY gas grill repair page at Sears PartsDirect for assistance and videos. If you can't figure it out, schedule a repair via the link above.
Grilling recipes:
Now that you have the basics down, and know who to call in case something goes awry, all you need are some grilling recipes.
Our favorite grilling recipes for beginners, are below.
Which of these Gas Grilling Tips For Beginners was most helpful for you?