From tote bags to mugs to pillows, photo gifts can be such a cute idea. They're a great way to display pictures without hanging frames all over. Get inspired by this list of the Top 10+ Photo Gift Ideas.
For more gift ideas, check out all of our gift guides.
I'm a huge fan of photo gifts. If I can add a photo and personalize it, I will be more likely to give it as a gift. And I have. It got to a point where, one year, my brothers were like, "No more photo gifts!" So I took a hiatus from them.
The hiatus is long over, so I'm bringing you a list of my top 10 photo gift ideas to help you brainstorm some great gifts for your friends and family.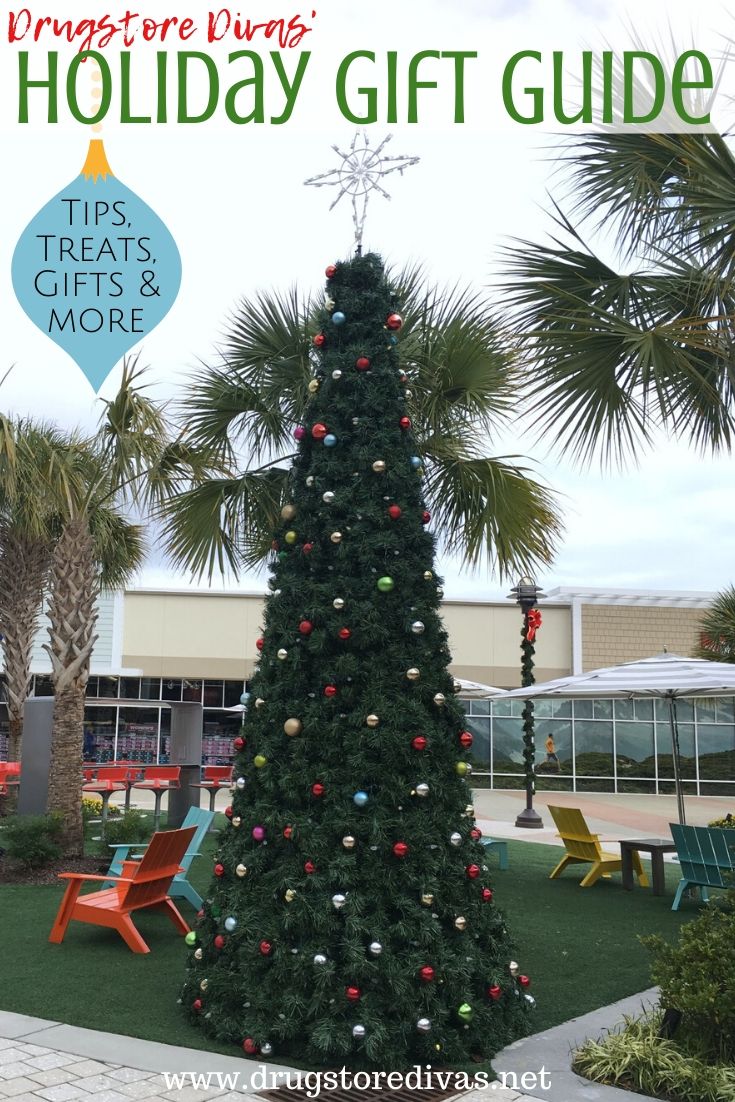 These photo gifts are great, and some of our favorite gifts to give. But, if you're looking for something else, we can still help.
Check out all out of gift guides for more ideas of what to buy this holiday.
Top 10 Photo Gift Ideas
Affiliate links are included in this post and Drugstore Divas may make a small commission if you use them.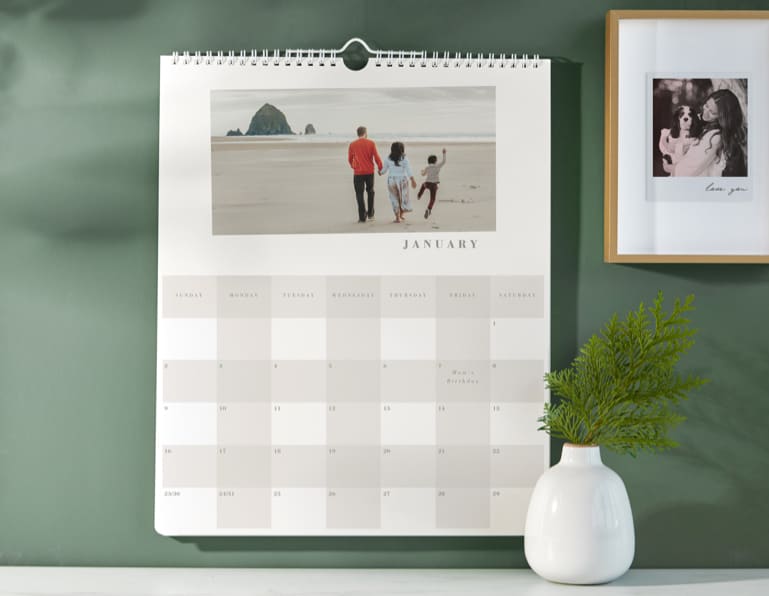 Photo calendar
Photo calendars are one of the best gift ideas because of how useful it is.
If you have a family where everyone has a different birthday month, you can do a large photo (or a collage) of that person for their birthday month, then favorite photos from the year before on the other months. It's a fun way to celebrate someone, enjoy past memories, and have something super personalized all year through.
Plus, this is an easy gift because if you save the birthdays and anniversaries, you'll be able to easily add them to next year's calendar.
Canvas prints
I used to be a big fan of framed photos and hanging them all over the house … until I found canvas prints. Canvas prints just look so elegant in the hallway. Plus, you don't have a ton of mismatched frames all over your walls. That's what we did for our gallery wall in our upstairs hallway.
And we have a Multi Panel Split Canvas Print in our upstairs bathroom, made up of six canvas prints.
In our kitchen, though, we have a gallery wall with mismatched frames, similar to a style I saw at Fayetteville Pie Company.
Phone case
When my mom finally joined the smart phone world, she needed a new case. So that Christmas, I made her a case that said "family" and had a nice photo of our family on it. She used it for a long time … until she upgraded her phone.
At the same time, I got a phone case with a photo of the Momiji doll that Pete used to propose to me.
You can design your own or use a pre-made template. Just depends on how creative you are.
Tote bags
I love bringing my own bags to the grocery store, and stores like ALDI require it. They're also great to pack towels in when we're going to the pool. So much easier than just carrying the towel itself. So we have a ton of tote bags at all times
Personalized, photo tote bags are a huge hit every time I give them as a gift.
We made a bunch of them for our wedding with a personalized map on them, then filled them as wedding welcome bags, and people really enjoyed them.
Personalized planner
My mom wanted a planner a few years ago. Between her blog and virtual assistant work, she has a lot to keep track of.
She asked for a plain planner, which is what I bought, but how much fun would it have been to get her a personalized planner with some of her favorite photos on the cover.
Maybe next year.
Pillow
A few years ago, to celebrate National Cat Day, I got my grandma a pillow with her cat's photo on it. We laughed and laughed when she opened it.
The cat was actually a little scared of it, but we all loved it.
My grandma kept it on her bed and the cat did eventually warm up to it and sleep on it — and that was a scene to be seen.
Photo book
Growing up, I always put my photos in albums. That was back before digital cameras, when you had to print your photos to see them. Now, with everything digitally saved, no one does that anymore. Phones turn into SD cards, and that's that.
Change it up this year and actually get your photos off your phone and into a photo book. You can make that digitally, of course. No printing of photos required.
Photo coasters
We have so many coasters in this house. I may have mentioned that a time or twelve, but we do have a lot.
The best set, though, may be the photo coasters Pete's sister gave him as a gift one year. They're getting old now, which means the photos of his growing nephews when they were only babies are so much more special.
Find out how to make your own homemade photo coasters. Or, just get them made. That's easier.
Mugs
Our favorite mug (until it broke) was a personalized one with photos we took at a beautiful botanical garden very early in our dating life. It was just so sweet to see them on a mug that said "LOVE" on it.
I made my grandma a photo mug a few years back with photos from our most recent trip to Japan and she kept it on her desk. It's a really fun way to enjoy photos.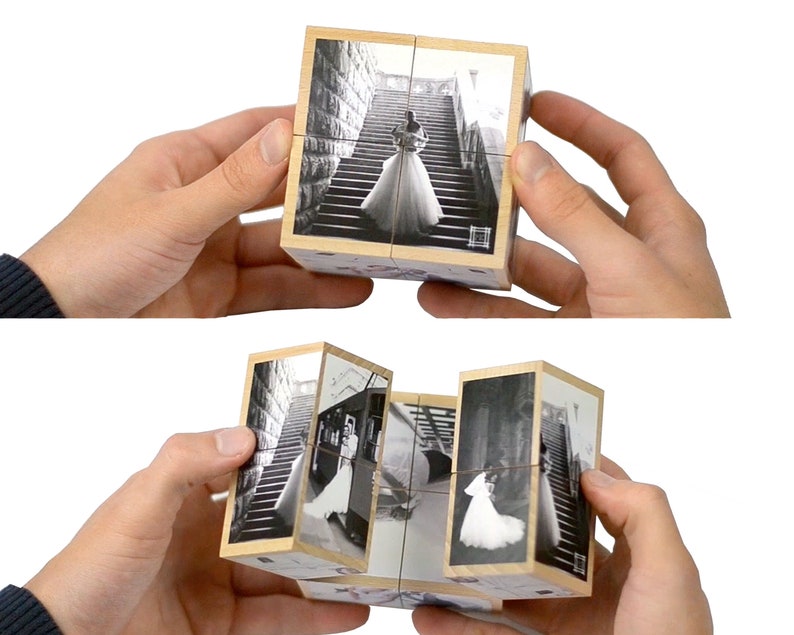 Order Photo Gifts Online:
There are a lot of websites out there that have a variety of photo gifts that you can purchase, like the personalized photo cube above. Some of our favorite sites are:
Don't forget to check a site's cart minimum to qualify for free shipping.
Which of these Top 10 Photo Gift Ideas is your favorite? Let us know in the comments.