From tote bags to mugs to pillows, photo gifts can be such a cute idea. They're a great way to display pictures without hanging frames all over. Get inspired by this list of the Top 10+ Photo Gift Ideas.
For more gift ideas, check out all of our gift guides.
I'm a huge fan of photo gifts. They're such a sentimental way to preserve your favorite memories. So of course, if I can give a photo gift to one of my friends or family members, I absolutely will. And I do. It got to a point where, one year, my brothers were like, "No more photo gifts!" So I took a hiatus from them.
The hiatus is long over, so I'm bringing you a list of the best photo gifts to help you brainstorm and find a great gift to give.
Some of these gifts are ones you can make and some are ones you can just order, depending on what your speed is. But, no matter which you'd rather do, this list will help you find the perfect gift that incorporates your favorite photos.
These photo gifts are great, and some of our favorite gifts to give. But, if you're looking for something else this holiday season, we can still help.
Check out all out of gift guides for more ideas of what to buy this holiday.
Top 10+ Photo Gift Ideas
Affiliate links are included in this post and Drugstore Divas may make a small commission if you use them.
Photo Memory Match Game
If you're looking for a thoughtful photo gift, this Photo Memory Match Game is absolutely it. I made it recently for one of my nephew's birthday gifts using photos of all of his family members. It helped that he only has 18 immediate family members. For a larger family, you'd need a lot of pieces.
It's really great for facial recognition for kids, especially if their family members live far away and can't visit often. And of course, it's a memory game, so it's great to help with learning too.
​You can either make one of these yourself or you can just purchase a very similar set online. It all really depends on how much time and patience you have for crafting.
Photo Magnet
We hardly have any magnets on our fridge because I like how minimalistic and clean it looks without magnets. However, I make an exception for two really sweet photo magnets of my favorite photos of us.
​They come in different sizes, so you can get a large one or small one, depending on what your gift recipient has on their fridge already.
Or, if you're really feeling crafty, you can make your own photo magnets from magnet paper sheets and photos. I made a set to keep on my filing cabinets at work to brighten up my office space and made another set for my grandma (and one for my parents too).
Custom Car Coasters
If you have a car, you should have car coasters. They're helpful to absorb condensation from any drinks you have in the car, keeping your car really clean.
​One of the most unique photo gifts I've ever given Pete is a set of custom car coasters, made from a photo of me with a Snapchat filter. They're a super fun, thoughtful gift that's actually really useful.
You can use a funny photo to make it (think of a yelling face because a cup is getting slammed on it) or just one of your favorite moments.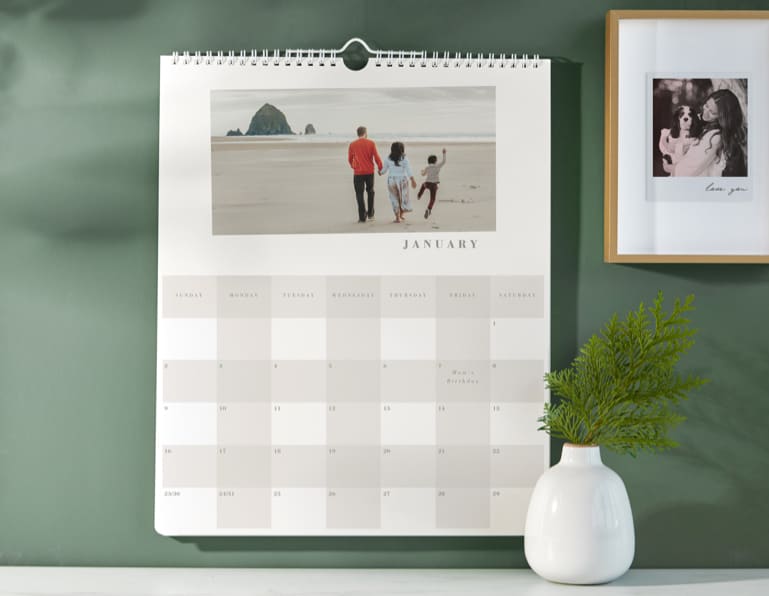 Photo calendar
Photo calendars are one of the best gifts because of how useful a calendar is.
If you have a family where everyone has a different birthday month, you can do a large photo (or a collage) of that person for their birthday month, then favorite family photos from the year before on the other months. It's a fun way to celebrate someone, enjoy past memories, and have something super personalized to enjoy all year through.
Plus, this is an easy gift because if you save the birthdays and anniversaries, you'll be able to easily add them to next year's custom calendar.
Canvas prints
I used to be a big fan of framed photos and hanging them all over the walls … until I found canvas prints. Canvas prints just look so elegant in the hallway. Plus, you don't have a ton of mismatched frames all over your walls. In our kitchen, though, we have a gallery wall with mismatched frames, similar to a style I saw at Fayetteville Pie Company. And I have a framed photo section in our bedroom too.
But, what we did for our gallery wall in our upstairs hallway, was fill it with canvas prints of different vacations that we've taken. And we have a Multi Panel Split Canvas Print in our upstairs bathroom, made up of six canvas prints.
If you have a special photo, get it printed as a canvas print, and your recipient can enjoy it as wall art all the time.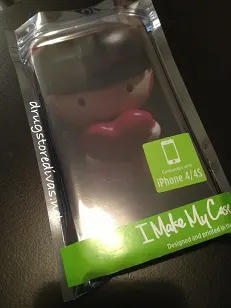 Phone case
When my mom finally joined the smart phone world, she needed a new case. So that Christmas, I made her a case that said "family" and had a nice photo collage of our family on it. She used it for a long time … until she upgraded her phone and it didn't fit anymore.
At the same time, I got a phone case with a photo of the Momiji doll that Pete used to propose to me.
You can design your own or use a pre-made template. Just depends on how creative you are.
Tote bags
I love bringing my own bags to the grocery store, and stores like ALDI require it. They're also great to pack towels in when we're going to the pool. So much easier than just carrying the towel itself. So we have a ton of tote bags.
Personalized, photo tote bags are a huge hit every time I give them as a gift.
We made a bunch of them for our wedding with a personalized map on them, then filled them as wedding welcome bags, and people really enjoyed them.
Personalized planner
My mom wanted a planner a few years ago. Between her blog and virtual assistant work, she has a lot to keep track of.
She asked for a plain planner, which is what I bought, but how much fun would it have been to get her a personalized planner with some of her favorite images on the cover. Maybe next year.
​If your friend isn't into planners, but still jots things down, a personalized notebook might be an ideal gift instead.
Pillow
A few years ago, to celebrate National Cat Day, I got my grandma a pillow with her cat's photo on it. We laughed and laughed when she opened it.
The cat was actually a little scared of it, but we all loved it.
My grandma kept it on her bed and the cat did eventually warm up to it and sleep on it — and that was a scene to be seen.
If you have a friend who has a pet, a great idea would be to get her a photo pillow of her furry best friend. If you have a friend with kids, a photo of the whole family would be a great choice for the pillow. And, if neither of those apply, a photo of a favorite place from a trip would be a good choice.
Photo album
Growing up, I always put my photos in albums. That was back before digital cameras, when you had to print your photos to see them. Now, with everything digitally saved, no one does that anymore. Phones turn into extra large SD cards, and that's that.
Change it up this year and actually get your photos off your phone and into a photo book. You can make that digitally, of course. No printing of photos required.
Putting one together does take a little bit of planning because you have to gather them, edit them, organize them, upload them, and rearrange them in the book. It does take so much time to put a custom photo book together, but once it's done, it's amazing and so worth it. Plus, once you make one, the next one you make will be so much easier.
You can order either a hardcover or softcover photo book. But, personally, I think hardcover photo books come out so much nicer.
Photo coasters
We have so many coasters in this house. I may have mentioned that a time or twelve, but we do have a lot.
The best set, though, may be the photo coasters Pete's sister gave him as a gift one year. They're getting old now, which means the photos of his growing nephews when they were only babies are so much more special.
If you have photos that you want to turn into photos, and you have time to make a handmade gift, you can make your own homemade photo coasters.
Photo Mugs
Our favorite mug (until it broke) was a personalized one with photos we took at a beautiful botanical garden very early in our dating life. It was just so sweet to see them on a mug that said "LOVE" on it.
I made my grandma a photo mug a few years back with photos from our most recent trip to Japan and she kept it on her desk. Coffee mugs filled with your favorite photos are really fun ways to enjoy photos with your morning drink.
Order Photo Gifts Online:
These are what we consider the best photo gift ideas, but they're not the only ones out there. There are a lot out there, like the digital photo frame above, that you can of websites out there where you can purchase other photo gifts. Some of our favorite sites to find those are:
Don't forget to check a site's cart minimum to qualify for free shipping.
Which of these Top 10 Photo Gift Ideas is your favorite? Let us know in the comments.