From the Riverwalk to the Alamo to the Botanical Garden to San Antonio | The Saga, there are so many Outdoor Things To Do In San Antonio.
If you're wondering when to visit, we suggest spring break. Find out our Fun & Frugal Spring Break Destinations via that link.
The Alamo has been at the top of my bucket list for decades. It's the only place in the world that I've really, really, really wanted to go for forever. So, as a surprise for my birthday last year, we went to The Alamo, which is just one of the really cool outdoor things to do in San Antonio, Texas.
San Antonio is a really outdoor-friendly city, and I felt incredibly safe the entire time we were there.
The majority of the things we did in San Antonio were outside. And masks were mandatory anywhere we couldn't be outside, so it was definitely a great city to visit.
If you're planning a trip to San Antonio, you definitely want to put these outdoor activities on your list.
10+ Outdoor Things To Do In San Antonio, Texas
This list is in no particular order and Drugstore Divas has no affiliation with any of these attractions.
Please checked the websites (which are all linked in the post) for current information on times, closures, prices, and more.
It's impossible for you to go to San Antonio and skip The Alamo (300 Alamo Plaza). It's the heart of San Antonio and in the heart of San Antonio. Seriously. The Alamo is smack dab in the middle of town. There's the post office across the street one way, bars across the street the other. The Alamo is just … there.
You have to go inside.
We booked a historical tour, which meant that for about an hour, we had a nearly personal tour of The Alamo.
Our tour guide took us, and about eight others, into a closed off section of the grounds. He told us the history of Texas and The Alamo, which was far more detailed and nuanced than we could have learned on our own. He then took us in front of The Alamo and explained the history (and falsehood) of the building's roof. And then he took us inside The Alamo (be still my heart).
The tour was $10 each and was probably the best money we spent the entire time we were in San Antonio.
My heart was so full at the sight of The Alamo. But, my heart swells thinking about San Antonio | The Saga at San Fernando Cathedral (115 Main Plaza).
If you see nothing else in San Antonio, see this.
The light show, created by French painter Xavier de Richemont, debuted in 2014 … on the face of San Fernando Cathedral. The nearly 24 minute show is projected onto the cathedral itself.
The Saga tells the entire history of San Antonio, from the Native Americans to the Battle of The Alamo to present day. It's set to music, using both classical and modern music to set the tone.
The Saga is played three times a night on Tuesday, Friday, Saturday, and Sunday. It's free and open to the public. There is limited seating in the Main Plaza, so be sure to get there early (get a beer, taco, and churro from the food trucks in the square) and get ready to be amazed.
If you can't make it to San Antonio, you can stream The Saga at San Fernando Cathedral on YouTube.
Be sure to check out our full San Antonio | The Saga review.
Our hotel was right off the San Antonio River Walk, so we took the River Walk multiple times during our trip to San Antonio. After our gazillionth trip along it, Pete finally figure out what the River Walk is: a pedestrian subway.
The San Antonio River Walk is pathway, on both sides of the San Antonio river, that's located (mostly) under the city. Beneath the hustle and bustle of the city is another hustling and bustling city.
There are restaurants, shops, pathways, and bridges all beneath the city. There are "stops" at each of the major streets in the city, connecting the River Walk to the streets above it.
And, there are a bunch of events on the River Walk. The day before we were there, the entire River Walk was decorated with Christmas lights, so we were able to see over 100,000 lights illuminating the River Walk for the holiday.
4. San Antonio's Five Missions
The Alamo is the most popular landmark in San Antonio, but it's actually one of five missions in the city.
There's Mission San Antonio de Valero (aka The Alamo), Mission Concepción, Mission Espada, Mission San José, and Mission San Juan Capistrano.
Mission San José underwent reconstruction in the 1930s and (they say) is the most complete mission. Although I do think The Alamo looks pretty complete considering it was a battleground. But I digress.
Some of the missions are part of San Antonio Missions National Historical Park, which is a pretty confusing part if I'm being honest. The park is actually made up of four distinct areas, which are two to three miles apart.
We tried to get to all of them on our bikes, but we were only able to go between three of the missions before it just felt overwhelming.
We started at The Alamo, then biked three miles to get to Mission Concepción, which arguably has the prettiest exterior of the missions. Two and a half miles from there is Mission San José, which hosts a mariachi mass on Sundays at noon. We were told the mass was in English, but alas, it was not when we attended (it was in English when my parents went, though).
Three miles from there is Mission San Juan, then Mission Espada, and you have to loop back past Mission San Juan to get back to Mission San José, and then back to The Alamo. It's an extra 12 miles on bikes to get to see Missions San Juan and Espada … and we just didn't have it in us. Plus, when you're on vacation, you have such limited time. You can't do everything.
But if you are planning a trip to San Antonio, I definitely recommend you see at least three of the five mission of San Antonio.
5. B-Cycle Bike Share
We didn't rent a car when we were in San Antonio, so we were at the mercy of ride share programs. San Antonio has a great bus system, but it just wasn't super convenient from our hotel.
What was super convenient, though, was B-Cycle Bike Share. It's ride share, but for bikes.
For under $10 a day, you can rent a bike and ride it all over San Antonio — which, thank goodness, is a pretty flat city. As long as you dock the bike once every 30 minutes, you can use a bike all day.
We biked from our hotel, past The Alamo, to Mission Concepción, through Concepcion Park, across the San Antonio river to Blue Star Brewing Company, to Bentley's Beer Garden, into Roadmap Brewing Co., and back to our hotel. With a few other non-beer related stops in-between.
Riding bikes was such a great way to see the city, get some sunshine, and just enjoy the outdoors. We rode from 10:30am until 7:30pm. Pete would have done it again the next day if we were staying in town longer.
Check out our full Tourist Guide To BCycle Bike Share.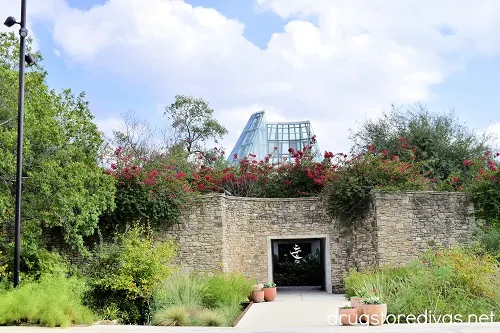 6. San Antonio Botanical Garden
The San Antonio Botanical Garden (555 Funston Pl) is, arguably, the nicest botanical garden we've ever been to. From the conservatory to the indoor waterfall to the vegetable garden with the sweetest homegrown spinach, we loved it.
We spent a long portion of our day there and weren't bored for a single moment.
The San Antonio Botanical Garden has exhibits often, and it happened to be Bonsai Weekend when we were there. So we got to see a ton of bonsai trees, which was cool.
OrigamiintheGarden² was also taking place, which was a nice treat for Pete since he missed it when I saw it in Fayetteville.
The garden has a full restaurant, with outdoor seating and a full bar. You're able to order beverages at the bar and walk through the garden to see them.
There's also an 11-acre section called the Texas Native Trail, which represents three ecological regions of Texas. It's nice to be able to learn about the ecosystem and native plants of a region you're visiting, so don't miss out on that.
Check out our full San Antonio Botanical Garden review for more details.
7. Historic Market Square
If you want to get a feel for the Tex-Mex culture that embodies San Antonio, go straight to the Historic Market Square (514 W Commerce St).
The three-block outdoor plaza is the largest Mexican market in the United States. There are two long buildings ("El Mercado" and "Farmer's Market Plaza") filled with over 100 specialty shops and restaurants.
Outside of those buildings are small kiosks selling food, trinkets, and alcohol.
There are also restaurants there, including the very popular 24 hours Mi Tierra Café y Panaderia (218 Produce Row). The food there was okay, but the baked treats were worth the extended line.
We went right after Dia de los Muertos, and there were five altares de muertos (ofrendas) on display throughout the Historic Market Square. It was great to go through the shops and restaurants, find the ofrendas, and pay our respects.
8. San Antonio Japanese Tea Garden
The San Antonio Japanese Tea Garden (3853 N St Mary's St.) is one of the places we weren't able to go to on our trip. And I really regret it.
The Japanese Tea Garden, located in Brackenridge Park, is also known as the Sunken Garden because it is built in the pit of a quarry that was used to gather limestone.
The city invited a local Japanese-American artist, Kimi Eizo Jingu, to move into the garden in 1919. He and his wife, Miyoshi, raised eight kids and maintained the park. He passed away in 1938 and his family was evicted three years later because of World War II (and the anti-Japanese sentiment).
That's also the reason it was renamed the Chinese Tea Garden for a stint.
The park's name was reverted back to the Japanese Tea Garden in 1984, with members of the Jingu family in attendance. The Jingu's family home was restored and the Jingu House at the Japanese Tea Garden is now a café, serving noodle bowls, bento boxes, sushi, and more.
There's a pavilion and amphitheater, plus beautiful archways and a waterfall, all worth checking out.
9. San Antonio River Cruises
If you don't want to walk the San Antonio River Walk eleventy-zillion times like we did, you can see still it all via a river cruise.
There are a few to choose from. GO RIO cruises offers a narrated river cruise and a river shuttle. The shuttles, which are temporarily closed, run along the River Walk, from downtown to Museum Reach.
The narrated river cruises are a 35-minute cruise with tons of points of interest along the way. The river cruises passes the city's first neighborhood, the Old Mill Crossing where Teddy Roosevelt led the Rough Riders, the bridge where superstar Selena Quintanilla Pérez's husband proposed to her in the movie, the Briscoe Western Art Museum, and more.
The entire boat is open, so if you're worried about closed spaces right now, this is the perfect way to see the city.
10. San Antonio Zoo
We can't personally recommend the San Antonio Zoo (3903 N St Mary's St.) because we didn't go. I'm one of those "a zoo is a zoo is a zoo" kind of people. Unless it's the Tennoji Zoo in Japan. Then we go every time we go to Osaka.
We did almost go to the San Antonio Zoo, though. We were in San Antonio during the Zoo's On A Stick festival, which was serving tasty treats like chicken on a stick, sausage on a stick, cotton candy, and more. And that sounds delicious.
The San Antonio Zoo is 35 acres and boats a collection of over 3,500 animals in 750 species. There are really cool experiences at the zoo, from breakfast with hippos to dinner with Santa.
If you're looking for something to do with kids outdoors in San Antonio, this is a great option.
11. Carriage Rides
If you've ever been to New York or watched a romantic movie set in New York, you've seen carriage rides in Central Park. They're so sweet and romantic.
San Antonio has its equivalent with a ton of lighted carriage rides taking place nightly around downtown.
There are a lot of carriage companies to choose from, if you want to reserve one ahead of time. If not, you can just find one that's sitting downtown and hop on (for a fee, of course).
What are some of your favorite outdoor things to do in San Antonio, Texas? Be sure to let us know in the comments.