If you're looking to explore a historic city filled with haunted places and ghost stories, Tacoma is your town. There are over 50 ghost stories that can be investigated. Some can be fleshed out and some, well, can't. We did the legwork and put together this Comprehensive Guide To Haunted Places in Tacoma, WA.
For more, check out all of our travel posts.
Tacoma is filled with really old, historic buildings. With old buildings come old stories, passed down from generation to generation. And that, of course, includes ghost stories and tales of haunted buildings.
Are these true stories? They're as true as ghost stories can be. You're either going to believe them or you're not. There's really no in-between when it comes to ghosts.
If you're on the side that believes in ghosts, and you're planning a trip to Tacoma soon, definitely add these places to your list. And, even if you don't believe in ghosts, keep reading. The ghosts are based on the history of Tacoma, and what happened in the buildings and river there, so ghost tours are really interesting if you're a history buff (and not into ghosts).
There are over 50 ghost sightings that have been researched in Tacoma, although not all of them have stories that can be fleshed out. So, we narrowed it down to the ones with full stories and anecdotes, to put together this Comprehensive Guide To Haunted Places in Tacoma, WA.
Full disclosure: I visited these places during my hosted trip in Tacoma last year. I didn't personally experience any ghosts or hauntings.
If you're planning to visit Tacoma, there's more than just ghosts in Grit City. Get help planning the rest of your trip with our Things To Do In Tacoma, WA post.
A Comprehensive Guide To Haunted Places in Tacoma, WA
Old City Hall Tacoma
(625 Commerce St.)
The vacant old Tacoma City Hall building was built and finished back in the 1890s with a beautiful bell cast by the same company that did the Liberty Bell. That bell, well, we'll chat about it in a minute.
The gorgeous building, with a huge clocktower and clock on all four sides, was home to, as the name implies, City Hall and also to the town's jail. The city stopped using the building in the 1950s and since then, it has had numerous short-term occupants, like Tacoma Bar and Grill on the first floor. It has been under ownership of a private company since 2019. Eventually, it'll be a multi-use facility, with apartments, a coworking space, and a proposed speakeasy in the aforementioned jail. Part of the restoration includes the clocktower.
The clocktower … which houses the bell that rings from time to time. At no specific time. Just whenever a ghost wants it to.
The Old City Hall is home to a few ghosts, including the ghosts of former government officials whose shadows are seen running, presumably to very important meetings. There's also a ghost who has been known to cough, startling security guards who thought the building was otherwise vacant.
And then of course there's Gus, the most famous ghost at City Hall. He's rumored to be a former inmate at the jail, although there's no record of a Gus there. When Tacoma Bar and Grill operated there, Gus was known to throw wine bottles, rattle the silverware, turn the lights on and off, and more.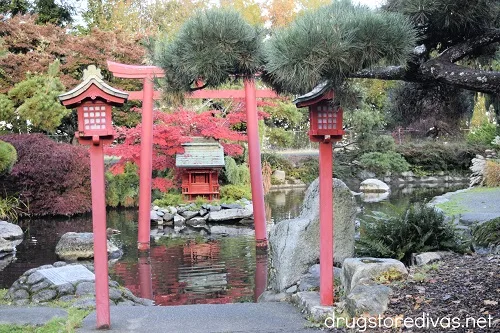 Point Defiance Park (The Pagoda)
(5801 Trolley Ln.)
Point Defiance Park is a huge, gorgeous park in Tacoma. There are actually a bunch of sections of the park with lots of gardens and the Point Defiance Zoo. My favorite part is the Japanese garden with a beautiful torii gate. But, it's what's on the other side of the gravel that will have ghost hunters calling. That's where the Point Defiance Park Pagoda is.
It was, at one point, used as a trolley terminal, which makes sense because Tacoma was originally built as the western terminus of the Northern Pacific Railroad. The pagoda is now more frequently used to host weddings.
But, back when it was a terminal, a widower committed suicide in the terminal's bathroom. It has been said that she haunts the building still, as her footsteps and other strange sounds have been heard in the building.
Point Defiance Park (Five Mile Drive Trail)
(5400 N Pearl St)
In another part of Point Defiance Park is Five Mile Drive Trail. There's an outer loop and an inner loop of the drive. The outer loop is closed to vehicles because of slope erosion, but it is open to foot traffic.
And some of that foot traffic is, well, unalive.
In 1986, a then 13-year-old girl named Jennifer Bastian was horrifically murdered in the park. (Quick side note: 34 years later, in 2020, her cold case was closed and her murdered was sentenced to 27 years in jail.) She was riding her bike at the time of her assault and murder.
Many hikers and joggers at Point Defiance Park have seen a young girl leaning against her bike. When they approach her to see if she needs help, they're greeted with a blank stare … and then she vanishes. It's been said that's Jennifer.
Tacoma Elks Lodge (McMenamin's Elks Temple Hotel)
(565 Broadway)
The Tacoma Elks Lodge, now operating as the McMenamin's Elks Temple Hotel, is one of the most whimsy buildings I've ever been in. The lodge was open over 100 years ago and operated as an exclusive club with live music in the (now) Spanish ballroom. It's seven floors of Willy Wonka's madhouse, with murals and lanterns, distracting hallways, and hidden bars with entrance doors behind staircases.
There's also, quite possibly, a ghost. There's a local ghost tour that stops at the building, although the content of the tour aren't posted online. So that's a mystery. However, there are reports on the McMenamin's website about a door slamming and footsteps running down the hallway. When security footage has been reviewed, there were no sightings of anyone in the hall at that time.
University of Puget Sound's Schiff Hall
(3398 N. 18th St.)
Ted Bundy, one of the most well known serial killers, lived in Tacoma for a brief time. During that time, he attended the University of Puget Sound, but only for a year. That connection is verified.
What's unverified, though, is his connection to the University of Puget Sound's Schiff Hall. Construction on the hall had began two weeks before the disappearance of 8-year-old Ann Marie Burr. Her father claims to have seen Ted Bundy in a ditch at the school's hall the day Ann Marie Burr disappeared. But Ted Bundy had always denied having anything to do with her disappearance.
As the legend goes, students at the University of Puget Sound have recalled seeing wet slipper marks on the floor in the hallway and hearing shuffling feet. They attribute it to Burr, although her body has never been found (there or anywhere).
Puyallup River
Tacoma was a beautiful, bustling city … until it wasn't. Tacoma was hit hard during the Great Depression in 1929. That winter, Tacoma was left without power for 30-days. There was also a new city constitution, written to stop the aforementioned railroad from basically obtaining power. That hurt locals and local businesses and left a lot of residents in despair.
That despair turned into the shanty town known as Hooverville, named after then president Herbert Hoover. The homeless community settled on waterfront property in Tacoma. The police resorted to unfavorable tactics to get the residents to leave.
Hooverville's final resident refused to be evicted and, instead, committed suicide during a standoff with police. That resident has been seen, in tattered clothing with an angry look on his face, on the mouth of the Puyallup River.
Port of Tacoma
(One Sitcum Plaza)
Tacoma is a port city, meaning lots of boats have crossed through its waters. Not all sails were favorable. And not all were forgotten.
The tale is that visitors to the Port of Tacoma have seen a rowboat and swimmers disappear into the water. People have also heard screams that fade into the fog.
No one knows exactly who the ghosts are, but many shipwrecks have happened in the area. The most famous is the Andelana, which arrived in Tacoma from Shanghai and was on route to bring wheat to Europe. She was top heavy and capsized in Commencement Bay. All 17 crewmembers aboard perished. The only one who survived was an apprentice who was at the hospital for an unrelated reason.
Are the screams coming from the crew of the Andelana or are they from someone else? We'll (probably) never know.
Pacific Brewing and Malting Co.
(610 Pacific Ave.)
The Pacific Brewing And Malting Co. was a merger between the Puget Sound Brewing Company and Milwaukee Brewing Company back in 1897 and was one of the largest beer companies in the Pacific Northwest for a time. It closed once because of prohibition and again because of the state of the world in 2020.
During its reopening, in took up residence in the lower level of the annex building of the Old City Hall (which was at one point the downtown Tacoma Police Station and City Jail). The staff noticed empty kegs moving around and saw things out of the corner of their eyes.
Was that the ghost of Jake Bird, another serial killer in the area who confessed to over 40 murders (and was convicted to almost a dozen)? He was sentenced to death, and, when he spoke at his trial, he put a hex on the men who sentenced him, saying they would die before he did. In the two years after his conviction, before his execution, six of those men (including one of his lawyers) died. It's said that Jake Bird still haunts the building.
It's also said that he haunts the private residence previously occupied by Bertha and her daughter Beverly Kludt, who he murdered by an axe. However, that's, as we said, a private residence in Tacoma, so we aren't encouraging you to visit there.
B Sharp Coffee House
(706 Opera Alley)
The building on Opera Alley that housed B Sharp Coffee House was once the home of The News Tribune. If you've ever worked at a local newspaper (I've been lucky enough to work at a few), there are the staff you call "lifers," the ones who started working at the newspaper young and will never leave, with no aspirations of leaving the hometown paper for one of the big papers.
The News Tribune had one such lifer who worked at the paper for 55 years. It's said that he has never left.
Even though the building doesn't house the paper anymore, he wants people to love the building as much as he did. So, he has been known to leave money on the ground. He has also been felt as a presence in the bathrooms (so drink your coffee fast and hold your bladder, if you don't want to meet him).
Pantages Theatre
(901 Broadway)
The gorgeous Pantages Theatre is one of four in Tacoma's theater district. It was building in the early 1900s and was eventually restored to all its former glory. Alexander Pantages owned and operated 84 theaters across the United States and Canada, including the Pantages Theatre in Tacoma. This one was built thanks to the wallet of his mistress, Klondike Kate Rockwell. She spent her fortune helping him build the theater and he … left her. Kate, in life, never got to enjoy it.
So, it's said that she haunts the theater to check it out. Luckily, or unluckily for her, her former lover Alexander is also at the theater from time to time. Alexander also has a huge bust over the stage and its expression has been said to change between a smile and a frown, depending on the night's performance.
There's also the ghost of an Italian singer who shows up in the balcony in a vaudeville-era outfit, often singing ballads.
And then, there's a short, stocky usher who spends his time who guides late patrons to their seats. They've felt a cold hand on their shoulder or a cold spot at the row where their tickets are.
Sounds like Pantages Theatre still has a full house (ba dum tss).
Side note: Yakima, Washington's Capitol Theatre is also made in Pantages style (with the same architect). It's also haunted. Coincidence? Maybe not.
Winthrop Apartment Building
(776 Commerce St)
Across the street from the Pantages Theatre sits the Winthrop Apartment Building. It's currently, as the name states, an apartment building. But in pre-Great Depression times, it was a hotel for celebrities and wealthy patrons.
During that time, though, it saw its share of tragedies. A man fell 10 stories from the building in 1924; a young woman fell seven two decades later. Between those incidents, a shootout killed one of two escaped convicts who tried to rob the hotel and a couple, registered under (presumably) aliases committed a dual suicide. There have also been overdoses at the building.
Residents have noticed strange things happening, like doorknobs ripped off doors and just eerie feelings in the hall. There's also a connection to UFOs and the Winthrop, but we'll get to that in another post.
Rust Mansion
(1001 North I Street)
The Rust Mansion, dubbed the "White House Of The West," has a sad history behind it. Prominent businessman William Ross Rust (who, the neighboring city of Ruston is named after) made his fortune smelting copper (which was later learned to be disastrous for the environment, but no one realized that when he moved to Tacoma is the late 1880s).
His son, Howard, mysteriously died at the home when Rust and his wife were traveling oversees. It was said that Howard died of a heart attack, but rumor has it that his death was more nefarious.
Does Howard haunt the home? No one says that. But his untimely death and the mystery around it still does.
E9 Firehouse & Gastropub
(611 N Pine St.)
E9 Firehouse & Gastropub (or Engine House No. 9 as it was formerly known) is a brewery with (we have on record) very good pizza. I actually brought two cans of E9 beer back from my trip to Tacoma last year. I didn't get to check out the location (I bought the beer in a hotel) or I would have had a chance to see a ghost. Maybe.
The building formerly housed steam powered, horse drawn fire engines and it's said to be haunted by firefighters who are trying to get back to work. There have been stories of pans getting knocked off counters as well.
After lots of activity, the brewery's owners had a medicine man come in an do a cleanse. He confirmed the presence of many spirits, both good and bad. Since then, the hauntings have gone down significantly (although not completely).
Stadium High School
(111 N. E St)
Stadium High School is on nearly every Tacoma "Must See" list because that's where the Heath Ledger-led 10 Things I Hate About You was filmed. That iconic scene, where he's singing to Julia Stiles down the stadium stairs, then running away from the school's admin … that happened here.
It's an operating high school now, although it was originally built as a luxury hotel before an economic downturn and a fire in the late 1890s changed those plans.
It became Brown Castle, which overlooked a gulch at Puget Sound, known as "Old Women's Gulch" because it became a sort of residence for widows of longshoremen who never returned. The widows lined shacks up along the gulch, often taking their lives when they realized their husbands would never be back.
Students who attend Stadium High School have claimed to see a black woman overlooking the gulch before leaping to her death.
Tacoma Hotel
(A Street, between South 9th and 10th Streets, but the historic building burned down in 1935)
Ghost stories are wild and incomprehensible for non-believers. And I promise you, this story is not going to sway them. Because it's not about the ghost of a person. It's about the ghost of a bear. A bear named Jack.
So, as the story goes, Jack was a friendly bear who freely roamed the streets of Tacoma, often popping into the Tacoma Hotel for a beer. A beer. With a bear. Could've happened in the late 19th century because … well because Toppenish, Washington has a mural depicting a very similar story about a bear cub that grew up at a saloon.
Anyway … Jack (like the Toppenish bear) came across a passerby who didn't know he was the friendliest bear in Tacoma. And, in the case of Jack, the police officer who met him shot him.
And so now, Jack haunts the Tacoma Hotel. Because really, all you could want in life is to sit on a barstool, knock one back, and then see a bear.
Other Possible Haunted Places In Tacoma:
These are places we've heard rumors to be haunted, but we can't flesh out a full story about them.
Northwest Costume Shop
(2315 6th Ave.)
The costume shop had a fire a few years ago and closed completely.
The Swiss Restaurant and Pub
(1904 Jefferson Ave.)
Located on the University of Washington campus, but recently closed, The Swiss' fun fact was that it was the only pub in the world to feature glass by the legendary Dale Chihuly.
Haunted Places Near Tacoma
Fort Lewis Army Base
(Bldg. 1010 Liggett Ave. Joint Base Lewis-McChord, WA)
The Fort Lewis Army Base, named for Lewis of Lewis & Clark, is located in nearby Lakewood. There's so much paranormal activity at the base, from Native Americans forced to leave their land, soldiers marching, and voices singing.
The most famous, though, is (or was) a worker who was mysteriously murdered while filming The Patent Leather Kid at the Fort Lewis Military Museum in the late 1920s. After the murder, an angry cowboy was seen … and seen very frequently. Management actually had an exorcism done and the ghost appeared, then left after the priests performing the exorcism gave him permission to cross over.
Thornewood Castle
(8601 N. Thorne Ln SW, Lakewood, WA)
Thornewood Castle was built as a private residence for Chester Thorne, his wife Anna, and their children. It's over 27,000 of living space with pieces made from a (then) 400-year-old English manor that was shipped over.
Chester passed away in his bedroom on the second story of the home and he has been sighted there as well as in other parts of the home. His wife and two of their three children have been seen as well. One son is seen at the ornamental pond where he tragically drowned. And one daughter has been seen in her bedroom, where she spent much time alone because she was embarrassed of a hearing aid she had to wear after contracting Scarlet Fever.
And guests, who were used to having lavish parties at the castle, are seen doing just that.
But, beware of lights. They don't like those. So they've been known to either unscrew lightbulbs or blow out candles.
Western State Hospital
(9601 Steilacoom Blvd SW, Lakewood, WA)
The Western State Hospital was originally the Fort Steilacoom Asylum, which performed some (now) controversial procedures, like lobotomies. Eventually, the number of patients overwhelmed the number of staff at the asylum, then known as the Insane Asylum of Washington Territory, and the state took over and built additional buildings.
But the need was still overwhelming and patients who passed were buried in onsite unmarked graves. Eventually, patients who passed were buried in marked graves.
Is this who haunts the hospital's former Hill Ward (which has been demolished) or the park on the grounds? Maybe.
Rhodesleigh
(10817 Greendale Dr SW, Lakewood, WA)
Also known as Rhodes Mansion, Rhodesleigh in Lakewood is said to be haunted. I can't find any information confirming this, though.
More Haunted Places:
Haunted places just seem to find me. I, unknowingly, stayed in the haunted The Belmont Inn in Abbeville, SC (where my mom actually got visited by the resident ghost, Abraham).
So, because of that, we wrote the (very popular) post: 20 Haunted Hotels In South Carolina.
Which of these Haunted Places in Tacoma, WA will you visit first?