The Neon Museum is where iconic Las Vegas signs are collected, restored & displayed for the public. It's a must-see attraction. This Guide To Visiting The Neon Museum Las Vegas will let you know everything you need to know before you go.
For more help planning your trip to Sin City, check out all of our Las Vegas posts.
The first time I went to Las Vegas, my mom and I spent so much of the trip walking around, visiting the casinos, collecting matchbooks and casino cards (because they were free and I was not winning at the slot machines).
We went to The Venetian and saw the gondolas, which are still there. We went to Treasure Island and watched the pirate show, which is no longer there.
Growing up, we had a computer game that took place at Binion's Horseshoe. So we went there too.
We went there when we were in Las Vegas last week.
Kind of.
Binion's Horseshoe, which was the first casino in downtown Las Vegas to put carpet on the floor, sold between my first and most recent Las Vegas trip and was rebranded as Binion's.
We visited the new sign outside the rebranded Binion's on an afternoon on Fremont Street. Then, a few hours later, we visited the old sign at The Neon Museum.
Las Vegas can absolutely be a frugal vacation. Find out how in The Ultimate Las Vegas Budget Travel Guide.
Guide To Visiting The Neon Museum Las Vegas
This Guide To Visiting The Neon Museum Las Vegas post is in collaboration with The Neon Museum. Affiliate links are included in this post and Drugstore Divas may make a small commission if you use them.
The Neon Museum (770 Las Vegas Blvd N) is where old Las Vegas signs go to … not die, but be revived.
These beauties are restored, often thanks to community donations. The museum operates as a non-profit, so reliance on generosity is imperative.
The Neon Museum is split into two main sections. There's the Neon Boneyard, which is the main section of the museum that's included in both the general and guided tour admissions. Then, there's the North Gallery, which is where Brilliant! (the museum's night show) happens.
Then, there's a third — technically included, but not at the museum — section: public art. There are nine restored signs that are part of the museum's collection that are out in the downtown Las Vegas area that you can view for free.
The most photographed of these signs (according to my non-scientific calculations) is the Hacienda Horse and Rider, at the intersection of Las Vegas Boulevard and Fremont Street. If you've seen that rider in all his glory, you've (technically) already been to the Neon Museum. You can download a map of the Neon Museum's public art and visit those signs yourself when you're near Fremont Street.
But, from here on out, we're going to focus this Neon Museum Las Vegas review on the paid section of the museum itself.
The Neon Museum Las Vegas review
The Neon Museum is a nearly 3 acre space, a few blocks from the historic Fremont Street. Part of the museum is the Neon Boneyard, which is split into four sections: downtown Las Vegas, motels and hotels, small businesses, and The Strip.
There are over 200 signs in the boneyard and you're encouraged to take photos (with your cell phones, not DSLR or similar cameras and no videos) of them as you pass them by. Because of the set up and timing of guided tours, you get the chance to see each sign once and only once. So if you want that photo, that shot for the 'gram, take it … because you don't get the chance to run backwards if you regret missing a photo.
The guided tour is amazing, and does move pretty slowly throughout the boneyard, so you will have time to listen, pay attention, and take photos. From our experience, staying in the back of the group was the best way for us to get all the pictures we wanted without being even slightly disturbing.
You have the most time and space to take photos of the signs in The Strip's section. That's where the tour ends, and you're allowed to linger there until the next group arrives.
Brilliant!, the audio/visual show in the North Gallery, allows photos and videos but only after the show has ended.
Should you visit The Neon Museum at night or during the day?
The Neon Museum consists of vintage Las Vegas signs in various states of working order. Some signs are restored to their full glory, like the Hard Rock Cafe guitar, and some only have spotlights on them, like the Sahara Las Vegas hotel and casino sign.
Ideally, being on a guided tour at sunset would be the best timing. You'd get to see some of the signs in clear daylight, then the rest after they're lit up (which happens at sunset).
Currently, sunset in Las Vegas is around 7:30 pm, so choose your tour time accordingly.
If you're going with younger children, it's recommended that you tour the museum during the day since there can potentially be broken glass and rusty metal on the path. It's easier for young kids to be safe in the daylight when these things are easier to see.
How long does it take to go through the Neon Museum?
The Neon Museum takes about an hour if you're on the guided tour. It's 45 minutes for the tour itself, then about 15 minutes to take your own photos at the end of the tour and peruse the air conditioned gift shop.
The museum recommends allotting 30 to 45 minutes for the general admission, self-guided tour portion.
There is a web-based Neon Museum app that you can access with the day's daily password. It has narration, in addition to photos and text, for 25 of the museum's signs. That will help you slow your self-guided tour down and give you history about the city and the signs. There are also a few permanent description signs throughout the museum that can help you on the self-guided tour as well.
But, if visitors don't use the app or the permanent description signs, they can really fly through the museum in under twenty minutes. And there are comments online saying the museum lacks value and isn't worth it, but it seems like those are the same people who opt out of using the app.
Don't listen to those people. The Neon Museum is absolutely worth it and definitely a must-see Las Vegas attractions.
How many signs are in The Neon Museum?
There are signs from over 200 Las Vegas properties, including pieces of signs, which brings the tally up to 800 sign pieces total.
For now.
Las Vegas is a transient town and things are always opening and closing. So you honestly never know what show up at the museum between your visits.
It's impossible to list all the signs, but some of the most notable are:
Is it safe to walk from The Neon Museum to Fremont Street?
It's possible to walk from Fremont Street to the Neon Museum. Start at The Fremont Street Experience, turn onto S Las Vegas Boulevard when you get to the aforementioned Hacienda Horse and Rider, and walk about 19 minutes until you hit The Neon Museum on the right hand side.
Totally possible, but we don't recommend it. You end up off the beaten, tourist-filled path, eventually cross over a highway, and isn't quite safe or the best choice for pedestrians.
Lyft or Uber is an inexpensive way to get from Fremont Street to The Neon Museum. If you have a daily bus pass like we did, you can take the 113 bus from Carson Street after 4th two stops and then walk straight for three minutes to get to The Neon Museum. We recommend one of those two options over walking.
Can you get married at The Neon Museum?
What happens in Vegas doesn't always stay in Vegas, especially if you decided to get married there. That's a legally binding actual marriage you're getting into … even if it's done on a whim and officiated by Elvis.
Still a real wedding; still a real marriage.
And if are really getting married, you should plan a real wedding. And you can do that at The Neon Museum. It won't be as spontaneous as getting married by Elvis because you do need to book in advance. And right now, well in advance. Weddings for 2021 are completely booked and 2022 is already half scheduled.
You can host a reception for 50 in the North Gallery or up to 400 in the Neon Boneyard.
What is the Brilliant! experience at Neon Museum?
Brilliant! is an audio/visual show that happens each night, beginning at 9 pm. The history of Las Vegas is told through music and projections, similar to The Saga | San Antonio.
Brilliant! takes place in the North Gallery, which is a different section than the guided and self-guided tours. So you are able to do both and see different vintage signs. If you want to do both, you'll have to purchase separate admission tickets for each.
If you are debating between the two, we did the guided tour but not the Brilliant! experience. We learned a lot of the history on the guided tour, things we didn't know about Las Vegas, like how Betty Willis, the woman who designed the Moulin Rouge sign that's at the museum also designed the iconic "Welcome to Fabulous Las Vegas" sign.
Those facts are ones you don't get during Brilliant! (assuming its similar to the way the history is "told" during The Saga | San Antonio). Brilliant! is sure to be beautiful, but not educational. So choose based on that.
Can you take pictures at The Neon Museum?
You can take photos with your cell phone or tablet. No DSLR or similar cameras are allowed unless used during a pre-scheduled photoshoot. If you want to use images for commercial or editorial use, or to take portrait photos, you must have written permission and a reservation.
Shoot fees may be required and revenue generated from these shoots help The Neon Museum and its mission to preserve the history of Las Vegas.
You can read The Neon Museum's photography policy here.
Before you go to The Neon Museum:
The Neon Museum is an all-outdoor venue.
Also, be sure to book your tickets ahead of time. Tickets open the month before. So if you want to go on November 17, tickets will be available beginning October 1. Tickets maybe be available the day of, but that's not a guarantee and you may not get your desired time slot. You can book tickets here.
The Neon Museum Las Vegas: Frequently Asked Questions
The Neon Museum Address:
770 Las Vegas Blvd N; Las Vegas, Nevada
The Neon Museum Phone:
(702) 387-6366
The Neon Museum Hours:
Daily from 3 pm to 11 pm
The Neon Museum tickets:
General admission: $16 for locals; $20 for non-members; free for members and children under 6. General admission allows for one-hour in the museum, between 3 pm and 6 pm, for a self-guided tour.

Guided tours: $24 for locals; $28 for non-members; free for members and children under 6. Guided tours are a 45-minute tour that takes place between 7 pm and 10:45 pm.

Brilliant!: $19 for locals; $23 for non-members; free for members. A 25-minute show in the North Gallery set to music with archival footage and light projection that takes place from 9 pm to 11 pm.

The Neon Museum participates in the Museums For All program and offers $3 admission to those receiving food assistance (SNAP benefits). Up to four discount admissions can be purchased when an EBT card is shown.
Is there food at The Neon Museum?
There are snacks and drinks sold in the gift shop, however, only water is allowed in the boneyard.

You are allowed to bring your own bottled water into The Neon Museum, and we highly recommend doing this. It's hot in Las Vegas, even at night, and you will be outside for the entirety of the tour. Stay safe and stay hydrated.
Is there parking at The Neon Museum?
Yes, there is a large parking lot that's free for visitors.
Is the Neon Museum worth it?
The Neon Museum is absolutely worth a visit. We really enjoyed ourselves.
Our guide, Selena, was incredibly knowledgeable. She was able to provide a ton of quick facts about Las Vegas, everything from Benny Binion being arrested — not for two alleged murders — but for tax evasion. She also let us know Anderson Dairy milk, which has a sign in the museum, was the milk in local schools in Las Vegas.
Selena also knew a lot about neon and what gases cause it to glow. That's something that's on the Neon Museum script (I heard the guide behind us giving the same short chemistry lesson), but she was also able to answer questions on the fly, which was great. She made the tour so interesting and why we would definitely suggest a guided tour over a self-guided one.
If you're interested in the history of Las Vegas, The Neon Museum is definitely a fun way to learn some of it.
In the words of LeVar Burton, "but you don't have to take my word for it." Take Megan's, who post this on our Facebook page: "The Neon Boneyard is an absolute must-see for any Vegas trip!!" She also added, "I 100% agree that the guided tour is the way to go also."
Hotels Near Neon Museum Las Vegas:
The Neon Museum is located in downtown Las Vegas, away from the iconic strip and its plethora of hotels. It's not on Fremont Street, where the majority of the downtown Las Vegas hotels are either. Like we mentioned above, the Neon Museum is walking distance from Fremont Street, but we don't recommend it.
As far as proximity, the five closest hotels to the Neon Museum are: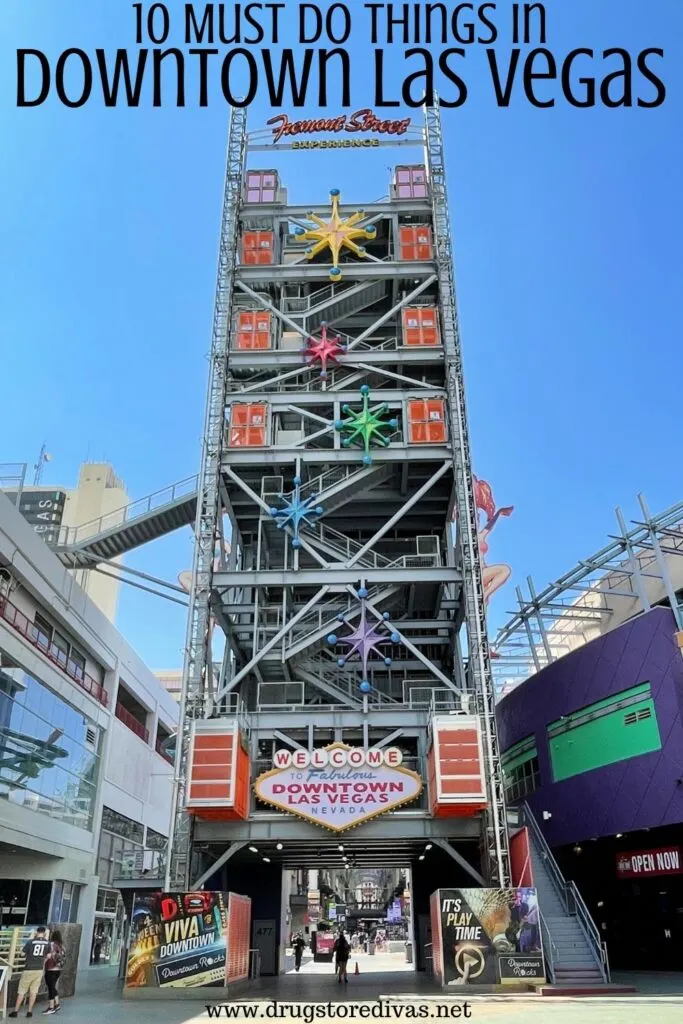 Downtown Las Vegas:
The Neon Museum is just one of the attractions in downtown Las Vegas that you should check out on your trip.
For more ideas, read our 10 Must Do Things In Downtown Las Vegas post.
Planning a Las Vegas trip?
If you're planning a trip to Las Vegas, we have a few other posts that will help you fill your visit.
Book Your Las Vegas Stay Ahead Of Time:
If you book your hotel and show tickets before you go to Las Vegas, you'll save yourself time and money when you get there. You can book both (and more!) at Vegas.com.
Did this The Neon Museum review help you plan your trip? Let us know in the comments.