If you're thinking about deep frying a turkey for Thanksgiving, check out these Tips For Deep Frying A Turkey first.
For more ways to make this the best holiday yet, get help from all of our Thanksgiving posts.
A couple years ago, we ordered a deep fried turkey from a fast food restaurant because my brother really wanted to try it. It was delicious and flavorful and juicy.
Not to be outdone, though, my dad went out the next year and bought all the equipment to deep fry a turkey at home.
To be perfectly honest, it was a lot easier than any of us expected. And I say that because it was pretty hands off for all of us except my dad. I didn't do anything but snap a few photos; my brothers and Pete didn't do anything but drink beer near the turkey; my mom stayed inside the kitchen.
If you want to try to deep fry a turkey for Thanksgiving, follow our tips below.
Affiliate links are included in this sponsored post and Drugstore Divas may make a small commission if you use them.
Equipment For Deep Frying A Turkey
In order to deep fry a turkey, you need the following equipment:
An outdoor burner:
A propane burner is best to keep your oil at a consistent temperature while your turkey deep fries.
A 30-quart pot:
A large 30-quart pot is the ideal size to fit a turkey an the oil needed to deep fry a turkey.
Deep Fry Thermometer:
A deep fry thermometer is needed to check the temperature before adding the turkey.
Hook:
Attach the hook to the turkey, then lower it into the hot oil. You don't want to do this by hand or by any means that could result in you getting splashed with hot oil.
Purchase a turkey fryer kit:
You can purchase all the equipment to deep fry a turkey individually, or you can purchase a turkey fryer kit (like the one pictured above) on the following websites:
Be mindful of a store's minimum cart total to qualify for free shipping. Also, consider instore or curbside pickup, where available, to avoid shipping charges.
Tips For Deep Frying A Turkey
Full disclosure: These are the tips we've found most successful to deep fry a turkey, but these tips do not encompass all the safety measures you need to deep fry a bird this Thanksgiving.
Be sure to take all safety precautions and refer to FEMA's Turkey Fryer Fire Safety.
More than 1,000 fires are started from turkeys annually. Don't be a statistic (Drugstore Divas is not responsible if you are).
Measure the oil for deep frying
When you're filling the pot, you don't want to fill it to the top with oil, then add the turkey. That will cause the oil to spill all over the place. You also don't want to just wing it because you may not end up with enough oil to actually deep fry the turkey.
So, what you want to do is put the turkey into the pot.
Fill the pot — with water — up to the maximum fill line. Remove the turkey.
Measure the amount of water that is left behind in the pot. That's how much oil you'll need to buy to deep fry a turkey.
The Reservoir Fire Department helped us demonstrate the wrong way to deep-fry your #Thanksgiving turkey (HINT: Thaw that bird out first!) pic.twitter.com/n95oaMmjGe

— Clarion Ledger (@clarionledger) November 21, 2016
Use a thawed or fresh turkey
You absolutely don't want to deep fry a frozen turkey.
Water and oil don't mix. You know this. Now, think about the water that will come from a frozen turkey. That will sink to the bottom of the oil, causing the oil to splatter. That oil then can potentially turn into flames.
And there goes your lawn, or home, or worse.
So, when you're deep frying a turkey, always deep fry a fresh turkey or a turkey that has been completely thawed. Use the chart below to figure out when you need to thaw your turkey for 2022.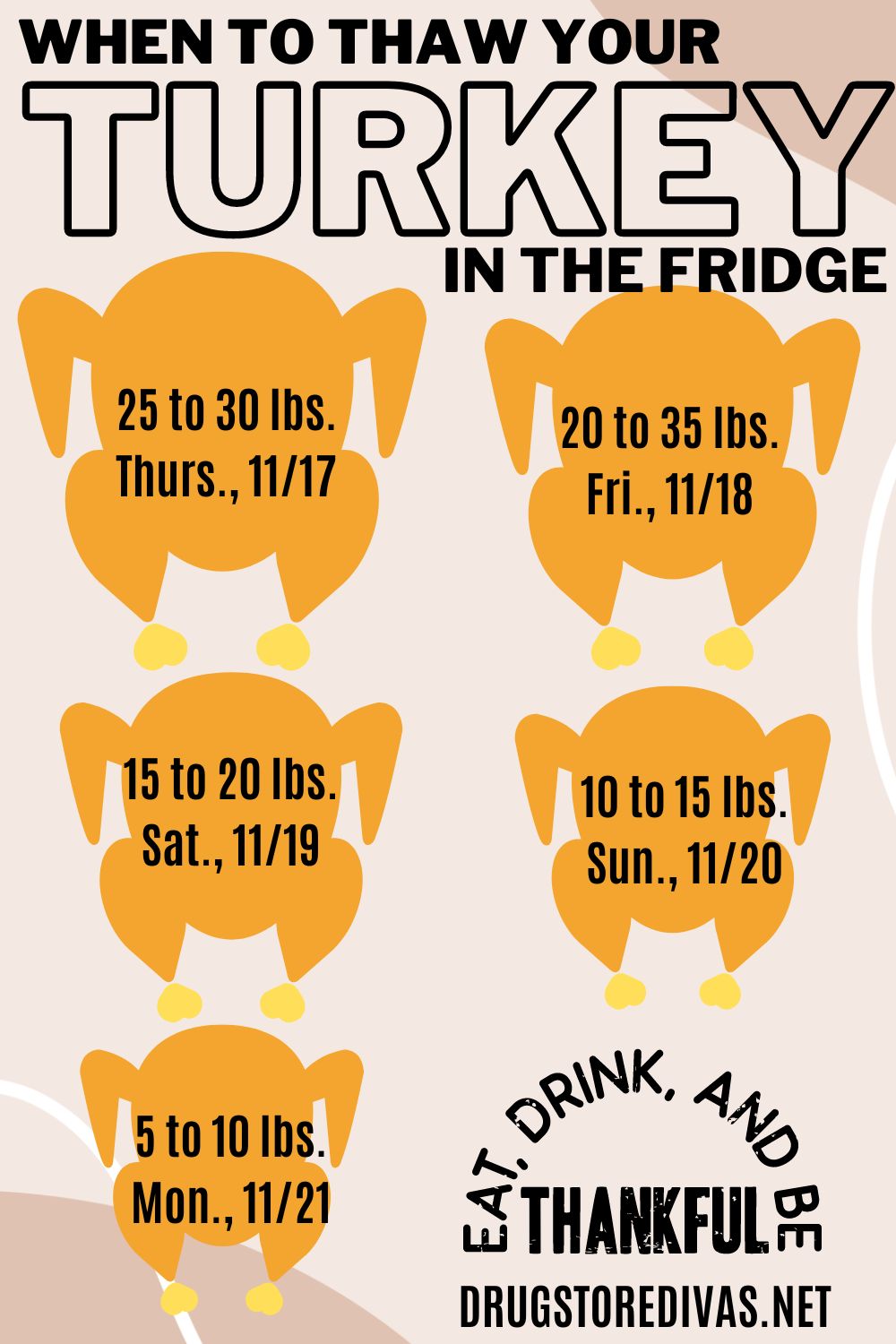 Brine the turkey before you deep fry it
The trouble with cooking a turkey is that the white and dark meat cooks unevenly, so it's really hard to get everything cooked perfectly and thoroughly. And that results in some of your meat drying out (and you looking like Clark cutting the turkey on National Lampoon's Christmas Vacation).
Brine helps.
A brine on the turkey will help to add moisture and flavor, so there's less of a chance that the turkey meat will be dry.
The flip side, though, is a brine on the outside of the turkey means you don't get a crunchy skin.
What you can do, though, is pat the turkey dry with paper towels before you deep fry it. That should help to remove some of the extra moisture, which is what stops the skin from crisping.
If you're looking for a turkey brine recipes, this turkey brine recipe sounds delicious.
Make sure the pot is on stable ground
You really want to make sure the pot is on a flat surface. You don't want it moving around and potentially falling over while there's hot oil inside.
Once you add the turkey, do not touch the deep fryer at all until the turkey is done cooking.
A few other tips about positioning. Don't put the pot on a wooden surface, like a deck. And make sure it's far away from your home and also away from any trees or debris as well.
Heat the oil
You want to heat the oil to 375 F before adding the turkey.
If you heat the oil in the pot with the lid on, it should take about 30 minutes to bring the oil up to temperature.
Since you want the oil to stay at about 375 F during the cooking process, be sure to use an oil with a high smoke point of 400 F.
Peanut oil is the most common oil used to deep fry a turkey.
Skip the stuffing
Stuffing is our family's favorite part of the Thanksgiving meal. We are all obsessed with my dad's stuffing.
Maybe he cooks it in the turkey in the oven. Maybe he doesn't if you're the salmonella police.
When you deep fry a turkey, you can't cook the stuffing inside. You want to cook the stuffing outside of the turkey. Or, after the turkey is done cooking, you can use this deep fried stuffing recipe to make stuffing while the turkey rests.
Let the turkey rest
You don't want to cut the turkey as soon as you remove it from the pot. Let it rest for 30 minutes before carving.
How To Deep Fry A Turkey: Frequently Asked Questions
How do you position a turkey for deep frying?
You want to deep fry a turkey with the head/breast facing down and the opening/legs facing up.
At what temperature do you deep fry a turkey?
You want to deep fry a turkey at 375 F.
How many hours does it take to deep fry a turkey?
You want to deep fry the turkey for 3.5 minutes per pound.

For some simple math:
3 pound turkey = 10.5 minutes
5 pound turkey = 17.5 minutes
10 pound turkey = 35 minutes
14 pound turkey = 49 minutes

It's not recommended to deep fry a turkey whole if it is over 15 pounds. In that case, you should remove the thighs and legs from the breast and deep fry them separately.

The cooking time will vary if your temperature fluctuates. Be sure to cook a turkey to an internal temperature of 165 F to 175 F.
What do you do with the oil after frying a turkey?
Allow the oil to cool down completely.

If you want to reuse the oil (which you can about five times, if its filtered after each use), remove any bits of food from the oil. Then, carefully pour it into airtight containers.

Store the oil in a cool, dark space for up to six months.
What to serve with deep fried turkey?
You want to make sure you have delicious side dishes to serve with deep fried turkey. You also want easy side dishes that don't require too much attention so that you can focus on the bird.
Our favorite Thanksgiving side dishes are:
For more ideas, check out our list of Thanksgiving Side Dish Casserole Ideas too.
Deep Fried Turkey Alternatives:
If deep frying a turkey sounded good to you until you read this post, and now you want to find a tasty alternative, smoked turkey is a great idea — specifically smoked turkey that's cooked for you.
You can purchase either a whole smoked turkey or a smoked turkey breast from Southside Market & BBQ. The former will weight 12 to 14 pounds, pre-cooked (which is a finished weight of 10 to 12 pounds) and the latter will weigh between 2.5 and 3 pounds (that's what's in the photo above).
The turkey will arrive frozen, and you'll want to thaw it before cooking. You can easily reheat them in an oven. That's all you have to do. The whole smoked turkey is already seasoned with Southside's own custom blend and smoked slow over Texas oak wood. So you get a ton of flavor without a ton of work.
Do you have any Tips For Deep Frying A Turkey that we missed? Let us know in the comments and we can add them.