Ditch canned soup and make one of these 10+ Super Soup Recipes for dinner. There's potato cheddar soup, alphabet soup, and more.
For more ideas of what to cook, check out all of our recipes.
Everyone is out here getting all excited for spooky season and pumpkin spice lattes, and I'm just thrilled it's soup season. I would eat these soup recipes all year long, honestly, but soup when it's cold outside just hits different.
When I first moved out on my own, I used to buy soup in the can and heat it on the stove and I really thought I was cooking. Heat to simmer? Got it. I was a pro at that.
But once I started making homemade soup, my world changed. It's so easy, so economical, and tastes a lot better than canned soup. Soup in a can is easy in a pinch, but it's so salty compared to homemade soups.
And that's the thing with canned soups. You can't change them. They're going to taste how they taste, and no amount of heating will change the amount of salt in them. When you make your own soup, you control how much of each ingredient is in the soup. So you can cater it to your own tastes.
And if you make too much, you can just freeze the soup for another time.
Inspired? Let's get to the soup!
10+ Super Soup Recipes
Affiliate links are included in this post and Drugstore Divas may make a small commission if you use them.
We split this list into two sections: slow cooker soups and stove top soups.
If you're just learning how to make soup, start with slow cooker soups because they're pretty hands off. Then, work your way up to stove top soups.
Slow Cooker Soup Recipes
For our slow cooker soup recipes, we use this 6-quart programmable slow cooker. We like it because once the timer ends, it automatically switches to the "warm" setting. Our old slow cooker would turn off when the timer ended. So this new setting is definitely more convenient.
We also like it because the glass top latches to lock the slow cooker for easy transport. With my parents living two doors down to the left and Pete's dad living two doors down to the right, we do transport meals more often than most people. So being able to easily carry a slow cooker without worrying about spilling soup all over is great.
Slow Cooker Chicken Soup
This Slow Cooker Chicken Soup is our most popular soup recipe on Drugstore Divas. Chicken soup is such a classic recipe, and arguably the most common soup to make.
This version is so easy to make. Just peel and chop your ingredients, add them to the slow cooker, and cook. Add the pasta at the end and your soup is ready.
If you're sick and you're the one who needs the chicken soup, this Slow Cooker Chicken Soup is pretty hands off, so you can still make it. It freezes really well too, so you can match a batch when you're healthy and enjoy it when you're feeling unwell.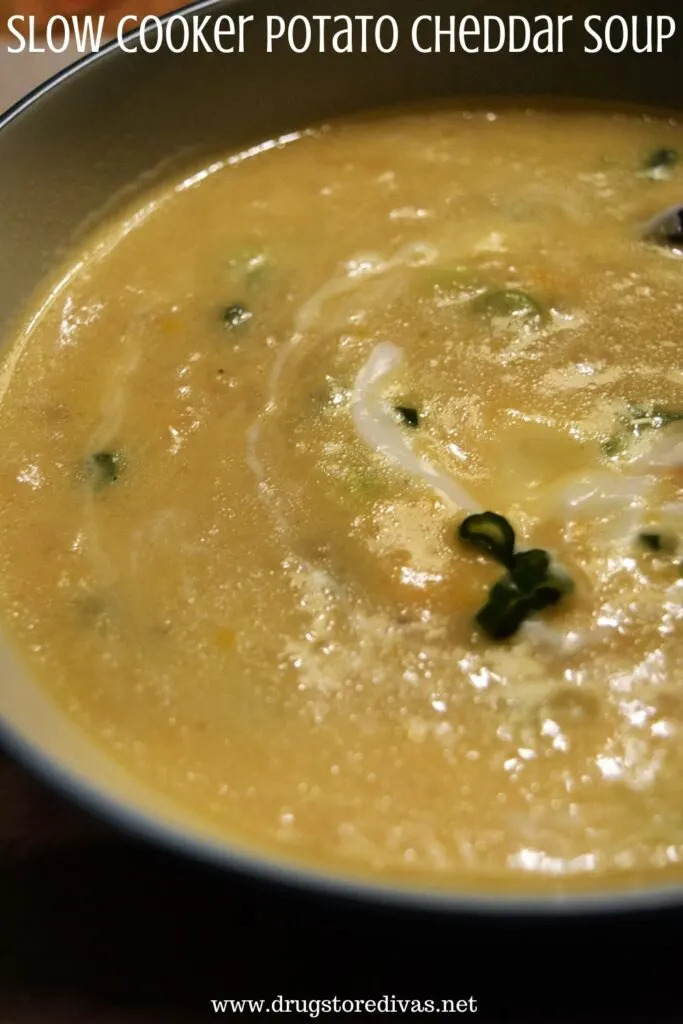 Slow Cooker Potato Cheddar Soup
When I used to go out to eat at a chain restaurant in the mall often, Slow Cooker Potato Cheddar Soup was my go to order. My friend and I would go, get a bowl of soup, and we'd split a brownie sundae. So, of course, I had to learn how to make it.
Now, I make Slow Cooker Potato Cheddar Soup all the time. It does take a bit of time to prep since there are a lot of ingredients to chop, but it's so worth it. The soup is warm and creamy and delicious and, dare I say, better than that chain restaurant one.
You can add bacon to this too, if you want to add a depth of favor, but I think it's delicious with or without bacon (and that's saying a lot because bacon usually makes everything better).
Slow Cooker Taco Soup
Tacos are delicious, but messy. So what if you could have all the flavors of tacos, but not all of the mess? Sounds great, right? Well, you can with this Slow Cooker Taco Soup.
Taco soup is really easy to make. You just dump the majority of the ingredients into the slow cooker and leave it to cook. Serve it with your favorite taco toppings, like sour cream and green onion, for a delicious meal.
Stove Top Soups
Any stock pot works for soup. But, if you have a Dutch oven, it's a game changer. None of these are specifically Dutch oven soup recipes, in the fact that you can't use a stock pot. But, a Dutch oven holds and distributes heat more evenly than a stock pot does, so it does wonders for your soup.
I made soups in stock pots for years before getting a Dutch oven as a gift and the soup came out great. But I do solely use the Dutch oven now.
One Pot Sausage Potato Soup
A very hearty, but also light, soup is this One Pot Sausage Potato Soup. It's filled with flavor, partially from the full can of diced chilis that's added to it to give it a little kick.
This is filled with potatoes, sausage, corn, and spinach, mostly. It'll be a crowd pleaser for your entire family.
Homemade Alphabet Soup
Alphabet soup is such a childhood staple. We used to eat it all the time with grilled cheese. I haven't seen it in stores in a long time, but I also haven't looked for it because now I make this Homemade Alphabet Soup recipe. Which is an alphabet soup for grown ups. The flavors are elevated and taste so much better than that one out of the can.
If you can't find the alphabet pasta in stores, you can use any small soup pasta in its place, like ditalini or pastina. It wouldn't technically be alphabet soup because there aren't any letters in it, but it would still have all the same flavors of alphabet soup.
Vegan Kale And Bean Soup
This Vegan Kale And Bean Soup is unintentionally vegan. It just doesn't have any dairy or meat products in it. Not because that's how I designed the soup, just because it happened that way.
If you're not vegan, don't let that deter you from this tasty soup. It doesn't need any heavy cream as a thickener because it has the beans to do that. And it doesn't need parmesan cheese to act as a salt because it has enough seasoning as it is.
Add a nice crunchy bread with a drizzle of olive oil and dinner is done.
Simple Homemade Tomato Soup
Don't skip this recipe. So many people say they don't like tomato soup, but I assure you, you'll like this Simple Homemade Tomato Soup. It's so flavorful and unlike any tomato soup I've ever had before.
Most tomato soups are boring. They're completely puréed and lack texture. And it doesn't matter how many ingredients are in the soup, they're all blended into one uniform color.
Not this one. There are chunks of onion that make the soup so interesting, texture and taste wise.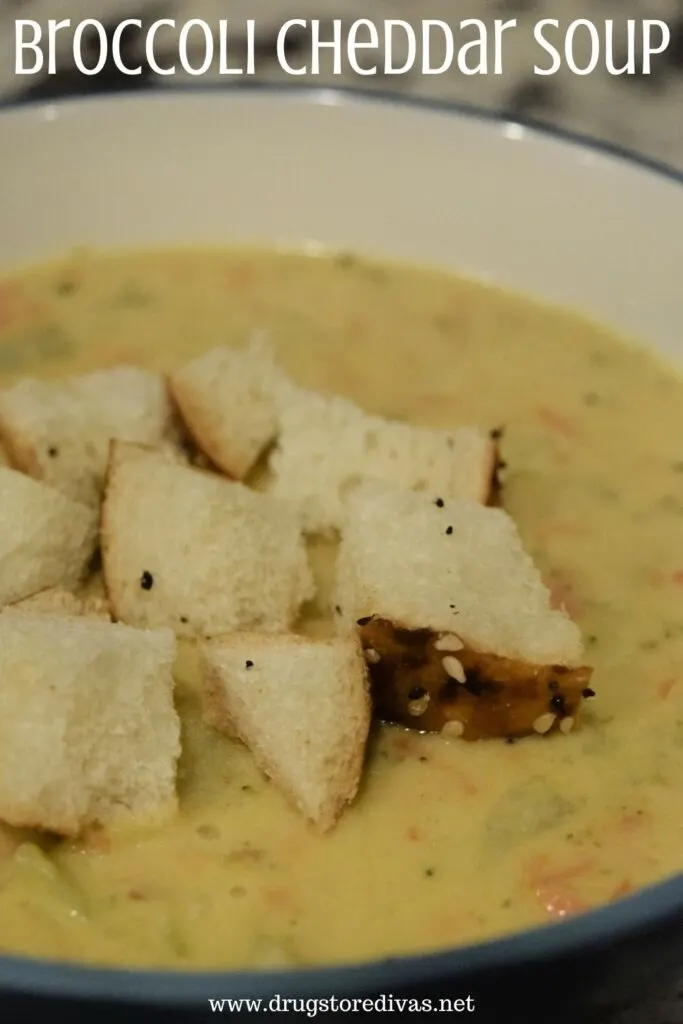 Broccoli Cheddar Soup
Broccoli Cheddar Soup is, arguably, my second favorite soup. Well, second favorite common soup, second only to Potato Cheddar Soup. Coincidentally all my favorite common soups have cheddar.
Broccoli Cheddar Soup is easy to make at home, but it does require your attention. There are a lot of steps to this soup, plus ingredients you have to cook, set aside, and then add in later. So it's not as easy to make as a slow cooker soup, but it's so worth it because this comes out better than canned broccoli cheese soup.
One Pot Lasagna Soup
I absolutely love this One Pot Lasagna Soup. It's definitely my second favorite soup (Broccoli Cheddar is my second favorite common soup; lasagna soup is my second favorite soup overall).
Lasagna Soup is really unique. It has all the flavors of lasagna, in soup form. It feels like a traditional soup because it has noodles in it, but the taste is so different than anything you've ever tasted. Plus, it's one of easy one pot soup recipes we've started making since we got our Dutch oven.
And the dollop of ricotta cheese on top is so incredible. Don't skip that.
Cauliflower Soup
Cauliflower is having a moment. It overtook kale to be the hot vegetable of the hour. But, (and I say this even though I risk sounding trite, but … ), this Cauliflower Soup is something I've made since before cauliflower was popular.
It's a really great soup, with a lot of flavor, even though cauliflower is usually pretty flavorless. Thank the addition of bacon for that. Cauliflower Soup is thick, heavy, and filling. All things you wouldn't expect from something that's base is cauliflower. But it is.
If you haven't jumped on the cauliflower bandwagon yet, this recipe will get you to hop on.
French Onion Soup
French Onion Soup is twice cooked, so you have to be a little careful when you're making the recipe. The first part of this recipe is making a traditional soup on the stove top. That's the easy part. But then, you have to pour that soup into oven safe bowls, top it with cheese and bread, and finish it in the oven.
Do that last part carefully or you'll end up with a big mess in your oven (and maybe on your kitchen floor).
You can't skip the last part if you want a French Onion Soup that tastes like one you get in a restaurant. That melted and charred cheese and toasted bread really makes French Onion Soup. Without that part, it's just onions swimming in beef broth.
Tuscan Bean Soup
Tuscan Bean Soup is one of Pete's mom's classic recipes. The origin of the recipe is unknown, just like the origin of her marinara sauce. Wherever it came from, I'm glad it did because this traditional Italian soup is delicious.
Beans, vegetables, and pasta cook together to get a really flavorful and hearty soup that eats like a meal.
Butternut Squash Soup
Butternut Squash Soup is a fall labor of love. It involves a lot of prep work because cubing butternut squash does take a lot of time and muscles. But, once you get that done, you can make a ton of soup that freezes well. So you can enjoy this soup often without having to chop squash often.
Butternut squash is naturally sweet, so you need to add savory ingredients to this soup (like bacon) to balance the sweetness.
Split Pea Soup
Traditional Split Pea Soup is made with ham bone, but not our version. This Split Pea Soup is made with a chicken breast. It gives the soup a brighter flavor and a completely different texture when you're eating it.
Most split pea soup is pretty mushy and bland. But our version has a bite to it. Literally. You have to bite the chicken in it, so it appeals to people who don't generally like split pea soup.
Mushroom & Feta Bisque Soup
This Mushroom & Feta Bisque Soup is my favorite recipe on this list. The way all the flavors come together in this mushroom bisque soup recipe is just incredible.
Mushrooms cook down and combine with clumps of feta cheese to make a really delicious warm and creamy dinner.
Meatless soups for Lent:
This list is focused mostly on fall soup recipes, but if you're looking for meatless soups — either because you want vegetarian soups or you're looking for meatless soups for Lent since you can't have meat on Fridays during Lent, check out our list of 40+ Vegetarian Soup Recipes For Lent.
Which of these soup recipes are you going to try this fall?