Says Pete: I couldn't believe how cold it was. My apartment had no heat. I was so tired of arguing with my cheap landlord to turn it on, so I decided it was up to me to heat myself from the inside.
That was it. I went to the store and wandered the aisles, wondering what sort of creamy concoction I could create to complete the task of self-heater.
As I walked through the produce aisle (that's always my first stop because I'm a health idiot), something caught my eye. An ingredient that I had never used before that piqued my interest — butternut squash! And they were on sale!
I then roamed the other aisles, trying to create a butternut squash recipe in my head. Here's what I got.
Butternut Squash Soup
What You'll Need:
2 butternut squash
2 cans chicken broth
1 medium onion
4 cloves garlic
4 slices of bacon
1 potato
3 carrots
1 jalapeno
3 stalks of celery
Pinch of cinnamon
Pepper
1 tbs. brown sugar
Olive oil
1/8 cup heavy cream
Green onion, sour cream to garnish
What You'll Do:
Preheat the oven to 350.
Dice the bacon. Saute in a stock pot until crispy. Strain and put aside.
Peel, split, and seed both butternut squash. Dice them and toss them with brown sugar, black pepper, and enough olive oil to coat. Lay it out on a foil-lined cookie sheet. Roast in the oven for 30 to 35 minutes.
While that's roasting, chop carrots, celery, onion, garlic, and potato. Saute everything but the potato, with literally a pinch of cinnamon (cinnamon is VERY strong) for about five to eight minutes in the pot where you cooked the bacon.
When the squash is done (and you'll know because it'll be slightly brown and mushy), you're gonna blend it in batches (in the blender) with a roughly-chopped jalapeno. Add chicken broth when it gets too thick (you'll wind up using about two cans depending on the size of the squash).
Add the puree, half the bacon, the potato and heavy cream to the pot. Bring it to boil, reduce to simmer, and cover the pot. The soup will be done when the potatoes are tender, about 20 minutes.
Garnish with green onion, sour cream, and the rest of the bacon. Then, serve and enjoy.
If you're planning on making this, you can save on it too. Right now, you can save 20% on any single purchase of loose Butternut Squash. Just click that link, add the offer to your SavingStar account, then purchase the squash by December 5. You will receive 20% of your purchase price in your account, and you can then cash out via PayPal.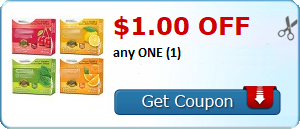 [yumprint-recipe id='86']
Follow Lisa Sokolowski @ Drugstore Divas's board My Recipes on Pinterest.