If your kids want an Olaf party, don't "Let It Go." Instead, use these tips to throw a cool Olaf Birthday Party.
FoFor more birthday party ideas, check out all of our birthday party posts.
Disney's Frozen is so popular still. I'm surprised because fads usually die and movies are only popular until the next one comes out. But not Frozen. The Disney movie is still hanging on and your kids won't "Let It Go."
So you might as well give in and plan that Olaf birthday party your kids have been begging for. Even if it's summer. Even if you don't want to think of snowmen right now. Make your kids happy.
And, we can help.
We put together this list of how to throw a cool Olaf birthday party. With everything from invitations to goody bags (and of course, everything in between), we have ideas for you.
Also, this is focused very specifically on Olaf. There's aren't ideas for a generic Frozen-themed party. So don't look for Anna and Elsa to be the main characters here.
How To Throw A Cool Olaf Birthday Party
Affiliate links are included in this post and Drugstore Divas may make a small commission if you use them.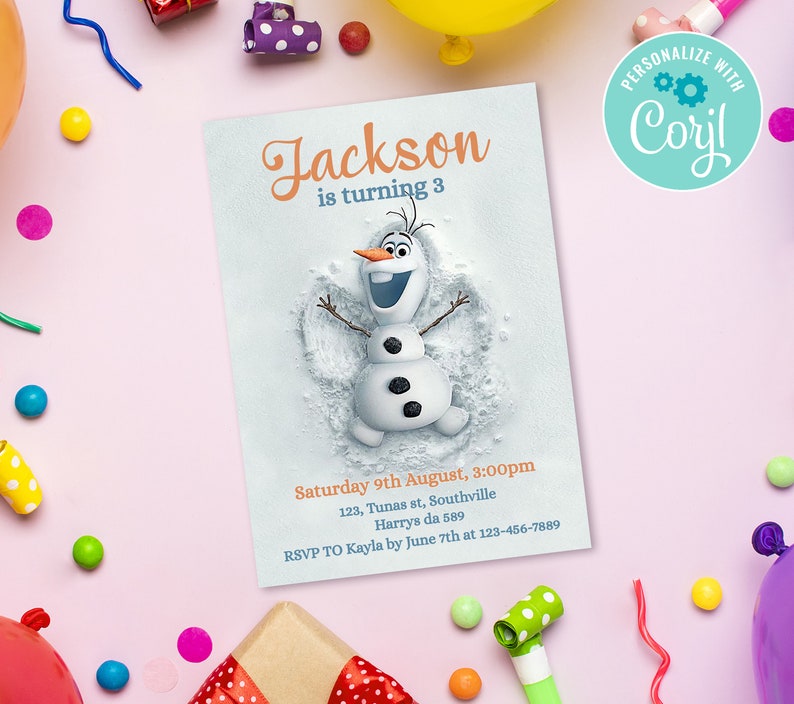 Invitations
You always want to start a themed birthday party with invitations that match that party theme. How would your party guests know you're having an Olaf birthday party if you send out an invitation with a cowgirl on it?
Of course, you can purchase Olaf party invitations, but if you have a little time, it would be so much fun to make invitations with your birthday child.
Write "Would you like to build a snowman?" on the front of some folded cardstock, then fill the inside with "Then come join the fun with Olaf and friends at _____'s birthday party. Be sure to bring warm hugs." Decorate the invitations with glitter and felt snowflake stickers. Your kids can definitely help with that part.
And, if your kids are artsy, they can draw Olaf. If not, you can just add some Olaf stickers.
Decorations
At your party, you definitely will want some themed party décor. Olaf loves the sun so you can go with either winter or summer décor and still pull off your theme. For more of a Frozen party, stick with blue and white (lights, streamers, balloons, and snowflakes). For summer, go with sun, surf, and sand decorations.
Whichever theme you choose, you definitely need an Olaf Balloon Bouquet. It comes with a bunch of balloons, a huge one of just Olaf, and some blue ones with snowflakes that are on theme.
Don't forget to pick up a large Olaf backdrop. You can use that on a blank wall to really set the theme. You can also use it as a photo booth too, which is a great way to get on-theme photos without too much work.
If you child has any Frozen stuffed animals, be sure to bring those out and put them around the party space. That's free decorations.
And, if you want to get your kids involved in helping, have them cut out paper snowflakes from construction paper. They'll have a lot of fun making them and hanging them all over the walls and windows.
Food
Of course you need some food and drinks at your party. And you want some Olaf food on your table. Think about an Edible Olaf, with marshmallows, pretzel sticks, black licorice, and baby carrots. Or go with a Melted Olaf: Greek vanilla yogurt or vanilla pudding cups with a carrot nose floating in it. Don't forget the candy eyes.
Some fun food ideas for the dessert table are snowflake cookies, hot chocolate, and our edible-glitter dipped marshmallows.
If you want a much easier sweet treat for dessert, you can easily turn store-bought cupcakes into themed cupcakes. Just purchase some snowflake cake toppers and stick one in each cupcake. Easy.
You could also set up a "Build your own snowman" table with marshmallows at a party table. Set up a bunch of marshmallows, pretzel sticks, candy eyes, round black sprinkles, mini chocolate chips, and edible markers. Then, set up icing and a knife nearby. Let the kids use the icing as "glue" to glue together a snowman. It's a great idea to keep little guests occupied for a long time.
For a similar idea that's a little easier, buy or make Rice Krispie treats. Get cookie icing and snowflake sprinkles and let kids decorate their own treats.
And for drinks, get a large white punch bowl. Make it look like Olaf by adding large googly eyes and a orange construction paper carrot-shaped nose. Then, fill it with punch or whatever other drinks you're serving at the party.
Don't forget to set up bottles of water too, especially it's hot out. Make a sign that says, "Melted Snowman Water Station" to assure that the water is on theme.
And, if all else fails, just get an Olaf paper plate and napkins set and serve your party food on those.
Party Games
Since Olaf is a snowman with a carrot nose, he makes for a really easy pin the tail on the donkey game. You can actually purchase a pin the nose on Olaf game, which comes complete with everything you need (including blindfolds and Olaf's noses) so that makes your life easier.
If you're not feeling so crafty, just go with an Olaf 3D Pull-String Pinata. Pinatas are always a hit (see what I did there?) at parties. Also easy, purchasing an Olaf Dart Board and letting the kids play. It comes with balls, not darts, so you don't have to worry about little kids getting injured.
Party Favors
Goody bags are so easy. Get white party favor bags, decorate the outside of them with Olaf's face and signature hair, and then fill them with whatever treats you like. If you need an idea, we like these Olaf Grab and Go Play Packs because they're on theme and comes with everything you need to color and be creative.
We also like these Olaf blind bags. They're super cute and the kids will have fun opening them and seeing which Olaf version they got.
We have a post about Frozen Easter Basket Ideas, which yes, focuses on Easter baskets, but it does give you ideas of small items that can fit in your goody bags too.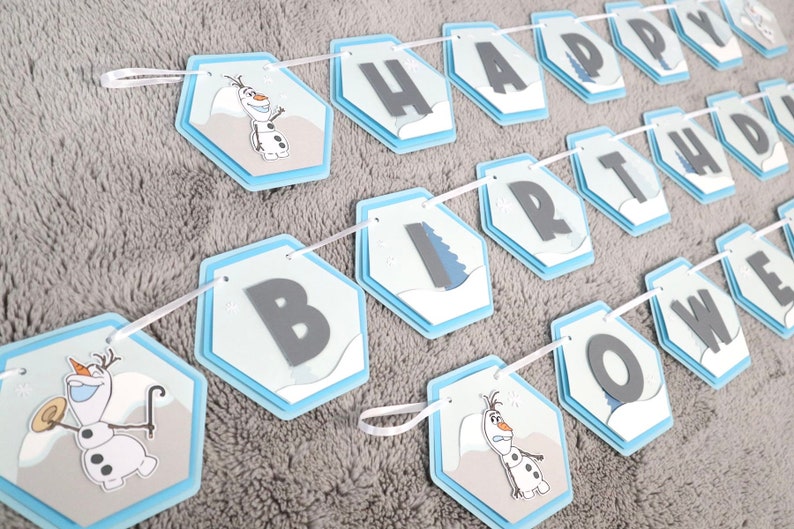 Purchase Olaf Party Supplies Online:
These are our best ideas, but you can also find more ideas, like the Olaf Birthday Banner above, online at the following stores:
Be sure to check a store's minimum cart total to qualify for free shipping. Also, consider instore or curbside pickup, where available, to avoid shipping charges.
Do you have any more fun ideas for a Cool Olaf Birthday Party? Let us know in the comments.